27th September 2015
Steam Dreams
The Cathedrals Express
| | |
| --- | --- |
| Loco Used | 47760 |
| Stock Used | 3058+99352+99348+1666+5236+5237+9104+5216+5222 |
Route :
1Z50 : Slough to Kingswear
1Z51 : Kingswear to Slough
| | |
| --- | --- |
| Loco | Route |
| 47760 | Slough - Maidenhead - Reading - Southcote Jn - Newbury - Westbury - Clink Road Jn - Frome (2) - Blatchbridge Jn - Castle Cary - Cogload Jn - Taunton - Exeter St Davids - Dawlish - Newton Abbot - Paignton - Kingswear |
| 47760 | Kingswear - (reverse of outward route) - Blatchbridge Jn - Frome - Clink Road Jn - Fairwood Jn - Heywood Road Jn - (reverse of outward route) - Slough |
Notes :
(1) This tour was postponed from 19/04/15, originally advertised to start from London Paddington, hauled by 61306 'Mayflower'. This was later changed to 4936 'Kinlet Hall' from Westbury. However due to loading gauge issues, the train ran diesel hauled throughout, as shown above.
(2) The outward leg was diverted via Frome to allow a following H.S.T. to overtake.
(3) Route confirmation required - above is from booked timings.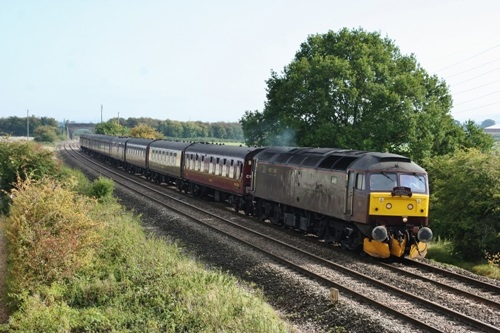 47760 passing Berkley Marsh on the outward leg (photo: Guy Vincent)
Source : Guy Vincent



Timings (Booked Only)
(from Realtime Trains)
| | | | |
| --- | --- | --- | --- |
| Location | Booked (out) | | Booked (rtn) |
| Slough | 08.34d [P2] [DM] | | 21.55a [P5] |
| Maidenhead | 08.41a ~ 08.44d [P1] [DM] | | 21.46a ~ 21.48d [P4] [UR] |
| Twyford | 08.52a ~ 08.55d [P1] [DM] | | 21.36a ~ 21.38d [P4] [UR] |
| Kennet Bridge Jn | 09/01 [DM] | | 21/30 [UR] |
| Reading | 09.03a ~ 09.06d [P7] | | 21.07a ~ 21.28d [P12] |
| Oxford Road Jn | 09/08 | | 21/03 [UFM] |
| Southcote Jn | 09/09 | | 21/02 |
| Newbury | 09.25a ~ 09.28d [P1] | | 20.40a ~ 20.43d [P2] |
| Bedwyn | 09/39 [P1] | | 20/28 [P2] |
| Woodborough | 09/49 | | 20/18 |
| Lavington | 09/55 | | 20/10 |
| Heywood Road Jn | 10/02 | | 20/04 |
| Westbury | 10L05a ~ 10L34d [P1] | | - |
| Fairwood Jn | 10/39 | | 19/54 |
| Clink Road Jn | 10/44 | | 19/51 |
| Frome North | DIV | | 19.44 ~ 19.49 |
| Frome | DIV | | 19/43 |
| Blatchbridge Jn | 10/47 | | 19/41 |
| East Somerset Jn | 10/51 | | 19/36 |
| Castle Cary | 10/59 [P2] | | 19.23a ~ 19.27d [P1] |
| Somerton GF | 11/10 | | 19/14 |
| Athelney LC | 11/20 | | 19/08 |
| Cogload Jn | 11/27 | | 19/06 |
| Taunton | 11.34a ~ 11.36d [P2] | | 18.58a ~ 19.01d [P5] |
| Norton Fitzwarren Jn | 11/39 | | 18/55 |
| Whiteball | 11/53 | | 18/48 |
| Tiverton Parkway | 11/58 [P1] | | 18/46 [P2] |
| Tiverton Loop | 12w01 ~ 12w24 | | 18/45 |
| Cowley Bridge Jn | 12/38 | | 18/33 |
| Exeter St Davids | 12.41a ~ 12.44d [P4] | | 17L57a ~ 18L30d [P6] |
| Dawlish Warren | 12*58 ~ 13*06 [P1] | | 17/44 |
| Dawlish | 13/10 | | 17/42 |
| Teignmouth | 13/14 | | 17/39 |
| Newton Abbot | 13/20 [P2] | | 17/32 [P3] |
| Newton Abbot West Jn | 13/21 | | 17/31 |
| Paignton | 13.38a ~ 13.43d [P1] | | 17.13a ~ 17.16d [P2] |
| Paignton GF | 13.45 ~ 13.50 | | 17.05 ~ 17.10 |
| Kingswear | 14.15a | | 16.40d |


Associated E.C.S. & Light Engine Moves
5Z36 : (4936 with Support Coach) : Bishops Lydeard to Westbury (cancelled)
| | |
| --- | --- |
| Location | Booked |
| Bishops Lydeard | 07.57d |
| Norton Fitzwarren | 08/07 |
| Taunton | 08.12 ~ 08.14 |
| Cogload Jn | 08/20 |
| Athelney LC | 08/24 |
| Somerton GF | 08/35 |
| Castle Cary | 08/48 |
| East Somerset Jn | 08/58 |
| Blatchbridge Jn | 09/04 |
| Clink Road Jn | 09/08 |
| Fairwood Jn | 09/14 |
| Westbury | 09.19a [P2] |
5Z36 : (4936 with Support Coach) : Exeter St Davids to Bishops Lydeard (cancelled)
| | |
| --- | --- |
| Location | Booked |
| Exeter St Davids | 18.11d [P6] |
| Exeter Riverside Yard | 18.14 ~ 18.40 |
| Cowley Bridge Jn | 18/43 |
| Tiverton Loop | 18*59 ~ 19*14 |
| Tiverton Parkway | 19/17 |
| Whiteball | 19/21 |
| Norton Fitzwarren | 19/37 |
| Fairwater Yard | 19.40 ~ 20.09 |
| Norton Fitzwarren | 20/12 |
| Bishops Lydeard | 20.22a |