4th July 2015
NENTA Train Tours
The Dean Forest Explorer
| | |
| --- | --- |
| Locos Used | 47804 & 47851 |
| Stock Used | 9496+6012+6115+6022+6724+3313+3326+3395+1961+3392+3350 |
Route :
1Z29 : Dereham (M.N.R.) to Bristol Temple Meads
1Z30 : Bristol Temple Meads to Dereham (M.N.R.)
| | |
| --- | --- |
| Loco(s) | Route |
| 47851 (1) | Dereham (M.N.R.) - Wymondham - Trowse Jn - Thorpe Jn - Norwich |
| 47804 (2) | Norwich - Thorpe Jn - Trowse Jn - Wymondham - Thetford - Ely North Jn - Ely - Coldham Lane Jn - Cambridge - Shepreth Branch Jn - Royston - Hitchin - (via ECML) - Finsbury Park - Holloway South Jn - Copenhagen Jn - York Way North Jn - Camden Road Central Jn - Gospel Oak - Kensal Green Jn - Willesden Junction HL - Acton Wells Jn - Acton Main Line - Slough - Twyford - Reading - Didcot Parkway - Swindon - Wootton Bassett Jn - Chippenham - Thingley Jn - Bathampton Jn - Bath Spa (3) - North Somerset Jn - Bristol Temple Meads (4) |
| 47851 (1) | Bristol Temple Meads - (reverse of outward route) - Trowse Jn (3) - Wensum Jn |
| 47804 (2) | Wensum Jn - Thorpe Jn - (3) Norwich |
| 47851 (1) | Norwich - Thorpe Jn - Trowse Jn - Wymondham [P2] - Wymondham Sig. W32 |
| 47804 (2) | Wymondham Sig. W32 - Wymondham [P1] |
| 47851 (1) | Wymondham - Dereham (M.N.R.) |
Notes :
(1) 47804 on rear.
(2) 47851 on rear.
(3) For off-train option by road coach to Longleat.
(4) Off-train options; by road coach to the Dean Forest Railway or, following a short walk to Bristol Quay, a River Avon cruise (13.45 to 15.45) aboard Bristol Packet Boats 'Redshank' and 'Bagheera'.
(3) Due to problems with 47804 on the leg to Bristol the train was diverted via the Wensum Curve in order that 47851 would lead the last leg back to Dereham.
Source : Alan Cooper (on the train throughout)



Photo Review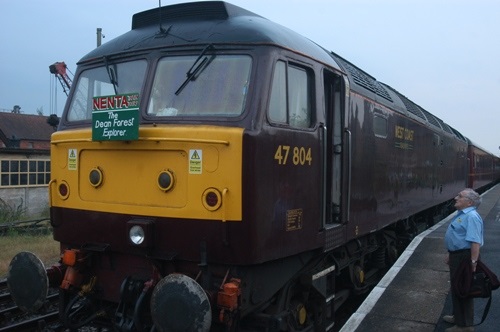 Tour locos 47804 & 47851 (photos: Alan Cooper)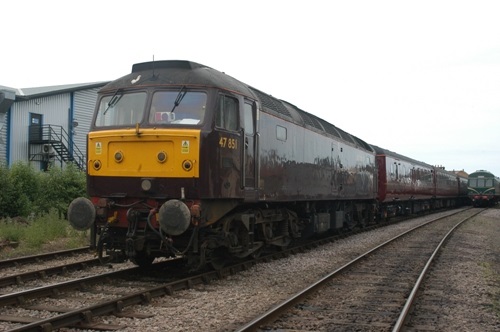 Timings (Booked & Actual)
(from Alan Cooper)
Location
Booked
Actual
Booked
Actual
Dereham
05.45d
05.45
01.00a
01.02
Wymondham
00.10 ~ 00.15 [P1]
00.21 ~ 00.22
Wymondham Sig W32
00.03 ~ 00.08
00.16 ~ 00.18
Wymondham
06/35 [P1]
06/41
00/02 [P2]
00/16
Trowse Jn
06/45
06/54
23/53
?
Trowse Swing Bridge
06/46 [D]
06/55
23/51½
?
Thorpe Jn
06/46½ [W]
06/56
23/51 [C]
?
Norwich
06.48a ~ 07.03d [P2] [W]
06.57 ~ 07.08
23.39a ~ 23.50d [P2] [W]
23.53 ~ 00.02
Thorpe Jn
07/04 [C]
?
23/37½ [D]
?
Down Lowestoft
DIV
23.49 ~ 23.50
Wensum Curve
DIV
23/47
Trowse Swing Bridge
07/04½
?
23/37
23/43
Trowse Jn
07/06
?
23/36
?
Wymondham
07.17a ~ 07.20d [P2]
07.23 (a, d or /?)
23.25a ~ 23.27d [P1]
23.25 ~ 23.26
Attleborough
07.29a ~ 07.32d [P2]
07.34 (a, d or /?)
23.15a ~ 23.17d [P1]
23.15 ~ 23.16
Thetford
07.48a ~ 07.51d [P2]
07.56 (a, d or /?)
22.57a ~ 22.59d [P1]
22.53 ~ 22.54
Brandon
08.00a ~ 08.03d [P2]
08.06 ~ 08.07
22.46a ~ 22.48d [P1]
22.41 ~ 22.43
Ely North Jn
08/25 [UL]
08/29
22/26
22/24
Ely
08.28a ~ 08.30d [P3] [UL]
08.33 ~ 08.36
22.08a ~ 22.23d [P1] [DL]
22.09 ~ 22.20
Ely Dock Jn
08/31
?
22/07 [DL]
?
Coldham Lane Jn
08/44
?
21/54
?
Cambridge
08.48a ~ 08.59d [P8]
08.52 ~ 08.58
21.48a ~ 21.51d [P4]
21.50 ~ 21.53
Shepreth Branch Jn
09/05
09/05
21/42
21/39
Royston
09.21a ~ 09.31d [P2]
09.24 ~ 09.34
21.26a ~ 21.28d [P2]
21.25 ~ 21.27
Letchworth Garden City
09/44 [P1]
?
21/15 [P2]
?
Hitchin
09.48a ~ 09.50d [P1] [SL]
09.51 ~ 09.52
20.59a ~ 21.10d [P2] [DCF]
21.05 ~ 21.07
Stevenage
09/55 [P1] [SL]
?
20/54 [P3] [FL]
?
Woolmer Green Jn
09/58½ [FL]
?
20/51 [FL]
?
Digswell Jn
??
?
20*43 ~ 20*48 [FL]
?
Welwyn Garden City
10/02 [FL]
?
20/41 [P3] [SL]
?
Potters Bar
10/07½ [P2] [FL]
?
20/33 [P4] [SL]
?
Alexandra Palace
10/14 [FL]
?
20/24 [FL]
?
Finsbury Park
10/17 [P3] [FL]
10/22
20/21 [P5] [FL]
20/19
Holloway South Jn
10/18½ [SL]
?
20/19 [FL]
?
Copenhagen Jn
10/21
?
20/16 [SL]
?
York Way North Jn
10/22
?
20*13 ~ 20*15
?
Camden Road Central Jn
10/28
?
20/11
?
Camden Road Jn
10/30
?
20/09½
?
Gospel Oak
10/35 [P1]
10/35
20/05 [P2]
20/04
Kensal Green Jn
10/48
?
19/51
?
Willesden Junction HL
10.50 ~ 10.51 [P5]
?
19/49 [P4]
?
Acton Wells Jn
10/56½
10/55
19/46
19/46
Acton Main Line
10/59 [RL]
?
19c42 ~ 19c43
?
Acton West
11/01 [RL]
?
19/40½ [RL]
?
Southall East Jn
?
?
19/35 [RL]
?
Southall
11/05 [RL]
?
19/34 [ML]
?
Heathrow Airport Jn
11/06½ [RL]
11/09
19/31 [ML]
?
Slough
11/15½ [P2] [RL]
?
19/19 [P5] [RL]
19/22
Maidenhead
11/27 [P1] [RL]
?
19/12½ [P4] [RL]
?
Twyford
11/35 [RL]
?
19/07 [RL]
?
Kennet Bridge Jn
11/40 [DML]
?
19/03 [RL]
?
Reading
11/42 [P9] [ML]
11/39
19/01 [P14] [URL]
?
Reading HL Jn // West Jn
11/43 [ML]
?
18/59 [RL]
?
Goring & Streatley
11/49½ [ML]
?
18/51½ [RL]
?
Didcot East Jn
?
?
18/44½ [UR] [RL]
?
Didcot Parkway
11/56 [P1]
11/54
18*42 ~ 18*43 [P4] [RL]
18/43
Foxhall Jn
?
?
18/40 [RL]
?
Wantage Road
12/01
?
18/33½
?
Challow
12/04
?
18/31
?
Uffington
12/06
?
18/29
?
Swindon
12/16 [P4]
12/12
18/20
18/24
Wootton Bassett Jn
12/20½
?
18/14
18/19
Chippenham
12/28 [P1]
?
18/06 [P2]
?
Thingley East Jn
12/29
?
18/05
?
Thingley Jn
12/29½
?
?
?
Bathampton Jn
12/36½
12/39
17/57
?
Bath Spa
12.40a ~ 12.44d [P1]
12.45 ~ 12.49
17.48a ~ 17.53d [P2]
17.49 ~ 17.55
North Somerset Jn
12/55
?
17/36½
?
Bristol East Jn
12/56 [DM]
?
17/35½
?
Bristol Temple Meads
12.58a [P10]
13.05
17.34d [P15] [DM]
17.34
Dean Forest Railway Option
Traction
Location
Booked (out)
Booked (rtn)
road coach
Bristol Temple Meads
??.??d
??.??a
train
Norchard
(14.10a) ~ 14.20d
15.45a ~ 15.55d
Lydney Junction
-
??.??a ~ ??.??d
Parkend
14.30a
14.50d


Associated E.C.S. Moves
03/07/2015: 5Z28 : (?47804+tour stock+47851?) : Carnforth Steamtown to Carnforth H.S.
03/07/2015 : 5Z28 : (?47851+tour stock+47804?) : Carnforth H.S. to Wymondham
03/07/2015 : 5Z28 : (?47804+tour stock+47851?) : Wymondham to Dereham (M.N.R.)
06/07/2015 : 5Z31 : (47xxx+tour stock+47yyy) : Dereham (M.N.R.) to Wymondham
06/07/2015 : 5Z31 : (47yyy+tour stock+47xxx) : Wymondham to Carnforth H.S.
06/07/2015 : 5Z31 : (47xxx+tour stock+47yyy) : Carnforth H.S. to Carnforth Steamtown
| | | |
| --- | --- | --- |
| Location | Booked (out) | Booked (rtn) |
| Carnforth Steamtown | 07.10d | 19.00a |
| Carnforth H.S. | 07*20 ~ 07*30 | 18.41 ~ 18.50 |
| Carnforth | 07*35 ~ 08*38 [DFG] | 17*39 ~ 18*39 |
| Carnforth North Jn | 08/39 | 17/38 |
| Morecambe South Jn | 08/45 | 17/32½ |
| Lancaster | 08/46½ | 17/29 [DFL] |
| Garstang & Catteral | 08/56 | 17/16 |
| Preston | 09*07 ~ 09*12 [P6] | 17/06 [P3] |
| Ribble Jn | 09/13½ [SL] | 17/03 [FL] |
| Farington Curve Jn | 09/17 | 17/01 [SL] |
| Lostock Hall Jn | 09/20 | 16/57 |
| Blackburn | 09/33 [P2] | 16/46 [P4] |
| Daisyfield Jn | 09/34 | 16/44 [UEL] |
| Accrington | 09/45½ [P1] | 16/34 |
| Gannow Jn | 09/57 | 16/26 |
| Copy Pit | 10/07 | 16/17 |
| Hall Royd Jn | 10/19½ | 16/07½ |
| Hebden Bridge | 10/26 [P2] | 15/58½ [P1] |
| Milner Royd Jn | 10/34 | 15/49 |
| Greetland Jn | 10/36 | 15/45 |
| Bradley Wood Jn | 10/41 | 15/39 |
| Heaton Lodge East Jn | 10/43 | 15/35½ |
| Mirfield East Jn | 10/45½ | 15/27½ [SL] |
| Thornhill LNW Jn | 10/46 | ? |
| Horbury Jn | 10/47 [SL] | 15/18 |
| Wakefield Kirkgate | 11/04 [P3] | 15/14 [UG] [FL] |
| Calder Bridge Jn | 11/06 | 15/12 |
| Crofton West Jn | 11/09 | 15/09 |
| Hare Park Jn | 11/15 | 15/06 |
| Hemsworth Loop | 11*21 ~ 11*36 | ? |
| South Kirkby Jn | 11/41 | 14/58 |
| Adwick Jn | 11/46 | 14/52½ |
| Adwick | 11/47 [P1] | 14/52 [P2] |
| Doncaster | 11c54 ~ 11c56 [P8] | 14c45 ~ 14c47 [P4] |
| Bridge Jn | 12/00 [WSL] | 14/31 [WS1] |
| Decoy North Jn | 12/02 | 14/25 [DS1] |
| Decoy South Jn | 12/03 | 14/23 |
| Bessacarr Jn | 12/05 | - |
| Gainsborough Trent Jn's | 12/26 | - |
| Gainsborough Lea Road | 12/28 | - |
| Stow Park | 12/34 | - |
| West Holmes Jn | 12/52 | - |
| Lincoln | 12/55 | - |
| Pelham Street Jn | 12/56 | - |
| Metheringham | 13/06 | - |
| Sleaford North Jn | 13/14 [UA] | - |
| Slaeford South Jn | 13/16 | - |
| Quadring Sig. WS7070 | 13/25 | - |
| Spalding | 13/32 [P1] | - |
| Loversall Carr Jn | - | 14/21 [WSL] |
| Retford | - | 14/11 |
| Newark Flat Crossing | - | 13/56½ |
| Newark Northgate | - | 13/56 [P1] |
| Claypole Loop | - | 13/52½ |
| Grantham | - | 13/44½ [P2] |
| Stoke Jn | - | 13*35 ~ 13*37 |
| Tallington Jn | - | 13/18 [SL |
| Helpston Jn | - | 13/13 |
| Werrington Jn | 13/50 [SL] | ? |
| Peterborough | 13/57 [P5] [MI] | 13c04 ~ 13c06 [P7] [SL] |
| Peterborough East Jn | 13/59 | 13/02 |
| Whittlesea | 14/07 [P2] | 12/53 [P1] |
| March | 14/16 [P2] | 12/43 |
| Ely West Jn | 14/33 | 12/28 |
| Ely North Jn | 14/38½ | 12/25½ |
| Brandon | 14/58 [P1] | 12/00 [P2] |
| Thetford | 15/06 [P1] | 11/53 [P2] |
| Attleborough [P1] | 15/21 | 11/39 [P2] |
| Wymondham | 15.28 ~ 15.38 [P1] | 11.21 ~ 11.31 [P1] |
| Dereham (M.N.R.) | 16.30a | 10.30d |
04/07/2015: 5Z29 : (47804+tour stock+47851) : Bristol Temple Meads to Bedminster
04/07/2015: 5Z30 : (47851+tour stock+47804) : Bedminster to Bristol Temple Meads
| | | |
| --- | --- | --- |
| Location | Booked (out) | Booked (rtn) |
| Bristol Temple Meads | 13.20d [P10] [CL] | 17.04a [P15] |
| Bristol West Jn | 13/21½ [CL] | 17/02 [P15] |
| Bedminster | 13.23a | 17.00d [CL] |