7th March 2015
Railway Touring Company
The Hadrian
| | |
| --- | --- |
| Locos Used | 47746 'Chris Fudge' & steam: 45407 'The Lancashire Fusilier' & 45690 'Leander' |
| Stock Used (2) | (17025)+99121+99122+99712+99125+99127+3136+99350+99318+`4905+4951+21266 |
Route :
1Z65 : Manchester Victoria to Carlisle
1Z69 : Carlisle to Preston
| | |
| --- | --- |
| Loco(s) | Route |
| 47746 | Manchester Victoria - Ordsall Lane Jn - Eccles - Parkside Jn - Golborne Jn - Wigan North Western - Preston - Lancaster - Carnforth No.1 U&DGL |
| 45407 + 45690 | Carnforth No.1 U&DGL - (via WCML) - Carlisle |
| 45407 + 46590 | Carlisle - Petteril Bridge Jn - Haltwhistle - Hexham - Blaydon - Norwood Jn - Low Fell Jn - Durham - (via ECML) - York - Church Fenton - Milford UPL - Castleford - Wakefield Kirkgate - Horbury Jn - Healey Mills 'B' Jn (Up Slow Line) (5) |
| 46590 | Healey Mills 'B' Jn (Up Slow Line) - Mirfield East Jn - Heaton Lodge Jn - Bradley Wood Jn - Brighouse - Greetland Jn - Milner Royd Jn - Hebden Bridge - Hall Royd Jn - Littleborough - Rochdale - Castleton - Thorpes Bridge Jn - Manchester Victoria - Ordsall Lane Jn - Salford Crescent - Bolton - Lostock Jn - Crow Nest Jn - Wigan North Western - Preston |
Notes :
(1) 45407 replaced unavailable 45699 'Galatea'.
(2) 17025 was only in the consist when 45690 was on the train.
(3) The outward leg was originally advertised to run via Bolton.
(4) The return leg was delayed at Milford, due to a points failure.
(5) 45407 was originally booked to be detached from the tour during the water stop at Brighouse.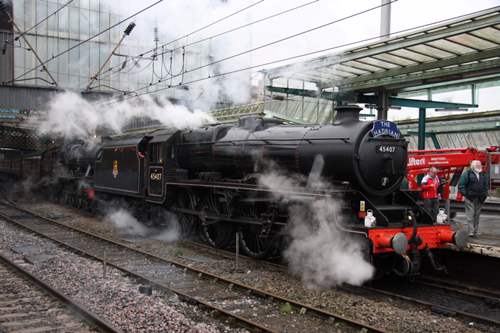 45407 & 46590 are seen here on arrival into Carlisle (Mark Herriott)
Source : Mark Herriott (on the tour from/to Wigan North Western)



Timings (Booked & Actual)
(from Mark Herriott)
| | | |
| --- | --- | --- |
| Location | Booked | Actual |
| Manchester Victoria | 07.15d [P3] | 07.15 |
| Deal Street Jn | 07/17 | 07/17 |
| Ordsall Lane Jn | 07/29 | 07/24 |
| Eccles | 07/33 | 07/28 |
| Astley | 07/38 | 07/33 |
| Parkside Jn | 07/44 | 07/44 |
| Golborne Jn | 07/47 | 07/47 |
| Springs Branch Jn | 07/52 | 07/52 |
| Wigan South Jn | 07/52½ | ? |
| Wigan North Western | 07.53a ~ 07.55d [P5] | 07.54 ~ 07.57 |
| Balshaw Lane | 08/05½ | 08/06 |
| Euxton Jn | 08/08 | 08/09 |
| Preston | 08.13a ~ 08.15d [P3] | 08.14 ~ 08.17 |
| Garstang & Catteral | 08/24½ | 08/26 |
| Lancaster | 08/33½ [DF] | 08/35 |
| Morecambe South Jn | 08/35 | 08/37 |
| Carnforth U&DGL | 08L43 ~ 09L30 [U&DGL] | 08L45 ~ 09L23 [U&DGL1] |
| Carnforth North Jn | 09/33 | 09/24 |
| Oxenholme Lake District | 09/49 [P2] | 09/39 [P2] |
| Tebay | 10/05 | 09/52 |
| Shap Summit | 10/11½ | 09/58 |
| Penrith South Jn | 10/25 [DS] | 10/11 |
| Penrith North Lakes | 10.28 ~ 10.35 [P3] | 10/13 |
| Carlisle | 10.56a [P3] ~ 12.36d [P3] | 10.31 [P3] ~ 12.36 [P3] |
| London Road Jn | 12/40 | 12/40 |
| Petteril Bridge Jn | 12/41 | 12/41 |
| Corby Gates SB | 12/46 | 12/46 |
| Brampton Fell SB | 12/55 | 12/55 |
| Low Row SB | 13/03 | 13/02 |
| Haltwhistle | 13/15 | 13/12 |
| Haydon Bridge | 13/26 | 13/26 |
| Hexham | 13/35 [P1] | 13/36 |
| Prudhoe | 13/48 | 13/46 |
| Wylam | 13/51 | ? |
| Blaydon | 14/01 | ? |
| Metrocentre | 14/06 [P1] | 14.01 ~ 14.02 |
| Norwood Jn | 14/12 | 14/05 |
| Low Fell Royal Mail Terminal | 14w15 ~ 15w07 | 14w09 ~ 14w56 [US] |
| Low Fell Jn | 15/10 [SL] | 15/00 |
| Birtley Jn | 15/16 | 15.08 ~ 15.16 |
| Durham | 15/29 [P1] | 15/29 |
| Tursdale Jn | 15/37 | 15/36 |
| Ferryhill South Jn | 15/41 | 15/39 |
| Darlington | 15.57 ~ 16.17 [UM] | 15.56 ~ 16.20 [UM] |
| Northallerton | 16/33 [US] | 16/36 |
| Thirsk | 16/41 [US] | 16/45 |
| Tollerton Jn | 16/53 [US] | 16/58 |
| Skelton Bridge Jn | 17/03 [UF] | 17/05 |
| Skelton Jn | 17/06 | 17/08 |
| York | 17.10a ~ 17.18d [P3] | 17.13 ~ 17.17 |
| Colton Jn | 17/25 [NNL] | 17/25 |
| Church Fenton | 17/30 [P1] | 17/30 |
| Milford Up Passenger Loop | 17w37 ~ 18w17 | 17w37 ~ 19w28 |
| Milford Jn | 18/20 | 19/30 |
| Castleford | 18/29 | 19/39 |
| Altofts Jn | 18/35 | 19/44 |
| Wakefield Kirkgate | 18/42 [P2] | 19.52 ~ 20.02 |
| Horbury Jn | 18/48 | 20/08 |
| Healey Mills 'B' Jn | 18/53 | 20L15 ~ 20L24 |
| Mirfield East Jn | 18/57 [SL] | 20/34 |
| Heaton Lodge Jn | 19/01 | 20/36 |
| Bradley Wood Jn | 19/07 | 20/41 |
| Brighouse | 19L11 ~ 19L40 | 20w45 ~ 21w01 |
| Greetland Jn | 19/47 | 21/08 |
| Milner Royd Jn | 19/50 | 21/10 |
| Hebden Bridge | 19/59 [P1] | 21/17 |
| Hall Royd Jn | 20/05 | 21/23 |
| Littleborough | 20/13 [P1] | 21/33 |
| Rochdale East Jn | 20/16 | 21/36 |
| Rochdale | 20/17 [P4] | 21/37 |
| Castleton East Jn | 20/20 | 21/40 |
| Vitriol Works | 20/25 | 21/44 |
| Thorpes Bridge Jn | 20/30 | 21/47 |
| Miles Platting | 20/32 [FL] | 21/49 |
| Manchester Victoria | 20.39a ~ 20.47d [P3] | 21.54 ~ 21.57 |
| Deal Street Jn | 20/49 | 21/59 |
| Ordsall Lane Jn | 21/00 | 22/01 |
| Salford Crescent | 21/02 | 22/03 |
| Bolton | 21.15a ~ 21.17d | 22.24 ~ 22.26 |
| Lostock Jn | 21/24 | 22/32 |
| Crow Nest Jn | 21/29 | 22/37 |
| Wigan Station Jn | 21/33 | 22/42 |
| Wigan North Western | 21.38a ~ 21.43d [P1] | 22.44 ~ 22.48 [P1] |
| Balshaw Lane | 21/58 | 23/02 |
| Euxton Jn | 22/01 | 23/04 |
| Preston | 22.13a [P5] | 23.18 |


Associated E.C.S. & Light Engine Moves
5Z65 : (47746 with tour stock) : Carnforth Steamtown to Manchester Victoria
| | |
| --- | --- |
| Location | Booked |
| Carnforth Steamtown | 02.30d |
| Carnforth H.S. | 02.40 ~ 02.50 |
| Carnforth | 02.55 ~ 04.23 |
| Carnforth North Jn | 04/24 |
| Morecambe South Jn | 04/30 |
| Lancaster | 04/32 |
| Garstang & Catteral | 04/42 |
| Preston | 04/52 |
| Farington Curve Jn | 04/56 |
| Euxton Jn | 05/00 |
| Balshaw Lane | 05/02 |
| Wigan North Western | 05/12 |
| Wigan Station Jn | 05/14 |
| Crow Nest Jn | 05/19 |
| Lostock Jn | 05/25 |
| Bolton | 05/29 |
| Salford Crescent | 05/43 |
| Ordsall Lane Jn | 05/45 |
| Deal Street | 05/48 |
| Manchester Victoria | 05.50 ~ 05.52 |
| Miles Platting | 05/56 |
| Brewery Jn [DPL] | 05.59 ~ 06.33 |
| Miles Platting | 06/36 |
| Manchester Victoria | 06.41a [P3] |
0Z65 : (45407) : Bury Bolton Street to Carnforth Steamtown
| | |
| --- | --- |
| Location | Booked |
| Bury Bolton Street | ?d |
| Hopwood GF | ? ~ 04.47 |
| Castleton North Jn | 04.55 ~ 04.59 |
| Castleton South Jn | 05.18 ~ 05.22 |
| Miles Plating | 05/40 |
| Manchester Victoria | 05/44 |
| Ordsall Lane Jn | 05/52 |
| Salford Crescent | 05/55 |
| Bolton | 06/08 |
| Lostock Jn | 06/13 |
| Crow Nest Jn | 06/19 |
| Wigan Station Jn | 06/24 |
| Wigan North Western | 06.26 ~ 06.30 |
| Balshaw Lane | 06/41 |
| Euxton Jn | 06/44 |
| Farington Curve Jn | 06/49 |
| Preston | 06.52 ~ 07.02 |
| Garstang & Catteral | 07/13 |
| Lancaster | 07/24 |
| Morecambe South Jn | 07/26 |
| Carnforth North Jn | 07/32 |
| Carnforth | 07.33 ~ 07.34 |
| Carnforth H.S. | 07.37 ~ 07.42 |
| Carnforth Steamtown | 07.52a |
5Z69 : (45407 + 45690 with 17025) : Carlisle - Petteril Bridge Jn - Upperby - Carlisle
(loco turning trip)
| | |
| --- | --- |
| Location | Booked |
| Carlisle | 11.15d |
| London Road Jn | 11/18 |
| Petteril Bridge Jn | 11.19 ~ 11.22 |
| London Road Jn | 11/23 |
| Upperby Jn | 11/27 |
| Upperby | 11w29 ~ 12w22 [UTGL] |
| Upperby Jn | 12/24 |
| Carlisle | 12.26a [P3] |
0Z69 : (45407) : Brighouse to Bury Bolton Street
(actually ran from Healey Mills)
| | |
| --- | --- |
| Location | Booked |
| Brighouse | 19.18d |
| Greetland Jn | 19/23 |
| Milner Royd Jn | 19/25 |
| Hebden Bridge | 19/33 |
| Hall Royd Jn | 19/38 |
| Littleborough | 19/46 |
| Rochdale | 19/52 |
| Castleton | 19/54 |
| Castleton East Jn | 19.55 ~ 19.59 |
| Castleton | 20.01 ~ 20.05 |
| Castleton East Jn | 20/09 |
| Castleton South Jn | 20/17? |
| Castleton North Jn | 20.24 ~ 20.28 |
| Hopwood GF | 20.31 ~ ? |
| Bury Bolton Street | ?a |