8th November 2014
UK Railtours
The Doctor Hoo
| | |
| --- | --- |
| Locos Used | 66030 & 66151 |
| Stock Used | 35469+3097+3068+1651+3123+3069+3121+1691+5341+4927+5292+4959+5366 |
Route :
1Z41 : Clapham Junction to Angerstein Wharf
1Z42 : Angerstein Wharf to London Waterloo (5)
| | |
| --- | --- |
| Loco(s) | Route |
| 66030 (1) | Clapham Junction - Longhedge Jn - Factory Jn - Voltaire Road Jn - Brixton - Cambria Jn - Denmark Hill - Nunhead - Lewisham - Blackheath - Eltham - Crayford Creek Jn - Crayford Spur 'A' - Dartford - Gravesend - Hoo Junction - Grain [Line 1] |
| 66151 (2) | Grain [Line 1] - Hoo Junction - Gravesend - Dartford - Crayford Spur 'A' - Crayford Creek Jn - Slade Green - Woolwich Arsenal - Charlton - Angerstein Wharf [RR Loop] (4) |
| 66030 (1) | Angerstein Wharf [RR Loop] - Charlton - Woolwich Arsenal - Slade Green - Crayford Creek Jn - Crayford Spur 'A' - Crayford Spur 'B' - Sidcup - Lee Jn - Lee Spur Jn - Grove Park - Chislehurst Jn - St Mary Cray Jn - Swanley - Otford Jn - Bat & Ball - Sevenoaks - Tonbridge - Paddock Wood - Headcorn - Ashford International - Appledore - Lydd Town - Dungeness (6) |
| 66151 (2) | Dungeness - Lydd Town - Appledore - Ashford International - Charing - Maidstone East - Otford Jn - Swanley - St Mary Cray Jn - Bickley Jn - Bromley South - Shortlands Jn - Bellingham - Catford - Nunhead - Denmark Hill - Cambria Jn - Brixton - Voltaire Road Jn - Linford Street Jn - Nine Elms Jn - London Waterloo |
Notes :
(1) 66151 on rear.
(2) 66030 on rear.
(3) This tour was originally advertised to start from London Waterloo. However the letter which came with the tour tickets advised that it would start from Clapham Junction, 'in order to match loco availability issues on a very busy weekend in the Railhead Treatment season with available pathways to Grain and Angerstein'.
(4) At Angerstein Wharf the tour stopped short of the end of the line, due to a broken rail.
(5) Shown as 1Z43 in error, in the tour brochure from Angerstein Wharf to Lee Jn.
(6) On the Dungeness branch, the tour was delayed by sheep on the line.
Sources : David Lodwick, Nick Bartlett (both on the tour throughout) & Mark Herriott



Photo Review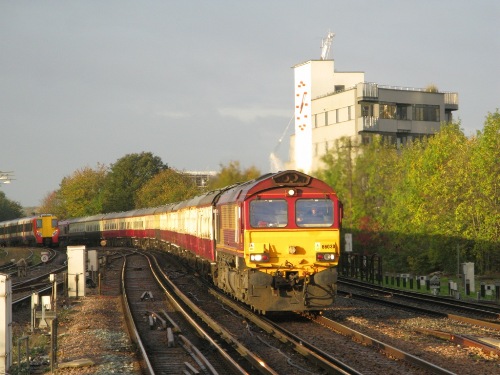 66030 arriving at Clapham Junction to start the day (photo: Nick Bartlett)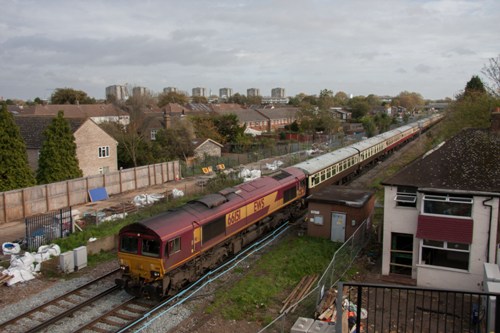 66151 passing Abbey Wood en-route to Angerstein from the Isle of Grain
(photo: Mark Herriott)


Timings (Booked & Actual)
(from David Lodwick, Nick Bartlett & Mark Herriott)
| | | | |
| --- | --- | --- | --- |
| M.C | Location | Booked | Actual |
| 0.00 | Clapham Junction | 08.05d [P4] | 08.10 [P4] |
| 1.08 | Longhedge Jn | 08/09 | 08/14 |
| 1.47 | Factory Jn | 08/16 [AL] | 08/16 [AL] |
| ? | Voltaire Road Jn | 08/17 [AL] | 08/17 [AL] |
| ? | Shepherds Lane Jn | 08/19 | 08/19 [AL-DCF] |
| 3.00 | Brixton | 08/20 | 08/20 |
| 3.56 | Cambria Jn | 08/23 | 08.22 ~ 08.25 |
| 4.08 | Denmark Hill | 08/25 [P4] | 08/26 [P4] |
| 4.53 | Crofton Road Jn | 08/26 | 08/27 |
| 5.63 | Nunhead | 08/31 [P2] | 08/32 [P2] |
| ? | Lewisham Vale Jn | 08/34 | 08/36 |
| 7.49 | Lewisham | 08/35 [P4] | 08/37 [P4] |
| 8.40 | Blackheath | 08/37 [P2] | 08/40 [P2] |
| 10.56 | Eltham | 08/44 [P2] | 08/46 [P2] |
| 15.36 | Barnehurst | 08/54 [P2] | 08/54 [P2] |
| 17.01 | Crayford Creek Jn | 09/00 | 08.57 ~ 09.00 |
| 17.57 | Crayford Spur 'A' | 09/01 | 09/03 |
| ? | Dartford Jn | 09/03 [DM] | 09/04 [DM] |
| 18.47 | Dartford | 09/04 [P3] | 09/05 [P4] |
| ? | Springhead Jn | 09/12 | 09/12 |
| 25.30 | Gravesend | 09/14 [P2] | 09.14 ~ 09.15 [P2] |
| 28.54 | Hoo Junction | 09/20 | 09/21 |
| 30.14 | Cliffe Sig.NK509 | 09t24 ~ 09t27 | 09.25 ~ 09.27 |
| 39.76 | Grain | 09.55a ~ 10.22d | 09.50 ~ 10.24 [Line 1] |
| 49.58 | Cliffe Sig.NK509 | 10t47 ~ 10t50 | 10.46 ~ 10.49 |
| 51.18 | Hoo Junction | 10/53 | 10/53 |
| 54.42 | Gravesend | 10/59 [P1] | 10/59 [P1] |
| ? | Springhead Jn | 11/01 | 11/02 |
| 61.25 | Dartford | 11/12 [P2] | 11/08 [P2] |
| ? | Dartford Jn | 11/13 [UM] | 11.09 ~ 11.12 [UM] |
| 62.15 | Crayford Spur 'A' | 11/14 | 11/14 |
| 62.71 | Crayford Creek Jn | 11/18 | 11/16 |
| 63.27 | Slade Green | 11/20 | 11/17 [P1] |
| 68.56 | Plumstead | 11/30 [P1] | 11/30 [P1] |
| 69.25 | Woolwich Arsenal | 11/32 [P1] | 11/34 [P1] |
| 71.13 | Charlton | 11/38 [P1] | 11/41 [P1] |
| ? | Angerstein Jn | 11/40 | 11/43 |
| 72.15 | Angerstein Wharf | 11.55a ~ 12.25d | 11.49 ~ 12.22 [RR Loop] |
| ? | Angerstein Jn | 12/38 | 12.26 ~ 12.38 |
| 73.17 | Charlton | 12/40 [P2] | 12/39 [P2] |
| 75.05 | Woolwich Arsenal | 12/46 [P2] | 12/45 [P2] |
| 75.54 | Plumstead | 12/48 [P2] | 12/47 [P2] |
| 81.03 | Slade Green | 12/59 | 13/00 [P2] |
| 81.39 | Crayford Creek Jn | 13/00 | 13/01 |
| 82.15 | Crayford Spur 'A' | 13/06 | 13.03 ~ 13.05 |
| 82.45 | Crayford Spur 'B' | 13/09 | 13/07 |
| 83.31 | Crayford | 13/11 | 13/10 |
| 86.63 | Sidcup | 13/18 | 13/18 [P1] |
| 91.13 | Lee Jn | 13/27 | 13/28 [Up Spur] |
| 91.42 | Lee Spur Jn | 13/29 | 13/30 [DS] |
| 92.76 | Grove Park | 13c32 ~ 13c34 [P5] [DS] | 13.34 ~ 13.37 [P5] [DS] |
| 95.31 | Chislehurst Jn | 13/38 [RVL] | 13/42 [RVL] |
| 96.08 | St Mary Cray Jn | 13/40 [DCS] | 13.44 ~ 13.45 [DCF] |
| 100.22 | Swanley | 13/44 [P4] | 13/53 [P2] |
| 107.44 | Otford Jn | 13/54 | 14/02 |
| ? | Bat & Ball | 13/56 | 14/04 |
| 109.60 | Sevenoaks | 13/58 [P3] | 14/07 [P4] |
| 117.13 | Tonbridge | 14/08 [DF] | 14/15 [DF] |
| 122.36 | Paddock Wood | 14/15 [DM] | 14/20 [DM] |
| 132.71 | Headcorn | 14/24 [DM] | 14/29 [DM] |
| 143.60 | Ashford International | 14.40a ~ 15.12d [P2] | 14.45 ~ 15.13 [P2] |
| 152.21 | Appledore | 15t29 ~ 15t30 [P2] | 15/30 [P2] |
| 159.22 | Lydd Town | 16.05 ~ 16.07 | 16/14 [Loop] |
| 161.51 | Dungeness | 16.15 ~ 16.30 | 16.26 ~ 16.40 |
| 164.00 | Lydd Town | 16.38 ~ 16.40 | 16/49 [ML] |
| 171.01 | Appledore | 17t18 ~ 17t19 [P1] | 17/50 [P1] |
| 179.42 | Ashford International | 17c37 ~ 17c39 [P1] | 18C09 ~ 18C13 [P1] |
| 185.48 | Charing | 17/49 [P1] | 18/22 [P1] |
| 198.63 | Maidstone East | 18/03 [P1] | 18/36 [P1] |
| 214.06 | Otford Jn | 18/19 | 18/57 |
| 221.28 | Swanley | 18/29 [P1] [UCF] | 19/07 [P1] [UCF] |
| 225.42 | St Mary Cray Jn | 18/35 [UCS] | 19/16 [UCF-UCS] |
| 226.21 | Bickley Jn | 18/36 [UCS] | 19/17 [UCS] |
| ? | Bromley South | 18/38 | 19/20 [P3] |
| 229.02 | Shortlands Jn | 18/40 | 19/22 |
| 230.75 | Bellingham | 18/43 [P1] | 19/25 [P1] |
| ? | Catford | 18/45 [P1] | 19/27 [P1] |
| 233.71 | Nunhead | 18/50 [P1] | 19/30 [P1] |
| ? | Crofton Road Jn | 18/55 | 19/32 |
| 235.46 | Denmark Hill | 18/57 [P3] | 19/33 [P3] |
| 235.78 | Cambria Jn | 18/58 | 19/34 |
| 236.54 | Brixton | 19/03 | 19/36 |
| ? | Shepherds Lane Jn | 19/04 | 19/37 |
| 237.63 | Voltaire Road Jn | 19/05 | 19/39 [UCF] |
| 238.19 | Linford Street Jn | 19/06 | 19/40 |
| 238.71 | Nine Elms Jn | 19/07 [WR] | 19/41 [WR] |
| 240.69 | London Waterloo | 19.14a [P19] | 19.46 [P19] |


Associated E.C.S. Workings
08/11/14 :
5Z41 : (67005) : Eastleigh T&RSMD to Willesden SW Sidings
5Z41 : (66030 with 66151 on rear) : Willesden SW Sidings to Clapham Junction
| | |
| --- | --- |
| Location | Booked |
| Eastleigh T&RSMD | 03.45d |
| Eastleigh | 03.54 ~ 03.55 |
| Romsey | 04/11 |
| Dean | 04/19 |
| Laverstock South Jn | 04/27 |
| Laverstock North Jn | 04/29 |
| Andover | 04/47 |
| Worting Jn | 05/02 |
| Basingstoke | 05/04 |
| Farnborough Main | 05/20 |
| Woking | 05/36 |
| Byfleet & New Haw | 05/43 |
| Addlestone Jn | 05/45 |
| Virginia Water | 05/58 |
| Staines | 06/12 |
| Feltham | 06/20 |
| Hounslow | 06/24 |
| Brentford | 06/28 |
| Kew East Jn | 06/31 |
| South Acton Jn | 06/33 |
| Acton Wells Jn | 06/38 |
| Willesden SW Sidings | 06L41 ~ 07L30 |
| Acton Wells Jn | 07/33 |
| South Acton Jn | 07/40 |
| Kew East Jn | 07/44 |
| New Kew Jn | 07/47 |
| Barnes | 07/53 |
| Clapham Junction | 07.58a [P4] |
5Z42 : (Cl.66 with Cl.66 on rear) : London Waterloo to Eastleigh T&RSMD
(cancelled, due to shortage of train crew)
| | |
| --- | --- |
| Location | Booked |
| London Waterloo | 19.41d [P19] |
| Clapham Junction | 19/50 |
| Barnes | 19/55 |
| Brentford | 20/01 |
| Hounslow | 20/05 |
| Feltham | 20/10 |
| Staines | 20/18 |
| Virginia Water | 20/28 |
| Addlestone Jn | 20/38 |
| Byfleet & New Haw | 20/53 |
| Woking | 21/00 |
| Farnborough Main | 21/10 |
| Basingstoke | 21/24 |
| Worting Jn | 21/29 |
| Andover | 21/42 |
| Laverstock North Jn | 22/04 |
| Laverstock South Jn | 22/06 |
| Dean | 22/15 |
| Romsey | 22/26 |
| Eastleigh | 22.42 ~ 22.43 |
| Eastleigh South Jn | 22/46 |
| Eastleigh T&RSMD | 22.58a |
5Z42? : (66030 with 66151 on rear) : London Waterloo to Wembley Yard
| | |
| --- | --- |
| Location | Revised |
| London Waterloo | 19.41d |
| Clapham Junction | 19/50 |
| Barnes | 19/55 |
| New Kew Jn | 20/00 |
| Kew East Jn | 20/02 |
| Acton Wells Jn | 20/16 |
| Acton Canal Wharf Jn | 20/18 |
| Willesden No.7 Jn | 20/20 |
| Wembley Yard | 20.32a |
11/11/14 :
6Z57? : (66147) : Wembley Yard to Eastleigh
(formed of 13 coaches and 38 MEAs!)
| | | |
| --- | --- | --- |
| Location | Revised | Actual |
| Wembley Yard | 19.53d | |
| Willesden No.7 Jn | 20/01 | |
| Willesden WL Jn | 20/04 | |
| Mitre Bridge Jn | 20/06 | |
| North Pole Jn | 20/08 | |
| Kensington Olympia | 20/13 | |
| Latchmere Jn | 20/21 | |
| Clapham Junction | 20/30 | |
| Barnes | 20/38 | |
| Brentford | 20/44 | |
| Hounslow | 20/52 | |
| Feltham | 20/56 | |
| Staines | 21/02 | |
| Virginia Water | 21/09 | |
| Addlestone Jn | 21/20 | |
| Byfleet & New Haw | 21/23 | |
| Woking | 21/34 | |
| Farnborough Main | 21/47 | |
| Basingstoke | 22/02 | [P2] |
| Worting Jn | 22/05 | |
| Wallers Ash | 22.18 ~ 22.38 [DPL] | |
| Winchester | 22/45 | |
| Eastleigh East Yard | 22.57a | |