7th September 2014
GBRf
AC/DC Highway to Hampshire
| | |
| --- | --- |
| Locos Used | 73109, 73207, 92028 'Saint Saëns' & 92038 'Voltaire' |
| Stock Used | 35469+21269+3097+3066+1651+3123+3069+3068+3120+1691+3110+3121 |
Route : 1Z50 throughout
| | |
| --- | --- |
| Locos | Route |
| 92028 + 92038 (2) | Crewe - Alsager - Kidsgrove - Stoke-on-Trent - Colwich Jn - Tamworth LL - Rugby |
| 92028 + 92038 | Rugby - Northampton - Milton Keynes Central - Watford Junction - Wembley Central - Wembley Yard [Willesden Up Relief Line] |
| 73207 + 73109 | Wembley Yard [Willesden Up Relief Line] - Sudbury Jn - Wembley Yard South Jn - Willesden No.7 Jn - Willesden WL Jn - Mitre Bridge Jn - North Pole Jn - Kensington Olympia - Latchmere Jn - Clapham Junction - Barnes - Richmond - Twickenham - Feltham - Staines - Virginia Water - West Byfleet - Woking - Farnborough Main - Basingstoke |
Notes :
(1) This tour was an E.C.S. move from Crewe to Eastleigh, and was made available to the public to raise funds for Leukaemia & Lymphoma Research.
(2) 92038 was dead-in-train from Crewe to Rugby.
(3) Delayed near Harrow & Wealdstone, due to road vehicle striking a railway bridge.

92028 & 92038 at Crewe before departure (photo: Joe Loughlin)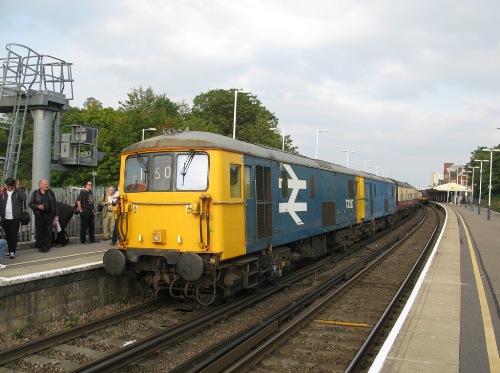 73207+73109 on arrival at Basingstoke (photo: Nick Bartlett)
Source : Nick Bartlett (on the tour from Rugby)



Timings (Booked & Actual)
(from Nick Bartlett & Realtime Trains)
| | | |
| --- | --- | --- |
| Location | Booked | Actual |
| Crewe | 11.53d [P1] | 11.55 |
| Crewe North Staffs Jn | 11/56½ [UDP] | 11/57 |
| Barthomley Jn | 12/00 | 12/01 |
| Alsager | 12/04 | 12/04 |
| Kidsgrove | 12/09½ | 12/09 |
| Stoke-on-Trent | 12.19a ~ 12.21d [P1] | 12.20 ~ 12.22 |
| Stoke Jn | 12/22½ | 12/24 |
| Stone | 12/29½ | 12/30 |
| Colwich Jn | 12/40½ [US] | 12/40 |
| Rugeley North Jn | 12/44½ [US] | 12/42 |
| Lichfield North Jn | 12/51 [US] | 12/48 |
| Tamworth LL | 12.58a ~ 13.00d | 12.54 ~ 12.59 |
| Amington Jn | 13/01 [US] | 13/01 |
| Nuneaton | 13/14 [US] [P5] [US] | 13/11 |
| Trent Valley Jn | 13/26 [SL] | 13/23 |
| Rugby | 13.29a ~ 13.35d [SL] [P5] [FL] | 13.25 ~ 13.35 [P6] |
| Hillmorton Jn | 13/36½ | 13/37 |
| Daventry North Jn | 13/39½ | 13/39 |
| Long Buckby | 13/46 | 13/43 |
| Northampton | 13/59 [UM] | 13/55 [UM] |
| Hanslope Jn | 14/09½ [US] | 14/02 [US] |
| Milton Keynes Central | 14.17a ~ 14.21d [US] [P1] [US] | 14.09 ~ 14.21 [US] [P1] [US] |
| Bletchley | 14/25 [US] [P4] [US] | 14/25 [US] [P4] [US] |
| Ledburn Jn | 14/34 [US] | 14/31 [US] |
| Tring | 14/42 [US] [P5] [US] | 14/39 [US] [P5] [US] |
| Bourne End Jn | 14/48½ [US] | 14/46 [US] |
| Watford Junction | 14.56a ~ 14.58d [US] [P9] [US] | 14.54 ~ 14.58 [US] [P9] [US] |
| Harrow & Wealdstone | 15/04 [US] | 15/19 [US] |
| Wembley Central | 15/07 [UR] | 15/24 [US] [P6] [U&DWR] |
| Wembley Yard [Willesden Sig.WM830&934] | 15L12 ~ 15L38 [UWR] | 15L29 ~ 16L03 [UWR] |
| Sudbury Jn | 15/39 [GL] | 16/04 |
| Wembley [Sig.WM781/783] | 15.45 ~ 15.50 | ? |
| Harlesden Jn | 15/51½ | DIV |
| Willesden North Jn | 15/53 | DIV |
| Willesden No.7 Jn | DIV | 16/10 [UWR] |
| Willesden WL Jn | 15/54 | 16/11 |
| Mitre Bridge Jn | 15/55 | 16/12 |
| North Pole Jn | 15/57 | 16/12½ |
| Kensington Olympia | 16/01 [P3] | 16/16 [P3] |
| Latchmere Jn | 16/08 | 16/21 |
| Clapham Junction | 16.11a ~ 16.16d [P6] [DS] | 16.23 ~ 16.25 [P6] [DS] |
| Barnes | 16/28 [P4] | 16/29 [P4] |
| Richmond | 16/33 [P1] | 16/33 [P1] |
| Twickenham | 16/37 [P5] | 16/35 [P5] |
| Whitton Jn | 16/40 | 16/37 |
| Feltham Jn | 16/40½ | 16/38 |
| Feltham | 16.42a ~ 16.44d [P2] | 16.41 ~ 16.43 [P2] |
| Staines | 16/49½ [P2] | 16/49 [P2] |
| Virginia Water | 16/57 [P4] | 16/57 [P4] |
| Addlestone Jn | 17/08 | 17/04 |
| Byfleet & New Haw | 17/09 [DS] | 17/07 [DS] |
| Woking | 17.14a ~ 17.16d [P4] [DF] | 17.14 ~ 17.16 [P4] [DF] |
| Woking Jn | 17/17 [DF] | 17/17 [DF] |
| Pirbright Jn | 17/21 | 17/22 [DF] |
| Farnborough Main | 17/24 [DF] | 17/24 [DF] |
| Fleet | 17/26½ [DF] | 17/26 [DF] |
| Basingstoke | 17.35a [DF] [P2] | 17.35 [DF] [P2] |


Associated E.C.S. Working
5Z52 : (73207 + 73109) : Basingstoke to Eastleigh T&RSMD
| | |
| --- | --- |
| Location | Booked |
| Basingstoke | 17.39d [P2] |
| Worting Jn | 17/43 |
| Winchester | 17/57 |
| Shawford Jn | 18/00 |
| Eastleigh | 18.06 ~ 18.08 |
| Eastleigh T&RSMD | 18.18a |