12th July 2014
Railway Touring Company
The Wizards Express
| | |
| --- | --- |
| Locos Used | 47580 'County of Essex' & steam: 5972 'Olton Hall' (running as 'Hogwarts Castle') |
| Stock Used (3) | (80217+4905)+13320+3136+99316+3150+3115+99318+99722+21241 |
Route :
1Z57 : Manchester Victoria to York
1Z59 : York to Manchester Victoria
| | |
| --- | --- |
| Loco(s) | Route |
| 47580 | Manchester Victoria - Salford Crescent - Bolton - Lostock Jn - Crow Nest Jn - Wigan North Western - Preston - Lancaster - Carnforth U&DGL |
| 5972 (1) | Carnforth U&DGL - Carnforth - Giggleswick - Settle Jn - Hellifield - Skipton - Keighley - Shipley - Kirkstall [UPL] (5) |
| 47580 (5) | Kirkstall [UPL] - Apperley Jn - Whitehall Jn - Leeds |
| 47580 (2) | Leeds - Engine Shed Jn - Stourton Jn - Methley Jn - Whitwood Jn - Castleford - Milford Jn - Church Fenton - York |
| 47580 | York - Church Fenton - Micklefield - Leeds - Whitehall Jn - Shipley - (reverse of outward route) - Manchester Victoria |
Notes :
(1) 47580 on rear.
(2) 5972 on rear.
(3) 80217+4905 were added to the consist on the outward leg at Carnforth U&DGL.
(4) This tour was advertised as being the last chance to ride behind 5972 'Olton Hall' before its boiler ticket expired. 5972 was then due to be moved to the 'Harry Potter' experience at Warner Brothers Studios, near Watford.
(5) Due to a small lineside fire between Hellifield and Gargrave, the train was stopped in Kirkstall Up Passenger Loop. 47580 then propelled the train into Leeds, where the train then reversed. Further delay was incurred due to signalling problems at Stourton Jn. On arrival at York, 5972 was removed from the tour. The return leg was worked by 47580 throughout, with a lot of disappointed passengers on board.
Source : Nick Bartlett (on the tour throughout)



Photo Review

5972 in the sun at Carnforth on the outward leg (photo: Nick Bartlett)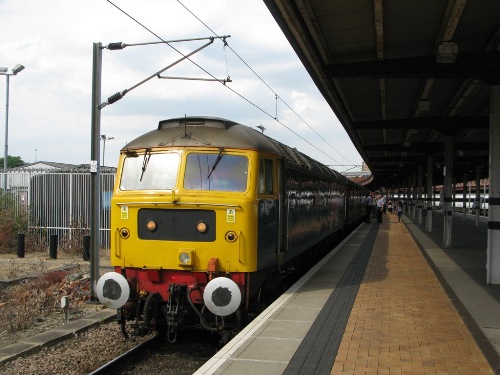 47580 is seen here at York on the return leg (photo: Nick Bartlett)


Timings (Booked & Actual)
(from Nick Bartlett)
| | | | | | |
| --- | --- | --- | --- | --- | --- |
| Location | Booked | Actual | | Booked | Actual |
| Manchester Victoria | 06.50d [P4] [FL] | 06.50 [P4] [FL] | | 22.49a [P5] | 21.29 [P3] |
| Deal Street Jn | 06/52 | 06/52 | | 22/47 [FL] | 21/28 |
| Salford Central | 06/52½ | 06/53 [P2] | | 22/45½ | 21.22 ~ 21.26 [P1] |
| Salford Crescent | 06/55 [P2] | 06/55 [P2] | | 22/42 [UB] | 21/20 [UB] |
| Bolton | 07.07a ~ 07.11d [P4] | 07.05 ~ 07.11 [P4] | | 22.27a ~ 22.29d [P4] | 21.08 ~ 21.09 [P3] |
| Lostock Jn | 07/15½ | 07/16 | | 22/23 | 21/03 |
| Crow Nest Jn | 07/24½ | 07/20 | | 22/17½ | 20/58 |
| Wigan Station Jn | 07/30 | 07/26 | | 22/13 | 20/53 |
| Wigan North Western | 07.32a ~ 07.46d [P1] | 07.28 ~ 07.49 [P1] | | 22.09a ~ 22.11d [P1] | 20.51 ~ 20.52 [P1] |
| Balshaw Lane Jn | 07/58 | 07/58 | | 21/58½ | 20/40 |
| Euxton Jn | 08/01½ | 07/59 [DF] | | 21/56 | 20/39 |
| Farington Jn | 08/04½ | 08/01 [DF] | | 21/53 | 20/36 [UF] |
| Preston | 08.08a ~ 08.11d [P5] | 08.10 ~ 08.13 [DF] [P5] [DT] | | 21.45a ~ 21.49d [P4] [UF] | 20.30 ~ 20.32 [UF] [P4] [UF] |
| Garstang & Catteral | 08/20½ | 08/22 | | 21/33½ | 20/21 |
| Lancaster | 08.31a ~ 08.33d | 08.31 ~ 08.34 [P3] | | 21.19a ~ 21.21d | 20.08 ~ 20.10 [P4] |
| Morecambe South Jn | 08/36 | 08/37 | | 21/17 | 20/05 |
| Carnforth U&DGL | 08L43 ~ 09L15 | 08L44 ~ 09L15 [U&DGL1] | | 20L41 ~ 21L10 | 19.57 ~ 19.59 [U&DGL1] |
| Carnforth North Jn | 09/17 | 09/17 | | 20/39 | 19/54 |
| Carnforth | 09.19a ~ 09.22d | 09.19 ~ 09.25 [P2] | | 20.33a ~ 20.35d | 19.45 ~ 19.53 [P1] |
| Wennington | 09/43½ | 09/43 | | 20/13 | 19/28 |
| Bentham | 09/50½ | 09/49 | | 20/06½ | 19/24 |
| Clapham (Yorks) | 10/00 | 09/57 | | 19/58 | 19/19 |
| Giggleswick | 10/12 | 10/15 | | 19/46½ | 19.11 ~ 19.12 |
| Settle Jn | 10/16 | 10/19 | | 19/43 | 19/07 |
| Hellifield Goods Loop | 10w23 ~ 10w54 [UGL] | 10w26 ~ 10w49 [UGL] | | 19w16 ~ 19w36 [DGL] | - |
| Hellifield | 10/56 | 10/51 | | 19/14 | 19/02 |
| Skipton | 11/11 [P3] | 11/07 [P3] | | 18/55 [P3] | 18/51 [P3] |
| Keighley | 11/23 [P1] | 11/19 [P1] | | 18/41 [P2] | 18/37 [P2] |
| Shipley | 11/32 [P1] | 11/31 [P1] | | 18/31 [P2] | 18/27 [P2] |
| Dockfield Jn | 11/33 | 11/32 | | 18/30 | 18/26 |
| Apperley Jn | 11/37 | 11/36 | | 18/25 | 18/21 |
| Kirkstall | DIV | 11.43 ~ 12.12 [UPL] | | - | - |
| Armley Jn | 11/45 [US] | 12/16 [US] | | 18*00 ~ 18*15 | 17.57 ~ 18.14 |
| Whitehall Jn | 11/46 | 12.19 ~ 12.23 [C] | | 17/57 [DS] | 17/55 [DS] |
| Leeds West Jn | DIV | ? | | 17/56 [D] | 17/54 [D] |
| Leeds | DIV | 12.28 ~ 12.38 [Through Road] | | 17.47 ~ 17.54 [Through Road] | 17.40 ~ 17.52 [Through Road] |
| Engine Shed Jn | 11*49 ~ 11*54 | 12/41 | | - | - |
| Stourton Jn | 11/59 | 12.47 ~ 12.48 | | - | - |
| Methley Jn | 12/04 | 13/01 | | - | - |
| Whitwood Jn | 12/10 | 13/03 | | - | - |
| Castleford | 12/13 [P1] | 13.05 ~ 13.06 [P1] | | - | - |
| Milford Jn | 12/28 | 13/15 | | - | - |
| Neville Hill West | - | - | | 17/43 | 17/35 |
| Micklefield | - | - | | 17/33 [P2] | 17/27 [P2] |
| Church Fenton | 12/34 [P2] [Down Leeds] | 13/24 [P2] [Down Leeds] | | 17/26 [TL] | 17/19 [TL] |
| Colton Jn | 12/44 [Down Leeds] | 13/34 [Down Leeds] | | 17/15 [Up Leeds] | 17/15 [Up Leeds] |
| York | 12.52a [P10] | 13.43 [P11] | | 17.07d [P10] | 17.09 [P11] |


Associated E.C.S. & Light Engine Workings
5Z57 : (47580) : Carnforth to Manchester Victoria
| | |
| --- | --- |
| Location | Booked |
| Carnforth Steamtown | 02.55d |
| Carnforth | 03.20 ~ 04.50 |
| Morecambe South Jn | 04/57 |
| Lancaster | 04/58 |
| Preston | 05/18 |
| Wigan North Western | 05/36 |
| Crow Nest Jn | 05/42 |
| Lostock Jn | 05/47 |
| Bolton | 05/51 |
| Salford Crescent | 06/03 |
| Salford Central | 06/06 |
| Deal Street Jn | 06/07 |
| Manchester Victoria | 06.10a [P4] |
5Z58 : (47580) : York to Holgate Sidings
5Z59 : (47580) : Holgate Sidings to York
| | | |
| --- | --- | --- |
| Location | Booked (out) | Booked (rtn) |
| York | 13.20d [P10] | 16.52a [P10] |
| Holgate Sidings | 13.25a | 16.46d |
5Z78 : (5972 with 80217) : Holgate Sidings - York Thrall - York N.R.M - Holgate Sidings (cancelled)
(Loco turning trip)
| | |
| --- | --- |
| Location | Booked |
| Holgate Sidings | 13.37d |
| York Yard North R.S. | 13.43 ~ 13.46 |
| York Thrall Turntable | 13.50 ~ 14.05 |
| York Yard North R.S. | 14.09 ~ 14.12 |
| Holgate Sidings | 14.18 ~ 14.22 |
| York | 14/24 |
| York N.R.M. Sidings | 14.43 ~ 15.58 |
| York | 16/18 |
| Holgate Sidings | 16.23a |
5Z60 : (47580) : Manchester Victoria to Crewe
| | |
| --- | --- |
| Location | Booked |
| Manchester Victoria | 23.07d [P5] |
| Miles Platting Jn | 23/11 |
| Philips Park West Jn | 23/11½ |
| Baguley Fold Jn | 23/12 |
| Ashton Moss North Jn | 23/16 |
| Denton Jn | 23/22 |
| Heaton Norris Jn | 23/29 |
| Stockport | 23/32 |
| Cheadle Hulme | 23/35 |
| Wilmslow | 23/39 |
| Sandbach | 23/52 |
| Crewe | 00.01 ~ 00.21 |
| Crewe DRS | 00.24a |