14th June 2014
East Midlands Trains
The Swanage Samaritan
| | |
| --- | --- |
| HST Used | 43064 + 43089 |
| Stock Used | 44054+42121+42120+42119+42337+40741+41067+41061 |
Route :
1Z43 : Sheffield to Swanage
1Z44 : Swanage to Sheffield
| | |
| --- | --- |
| HST | Route |
| 43064 + 43089 | Sheffield - Dore - Chesterfield - Ambergate Jn - Derby - Spondon - Trent South Jn - (via MML) - Hendon - Brent Curve Jn - Dudding Hill Jn - Acton Canal Wharf Jn - Acton Wells Jn - South Acton Jn - Kew East Jn - Old Kew Jn - Brentford - Hounslow - Feltham - Staines - Virginia Water - Addlestone Jn - Byfleet & New Haw - Woking - Farnborough Main - Basingstoke - Worting Jn - Winchester - Eastleigh - St Denys - Southampton Central - Redbridge - Brockenhurst - Bournemouth - Poole - Wareham - Worgret Jn - Motala GF - Norden - Corfe Castle - Swanage |
| 43089 + 43064 | Swanage - (reverse of outward route) - Sheffield |
Notes :
(1) This special train was for railway staff from East Midlands Trains, Network Rail, South West Trains, plus guests, and raised funds for the Samaritans charity.
(2) This is the first known visit of an H.S.T. to Swanage. The previous attempt was 'The Cotswold-Purbeck Express' on 28/09/13, however that only got as far as Corfe Castle due to gauging issues.
(3) 43064+44054+42121+42120 carried temporary 'South West Trains' branding especially for the occasion.
(4) Motive power in use on the Swanage Railway included G.W.R. 0-6-2T 6695, 08436, 33111 & 33202 'Dennis G. Robinson'.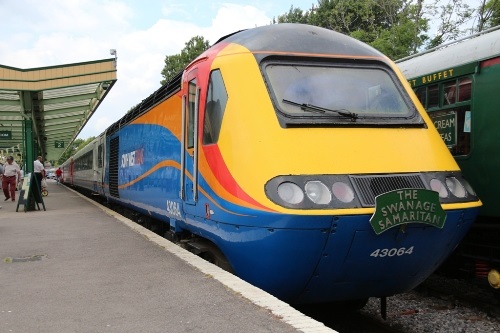 43064, complete with SWT branding at Swanage (photo: Joe Loughlin)
Source : Mark Herriott (on the tour from/to Basingstoke) & Nigel Benning



Timings (Booked & Actual)
(from Mark Herriott)
| | | | | | |
| --- | --- | --- | --- | --- | --- |
| Location | Booked | Actual | | Booked | Actual |
| Sheffield | 06.13d [P5] | 06.13 | | 22.58a [P1] | 22.54 |
| Dore Station Jn | 06/18 | 06/18 | | 22/53 | 22/48 |
| Tapton Jn | 06/24 | ? | | 22/46½ | ? |
| Chesterfield | 06/24½ [P2] | 06/24 | | 22/46 [P1] | 22/42 |
| Chesterfield South Jn | 06/25 | ? | | 22/45 | ? |
| Clay Cross North Jn | 06/28 | 06/27 | | 22/43 [ML] | 22/41 |
| Ambergate Jn | 06/34 | 06/33 | | 22/36 | 22/34 |
| Derby | 06.43a ~ 06.45d [P2] | 06.42 ~ 06.45 | | 22.14a ~ 22.20d [P6] | 22.20 ~ 22.22 |
| Spondon | 06/50 | 06/49 | | 22/06 | 22/15 |
| Sheet Stores Jn | 06/55 | 06/53 | | 21/58 | 22/11 |
| Trent South Jn | 06/56 [UF] | ? | | 21/54 | 22/10 |
| Loughborough | 07/01 [P2] | 06/58 | | 21/45 [P1] | 22/05 |
| Sileby Jn | 07/04 | 07/01 | | 21/42 | ? |
| Syston South Jn | 07/07 | 07/02 | | 21/41 | 22/01 |
| Leicester | 07.13a ~ 07.15d [UF] [P3] | 07.10 ~ 07.15 | | 21.34a ~ 21.36d [P2] [DF] | 21.55 ~ 21.56 |
| Wigston North Jn | 07/18 | 07/19 | | 21/31 | 21/50 |
| Market Harborough | 07/27 | 07/28 | | 21/23 | 21/40 |
| Kettering North Jn | 07/40 [SL] | ? | | 21/16 [DF] | ? |
| Kettering | 07.43a ~ 07.48d [P2] | 07.42 ~ 07.48 | | 21.11a ~ 21.13d [P1] | 21.29 ~ 21.32 |
| Kettering South Jn | 07/50 [UF] | 07/50 | | 21/05 [DS] | ? |
| Wellingborough | 07/55 [P2] | 07/55 | | 21/01 [P1] | 21/21 |
| Sharnbrook Jn | 08/00 | 08/00 | | 20/56 | 21/13 |
| Bedford North Jn | 08/04 | ? | | 20/53 | ? |
| Bedford | 08/05 [FL] | 08/04 | | 20/52 [P4] | 21/09½ |
| Bedford South Jn | 08/05½ | 08/04½ | | 20/51 | 21/09 |
| Flitwick | 08/10 [P3] | 08/09 | | 20/46 [P4] | 21/04 |
| Leagrave Jn | 08/14 | ? | | 20/43 | ? |
| Luton | 08/16 [P4] | 08/16 | | 20/41 [P5] | 20/58 |
| Luton Airport Parkway | 08.17a ~ 08.19d [P3] | 08.18 ~ 08.21 | | 20.37a ~ 20.39d [P4] | 20.55 ~ 20.57 |
| Harpenden Jn | 08/24 | ? | | 20/33 | 20/51 |
| St Albans City | 08/27 [P3] | 08/27 | | 20/29 [P4] | 20/49 |
| Radlett Jn | 08/32 | 08/32 | | 20/24 | 20/46 |
| Hendon | 08/42 [UHL] | ? | | 20/18 [DF] | 20/40 |
| Brent Curve Jn | 08/44 | 08/46 | | 20/14 [DF] | 20/37 |
| Dudding Hill Jn | 08/48 | ? | | 20/12 | ? |
| Acton Canal Wharf Jn | 08/53 | ? | | 20/07 | ? |
| Acton Wells Jn | 08/55 | 09/03 | | 20/04 | 20/10 |
| South Acton Jn | 08/59 | ? | | 20/01 | ? |
| Kew East Jn | 09/01 | 09/12 | | 20/00 | 20/04 |
| Old Kew Jn | 09/02 | ? | | ? | ? |
| Brentford | 09/04 | 09/14 | | 19/58 | 20/01 |
| Hounslow | 09/07 | 09/20 | | 19/54 | 19/55 |
| Feltham Jn | 09/09 | ? | | 19/51 | 19/52 |
| Feltham | 09/11 [P2] | 09/25 | | 19/50 [P1] | 19/49 |
| Staines | 09/18 [P2] | 09/31 | | 19/41 [P1] | 19/40 |
| Virginia Water | 09/27 [P4] | 09/39 | | 19/28 [P3] | 19/31 |
| Addlestone Jn | 09/38 | ? | | 19/18 | ? |
| Byfleet & New Haw | 09/47 [DS] | ? | | 19/15 | ? |
| Woking | 09.52a ~ 09.56d [P5] | 09.58 ~ 10.02 | | 19.08a ~ 19.10d [P1] | 19.07 ~ 19.10 [P1] |
| Woking Jn | 09/58 [DF] | 10/04 | | 19/04 [US] | 19/04 |
| Farnborough Main | 10/05 | 10/12 | | 18/56 | 18/58 |
| Basingstoke | 10.16a ~ 10.19d [DF] [P1] [DS] | 10.27 ~ 10.29 [P1] [DS] | | 18.43a ~ 18.45d [UF] [P3] [UF] | 18.45 ~ 18.48 [UF] [P3] [UF] |
| Worting Jn | 10/23 [DS] | 10/32 | | 18/41 [UF] | 18/40 |
| Winchester | 10/36 [P2] | 10/42 | | 18/27 [P1] | 18/28 |
| Shawford Jn / Shawford | 10/39 [DF] | ? | | 18/22 | 18/23 |
| Eastleigh | 10/44 [P2] | 10/47 | | 18/17 [UF] | 18/13 |
| St Denys | 10/52 [P2] | 10/53 | | 18/13 [P1] | 18/09 |
| Northam Jn | 10/54 [DF] | ? | | 18/11 [UF] | ? |
| Southampton Central | 10/57 [P4] [DF] | 10/57 | | 18/08 [UF] [P1] | 18/04 |
| Redbridge | 11/00 | 11/00 | | 18/03 | 18/01 |
| Brockenhurst | 11/12 [P3] | 11/09 | | 17/54 [P2] | 17/52 |
| Bournemouth | 11/31 [P3] | 11/30 | | 17/26 [P2] | 17/29 |
| Branksome | 11/36 [P2] | 11/35 | | 17/17 [P1] | 17/25 |
| Poole | 11/42 [P2] | 11/42 [P2] | | 17/12 [P1] | 17/20 [P1] |
| Wareham | 11t54a ~ 11t56d [P2] | 11.52 ~ 11.57 | | 17t02a ~ 17t04d [P1] | 17.09 ~ 17.12 [P1] |
| Worgret Jn | 11.59 ~ 12.01 | ? ~ ? | | 16.58 ~ 17.00 | ? ~ ? |
| Motala GF | 12t10 ~ 12t20 | ? ~ ? | | 16t39 ~ 16t44 | ? ~ ? |
| Norden | 12/25 | ? | | 16/34 | ? |
| Corfe Castle | 12/27 [DM] | ? | | 16/32 [UM] | ? |
| Harmans Cross | 12/32 [DM] | ? | | 16/27 [UM] | ? |
| Swanage | 12.42a [P2] | ? | | 16.14d [P2] | ? |


Associated E.C.S. Moves
5Z43 : (43089+43064) Derby Etches Park to Sheffield
5Z44 : (43064+43089) Sheffield to Chaddesden CE Jn
5Z44 : (43089+43064) Chaddesden CE Jn to Derby Etches Park
| | | |
| --- | --- | --- |
| Location | Booked (out) | Booked (rtn) |
| Derby Etches Park | 04.42d | 00.36a |
| Derby | 04.45 ~ 05.02 | 00/33 |
| Chaddesden CE Jn | - | 00.24 ~ 00.31 |
| Derby | - | 00.17 ~ 00.21 |
| Way & Works Jn | - | 00.01 ~ 00.13 |
| Spondon | - | 23/55 |
| Trent East Jn | - | 23/46 |
| Toton Centre | - | 23/39 |
| Langley Mill | - | 23/32 |
| Alfreton | - | 23/26 |
| Ambergate Jn | 05/10 | - |
| Clay Cross North Jn | 05/18 | 23/21 |
| Chesterfield South Jn | 05/20 | 23/19 |
| Chesterfield | 05/24 | 23/18 |
| Tapton Jn | 05/25 | 23/17 |
| Dore Station Jn | 05/33 | 23/11 |
| Sheffield | 05.37a | 23.07d |