10th May 2014
Vintage Trains
Western Lickeys the Banks
Loco Used
D1015 'Western Champion' (3)
Stock Used (2)
[1] : 17018+5212+5198+99353?+99361+99349?+5191+5157+4940+9101
[2] : 9101+4940+5157+5191
Route :
1Z52 : Solihull to Plymouth
1Z53 : Plymouth to Tyseley Warwick Road
| | | |
| --- | --- | --- |
| Loco | Stock | Route |
| D1015 | [1] | Solihull - Warwick Parkway - Leamington Spa - Banbury - Oxford - Didcot North Jn - Foxhall Jn - Swindon - Chippenham - Bath Spa - North Somerset Jn - Bristol Temple Meads - Worle Jn - Uphill Jn - Bridgwater - Taunton - Exeter St Davids - Dawlish - Newton Abbot - Totnes - Plymouth |
| D1015 | [2] | Plymouth - (reverse of outward route) - Bristol Temple Meads - Dr Day's Jn - Filton Abbey Wood - Bristol Parkway - Westerleigh Jn - Yate - Standish Jn - Gloucester Yard Jn - Barnwood Jn - Cheltenham Spa - Abbotswood Jn - Norton Jn - Worcester Shrub Hill - Droitwich Spa - Stoke Works Jn - Bromsgrove - Longbridge - Kings Norton - Selly Oak - Birmingham New Street - Proof House Jn - St Andrews Jn - Bordesley Jn - Small Heath South Jn - Tyseley Warwick Road |
Notes :
(1) The outward leg of this tour acted as a positioning move for the 'One Zulu 48' tour.
(2) 17018+5212+5198+99353?+99361+99349? were detached at Plymouth and used for 1Z48.
(3) Running numbered/named as D1017 'Western Warrior' on one side only.
(4) Route confirmation required - above is from booked timings.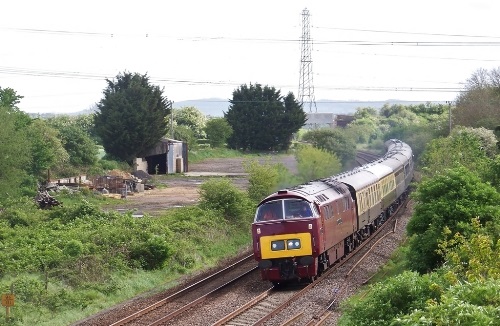 D1015 passing Thingley, Wilts on 1Z52 (photo: Steve More)
Source : Nick Bartlett



Timings (Booked Only)
(from Realtime Trains)
| | | |
| --- | --- | --- |
| Location | Booked | Actual |
| Solihull | 07.00d | |
| Bentley Heath LC | 07/04 | |
| Dorridge | 07/05 [P1] | |
| Hatton | 07/10 | |
| Warwick Parkway | 07.14a ~ 07.17d [P1] | |
| Leamington Spa | 07/23 [UM] | [UM] |
| Fenny Compton | 07/34 | |
| Banbury | 07.43a ~ 07.46d [P3] | |
| Aynho Jn | 07/52 | |
| Heyford | 07/59 | |
| Wolvercot Jn | 08/06 | |
| Oxford North Jn | 08*10 ~ 08*40 [GL] | |
| Oxford | 08.46a ~ 08.50d [P1] | [P1] |
| Kennington Jn | 08/54 | |
| Didcot North Jn | 09/03 | |
| Foxhall Jn | 09/05 | |
| Wantage Road | 09/12 | |
| Challow | 09/15 | |
| Uffington | 09/17 | |
| Swindon | 09/26 [P4] | |
| Wootton Bassett Jn | 09/31 | |
| Chippenham | 09/39 [P1] | |
| Thingley East Jn | 09/40 | |
| Bathampton Jn | 09/48 | |
| Bath Spa | 09/51 [P1] | |
| North Somerset Jn | 10/06 | |
| Bristol East Jn | 10/07 [DM] | |
| Bristol Temple Meads | 10.09a ~ 10.18d [P10] | |
| Bristol West Jn | 10/20 | |
| Parson Street | ? | |
| Worle Jn | 10/36 | |
| Uphill Jn | 10/38 | |
| Bridgwater | 10/49 | |
| Cogload Jn | 10/55 | |
| Taunton | 11/00 [P2] | |
| Norton Fitzwarren | 11/01 | |
| Whiteball | 11/09 | |
| Tiverton Parkway | 11/11 [P1] | |
| Tiverton Loop | 11/13 | |
| Cowley Bridge Jn | 11/24 | |
| Exeter St Davids | 11.26a ~ 11.28d [P4] | [P4] |
| Dawlish Warren | 11/39 | |
| Dawlish | 11/41 | |
| Teignmouth | 11/45 | |
| Newton Abbot | 11/51 [P2] | [P2] |
| Newton Abbot West Jn | 11/52 | |
| Dainton Tunnel | 11/56 | |
| Totnes | 12/03 | |
| Aish Crossover | 12/12 | |
| Ivybridge | 12/18 [P1] | |
| Hemerdon | 12/24 | |
| Lipson Jn | 12/29 | |
| Plymouth | 12.33a ~ 14.30d [P6] | ? ~ [P6] |
| Lipson Jn | 14/35 | |
| Hemerdon | 14/43 | |
| Ivybridge | 14/48 [P2] | |
| Aish Crossover | 14/53 | |
| Totnes | 15/01 | |
| Dainton Tunnel | 15/07 | |
| Newton Abbot West Jn | 15/11 | |
| Newton Abbot | 15/12 [P3] | |
| Teignmouth | 15/18 | |
| Dawlish | 15/21 | |
| Dawlish Warren | 15/23 | |
| Exeter St Davids | 15/33 [P5] | |
| Cowley Bridge Jn | 15/35 | |
| Tiverton Loop | 15/48 | |
| Tiverton Parkway | 15/50 [P2] | |
| Whiteball | 15/54 | |
| Norton Fitzwarren | 16/01 | |
| Taunton | 16/03 [P4] | |
| Cogload Jn | 16/07 | |
| Bridgwater | 16/12 | |
| Uphill Jn | 16/22 | |
| Worle Jn | 16/24 | |
| Parson Street | 16/43 [P2] | |
| Bristol West Jn | 16/47 [UR] | |
| Bristol Temple Meads | 16.50a ~ 17.06d [P3] | [P3] |
| Bristol East Jn | 17/08 [RL] | |
| Dr Day's Jn | 17/10 | |
| Narroways Hill Jn | 17/17 | |
| Filton Abbey Wood | 17/23 [P2] | |
| Bristol Parkway | 17.27a ~ 17.43d [P4] | |
| Westerleigh Jn | 17/50 | |
| Yate | 17/52 | |
| Charfield | 17/58 | |
| Standish Jn | 18/09 | |
| Gloucester Yard Jn | 18/24 | |
| Barnwood Jn | 18/26 | |
| Cheltenham Spa | 18/32 [P2] | |
| Ashchurch for Tewkesbury | 18/38 [P1] | |
| Abbotswood Jn | 18/48 | |
| Norton Jn | 18/53 | |
| Worcester Shrub Hill | 19/00 [P1] | |
| Tunnel Jn | 19/01 | |
| Droitwich Spa | 19/06 | |
| Stoke Works Jn | 19/12 | |
| Bromsgrove | 19/14 | |
| Barnt Green | 19/19 | |
| Longbridge | 19/21 [FL] | |
| Kings Norton | 19/23 | |
| Selly Oak | 19/27 | |
| Birmingham New Street | 19.36a ~ 19.40d [P10] | |
| Proof House Jn | 19/42 | |
| St Andrews Jn | 19/49 | |
| Bordesley Jn | 19/50 | |
| Small Heath South Jn | 19/59 | |
| Tyseley Warwick Road | 20.05a | |