10th April 2014
Steam Dreams
The Cathedrals Express
| | |
| --- | --- |
| Locos Used | D7535, 47746 & steam: 60007 'Sir Nigel Gresley' |
| Stock Used (2) | (21096)+5222+5216+5171+9104+13440+5237+5249+1666+99371+99350+99122 |
Route :
1Z32 : Woking to Kingswear
1Z33 : Kingswear to Woking
| | |
| --- | --- |
| Loco(s) | Route |
| 47746 | Woking - Guildford - Haslemere - Petersfield - Havant - Farlington Jn - Cosham - Fareham - Botley - Hedge End - Eastleigh - Chandlers Ford - Romsey - Salisbury - Warminster - Westbury (3) |
| 60007 | Westbury - Clink Road Jn - Blatchbridge Jn - Castle Cary - Cogload Jn - Taunton - Tiverton Parkway - Exeter St Davids - Dawlish - Teignmouth - Newton Abbot - Paignton - Goodrington North |
| D7535 + 60007 | Goodrington North - Churston |
| D7535 | Churston - Kingswear |
| 60007 (4) | Kingswear - (reverse of outward route) - Paignton South |
| 60007 | Paignton South - (reverse of outward route) - Westbury (3) |
| 47746 | Westbury - (reverse of outward route) - Woking |
Notes :
(1) This was the first railtour to pass along the repaired sea wall at Dawlish, after the line was washed away by storm damage in February 2014.
(2) 21096 was only in the consist when 60007 was on the train.
(3) Booked loco change was in Westbury Down Reception but due to a derailment the evening before the tour was re-routed into the station.
(4) D7535 assisting on rear.
Sources : Nicholas Wason (joined/left the train at Salisbury) & Guy Vincent



Photo Review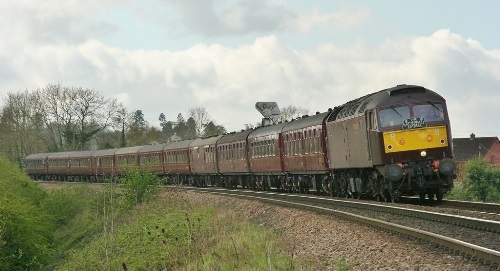 47746 approaches Westbury on the outward leg (photo: Guy Vincent)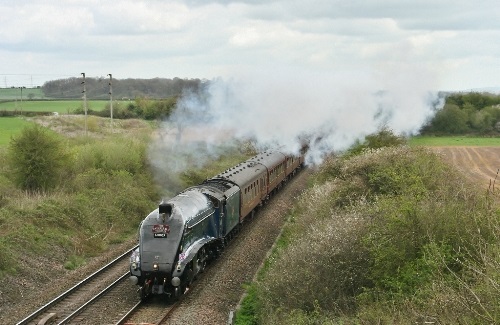 60007 passing Berkley near Frome on 1Z32 (photo: Guy Vincent)


Timings (Booked & Actual)
(from Realtime Trains)
| | | | | | |
| --- | --- | --- | --- | --- | --- |
| Location | Booked | Actual | | Booked | Actual |
| Woking | 07.04d [P5] | 07.05 | | 23.36a [P2] | 23.36 |
| Woking Jn | 07/05 | 07/08 | | 23/35 | 23/34 |
| Guildford | 07.13a ~ 07.17d [P4] | 07.14 ~ 07.17 | | 23.22a ~ 23.26d [P5] | 23.20 ~ 23.23 |
| Shalford Jn | 07/20 | 07/19 | | 23/19 | 23/16 |
| Farncombe | 07/22 | 07/21 | | 23/17 | 23/14 |
| Haslemere | 07.34a ~ 07.38d [P1] | 07.32 ~ 07.38 | | 23.03a ~ 23.07d [P3] | 23.02 ~ 23.04 |
| Petersfield | 07.51a ~ 07.55d [P2] | 07.48 ~ 07.54 | | 22.45a ~ 22.49d [P1] | 22.45 ~ 22.48 |
| Havant | 08.10a ~ 08.14d [P2] | 08.12 ~ 08.14 | | 22.26a ~ 22.30d [P1] | 22.22 ~ 22.27 |
| Farlington Jn | 08/20 | 08/18 | | 22/19 | 22/17 |
| Cosham Jn | 08/23 | 08/23 | | 22/18 | 22/16 |
| Cosham | 08/26 | 08/25 | | 22/17 | 22/15 |
| Portchester | 08/32 | 08/30 | | 22/14 | 22/12 |
| Fareham | 08/39 [P1] | 08/37 | | 22/10 [P3] | 22/08 |
| Fareham North Jn | 08.40 ~ 08.49 | ? | | 22/09 | ? |
| Botley | 08/55 | 08/54 | | 22/03 | 22/00 |
| Hedge End | 08.59a ~ 09.15d | 08.56 ~ ? | | 21.56a ~ 21.59d | 21.52 ~ 21.55 |
| Eastleigh South Jn | 09/23 | ? | | 21/51 | ? |
| Eastleigh | 09.25a ~ 09.28d [P3] | 09.21 ~ 09.28 | | 21.44a ~ 21.49d [P3] | 21.42 ~ 21.47 |
| Eastleigh East Jn | 09/30 | ? | | 21/43 | ? |
| Chandlers Ford | 09/34 | 09/34 | | 21/38 | 21/32 |
| Romsey | 09/44 [P2] | 09/40 | | 21/25 [P1] | 21/26 |
| Dean | 09/52 | 09/50 | | 21/15 | 21/19 |
| Tunnel Jn | 10/01 | 09/59 | | 21/03 | 21/08 |
| Salisbury | 10.04a ~ 10.15d [P4] | 10.02 ~ 10.15 | | 20.56a ~ 21.00d [P3] | 21.01 ~ 21.04 |
| Wilton Jn | 10/20 | 10/18 | | 20/52 | 20/57 |
| Wishford | 10/24 | 10/24 | | 20/48 | 20/52 |
| Wylye LC | 10/28 | 10/28 | | 20/44 | 20/49 |
| Upton Lovell | 10/32 | 10/32 | | 20/37 | 20/45 |
| Warminster | 10.42a ~ 10.44d | 10.38 ~ 10.43 | | 20.28a ~ 20.31d | 20.36 ~ 20.40 |
| Westbury | 10L53a ~ 11L30d | ??.?? ~ ??.?? | | 19L59a ~ 20L20d | 19.56 ~ 20.27 [P1] |
| Fairwood Jn | 11/35 | 11/39 | | 19/55 | 19/53 |
| Clink Road Jn | 11/40 | 11/43 | | 19/50 | 19/48 |
| Blatchbridge Jn | 11/43 | 11/46 | | 19/48 | 19/47 |
| East Somerset Jn | 11/47 | 11/50 | | 19/44 | 19/43 |
| Castle Cary | 11/55 [P2] | 11/58 | | 19/34 [P1] | 19/34 [P1] |
| Somerton | 12/06 | 12/05 | | 19/23 | 19/24 |
| Athelney LC | 12/16 | 12/14 | | 19/13 | 19/16 |
| Cogload Jn | 12/20 | 12/17 | | 19/09 | 19/13 |
| Taunton | 12w26a ~ 12w38d [P2] | 12.22 ~ 12.41 [P2] | | 18w48a ~ 19w03d [P5] | 18.49 ~ 19.05 |
| Norton Fitzwarren Jn | 12/42 | 12/44 | | 18/45 | 18/47 |
| Whiteball | 12/55 | 12/55 | | 18/37 | 18/39 |
| Tiverton Parkway | 12/59 [P1] | 12/59 | | 18/32 [P2] | 18/35 [P2] |
| Tiverton Loop | 13/01 | 13/01 | | 18/30 | 18/33 |
| Cowley Bridge Jn | 13/16 | 13/13 | | 18/16 | 18/20 |
| Exeter St Davids | 13.19a ~ 13.22d [P4] | 13.15 ~ 13.21 | | 18.10a ~ 18.13d [P5] | 18.14 ~ 18.17 [P5] |
| Dawlish Warren | 13/34 | 13/34 | | 17*40 ~ 17*54 [P2] | 18/01 |
| Dawlish | 13/36 | 13/36 | | 17/36 | ? |
| Teignmouth | 13/40 | 13/41 | | 17/32 | 17/52 |
| Newton Abbot | 13/46 [P2] | 13/48 | | 17/26 [P3] | 17.40 ~ ? [P1] |
| Newton Abbot West Jn | 13/48 | 13/48½ | | 17/24 | 17/36 |
| Paignton | 14.06a ~ 14.16d [P1] | 14.03 ~ 14.28 | | 17.03a ~ 17.06d [P2] | 17.20 ~ 17.22 |
| Paignton GF | 14/20 | ? | | 16.55 ~ 17.00 | ? |
| Kingswear | 14.46a | ? | | 16.30d | ? |


Associated E.C.S. Workings
5Z32 : (60007 with 21096) : Didcot GWS to Westbury
| | |
| --- | --- |
| Location | Booked |
| Didcot GWS | 06.10d |
| Didcot East Jn | 06.13 ~ 06.15 |
| Reading West Jn | 06/39 |
| Oxford Road Jn | 06*42 ~ 06*45 |
| Southcote Jn | 06/47 |
| Newbury | 07/03 |
| Bedwyn | 07/20 |
| Woodborough | 07/37 |
| Lavington | 07/50 |
| Heywood Road Jn | 07/59 |
| Westbury | 08.10a |
5Z34 : (60007 with 21096) : Westbury to Southall
| | |
| --- | --- |
| Location | Booked |
| Westbury | 21.15d |
| Heywood Road Jn | 21/19 |
| Lavington | 21/26 |
| Woodborough | 21/36 |
| Bedwyn | 21/48 |
| Newbury | 22/03 |
| Theale [UGL] | 22.18 ~ 23.02 |
| Southcote Jn | 23/10 |
| Reading | 23.15 ~ 23.19 |
| Kennet Bridge Jn | 23/22 |
| Twyford | 23/27 |
| Maidenhead | 23/35 |
| Slough | 23/46 |
| Airport Jn | 23/59 |
| Southall Yard | 00.06 ~ 00.10 |
| Southall Depot | 00.20a |