9th March 2014
UK Railtours
The Tower Gateway
Locos Used

66021 & 66

250

Stock Used
5292+5366+4927+5341+1691+3121+3068+3120+3097+1651+3066+3119+35469
Route :
1Z62 : London Paddington to Cwmbargoed
1Z63 : Cwmbargoed to Tower Colliery
1Z64 : Tower Colliery to London Paddington
| | |
| --- | --- |
| Loco(s) | Route |
| 66250 (1) | London Paddington - Slough - Reading - Didcot Parkway - Swindon - Bristol Parkway - Pilning - Severn Tunnel Junction - Newport - Cardiff Central |
| 66021 (2) | Cardiff Central - Cardiff Queen Street - Heath Jn - Caerphilly - Ystrad Mynach South - Cwmbargoed (4) |
| 66250 (1) | Cwmbargoed - Ystrad Mynach South - Caerphilly - Heath Jn - Cardiff Queen Street - Cardiff Central - Penarth Curve North Jn - Ninian Park - Radyr - Pontypridd - Mountain Ash - Aberdare - Tower Colliery (5) |
| 66021 (2) | Tower Colliery - Aberdare - Mountain Ash - Pontypridd - Radyr - Ninian Park - Penarth Curve North Jn - Cardiff Central - (reverse of outward route) - London Paddington |
Notes :
(1) 66021 on rear.
(2) 66250 on rear.
(3) The outward leg was delayed by a DBS train crew roster error and over running Engineering Works. The Penarth section of the tour was then cancelled in order to recover some of the lost time. Mileages shown are from the tour brochure, and should be adjusted to allow for the loss of the Penarth branch.
(4) At Cwmbargoed the tour ran over the level crossing and on to the middle line to approx MP 20.65.
(5) At Tower Colliery the tour ran up to the stop board at approx MP 26.53.
Sources : Nick Bartlett (joined/left the train at Reading), Dave Lodwick & Stuart Hicks



Photo Review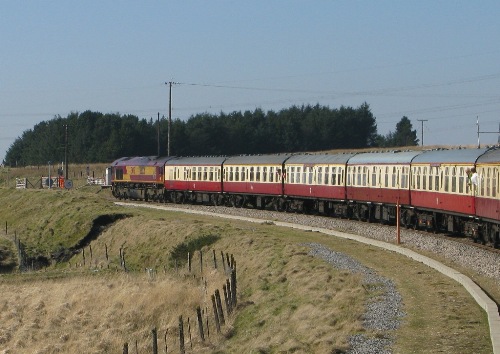 66021 arriving at Cwmbargoed (photo: Nick Bartlett)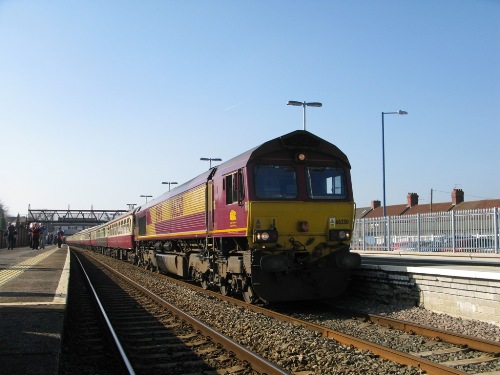 66250 at Caerphilly (photo: Nick Bartlett)


Timings (Booked & Actual)
(from Nick Bartlett & David Lodwick)
| | | | | | | | |
| --- | --- | --- | --- | --- | --- | --- | --- |
| M.C | Location | Booked | Actual | | Booked | Actual | M.C |
| 0.00 | Paddington | 08.06d [P11] | 09.28 | | 21.57a [P11] | 21.58 | 398.66 |
| 1.73 | Ladbroke Grove | 08/10 [RL] | 09/34 | | 21/54 [RL] | 21/53 | 396.73 |
| ? | Acton West | 08/13 [DR] | 09/38 | | 21/49 [UR] | 21/48 | ? |
| 9.01 | Southall | 08/17 [DR] | 09/47 | | 21/42 [UR] | 21/44 | 389.65 |
| 11.20 | Heathrow Airport Jn | 08/19 [DR] | 09/51 | | 21/39 [UR] | 21/41 | 387.46 |
| 18.31 | Slough | 08.27a ~ 08.30d [P4] [DR] | 09.59 ~ 10.02 [P2] | | 21.25a ~ 21.30d [P5] [UR] | 21.28 ~ 21.31 | 380.35 |
| ? | Slough West | 08/32 [DR-DM] | 10/03 | | 21/23 [UM-UR] | 21/26 | ? |
| 24.14 | Maidenhead | 08/37 [P1] [DM] | 10/09 | | 21/15 [P2] [UM] | 21/20 | 374.52 |
| ? | Ruscombe | 08/41½ | 10/13 | | 21/09 [UR-UM] | 21/13 | ? |
| 30.76 | Twyford | 08/43 [P1] [DM] | 10/14 | | 21/07 [UR] | 21/12 | 367.70 |
| ? | Kennet Bridge Jn | 08/48 [DR] | 10/18 | | 21/03 [UR] | 21/07 | ? |
| 35.73 | Reading | 08.50a ~ 08.55d [P12] [DR] | 10.23 ~ 10.25 [P12] [DR] | | 20.57a ~ 21.00d [P15] [UR] | 21.03 ~ 21.05 [P15] | 362.73 |
| ? | Reading West Jn | 08/57 [DR] | 10/28 [DR] | | 20/56 [UR] | 21/00 [UR] | ? |
| ? | Didcot East Jn | 09/18 [DR] | 10/42 [DR-DM] | | 20/34 [UR] | 20/38 [UR] | ? |
| 53.05 | Didcot Parkway | 09/19 [P3] [RL] | 10/43 [P1] | | 20/33 [P4] [UR] | 20/37 [P4] [UR] | 345.61 |
| 53.50 | Foxhall Jn | 09/20 [DR-DM] | 10/44 [DM] | | 20/31 [RL] | 20.23 ~ 20.35 [RL] | 345.16 |
| ? | Steventon Jn | 09/22 | 10/46 | | 20/24 | 20/18 [UR] | ? |
| 60.17 | Wantage Road | 09/26 | 10/49 [DM] | | 20*12 ~ 20*14 [UR] | 20/13 [UR] | 338.49 |
| 63.61 | Challow | 09/29 | 10/52 | | 20/06 [UR] | 20/07 [UR] | 335.05 |
| ? | Uffington | 09/31 | 10/53 | | 20/04 | 20/05 | ? |
| 77.18 | Swindon | 09C42 ~ 09C55 [P3] | 11C03 ~ 11C06 [P3] | | 19C51 ~ 19C53 [P1] | 19C52 ~ 19C54 [P3] | 321.48 |
| 83.02 | Wootton Bassett Jn | 10/02½ | 11/13 | | 19/44 | 19/45 | 315.64 |
| 94.05 | Hullavington | 10/11 | 11/23 | | 19/34 | 19/35 | 304.61 |
| 107.07 | Westerleigh Jn | 10/22½ | 11/34 | | 19/23 | 19/25 | 291.59 |
| 111.57 | Bristol Parkway | 10.28a ~ 10.30d [P2] | 11.39 ~ 11.42 [P2] | | 19.14a ~ 19.17d [P3] | 19.14 ~ 19.18 [P4] | 287.09 |
| 112.79 | Patchway | 10/33 [P2] | 11/44 [P2] | | 19/11 [P1] | 19/06 [P1] | 285.67 |
| 116.45 | Pilning | 10/36 [P2] | 11/48 [P2] | | 19/05 [P1] | 19/03 [P1] | 282.21 |
| 118.09 | Severn Tunnel East | 10/37 | 11/50 | | 19/03 | 19/00 | 280.57 |
| 122.31 | Severn Tunnel West | 10/41 | 11/53 | | 18/58 | 18/56 | 276.35 |
| 123.41 | Severn Tunnel Junction | 10/42 [P3] [DM] | 11/54 [P3] [DM] | | 18/56 [P4] | 18/55 [P4] | 275.25 |
| ? | Llanwern West Jn | 10/48 [DM] | 12/01 [DM] | | 18/49 [UM] | 18/49 | ? |
| ? | Maindee West Jn | 10/53 [DM] | 12/04 [DM] | | 18/46 [UM] | 18/46 | ? |
| 133.30 | Newport | 10/55 [DM] | 12/04½ [P2] | | 18/44½ [P4] [UM] | 18/44 [P4] [UM] | 265.36 |
| 134.67 | Ebbw Jn | 10/58 [DM] | 12/07 [DM] | | 18/42 [UM] | 18/41 [UM] | 263.79 |
| 138.40 | Marshfield | 11/03 [DM] | 12/10 [DM] | | 18/39 [UM] | 18/38 [UM] | 260.26 |
| ? | Newtown West Jn | ? | 12/17 [DM-DR] | | - | - | ? |
| 145.10 | Cardiff Central | 11.12a ~ 11.15d [P3] | 12.18 ~ 12.29 [P7] | | 18.22a ~ 18.30d [P2] [UM] | 18.18 ~ 18.30 [P2] [UM] | 253.56 |
| | | | |
| --- | --- | --- | --- |
| M.C | Location | Booked | Actual |
| 145.73 | Penarth Curve South Jn | 11/18 | CAN |
| 147.55 | Cogan Jn | 11/22 | CAN |
| 148.66 | Penarth | 11.27a ~ 11.39d | CAN |
| 149.77 | Cogan Jn | 11/44 | CAN |
| 151.59 | Penarth Curve South Jn | 11/48 | CAN |
| 152.42 | Cardiff Central | 11C51 ~ 11C52 [P6] | CAN |
| 153.18 | Cardiff Queen Street | 11/57 [P4] | 12/37 [P4] |
| 155.37 | Heath Jn | 12/01 | 12/41 |
| 160.26 | Caerphilly | 12/12 [P3] | 12/47 [P3] |
| 165.46 | Ystrad Mynach South | 12.23 ~ 12.25 | 12/55 |
| 175.05 | Cwmbargoed | 12.55a ~ 13.15d | 13.26 ~ 13.34 [Middle Line] |
| 184.44 | Ystrad Mynach South | 13.45 ~ 13.47 | 14.03 ~ 14.06 |
| 189.64 | Caerphilly | 13.57a ~ 14.35d [P2] | 14.16 ~ 14.48 [P2] |
| 194.53 | Heath Jn | 14/45 | 14/55 |
| 196.72 | Cardiff Queen Street | 14/51 [P3] | 14/58 [P3] |
| 197.48 | Cardiff Central | 14/58 [P7] | 15/05 [P7] [Dn Barry Rlf] |
| 198.09 | Radyr Branch Jn | 15/00 | 15/07 [Treforest U&D] |
| 198.31 | Penarth Curve North Jn | 15/01 | 15/08 |
| 198.47 | Ninian Park | 15/02 | 15/09 |
| 202.34 | Radyr | 15/12 [P3] | 15/15 [P3] |
| 204.26 | Taffs Well | 15/15 | 15/18 |
| 209.71 | Pontypridd | 15/22 [P2] | 15/26 [P2] |
| 213.22 | Abercynon | 15/28 | 15/31 |
| 216.78 | Mountain Ash | 15/35 | 15/39 |
| 218.24 | Abercwmboi | 15/38 | ? |
| 221.01 | Aberdare | 15.45 ~ 15.48 | 15.46 ~ 15.52 |
| 225.52 | Tower Colliery | 16.30a ~ 16.50d | 16.15 ~ 16.26 [Stop Board] |
| 230.23 | Aberdare | 17.30 ~ 17.32 | 16.42 ~ 17.01 |
| 233.00 | Abercwmboi | 17/40 | 17/08 |
| 234.26 | Mountain Ash | 17/42 | 17.12 ~ 17.23 |
| 238.02 | Abercynon | 17/49 | 17.36 ~ 17.47 |
| 241.33 | Pontypridd | 17/56 [P1] | 17/53 [P1] |
| 246.78 | Taffs Well | 18/04 | 18/01 |
| 248.70 | Radyr | 18/06 [P2] | 18/04 [P2] |
| 252.57 | Ninian Park | 18/15 | 18/12 |
| 252.73 | Penarth Curve North Jn | 18/16 | 18/13 [Treforest U&D] |
| 253.15 | Radyr Branch Jn | 18/18 [RL] | 18.15 ~ 18.16 [Up Barry Rlf] |
Timings continue in first table



Associated E.C.S. Workings
08/03/14 : 5Z61 : (66021 with 66250 on rear) : Eastleigh T&RSMD to Hanwell Bridge Loop
09/03/14 : 5Z62 : (66021 with 66250 on rear) : Hanwell Bridge Loop to London Paddington
09/03/14 : 5Z64 : (66250 with 66021 on rear) : London Paddington to Eastleigh T&RSMD
| | | |
| --- | --- | --- |
| Location | Booked (out) | Booked (rtn) |
| Eastleigh T&RSMD | 20.23d | 00.20a |
| Eastleigh South Jn | - | 00/09 |
| Eastleigh | 20/33 | 00/07 |
| Winchester | 20/41 | 23/56 |
| Basingstoke | 20/58 | 23/37 |
| Reading | 21/18 | 23C13 ~ 23C18 |
| Maidenhead | 21/28 | 23/00 |
| Slough | 21/33 | 22/54 |
| Southall | 21/50 | 22/40 |
| Hanwell Bridge Loop | 21.54a ~ 07.35d [GL] | - |
| Acton West | 07/40 | 22/35 |
| Ladbrook Grove | 07/44 | 22/32 |
| London Paddington | 07.47a [P11] | 22.28d [P11] |