23rd November 2013
Railway Touring Company
The Capital Christmas Express
| | |
| --- | --- |
| Locos Used | 47580 'County of Essex' & steam: 34067 'Tangmere' |
| Stock Used | 35518+99127+99125+99316+99122+99121+99350+99311+4973+9104 |
Route :
1Z92 : Weymouth to London Waterloo
1Z94 : London Waterloo to Weymouth
| | |
| --- | --- |
| Loco(s) | Route |
| 34067 (1) | Weymouth - Dorchester South - Wareham - Poole - Bournemouth - Brockenhurst - Redbridge - Southampton Central - St Denys - Eastleigh - Winchester - Basingstoke - Farnborough Main - Woking - Surbiton - Wimbledon - Clapham Junction - London Waterloo |
| 34067 (1) | London Waterloo - (reverse of outward route) - Farnborough Main - Fleet - Milepost 39¼ (3) |
| 47580 (2) | Milepost 39¼ - Winchfield - Basingstoke |
Notes :
(1) 47580 on rear.
(2) 47580 propelling from rear.
(3) 34067 'Tangmere' failed at milepost 39¼, on the Down Slow line, between Fleet and Winchfield.
(4) Nick Bartlett comments: On the return leg we were booked to have a water stop at Fleet but this had been moved to Winchfield, due to station rebuilding works at Fleet. Just after passing through Fleet we heard a loud clang - clang - clang like sound from the front end of the train. We then stopped at a signal by milepost 39¼. The signal was then changed from green to red. There we sat there from 18.49 to 22.18. The down lines were blocked so the crew could examine the damage. We were told on the train that the off side connecting rod had come off and hit the third rail. Network Rail staff then arrived and checked the track for damage. They carried a large supply of new pots for the third rail. Track possessions of the line were taken and a considerable number of South West Trains' services were delayed. We eventually got moving at 22.18 with 47580 pushing us from the rear to Basingstoke, arriving 200 minutes late at 22.36, where the tour was cancelled. Passengers were transferred on to the 21.35 Waterloo to Weymouth, which made a special stop to pick us up as this was the last service train through to Weymouth for the night.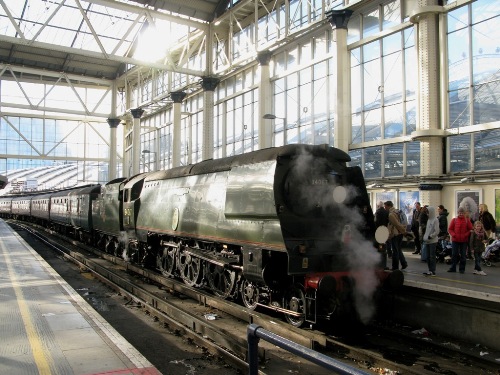 34067 'Tangmere' on arrival into London Waterloo (photo: Nick Bartlett)
Source : Nick Bartlett (joined the outward leg at Poole/left at Basingstoke on return leg).



Timings (Booked & Actual)
(from Nick Bartlett and Realtime Trains)
| | | | | | |
| --- | --- | --- | --- | --- | --- |
| Location | Booked | Actual | | Booked | Actual |
| Weymouth | 07.25d [P3] | 07.25 | | 21.52a [P2] | CAN |
| Dorchester Jn | 07/40 | 07/38 | | 21/43 | CAN |
| Dorchester South | 07/42 [P1] | 07/39 | | 21/41 [P2] | CAN |
| Moreton | 07/50 [P1] | 07/48 | | 21/32 [P2] | CAN |
| Wool | 07/56 [P1] | 07/55 | | 21/26 [P2] | CAN |
| Wareham | 08/03 [P1] | 08/01 | | 21/19 [P2] | CAN |
| Poole | 08.14a ~ 08.17d [P1] | 08.16 ~ 08.19 [P1] | | 21.04a ~ 21.07d [P2] | CAN |
| Branksome | 08/25 [P1] | 08/25 [P1] | | 20/58 [P2] | CAN |
| Bournemouth | 08.30a ~ 08.33d [P2] | 08.30 ~ 08.33 [P2] | | 20.48a ~ 20.51d [P3] | CAN |
| Brockenhurst | 08/52 [P2] | 08/59 [P2] | | 20/29 [P3] | CAN |
| Redbridge | 09/05 [P1] | 09/09 [P1] | | 20/17 [P2] | CAN |
| Southampton Central | 09C18a ~ 09C21 [US] [P1] | 09.23 ~ 09.26 [US] [P1] | | 20C08a ~ 20C11d [P3] [DS] | CAN |
| Northam Jn | 09/24 [UF] | 09/29 [UF] | | 20/05 | CAN |
| St Denys | 09/27 [P1] | 09/31 [P1] | | 20/02 [P2] [DF] | CAN |
| Eastleigh | 09w33a ~ 09w37d [P1] [US] | 09w38 ~ 09w47 [P1] [US] | | 19.52a ~ 19.55d [P2] | CAN |
| Shawford / Shawford Jn | 09/47 [P1] | 10/03 [P1] | | 19/44 [DF] | CAN |
| Winchester | 09/52 [P1] | 10/10 [P1] | | 19/40 [P2] | CAN |
| Wallers Ash | 09*58 ~ 10*11 [UPL] | 10/16 [UM] | | | CAN |
| Worting Jn | 10/20 [US] | 10/25 [US] | | 19/23 | CAN |
| Basingstoke | 10/27 [P4] [US] | 10/28 [P4] [US] | | 19/16 [P1] [DS] | 22.36 [DS] [P3] |
| Winchfield | 10w38a ~ 10w47d [P1] [US] | 10w39 ~ 10w49 [P1] [US] | | 19/06 [P2] [DS] | 22/22 [P2] [DS] |
| Milepost 39¼ | - | - | | - | 18.49 ~ 22.18 [DS] |
| Fleet | 10/50½ [P1] [US] | 10/54 [P1] [US] | | 18w45a ~ 19w00d [P2] [DS] | 18/44 [P2] [DS] |
| Farnborough Main | 10/56 [P1] [US] | 10/57 [P1] [US] | | 18/38 [P2] [DS] | 18/39 [DF-DS] [P2] |
| Pirbright Jn | 11/17 [US] | 11/02 [US] | | 18/33 [DS] | 18/29 [DF] |
| Brookwood | 11/20 [P1] [US-UF] | 11/05 [P1] [US] | | 18/29 [DF-DS] [P2] | 18/25 [DF] |
| Woking Jn | 11/26½ [UF] | 11/09 [US] | | 18/22 [DF] | 18/22 [DF] |
| Woking | 11/28½ [P2] [UF] | 11/10 [P1] [US] | | 18/21½ [P4] [DF] | 18/21½ [P4] [DF] |
| Weybridge | 11/34 [UF] | 11/20 [P2] [US] | | 18/16 [DF] | 18/16 [DF] |
| Hampton Court Jn | 11/41 [UF] | 11/33 [US] | | 18/10 [DF] | 18/11 [DF] |
| Surbiton | 11/42½ [P2] [UF] | 11/37 [P1] [US] | | 18/09 [DF] | 18/10 [DF] |
| New Malden | 11/45 [P2] [UF] | 11/43 [US-UF] [P2] | | 18/06½ [P3] [DF] | 18/08 [P3] [DF] |
| Wimbledon | 11/48 [P6] [UF] | 11/47 [P6] [UF] | | 18/03½ [P7] [DF] | 18/05 [P7] [DF] |
| Clapham Junction | 11/54 [P7] [UMF] | 11/54 [P7] [UMF] | | 17/58½ [P9] [DF] | 18/01 [P9] [DF] |
| Queenstown Road | 11/57 [P2] [RVL] | 11/56 [UMF] | | 17/55½ [P3] [DMF] | 17/57 [P2] [DMF] |
| Nine Elms Jn | 11/59 [RVL] | 11/57 [UMF] | | 17/53½ [RVL] | 17/53½ [RVL] |
| London Waterloo | 12.04a [P19] | 12.03 [WR] [P19] | | 17.48d [P19] | 17.49 [P19] [WR] |


Associated E.C.S. Workings
22/11/13 :
5Z90 : (47580 with 34067 on rear) : Southall to Weymouth
| | |
| --- | --- |
| Location | Booked (out) |
| Southall Depot | 09.45d |
| Southall | 09.55 ~ 10.11 |
| Hanwell Bridge Loop | 10*14 ~ 10*18 |
| West Ealing | 10/22 |
| Acton Main Line | 10*30 ~ 10*52 |
| Acton Wells Jn | 10/55 |
| Willesden SW Sidings | 10*58 ~ 11*05 |
| Mitre Bridge Jn | 11/10 |
| North Pole Jn | 11/11 |
| Kensington Olympia | 11/14 |
| Latchmere Jn | 11/25 |
| Clapham Junction | 11/28 |
| Barnes | 11/38 |
| Brentford | 11/49 |
| Hounslow | 11/54 |
| Feltham Jn | 12/00 |
| Feltham | 12/02 |
| Staines | 12/10 |
| Virginia Water | 12/19 |
| Byfleet & New Haw | 12/52 |
| Woking | 13/06 |
| Farnborough Main | 13/17 |
| Basingstoke | 13*34 ~ 13*45 |
| Worting Jn | 13/55 |
| Winchester | 14/12 |
| Eastleigh | 14*30 ~ 14*34 |
| Southampton Central | 14C54 ~ 14C55 |
| Brockenhurst | 15/11 |
| Bournemouth | 15/29 |
| Poole | 15*42 ~ 15*47 |
| Poole Sidings | 15.49 ~ 16.28 |
| Wareham | 16/38 |
| Dorchester South | 16/55 |
| Weymouth | 17.07 ~ 17.13 |
| Weymouth Jersey Sidings | 17.16a |
23/11/13 :
5Z93 : (47580 with 34067 on rear) : London Waterloo to Southall
5Z94 : (34067 with 47580 on rear) : Southall to Willesden No.7 Jn
5Z94 : (47580 with 34067 on rear) : Willesden No.7 Jn to London Waterloo
| | | | |
| --- | --- | --- | --- |
| Location | Booked (out) | | Booked (rtn) |
| London Waterloo | 12.18d [P19] | | 17.30a [P19] |
| West London Jn | 12/26 | | 17/18 |
| Latchmere Jn | 12/37 | | 17/13 |
| Kensington Olympia | 12C46 ~ 12C48 | | 17C02 ~ 17C04 |
| North Pole Jn | 12/54 | | 16/58 |
| Mitre Bridge Jn | 12/55 | | 16/57 |
| Willesden SW Sidings | 12/59 | | - |
| Willesden No.7 Jn | - | | 16.35 ~ 16.45 |
| Acton Canal Wharf Jn | - | | 16/31 |
| Acton Wells Jn | 13/02 | | 16/29 |
| Acton Main Line | 13/06 | | 16/26 |
| West Ealing | 13/18 | | 16/21 |
| Southall | 13.24 ~ 13.34 | | 16.05 ~ 16.16 |
| Southall Depot | 13.44a | | 15.55d |
23/11/13 :
5Z94 : (47580 with failed 34067 on rear) : Basingstoke to Acton Lane Reception Sidings
| | |
| --- | --- |
| Location | Revised |
| Basingstoke | 23.21d |
| Farnborough Main | 23/37 |
| Woking | 23/47 |
| Byfleet & New Haw | 23/52 |
| Virginia Water | 00/03 |
| Staines | 00/14 |
| Feltham | 00/20 |
| Feltham Jn | 00/22 |
| Hounslow | 00/24 |
| Brentford | 00/30 |
| Barnes | 00/37 |
| Clapham Junction | 00/40 |
| Latchmere Jn | 00/46 |
| Kensington Olympia | 00/52 |
| North Pole Jn | 00/56 |
| Mitre Bridge Jn | 00/57 |
| Willesden WL Jn | 01/03 |
| Acton Lane Reception Sidings | 01.08a |
23/11/13 :
5Z96 : (34067 + 35518) : Weymouth to Swanage (cancelled)
| | |
| --- | --- |
| Location | Booked |
| Weymouth Jersey Sidings | 22.34d |
| Weymouth | 22.38 ~ 22.41 |
| Dorchester South | 22/50 |
| Wareham | 23/14 |
| Poole Sidings | 23.30 ~ 23.54 |
| Wareham | 00t04 ~ 00t06 |
| Worgret Jn | 00.08 ~ 00.11 |
| Motala GF | 00t24 ~ 00t29 |
| Swanage | 00.55a |
25/11/13 :
5Z97 : (47580) : Weymouth to Southall (cancelled)
| | |
| --- | --- |
| Location | Booked (rtn) |
| Weymouth Jersey Sidings | 07.45d |
| Weymouth | 07.50 ~ 08.03 |
| Dorchester South | 08/16 |
| Wareham | 08/43 |
| Poole Sidings | 08.55 ~ 09.24 |
| Poole | 09/27 |
| Bournemouth | 09/50 |
| Brockenhurst | 10/05 |
| Southampton Central | 10/20 |
| Eastleigh | 10/29 |
| Winchester | 10/39 |
| Worting Jn | 10/59 |
| Basingstoke | 11/03 |
| Farnborough Main | 11/20 |
| Woking | 11/37 |
| Byfleet & New Haw | 11/44 |
| Virginia Water | 11/58 |
| Staines | 12/12 |
| Feltham | 12/22 |
| Feltham Jn | 12/24 |
| Twickenham | 12/32 |
| Richmond | 12/37 |
| Barnes | 12/46 |
| Clapham Junction | 12/54 |
| Latchmere Jn | 12/59 |
| Kensington Olympia | 13/07 |
| North Pole Jn | 13/12 |
| Mitre Bridge Jn | 13/13 |
| Willesden SW Sidings | 13.20 ~ 13.47 |
| Acton Wells Jn | 13/49 |
| Acton Main Line | 13/55 |
| West Ealing | 14/01 |
| Southall | 14.08 ~ 14.28 |
| Southall Depot | 14.38a |