11th August 2013
Railway Touring Company
The 15 Guinea Special
Locos Used

steam:

44932, 45231, 45305 & 70013 'Oliver Cromwell'

Stock Used (2)

POB + load 10
Route : 1T57 throughout
| | |
| --- | --- |
| Loco(s) | Route |
| 45305 | Liverpool Lime Street - Edge Hill - Wavertree Jn - Hunts Cross - Warrington Central - Glazebrook East Jn - Trafford Park East Jn - Castlefield Jn - Deansgate - Manchester Piccadilly - Ardwick Jn - Longsight DGL |
| 70013 | Longsight DGL - Ardwick Jn - Manchester Piccadilly - Castlefield Jn - Ordsall Lane Jn - Salford Crescent - Bolton - Lostock Jn - Chorley - Euxton Jn - Farington Jn - Lostock Hall Jn - Blackburn - Clitheroe - Hellifield - Settle Jn - (via S&C) - Petteril Bridge Jn - Carlisle |
| 45231 + 44932 | Carlisle - (reverse of outward route) - Blackburn - Darwen - Bolton - (reverse of outward route) - Longsight DGL |
| 45305 | Longsight DGL - (reverse of outward route) - Liverpool Lime Street |
Notes :
(1) John Debens comments: Actual timings were similar to the booked times, in that the Train was 3mins early into Carlisle, and 2mins early back at Piccadilly. A very enjoyable trip, although the locos were not painted up in the original numbering used in 1968, as advertised they would be.
(2) Stock identities required (different Private Owner Brake...POB...coaches were probably used with each change of steam loco).
Sources : John Debens



Photo Review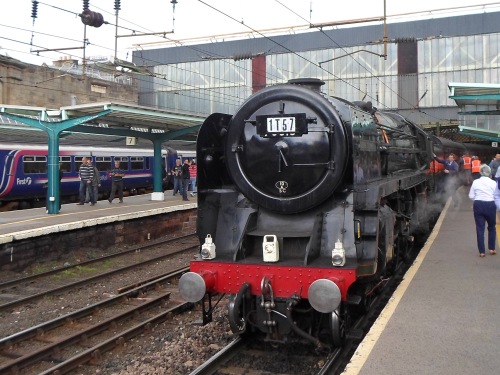 70013 on arrival at Carlisle (photo: John Debens)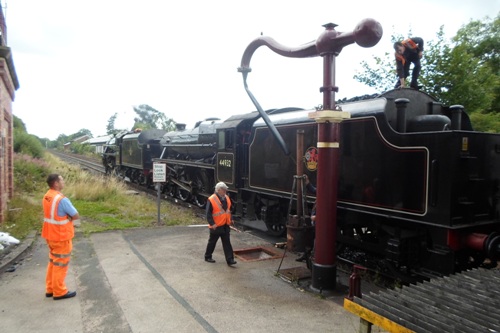 45231 & 44932 pause for water at Appleby (photo: John Debens)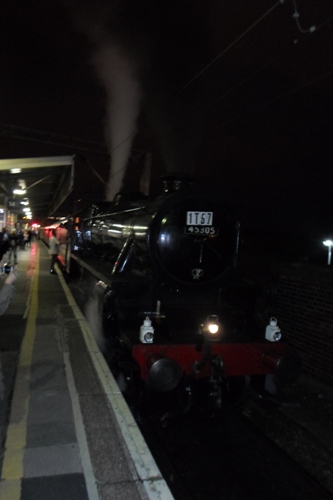 45305 at Manchester Piccadilly before leavig for
Liverpool Lime Street (photo: John Debens)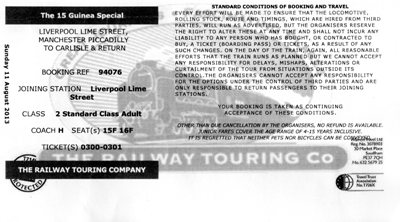 From The John Debens Ticket Collection.


Timings (Booked Only)
(from John Debens)
| | | |
| --- | --- | --- |
| Location | Booked (out) | Booked (rtn) |
| Liverpool Lime Street | 09.54d [P8] | 22.46 [P7] |
| Edge Hill | 10/00 [P2] | 22/40 [P4] |
| Edge Hill SB | 10/01 | 22/39 |
| Wavertree Jn | 10/04 | 22/35 |
| Liverpool South Parkway HL | 10/09 [P1] | 22/26 [P2] |
| Hunts Cross West Jn | 10/11 | 22/22 |
| Hunts Cross | 10/13 [P2] | 22/20 [P1] |
| Hough Green | 10/17 | 22/03 |
| Warrington Central | 10/27 [P1] | 21/53 [P2] |
| Birchwood | 10/31 | 21/49 |
| Glazebrook East Jn & Sidings | 10/35 | 21/46 |
| Trafford Park East Jn | 10/45 | 21/36 |
| Castlefield Jn | 10/49 | 21/33 |
| Deansgate | 10/50 [P1] | 21/32 [P2] |
| Manchester Oxford Road | 10/51 [P4] | 21/31 [P2] |
| Manchester Piccadilly | 10*54 ~ 10*56 [P13] | 21.24a ~ 21.29d [P14] |
| Ardwick Jn | 10/59½ | 21/21 |
| Longsight DGL | 11L03 ~ 11L49 | 20L51 ~ 21L18 |
| Ardwick Jn | 11/51 | 20/49 |
| Manchester Piccadilly | 11.54a ~ 11.57d [P14] | 20/47 [P13] |
| Manchester Oxford Road | 11/58 [P2] | 20/43 [P3] |
| Deansgate | 11/59 [P2] | 20/42 [P1] |
| Castlefield Jn | 12/00 | 20/41 |
| Ordsall Lane Jn | 12/02 | 20/36 |
| Salford Crescent | 12/04 [P2] | 20/34 [UB] |
| Bolton | 12/15 [P4] | 20/16 [P1] |
| Lostock Jn | 12/19 | - |
| Chorley | 12/28 | - |
| Euxton Jn | 12/35 | - |
| Farington Jn | 12/39 | - |
| Lostock Hall Jn | 12/45 | - |
| Bromley Cross | - | 20/08 |
| Darwen | - | 19/57 |
| Blackburn | 13c03 ~ 13c05 [P2] | 19c48 ~ 19c50 [P4] |
| Daisyfield Jn | 13/08 | 19/45 |
| Langho | 13/17 | 19/33 |
| Clitheroe | 13/30 | 19/21 |
| Horrocksford Jn | 13/31 | 19/20 |
| Hellifield | 13/53 | 18/42 |
| Hellifield GL | 13w55 ~ 14w15 | 18w21 ~ 18w40 |
| Settle Jn | 14/23 | 18/14 |
| Horton-in-Ribblesdale | 14/33 | ? |
| Ribblehead | 14/40 | 18/02 |
| Blea Moor | 14/44 | 17/59 |
| Garsdale | 14/54 | 17/49 |
| Ais Gill | ? | 17/46 |
| Mallerstang | ? | 17/40 |
| Kirkby Stephen | 15/06 | 17/34 |
| Crosby Garrett | ? | 17/31 |
| Ormside | ? | 17/25 |
| Appleby | 15/17 | 17w05 ~ 17w20 |
| Kirkby Thore SB | 15/23 | 16/57 |
| Culgaith SB | 15/26 | 16/52 |
| Lazonby & Kirkoswald | 15/34 | 16/41 |
| Low House Crossing SB | 15/42 | 16/33 |
| Howe & Co Sidings | 15/46 | 16/28 |
| Petteril Bridge Jn | 15/51 | 16/20 |
| London Road Jn | 15/52 | 16/19 |
| Carlisle | 15.55a [P3] | 16.16d [P3] |