21st March 2013
Steam Dreams
The Cathedrals Express
| | |
| --- | --- |
| Locos Used | 67016 & steam: 60163 'Tornado' |
| Stock Used (2) | (35333)+3150+1730+3115+4856+4832+35185+13230+4831+1859+4836 |
Route :
1Z63 : Peterborough to Bristol Temple Meads
1Z64 : Bristol Temple Meads to Peterborough
| | |
| --- | --- |
| Loco(s) | Route |
| 67016 | Peterborough - St Neots - Stevenage - Hertford North - Alexandra Palace - Finsbury Park - Holloway south Jn - Copenhagen Jn - York Way North Jn - Camden Road - Gospel Oak - West Hampstead - Kensal Green Jn - Willesden Junction HL - Acton Wells Jn - Acton Yard |
| 60163 | Acton Yard - Slough - Maidenhead - Twyford - Reading - Didcot Parkway - Swindon - Chippenham - Bathampton Jn - Bath Spa (3) |
| 60163 | Bath Spa - (reverse of outward route) - Acton Yard |
| 67016? (4) | Acton Yard - Acton Wells Jn - Willesden Junction HL - Kensal Green Jn - West Hampstead - Gospel Oak - Junction Road Jn - Upper Holloway - Harringay Park Jn - Harringay - Alexandra Palace - (reverse of outward route) - Peterborough |
Notes :
(1) 60163 'Tornado' replaced unavailable 71000 'Duke of Gloucester'.
(2) 35333 was only in the consist when 60163 was hauling the train.
(3) This tour was originally advertised to run to / from Bristol Temple Meads, but actually ran E.C.S. from Bath Spa to Bristol East Depot.
(4) Loco confirmation required.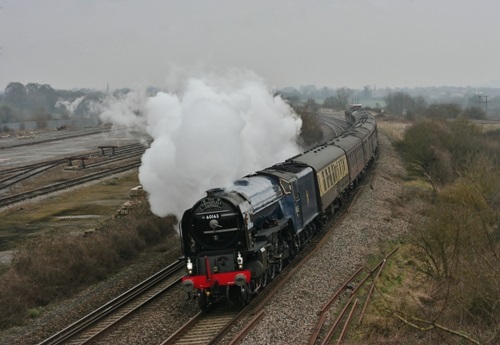 60163 passing Thingley Jn on route to Bath Spa (photo: Guy Vincent)
Sources : Nick Bartlett & Guy Vincent



Timings (Booked & Actual)
(from Tom Cairns)
| | | | | | |
| --- | --- | --- | --- | --- | --- |
| Location | Booked | Actual | | Booked | Actual |
| Peterborough | 07.15d [P2] [US] | 07.15 | | 22.55a [P4] | 22.55 |
| Fletton Jn | 07/29 [UF] | ? | | 22/53 | ? |
| Holme LC | 07/34 | ? | | 22/47 | 22/46 |
| Connington South Jn | 07/36 | ? | | 22/45 | ? |
| Huntingdon | 07/43 [UF] | 07/43 | | 22/38 [DS] [P3] | 22/38 |
| St Neots | 07.51a ~ 07.54d [US] | 07.50 ~ 07.53 | | 22.28a ~ 22.31d | 22.38 ~ 22.31 |
| Sandy | 08/02 [US] | 08/00 | | 22/21 [DS] | 22/19 |
| Hitchin | 08/13 [P1] | 08/16 | | 22/11 [P2] | 22/08 |
| Stevenage | 08.19a ~ 08.22d [P1] | 08.21 ~ 08.23 | | 22.03a ~ 22.06d [P4] | 22.01 ~ 22.05 |
| Langley Jn | 08/24 | 08/25 | | 22/00 | ? |
| Hertford North | 08.35a ~ 08.39d [P1] | 08.34 ~ ? | | 21.45a ~ 21.48d [P2] | 21.46 ~ 21.49 |
| Gordon Hill | 08/50 [P2] | 08/48 | | 21/28 [P3] | 21/28 |
| Alexandra Palace | 08/58 [P1] [US] | 08/57 | | 21/14 [P4] | 21/15 |
| Harringay | 09/02 | ? | | 21/09 [SL2] | ? |
| Finsbury Park | 09/05 [P1] [US] | 09/05 | | - | - |
| Holloway South Jn | 09/07 | ? | | - | - |
| Copenhagen Jn | 09/11 | ? | | - | - |
| York Way North Jn | 09/12 | ? | | - | - |
| Camden Road Central Jn | 09.15 ~ 09.35 | ? | | - | - |
| Camden Road | 09/37 | 09/36 | | - | - |
| Harringay Park Jn | - | - | | 21/07 | ? |
| Upper Holloway | - | - | | 21/04 | 21/03 |
| Junction Road Jn | - | - | | 21/02 | ? |
| Gospel Oak | 09/42 [P1] | 09/40 | | 21/00 | 20/59 |
| West Hampstead | 09.47a ~ 09.49 [W] | 09.46 ~ 09.48 | | 20.54a ~ 20.56d [E] | 20.53 ~ 20.54 |
| Kensal Green Jn | 09/55 | 09/54 | | 20/48 | 20/46 |
| Willesden Junction HL | 09C57 ~ 09C58 [P5] | 09.56 ~ 09.57 | | 20.45 ~ 20.46 [P4] | 20.44 ~ 20.44 |
| Acton Wells Jn | 10/01 | 10/00 | | 20/42 | 20/41 |
| Acton Yard | 10L06a ~ 11L02d | 10L05 ~ 11L06 | | 20L02a ~ 20L37d | 20L07 ~ 20L36 |
| Acton West | 11/06 [DR] | 11/07 | | 19/58 [GL] | 20/04 |
| West Ealing | 11/08 | ? | | 19/54 [UR] | 19/59 |
| Southall | 11/13 [DR] | 11/15 | | 19/51 [UR] | 19/51 |
| Airport Jn | 11/17 [DR] | 11/20 | | 19/45 [UR] | 19/47 |
| Slough | 11/31 [P4] | 11/32 | | 19/33 [P5] | 19/34 |
| Maidenhead | 11/38 [P3] | 11/39 | | 19/25 [P4] | 19/25 |
| Twyford | 11/46 [P3] | 11/46 | | 19/13 [P4] | 19/13 |
| Reading | 11/58 [P9] | 11/57 [P9] | | 19/06 [P10] [UR] | 19/06 |
| Reading West Jn | 12/00 [DR] | 11/59 | | 19/05 [UR] | 19/01 |
| Didcot East Jn | 12/22 [DR] | 12/25 | | 18/45 [UR] | 18/45 |
| Didcot Parkway | 12.24 ~ 12.27 [P3] [DR] | 12.28 ~ 12.29 | | 18.41 ~ 18.43 [P4] | 18.39 ~ 18.44 |
| Foxhall Jn | 12/29 [DR] | 12/32 | | 18/38 [UR] | ? |
| Wantage Road | 12/36 [DR] | 12/39 | | 18w05 ~ 18w29 [UR] | 18.10 ~ 18.27 |
| Challow | 12.41 ~ 12.49 [DR] | ? ~ 12.55 | | 18/00 [UR] | 18/05 |
| Uffington | 12/54 | 13/00 | | 17/57 | 18/03 |
| Swindon | 13/04 [P4] | 13/12 | | 17.36 ~ 17.44 [UM] | 17.41 ~ 17.52 |
| Wootton Bassett Jn | 13/11 | 13/19 | | 17/28 | 17/28 |
| Chippenham | 13/21 [P1] | 13/28 | | 17/18 [P2] | 17/15 |
| Thingley East Jn | 13/23 | 13/29 | | 17/16 | 17/14 |
| Thingley Jn | 13/24 | 13/30 | | 17/15 | ? |
| Bathampton Jn | 13/35 | 13/36 | | 17/05 | 17/06 |
| Bath Spa | 13.40a ~ 13.44d [P1] | 13.40 ~ 13.49 | | 16.56a ~ 17.00d [P2] | 16.55 ~ 17.00 |
| North Somerset Jn | 14/00 | [CAN] | | 16/42 | [CAN] |
| Bristol Temple Meads | 14.04a [P10] | [CAN] | | 16.39d [P9] | [CAN] |


Associated E.C.S. & Light Engine Workings
5Z63 : (67016?) : Wembley Yard to Peterborough
5Z64 : (67016?) : Peterborough to Wembley Yard
| | | |
| --- | --- | --- |
| Location | Booked (out) | Booked (rtn) |
| Wembley Yard | 04.40d | 01.30a |
| Harlesden Jn | 04/51 | 01/20 |
| Kensal Green Jn | 04/56 | 01/15 |
| Gospel Oak | 05/04 | 01/09 |
| Camden Road | - | 01/06 |
| York Way North Jn | - | 01/03 |
| Copenhagen Jn | - | 01/02 |
| Finsbury Park | - | 00/58 |
| Junction Road Jn | 05/06 | - |
| Upper Holloway | 05/08 | - |
| Harringay Park Jn | 05/11 | - |
| Harringay | 05/13 | 00/56 |
| Alexandra Palace | 05/23 | 00/54 |
| Potters Bar | 05/32 | 00/47 |
| Welwyn Garden City | 05/40 | 00/42 |
| Stevenage | 05/46 | 00/35 |
| Hitchin | 05/50 | 00/32 |
| Huntingdon | 06/09 | 00/10 |
| Peterborough | 06/26 | 23/56 |
| Peterborough Eastfield Yard | 06.30 ~ 07.06 | 23.08 ~ 23.28 |
| Peterborough | 07.10a [P2] | 23.04d [P4] |
5Z63 : (60163 with 35333) : Southall to Acton Yard
5Z64 : (60163 with 35333) : Acton Yard to Southall
| | | |
| --- | --- | --- |
| Location | Booked (out) | Booked (rtn) |
| Southall Depot | 06.34d | 22.06a |
| Southall Yard | 06/44 | 21.36 ~ 21.56 |
| Hayes Goods Loop | 06.47 ~ 07.45 [GL] | - |
| Southall | 07/49 | - |
| West Ealing | 07/53 | ? |
| Acton West | 07/58 | 21/28 |
| Acton Main Line | 08/01 | 20.46 ~ 21.24 |
| Acton Wells Jn | 08/04 | 20/43 |
| Willesden SW Sidings | 08.07 ~ 08.27 | 20.20 ~ 20.40 |
| Acton Wells Jn | 08/30 | 20/17 |
| Acton Yard | 08.35a | 20.12d |
5Z63 : (60163) : Bath Spa to Bristol East Depot
5Z64 : (60163) : Bristol East Depot to Bath Spa
| | | |
| --- | --- | --- |
| Location | Booked (out) | Booked (rtn) |
| Bath Spa | 13.50d | 16.53a |
| Bristol East Depot | 14.05a | 16.38d |
0Z64 : (60163) : Bristol East Depot - Lawrence Hill - Bristol Temple Meads - Bristol East Depot
(loco turning trip)
| | |
| --- | --- |
| Location | Booked |
| Bristol East Depot | 15.19d |
| North Somerset Jn | 15/21 |
| Dr Day's Jn | 15/25 |
| Lawrence Hill | 15.26 ~ 15.29 |
| Dr Day's Jn | 15/30 |
| Bristol Temple Meads | 15.32 ~ 15.37 |
| North Somerset Jn | 15/40 |
| Bristol East Depot | 15.43a |