16th March 2013
Steam Dreams
The Cathedrals Express
| | |
| --- | --- |
| Locos Used | 66034, 66109, 67006 'Royal Sovereign' & steam: 35028 'Clan Line' |
| Stock Used (2) | (17096)+4836+1859+4831+13230+35185+4832+4856+3115+1730+3096+3150 |
Route :
1Z63 : Southend Central to Bristol Temple Meads
1Z65 : Bristol Temple Meads to Southend Central
| | |
| --- | --- |
| Loco(s) | Route |
| 67006 | Southend Central - Leigh-on-Sea - Pitsea - Laindon - Upminster - Barking - Woodgrange Park - South Tottenham - Harringay Park Jn - Upper Holloway - Junction Road Jn - Gospel Oak - Willesden Junction HL - Acton Wells Jn - Acton Yard |
| 35028 (1) | Acton Yard - Slough - Maidenhead - Twyford - Reading - Didcot Parkway - Swindon - Chippenham - Bathampton Jn - Bath Spa - North Somerset Jn - Bristol Temple Meads |
| 35028 (1) | Bristol Temple Meads - (reverse of outward route) - Acton Yard |
| 66109 + 66034 (1) | Acton Yard - (reverse of outward route) - Southend Central |
Notes :
(1) 67006 on rear.
(2) 17096 was only in the consist when 35028 was hauling the train.
(3) The outward leg was advertised to be steam hauled throughout from Southend Central to Bristol Temple Meads.
(4) 4464 'Bittern' was originally advertised to haul this tour, but it was unavailable, so 60163 'Tornado' was to substitute. 60163 however then failed its 'Fitness to run' exam on the Friday evening and 35028 'Clan Line' was prepared at short notice.
Sources : Nick Bartlett, Mark Herriott, Mark Skinner & Guy Vincent



Photo Review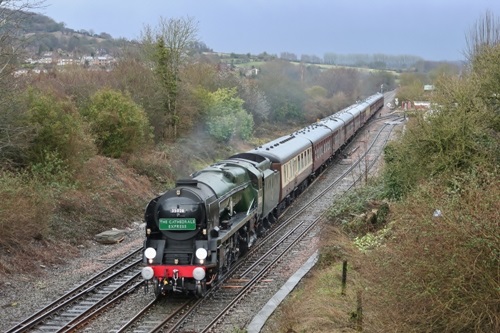 The train, passing Bathampton Jn on the outward leg (photo: Guy Vincent)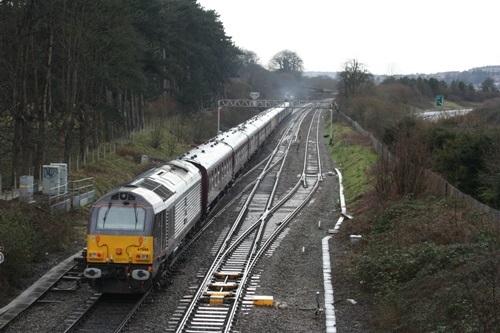 Timings (Booked & Actual)
(from Mark Herriott, Tom Cairns & Mark Skinner)
| | | | | | | |
| --- | --- | --- | --- | --- | --- | --- |
| Location | Booked | Actual | | Booked | Revised | Actual |
| Southend Central | 08.44d [P3] | 08.46 | | 21.52a [P2] | 22.52a [P2] | 22.58 |
| Leigh-on-Sea | 08/50 [P1] | 08/51 | | 21/45 [P3] | 22/43 | 22/51 |
| Pitsea | 08/58 [P2] | 08/58 | | 21/37 [P1] | 22/35 | 22/43 |
| Laindon | 09/04 [P1] | 09/04 | | 21/32 [P3] | 22/29 | 22/37 |
| Upminster | 09.14a ~ 09.17d [P1] | 09.14 ~ 09.17 | | 21.19a ~ 21.22d [P2] | 22.19a ~ 22.21d [P2] | 22.24 ~ 22.27 |
| Upney Jn | 09/28 [UCL] | ? | | 21/08 | 22/09 | ? |
| Barking | 09/29 [P8] | 09/31 | | 21/06 [P7] | 22.06a ~ 22.07d [P7] | 21.59 ~ 22.05 |
| Barking Station Jn | 09/31 | ? | | 21/04 | 22/03 | ? |
| Woodgrange Park | 09/32 [P1] | 09/33 | | 21/01 [P2] | 22/01 [P2] | 21/56 |
| Leyton Midland Road | 09/37 | ? | | 20/52 | ? | ? |
| South Tottenham | 09/44 [P1] | 09/44 | | 20/43 [P2] | 21/43 [P2] | 21/39 |
| Harringay Park Jn | 09/49 | 09/48 | | 20/36 | 21/38 | 21/33 |
| Upper Holloway | 09/53 [P1] | 09/51 | | 20/32 [P2] | 21/35 [P2] | 21/30 |
| Junction Road Jn | 09/54 | ? | | 20/29 | 21/33 | ? |
| Gospel Oak | 09/57 | 09/56 | | 20/24 | 21/30 | 21/27 |
| Kensal Green Jn | 10/08 | 10/08 | | 20/12 | 21/18 | 21/16 |
| Willesden Junction HL | 10C10 ~ 10C12 [P5] | 10.09 ~ 10.11 | | 20.08 ~ 20.20 [P4] | 21.14 ~ 21.16 [P4] | 21.12 ~ 21.14 |
| Acton Wells Jn | 10/16 | 10/15 | | 20/04 | 21/10 | 21/08 |
| Acton Yard | 10L19a ~ 10L39 [GL] | 10L18 ~ 11L05 | | 19L29a ~ 19L59d [GL] | 20L28a ~ 21L05d [GL] | 20L30 ~ 21L05 |
| Acton West | 10/43 [DR] | 11/09 | | 19/25 [UG] | 20/24 [UG] | 20/25 |
| West Ealing | ? | ? | | 19/22 [UR] | 20/21 [UR] | 20/20 |
| Southall | 10/53 [P3] | 11/18 | | 19/20 [UR] | 20/17 [UR] | 20/16 |
| Airport Jn | 10/58 [DR] | 11/20 | | 19/12 [UR] | 20/12 [UR] | 20/12 |
| Slough | 11/06 [P4] | 11/32 | | 19/03 [P5] | 19/58 [P5] | 19/58 |
| Maidenhead | 11/13 [P3] | 11/41 | | 18/57 [P4] | 19/51 [P4] | 19/50 |
| Twyford | 11/21 [P3] | 11/48 | | 18/48 [P4] | 19/42 [P4] | 19/43 |
| Reading | 11/28 [P9] | 12/01 | | 18/42 [P10] | 19/36 [P10] | 19/36 |
| Reading West Jn | 11/30 [DR] | 12/03 | | 18/41 [UR] | 19/33 [UR] | 19/30 |
| Didcot East Jn | 11/56 [DR] | 12/20 | | 18/20 [UR] | 19/13 [UR] | ? |
| Didcot Parkway | 11.58a ~ 12.00d [P3] | 12.22 ~ 12.23 | | 18.17a ~ 18.18d [P4] | 19.05a ~ 19.11d [P4] | 19.13 ~ ? |
| Foxhall Jn | 12/02 [DR-DM] | ? | | 18/14 [UM-UR] | 19/02 [UM-UR] | ? |
| Wantage Road | 12/09 | 12/42 | | 17w53a ~ 18w07d [UR] | 18w34a ~ 18w55d [UR] | 18.37 ~ 18.57 |
| Challow | 12/13 | 13/08 | | 17/48 [UR] | 18/29 | 18/32 |
| Uffington | 12/16 | 13/15 | | 17/44 | 18/25 | 18/29 |
| Swindon | 12.27a ~ 12.35d [P3] | 13.27 ~ 14.00 | | 17/33 [UM] | 18.03 ~ 18.14d [UM] | 18.05 ~ 18.17 |
| Wootton Bassett Jn | 12/42 | 14/09 | | 17/26 | 17/56 | 17/57 |
| Chippenham | 12/52 [P1] | 14/20 | | 17/15 [P2] | 17/45 [P2] | 17/47 |
| Thingley East Jn | 12/53 | 14/23 | | 17/13 | 17/43 | 17/44 |
| Thingley Jn | 12/54 | ? | | 17/12 | ? | ? |
| Bathampton Jn | 13/04 | 14/32 | | 17/02 | 17/32 | 17/32 |
| Bath Spa | 13.08a ~ 13.12d [P1] | 14.35 ~ 14.42 | | 16.52a ~ 16.57d [P2] | 17.22a ~ 17.27d [P2] | 17.21 ~ 17.27 |
| North Somerset Jn | 13/29 | 14/56 | | 16/38 | 17/08 | 17/08 |
| Bristol Temple Meads | 13.33a [P10] | 14.58 | | 16.35d [P10] | 17.05d [P3] | 17.05 |


Associated E.C.S. & Light Engine Workings
5Z63 : (67006) : Wembley Yard - Shoeburyness - Southend Central
5Z65 : (?66034 & 66109?) : Southend Central - Shoeburyness - Wembley Yard
| | | |
| --- | --- | --- |
| Location | Booked (out) | Booked (rtn) |
| Wembley Yard | 05.34 | 00.24a |
| Harlesden Jn | 05/45 | 00/14 |
| Kensal Green Jn | 05/52 | 00/09 |
| Gospel Oak | 06/11 | 00/03 |
| Junction Road Jn | 06/13 | 00/01 |
| Upper Holloway | 06/19 | 23/59 |
| Harringay Park Jn | 06/21 | 23/57 |
| South Tottenham | 06/25 | 23/53 |
| Woodgrange Park | 06/35 | 23/43 |
| Barking | 06/38 | 23/41 |
| Upminster | 06/50 | 23/28 |
| Laindon | 07/00 | 23/20 |
| Pitsea | 07/07 | 23/14 |
| Southend Central | 07/20 | 23/00 |
| Shoeburyness CS | 07.33 ~ 08.27 | 22.08 ~ 22.48 |
| Southend Central | 08.38a | 22.00d |
0Z64 : (35028 with 17096) : Bristol Temple Meads - Bristol West Jn - Lawrence Hill - Bristol Temple Meads
(loco turning trip)
| | |
| --- | --- |
| Location | Booked |
| Bristol Temple Meads | 13.46d |
| Bristol West Jn | 13.49 ~ 14.03 |
| Lawrence Hill | 14.10 ~ 14.12 |
| Bristol East Depot | 14.20 ~ 15.53 |
| Bristol Temple Meads | 16.00a |
5Z66 : (35028 with 17096) : Acton Yard to Stewarts Lane T&RSMD
| | |
| --- | --- |
| Location | Booked (rtn) |
| Acton Yard | 20.50d |
| Acton Wells Jn | 20/55 |
| Willesden SW Sidings | 20.58 ~ 21.09 |
| Mitre Bridge Jn | 21/13 |
| North Pole Jn | 21/15 |
| Kensington Olympia | 21/19 |
| Latchmere Jn | 21/26 |
| Longhedge Jn | 21/29 |
| Stewarts Lane Jn | 21.32 ~ 21.37 |
| Stewarts Lane T&RSMD | 21.43a |