26th January 2013
Pathfinder Tours
The Buffer Puffer 10.0
| | |
| --- | --- |
| Locos Used | 20308, 20312 & 37409 'Lord Hinton' |
| Stock Used | 4949+4998+5366+1842+3110+3068+17056 |
Route :
1Z20 : Crewe to London Liverpool Street
1Z21 : London Liverpool Street to Chingford
1Z22 : Chingford to London Liverpool Street
1Z23 : London Liverpool Street to Enfield Town
1Z24 : Enfield Town to Crewe
| | |
| --- | --- |
| Loco(s) | Route |
| 20308 + 20312 (1) | Crewe - Madeley Jn - Norton Bridge - Stafford - Bushbury Jn - Portobello Jn - Darlaston Jn - Bescot Stadium - Tame Bridge Parkway - Perry Barr North Jn - Aston - Stechford - Birmingham International - Coventry - Leamington Spa - Banbury - Bicester North - Princes Risborough - High Wycombe - West Ruislip - Greenford West Jn - Greenford South Jn - Drayton Green - Ealing Broadway - Acton Main Line - Acton Wells Jn - Willesden SW Sidings - Mitre Bridge Jn - North Pole Jn - Kensington Olympia - Latchmere Jn - Clapham Junction - Balham - Streatham North Jn - Streatham South Jn - Wimbledon - St Helier - Sutton - West Croydon - Gloucester Road Jn - Norwood Junction - Bromley Jn - Crystal Palace - West Norwood - Tulse Hill - Herne Hill - Brixton - Voltaire Road Jn - Factory Jn - Longhedge Jn - Latchmere Jn - Kensington Olympia - North Pole Jn - Mitre Bridge Jn - Willesden Junction HL - Gospel Oak - Camden Road Jn - Canonbury Jn - Navarino Road Jn - Reading Lane Jn - Bethnal Green - London Liverpool Street |
| 37409 (2) | London Liverpool Street - Bethnal Green - Hackney Downs - Clapton Jn - Walthamstow Central - Chingford |
| 20312 (1) | Chingford - Walthamstow Central - Clapton Jn - Hackney Downs - Bethnal Green - London Liverpool Street |
| 37409 (3) | London Liverpool Street - Bethnal Green - Bow Jn - Carpenters Road South Jn - Channelsea Jn - High Meads Jn - Temple Meads East Jn - Coppermill North Jn - Tottenham South Jn - South Tottenham - Seven Sisters - Enfield Town |
| 20308 + 20312 (1) | Enfield Town - Seven Sisters - South Tottenham - Tottenham South Jn - Coppermill North Jn - Temple Mills East Jn - High Meads Jn - Channelsea Jn - Stratford - Temple Mills East Jn - Ruckholt Road Jn - Temple Mills Loop |
| 37409 (3) | Temple Mills Loop - Temple Mills East Jn - High Meads Jn - Lea Jn - Navarino Road Jn - Canonbury Jn - Highbury Vale Jn - Finsbury Park - Hornsey Down Reversing Siding |
| 20308 + 20312 (1) | Hornsey Down Reversing Siding - Finsbury Park - Holloway South Jn - Copenhagen Jn - York Way North Jn - Camden Road Jn - Gospel Oak - Kensal Green Jn - Harlesden Jn - Wembley Central - Watford Junction - Milton Keynes Central - Weedon - Rugby - Coventry - (reverse of outward route) - Crewe |
Notes :
(1) 37409 on rear.
(2) 20312 on rear.
(3) 20312 & 20308 on rear.
(4) John Clifford comments: When this tour was first advertised the route was as shown to Kensington Olympia, then Clapham Junction - Richmond - Teddington - Wimbledon - Tooting - Streatham North Jn - Balham - Clapham Junction - Pouparts Jn - Factory Jn - Herne Hill - Streatham - Haydons Road - Wimbledon - St Helier - Sutton and then as shown to Liverpool Street. There was no trip to Chingford and back. On the return the route was as shown except that it went via Northampton rather than via Weedon.
The second version was what the final version did except that on the return the route after Camden Road Jn the route was to be Camden Jn - Willesden West London Jn - Wembley Central and as shown.
The final version was, of course, what we did.
On the day there was a points problem meaning that the train could not get from the Up Relief line at Acton Main Line onto the Poplar line so we were taken from Acton Main Line to Ealing Broadway by the 08.42 Paddington - Reading (unit no. 165102) which made an extra stop at Acton Main Line. Thanks to First Great Western for their help. As will be seen the tour ran via the Goods Lines to reach Acton Wells Jn.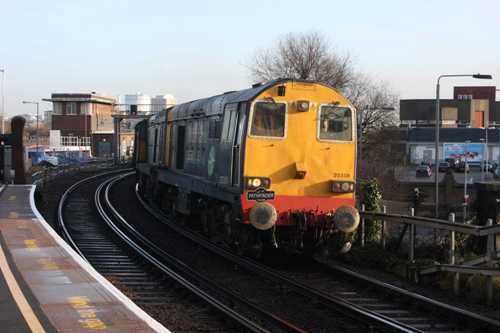 Passing through Clapham Junction on the outward leg (photo: Mark Herriott)
Sources : John Clifford (on the tour from Ealing Broadway to Watford Junction),
Mark Herriott & Stuart Hicks



Timings (Booked & Actual)
(from John Clifford & Mark Herriott)
M.C
Location
Booked
Actual
0.00
Crewe
05.05d [P6] [US]
05.10
?
Basford Hall Jn
05/12½
05/13
8.06
Madeley Jn
05/17½ [US]
05/21
19.08
Norton Bridge
05/27 [US]
05/30
24.37
Stafford
05.33a ~ 05.36d [P4]
05.37 ~ 05.39
?
Trent Valley Jn
05/37
05/40
38.14
Bushbury Jn
05/53
05/54
40.62
Portobello Jn
05/55
05/58
43.61
Darlaston Jn
05/57
06/00
44.79
Bescot Stadium
05/58
06/02
45.78
Tame Bridge Parkway
06.00a ~ 06.03d
06.03 ~ 06.05
49.36
Perry Barr North Jn
06/08
06/10
51.58
Aston
06/12 [P2]
06/13
54.51
Stechford
06/18
06/18
59.04
Birmingham International
06.24a ~ 06.26½ [P4]
06.24 ~ 06.27
69.60
Coventry
06.38a ~ 06.41d [P2]
06.39 ~ 06.42 [P2]
?
Gibbet Hill Jn
06/42½
06/46
74.69
Kenilworth
06/47½
06/48
?
Milverton Jn
06/52
06/53
79.32
Leamington Spa
06/54½ [UM]
06/56
90.61
Fenny Compton
07/06½
07/08
99.41
Banbury
07/14 [P3]
07/16
104.45
Aynho Jn
07/21½
07/21
113.47
Bicester North
07/33½ [P2]
07/33
126.38
Haddenham & Thame Parkway
07/47 [P2]
07/43
132.23
Princes Risborough
07.54a ~ 08.02½ [P2]
07.51 ~ 08.00
135.46
Saunderton
08/06
08/06
140.44
High Wycombe
08/13 [P3]
08/10
149.55
Gerrards Cross
08/23½ [P2]
08/19
155.05
West Ruislip
08/29½ [TL]
08/25
?
Ruislip Gardens Jn
08/30½ [DM]
?
156.66
South Ruislip
08/34
08/28
159.38
Greenford West Jn
08/39½
?
159.69
Greenford South Jn
08/41½
?
?
Drayton Green
08/48
?
161.78
West Ealing
08/50 [UR]
08/50
?
Ealing Broadway
?
08.?? ~ 08.58½ [P4] [UR]
163.39
Acton West
08/54 [UR]
09/01 [UGL]
164.18
Acton Main Line
08.56a ~ 08.58 [UR]
09/02½ [UGL] [UPL]
164.70
Acton Wells Jn
09/01
09/06
165.40
Willesden SW Sidings
09.04 ~ 09.20 [REV]
09.09½ ~ 09.17 [USW] [REV]
166.20
Mitre Bridge Jn
09/24
09.20 ~ 09.21
166.57
North Pole Jn
09/25
09/24
168.45
Kensington Olympia
09/30 [P3]
09/31 [P3]
?
Latchmere Jn
09/38
09/39
171.62
Clapham Junction
09.41½ ~ 09.47 [P17] [DS]
09.42 ~ 09.47 [P17] [DS]
173.57
Balham
09/52 [P1]
09/53 [P1]
175.19
Streatham North Jn
09/54½
09/56½
175.48
Streatham South Jn
09/56
09/58
178.53
Wimbledon
10/01 [P9]
10/03½ [P9]
181.21
St Helier
10/06
10/09 [P2]
?
West Sutton
10/09 [P2]
10/12 [P2]
184.20
Sutton
10/12 [P1]
10/15 [P1]
185.72
Wallington
10/16 [P1]
10/18½
188.42
West Croydon
10/20 [P3]
10/25½ [P3]
?
Gloucester Road Jn
10/21½
10/27½
190.22
Norwood Junction
10/25 [P1]
10/31 [P1]
190.75
Bromley Jn
10/28
10/33
191.61
Crystal Palace
10/31 [P1]
10/35 [P1]
?
West Norwood
10/36 [P1]
10/39 [P1]
193.59
West Norwood Jn
10/36½
10/39½ [P1]
194.13
Tulse Hill
10/38 [P3]
10/41 [P3]
195.19
Herne Hill
10/42 [P1]
10/45 [P1]
196.01
Brixton
10/43
10/47 [P1]
196.28
Shepherds Lane
10/44 [AL]
10/47½ [AL]
?
Voltaire Road Jn
10/44½
10/49½
197.23
Factory Jn
10/45
10/50
197.62
Longhedge Jn
10/51
10/52
198.47
Latchmere Jn
10/54
10/53½
201.30
Kensington Olympia
11.00 ~ 11.07 [P2]
11.00½ ~ 11.06 [P2]
203.18
North Pole Jn
11/13
11/10
203.55
Mitre Bridge Jn
11/14
11/12
204.29
Willesden Junction HL
11/19 [P4]
11/19 [P4]
204.51
Kensal Green Jn
11/21
11/20
208.58
Gospel Oak
11/36 [P2]
11/34½ [P2]
209.69
Camden Road Jn
11/39½
11/39½
210.14
Camden Road East Jn
11/42½ [REV]
11/41 [REV]
?
Westbourne Park Jn
11/54½
11.43 ~ 11.49½
211.67
Canonbury Jn
11/57½
11/52
213.33
Navarino Road Jn
12/01
11/56½
213.57
Reading Lane Jn
12/03 [SL]
11.57½ ~ 12.03 [SL]
215.22
Bethnal Green
12/10 [ML]
12/10 [P1] [ML]
216.00
0.00
London Liverpool Street
12L14a ~ 12L40d [P8] [ML]
12.14½ ~ 12.40 [P8] [SL]
1.10
Bethnal Green
12/43 [FL]
12/43½ [P2] [FL]
2.78
Hackney Downs
12/47 [P2]
12/48 [P2]
4.38
Clapton Jn
12/50
12/50
6.16
Walthamstow Central
12/54 [P2]
12/52½ [P2]
10.33
0.00
Chingford
13.03a ~ 13.16d [P3]
13.01½ ~ 13.16 [P3]
4.17
Walthamstow Central
13/28 [P1]
13/23 [P1]
5.75
Clapton Jn
13/32½
13/26
7.35
Hackney Downs
13/36 [P3] [SL]
13/33 [P3] [SL]
9.23
Bethnal Green
13/43 [SL]
13/39 [P2] [SL]
10.33
0.00
London Liverpool Street
13L48a ~ 14L47d [P8] [ML]
13.47 ~ 14.47 [P8] [ML]
1.10
Bethnal Green
14/50 [ML]
14/50 [ML]
2.69
Bow Jn
14/52 [BL]
14/53 [BL]
3.50
Carpenters Road South Jn
14/55
14/55½
4.01
Channelsea Jn
15/00
14.56½ ~ 14.57
4.16
High Meads Jn
15/01½
14/59
4.60
Temple Meads East Jn
15/08½
15.01 ~ 15.06½
7.28
Coppermill North Jn
15/15
15/13
7.75
Tottenham South Jn
15/17
15/15
8.41
South Tottenham
15/28 [P1]
15/27 [P1]
8.62
Seven Sisters
15/29½ [P2]
15/28 [P2]
12.34
Bury Street Jn
15/36
15/34
13.69
0.00
Enfield Town
15.40a ~ 15.45d [P1]
15.41 ~ 15.46 [P1]
1.35
Bury Street Jn
15/51
15/49
5.07
Seven Sisters
15/58 [P1]
15/54½ [P1]
5.28
South Tottenham
15/59½ [P2]
15/56 [P2]
5.74
Tottenham South Jn
16/10
15/59
6.41
Coppermill North Jn
16/13
16/00½
9.09
Temple Mills East Jn
16/18
16/07
9.53
High Meads Jn
16/20
16.08½ ~ 16.16
9.68
Channelsea Jn
16/21
16/18
10.31
Stratford
16/24 [P12]
16/20½ [P12]
10.73
Temple Meads East Jn
16/26½
16/22
11.45
Ruckholt Road Jn
16/30
16.24 ~ 16.24
12.05?
0.00
Temple Mills Loop
16.35 ~ 16.50
16.26 ~ 16.49½
1.12
Temple Meads East Jn
17/05
16/52
1.56
High Meads Jn
17/09
16.54 ~ 16.58
1.60
Lea Jn
17/11
16/59½
3.68
Navarino Road Jn
17/18
17/06
5.34
Canonbury Jn
17/21
17.11½ ~ 17.13½
6.03
Highbury Vale Jn
17/21½
17/16
6.63
Finsbury Park
17/27 [SL2]
17/18½ [DGL] [SL2]
8.23?
0.00
Hornsey Down Reversing Siding
17.32 ~ 17.47
17.26 ~ 17.28 [Sdg 2]
0.49
Harringay West
17/51 [GL]
17/32 [GL]
1.40
Finsbury Park
17/54
17/34 [GL]
2.37
Holloway South Jn
18/07 [SL]
17/37 [SL]
3.17
Copenhagen Jn
18/11
17/40½
?
York Way North Jn
18/12
17/41
3.68
Camden Road Central Jn
18/18
17/42½
4.14
Camden Road Jn
18/20
17/43½
5.25
Gospel Oak
18/25 [P1]
17/46 [P1]
9.32
Kensal Green Jn
18/39
18/03
10.32
Harlesden Jn
18/44 [SL]
18.07 ~ 18.22½ [SL]
12.44
Wembley Central
18/49 [P5]
18/43 [P6] [DS]
15.70
Harrow & Wealdstone
18/52 [P5] [DS]
18/49½ [P5] [DS]
21.75
Watford Junction
18.59a ~ 19.02d [P8] [DS]
18.59 ~ 19.01 [P8] [DS]
?
Bourne End Jn
19/12 [DS]
19/11
36.13
Tring
19/21 [P3] [DS]
19/20
41.75
Ledburn Jn
19/26½ [DS]
19/25
51.14
Bletchley
19/33½ [P3] [DS]
19/33
54.25
Milton Keynes Central
19/36 [P3] [DS]
19/36
61.07
Hanslope Jn
19/42½ [DF]
19/49
74.16
Weedon
19/55
20/02
?
Hillmorton Jn
20/06½
20/14
87.00
Rugby
20.08a ~ 20.23d [P2] [DF]
20.17 ~ 20.19
?
Trent Valley Jn
20/24
20/21
98.39
Coventry
20.35a ~ 20.38d [P3]
20.42 ~ 20.44
109.15
Birmingham International
20.51a ~ 20.54d [P2]
20.58 ~ 21.00
113.55
Stechford
21/02
21/08
116.41
Aston
21/08
21/14
118.63
Perry Barr North Jn
21/13
21/17
122.21
Tame Bridge Parkway
21.18a ~ 21.21d
21.23 ~ 21.25
123.20
Bescot Stadium
21/22
21/27
124.38
Darlaston Jn
21/23
21/29
127.37
Portobello Jn
21/27
21/32
130.05
Bushbury Jn
21/32
21/37
?
Trent Valley Jn
21/50 [DS]
21/50
143.62
Stafford
21.52a ~ 21.55d [P3] [DF]
21.53 ~ 21.55
149.11
Norton Bridge
22/00½ [DF]
22/01
160.13
Madeley Jn
22/10 [DF]
22/11
?
Basford Hall Jn
22/16
22/18
168.19
Crewe
22.20a [P11]
22.23


Associated E.C.S. & Light Engine Workings
0Z20? : (20308 + 20312 + 37409?) : Crewe Wagon Shop to Crewe Sidings
0Z24? : (20308 + 20312 + 37409?) : Crewe Sidings to Crewe Wagon Shop
| | | |
| --- | --- | --- |
| Location | Booked (out) | Booked (rtn) |
| Crewe Wagon Shop | 03.01d | 23.58a |
| Gresty Lane Western Sidings | 03.04 ~ 03.09 | 23.50 ~ 23.55 |
| Gresty Lane | 03.12 ~ 03.15 | 23.44 ~ 23.47 |
| Gresty Lane Sig. GL37 | - | 23.40 ~ 23.41 [GL] |
| Crewe Sidings | 03.20a | 23.39d |
5Z20? : (20308 + 20312 with 37409 on rear?) : Crewe Sidings to Gresty Lane Up Loop
5Z20? : (37409 with 20312 + 20308 on rear?) : Gresty Lane Up Loop to Crewe
5Z24? : (37409 with 20312 + 20308 on rear?) : Crewe to Gresty Lane Up Loop
5Z24? : (20308 + 20312 with 37409 on rear?) : Gresty Lane Up Loop to Crewe Sidings
| | | |
| --- | --- | --- |
| Location | Booked (out) | Booked (rtn) |
| Crewe Sidings | 04.10d | 23.19a |
| Gresty Lane Sig. GL37 | 04.11 ~ 04.12 [GL] | - |
| Gresty Lane | 04/15 | 23/17 |
| Gresty Lane Up Loop | 04.19 ~ 04.34 | 22.58 ~ 23.13 |
| Gresty Lane | 04/38 | 22/54 |
| Crewe | 04.42a [P6] | 22.51d |