13th January 2013
Transport for London
150th Anniversary of the London Underground
| | |
| --- | --- |
| Locos Used | 12 'Sarah Siddons' & steam: Metropolitan No.1 |
| Stock Used | 3+353+387+412+368+394 |
Route : reporting number 150 throughout
| | |
| --- | --- |
| Loco(s) | Route |
| Met No.1 (2) | Kensington Olympia - Earls Court - Paddington - Baker Street - King's Cross - Farringdon - Moorgate |
| 12 (3) | Moorgate - Farringdon - King's Cross - Baker Street - Paddington - Earls Court - Kensington Olympia |
| Met No.1 (2) | Kensington Olympia - Earls Court - Paddington - Baker Street - King's Cross - Farringdon - Moorgate |
| 12 (3) | Moorgate - Farringdon - King's Cross - Baker Street - Edgware Road |
| Met No.1 (2) | Edgware Road - Baker Street - King's Cross - Farringdon - Moorgate |
| 12 (3) | Moorgate - Farringdon - King's Cross - Baker Street - Edgware Road |
| Met No.1 (2) | Edgware Road - Baker Street - King's Cross - Farringdon - Moorgate |
| 12 (3) | Moorgate - Farringdon - King's Cross - Baker Street - Edgware Road - Earls Court |
Notes :
(1) This event celebrated the 150th anniversary of the opening of the World's first Underground railway, from Paddington to Farringdon.
(2) 12 'Sarah Siddons' on rear.
(3) Metropolitan No.1 on rear.
(4) Metropolitan No.1 carried a headboard '150 Underground Pioneer 1863-2013'.
(5) Battery locos L20 & L46 were on standby at Farringdon, in case of problems.
(6) Route confirmation required - above is from booked timings.
Source : Rob Fraser (travelled on 20.10 from Moorgate and returned on 20.45 from Edgware Road) & Chris Bracey.



Photo Review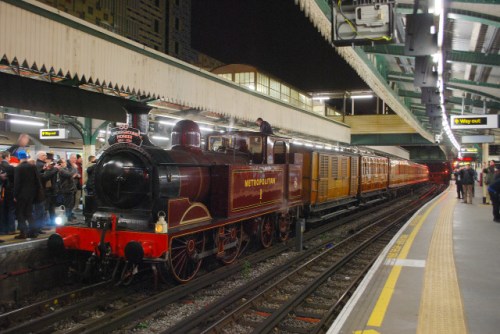 1 waits to leave Edgware Road, on the 20.45 to Moorgate (photo : Rob Fraser)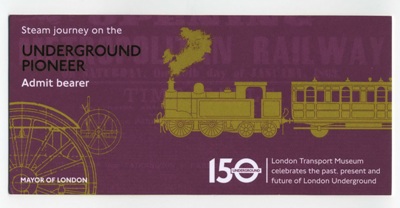 Rob Fraser's ticket for the event


Timings (Booked Only)
(from Chris Bracey)
| | | | | |
| --- | --- | --- | --- | --- |
| Location | Booked | Booked | Booked | Booked |
| Kensington Olympia | 09.55d | 19.15d | - | - |
| Earls Court | 09/59 [P1] | 19/19 [P1] | - | - |
| High Street Kensington | 10/03 | 19/22 | - | - |
| Paddington | 10/09 | 19/28 | - | - |
| Edgware Road | 10/14 [P1] | 19/31 [P1] | 20.45d [P3] | 22.00d [P3] |
| Baker Street | 10/18 | 19/33 | 20/48 | 22/03 |
| King's Cross | 10/24 | 19/39 | 20/54 | 22/09 |
| Farringdon | 10/27 | 19/42 | 20/57 | 22/12 |
| Moorgate | 10.32a ~ 12.10d [P4] | 19.47a ~ 20.10d [P4] | 21.02a ~ 21.25d [P4] | 22.17a ~ 22.40d [P4] |
| Farringdon | 12/13 | 20/13 | 21/28 | 22/43 |
| King's Cross | 12/17 | 20/17 | 21/32 | 22/47 |
| Baker Street | 12/22 | 20/22 | 21/37 | 22/52 |
| Edgware Road | 12/26 | 20.25a [P3] | 21.40a [P3] | 22/55 [P4] |
| Paddington | 12/29 | - | - | 22/57 |
| High Street Kensington | 12/35 | - | - | 23/03 |
| Earls Court | 12/39 | - | - | 23.06a |
| Kensington Olympia | 12.42a | - | - | |


Associated E.C.S. Workings
(12 with Met No.1 on rear) : Lillie Bridge Depot to Kensington Olympia
(Met No.1 with 12 on rear) : Kensington Olympia to Lillie Bridge Depot
| | | |
| --- | --- | --- |
| Location | Booked (out) | Booked (rtn) |
| Lillie Bridge Depot | 09.40d | 12.51a |
| Kensington Olympia | 09.46a | 12.44d |
(12 with Met No.1 on rear) : Lillie Bridge Depot to Kensington Olympia
(12 with Met No.1 on rear) : Earls Court to Kensington Olympia
(Met No.1 with 12 on rear) : Kensington Olympia to Lillie Bridge Depot
| | | |
| --- | --- | --- |
| Location | Booked (out) | Booked (rtn) |
| Lillie Bridge Depot | ??.??d | 23.22a |
| Kensington Olympia | ??.??a | 23.08 ~ 23.15 |
| Earls Court | - | 23.05d |