17th November 2012
Railway Touring Company
The Capital Christmas Express
| | |
| --- | --- |
| Locos Used | 47786 'Roy Castle OBE' & steam: 34067 'Tangmere' |
| Stock Used | 35518+99127+99125+99712+3093+99121+99350+99348+1860+99318+99723 |
Route :
1Z92 : Weymouth to London Paddington
1Z93 : London Paddington to Weymouth
| | |
| --- | --- |
| Loco(s) | Route |
| 34067 (1) | Weymouth - Dorchester South - Wool - Wareham |
| 34067 | Wareham - Poole - approximately 150 yards east of Parkstone (2) |
| 34067 (4) | approximately 150 yards east of Parkstone (3) - Bournemouth - Brockenhurst - Redbridge - Southampton Central - St Denys - Eastleigh - Winchester - Basingstoke - Bramley - Reading - Maidenhead - Slough - London Paddington |
| 34067 (4) | London Paddington - (reverse of outward route) - Weymouth |
Notes :
(1) Banked by 47786 from Weymouth up Bincombe Bank. 47786 removed from train at Wareham and was booked to run light engine to Poole before returning to Weymouth.

(2) Martyn Thresh comments:
On leaving Poole 34067 started slipping soon after coming off the causeway across Parkstone Bay. Speed very much reduced by the time Parkstone station was passed and stalled at 09.30 with the loco under the road bridge at Sandecoates Road and the rear of the train some 150 yards from the east end of the platform of Parkstone station. Hand sanding was carried out and several attempts were made to restart which only resulted in the train rolling back a short distance each time.
(3) Martyn Thresh comments: 47786 had run to Poole and should have been available as planned but started its return journey to Weymouth early and was stopped at Wareham before being returned to give assistance. It was reattached to the rear of the train and two or three attempts had to be made to get the train moving again at 10.50. In the meantime it is reported that at least two of South West Trains' services were terminated at Poole. 47786 remained attached to the rear for the rest of the journey to Paddington giving assistance restarting from station stops and where required.
(4) 47786 on rear.
(5) 34067 ran with Great Western style 'Z81' headcode board.
(6) This tour was originally advertised to start from/terminate at Swanage.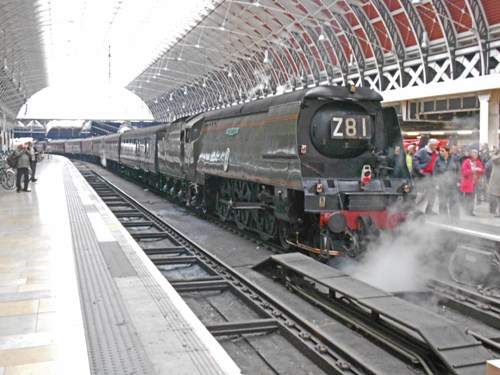 34067 'Tangmere' on arrival at Paddington (photo: Martyn Thresh)
Sources : Martyn Thresh (joined the outward leg at Poole/left at Bournemouth on return leg),
Nick Bartlett, Adrian Boyt and Claude Andrews



Timings (Booked & Actual)
(from Martyn Thresh and Adrian Boyt)
| | | | | | |
| --- | --- | --- | --- | --- | --- |
| Location | Booked | Actual | | Booked | Actual |
| Weymouth | 08.25d [P3] | 08.27 | | 23.19a [P3] | 23.21 [P3] |
| Dorchester Jn | 08/38 | ? | | 23/08 | ? |
| Dorchester South | 08.39a ~ 08.41d [P1] | 08.41 ~ 08.43 | | 22.41a ~ 23.06d [P1] | 22.42 ~ 23.04 |
| Moreton | 08/48 | ? | | 22/33 | ? |
| Wool | 08/53 [P1] | 08/55 | | 22/27 [P2] | 22/29 |
| Wareham | 09L00a ~ 09L06d [P1] | 09L02 ~ 09L09 | | 22.17a ~ 22.19d [P2] | 22.18 ~ 22.21 |
| Poole | 09.14a ~ 09.17d [P1] | 09.21 ~ 09.23 | | 22.03a ~ 22.05d [P2] | 22.04 ~ 22.07 |
| Parkstone | ? | 09.30 ~ 10.50 | | ? | ? |
| Branksome | 09/25 [P1] | 10/53 | | 21/57 [P2] | 21/58 |
| Bournemouth | 09.30a ~ 09.33d [P2] | 10.59 ~ 11.02 | | 21.48a ~ 21.50d [P3] | 21.48 ~ 21.51 |
| Brockenhurst | 09/53 [P2] | 11/20 [P2] | | 21/26 [P3] | 21/22 |
| Redbridge | 10/07 | 11/30 | | 21/12 | 21/11 |
| Southampton Central | 10.15a ~ 10.18d [US] [P2] | 11.34 ~ 11.36 | | 21.03a ~ 21.06d [P4] [DF] | 21.02 ~ 21.05 |
| Northam Jn | 10/21 [UF] | 11/39 | | ? | ? |
| Mount Pleasant LC | - | - | | 20w40a ~ 21w00d [DS] | 20.42 ~ 20.56 |
| St Denys | 10/23 [P1] | 11/40 | | 20/33 [P2] | 20/38 |
| Eastleigh | 10w29a ~ 10w45d [P1] | 11.46 ~ 11.59 | | 20.23a ~ 20.26d [P2] | 20.23 ~ 20.27 [P3] |
| Shawford / Shawford Jn | 10/53 | 12/09 | | 20/16 | ? |
| Winchester | 10/59 [P1] | 12/15 | | 20/12 [P2] | 20/14 |
| Worting Jn | 11/16 [US] | 12/30 | | 19/55 [DS] | 19/58 |
| Basingstoke | 11/20 [P3] | 12/33 | | 19/51 [P2] | 19/54 |
| Bramley | 11/30 | 12/40 | | 19/38 | 19/34 |
| Southcote Jn | 11/42 | 12/52 | | 19/24 | 19/24 |
| Reading | 11.48 ~ 11.59 [TL] | 12/58 | | 19/18 [P7] | 19/19 |
| Twyford | 12/05 [P4] | 13/05 | | 19/08 [P3] | 19/09 |
| Maidenhead | 12/12 [P4] | 13/12 | | 18/59 [P3] | 19/01 |
| Slough | 12/19 [P5] | 13/17 | | 18/53 [P2] | 18/54 |
| Airport Jn | 12/27 [UR] | 13/28 | | 18/47 [DM] | 18/49 |
| Southall | 12/32 [UR] | 13/31 | | 18/45 [DM] | 18/46 |
| Acton West | 12/38 [UR] | 13/36 | | 18/42 [DM] | 18/42 |
| Ladbroke Grove | 12/42 [UR] | 13/42 | | 18/38 [DM] | 18/39 |
| London Paddington | 12.48a [P10] | 13.47 [P10] | | 18.33d [P1] | 18.34 [P1] |


Associated E.C.S. Workings
16/11/12 : 5Z91 : (47786 with 34067 on rear) : Southall to Weymouth
18/11/12 : 5Z96 : (47786 with 34067 on rear) : Weymouth to Southall
| | | |
| --- | --- | --- |
| Location | Booked (out) | Booked (rtn) |
| Southall Depot | 11.20d | 16.30a |
| Slough | 11/53 | 15/55 |
| Maidenhead | 12/00 | 15/48 |
| Reading | 13.00 ~ 13.02 | 15/36 |
| Basingstoke | 13/26 | 15/13 |
| Winchester | 13/56 | 14/51 |
| Eastleigh | 14/05 | 14.16 ~ 14.19 |
| Southampton Central | 14/17 | 14/01 |
| Brockenhurst | 14/34 | 13/40 |
| Bournemouth | 14/52 | 13.12 ~ 13.20 |
| Poole | 15/03 | 13/01 |
| Wareham | 15/13 | 12/51 |
| Dorchester South | 15/30 | 12/29 |
| Weymouth | 15.40a | 12.18d |
17/11/12 :
5Z93 : (47786 with 34067 on rear) : Paddington to Greenford West Jn
5Z93 : (34067 with 47786 on rear) : Greenford West Jn to Southall
5Z94 : (47786 with 34067 on rear) : Southall to Paddington
| | |
| --- | --- |
| Location | Booked |
| London Paddington | 13.07d |
| Acton West | 13/15 |
| West Ealing | 13/19 |
| Drayton Green | 13/22 |
| Greenford South Jn | 13/27 |
| Greenford West Jn | 13.28 ~ 13.32 |
| Greenford South Jn | 13/34 |
| Drayton Green | 13/47 |
| Hanwell | 13/49 |
| Southall Depot | 14.10 ~ 17.25 |
| West Ealing | 17/50 |
| Acton West | 17/54 |
| London Paddington | 18.10a |