16th November 2012
Compass Tours
Festive Edinburgh Excursion
| | |
| --- | --- |
| Locos Used | 47500, 47804 & 47826 |
| Stock Used | 9496+3395+3392+3350+3313+3326+1201+6022+6012+6115+5928+6000 |
Route :
1Z42 : Kidderminster to Edinburgh Waverley
1Z43 : Edinburgh Waverley to Kidderminster
| | |
| --- | --- |
| Loco(s) | Route |
| 47500 (1) | Kidderminster - Stourbridge Junction - Galton Jn - Soho North Jn - Soho East Jn - Perry Barr West Jn - Perry Barr North Jn - Tame Bridge Parkway - Bescot Stadium - Pleck Jn - Walsall - Ryecroft Jn - Hednesford - Rugeley Trent Valley - (via WCML) - Carnforth Loop (2) |
| 47826 (1) | Carnforth Loop - (via WCML) - Carstairs South Jn - Carstairs East Jn - Auchengray - Midcalder Jn - Slateford Jn - Haymarket - Edinburgh Waverley - Abbeyhill Jn - Craigentinny Jn - Portobello Jn - Niddrie West Jn - Craiglockhart Jn - Slateford Jn - Kingsnowe (4) |
| 47804 (4) | Kingskowe - Midcalder Jn - Auchengray - Carstairs East Jn (5) - Carstairs - north of Carstairs station |
| 47804 (3) | north of Carstairs station - Carstairs - (5) Carstairs South Jn - (reverse of outward route) - Kidderminster |
Notes :
(1) 47804 on rear.
(2) 47500 replaced at Carnforth due to a regulator problem.
(3) 47826 on rear.
(4) 47826 failed at Kingsnowe. 47804 on rear propelled the train to north of Carstairs station to enable a reversal to have 47804 leading.
(5) Booked route was the reverse of outward at Carstairs (i.e. via the East to South curve).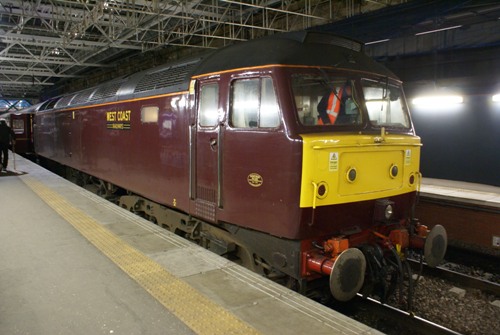 47804 at Edinburgh Waverley (photo: Simon Edwards)
Source : Simon Edwards (joined/left the train at Tame Bridge Parkway)



Timings (Booked & Actual)
(from Simon Edwards)
Location
Booked
Actual
Booked
Actual
Kidderminster
05.39d
?
00.41a
?
Blakedown
05/44
?
00/36
?
Stourbridge Junction
05.50a ~ 05.52d
?
00.29a ~ 00.31d
?
Rowley Regis
06.00a ~ 06.02d
?
00.16a ~ 00.19d
?
Smethwick Jn
06/06
?
00/12
?
Galton Jn
06/07
?
00/11
?
Soho North Jn
06/08
?
00/10
?
Soho East Jn
06/19
?
00/08
?
Perry Barr West Jn
06/23
?
00/03
?
Perry Barr North Jn
06/24
?
00/01
?
Tame Bridge Parkway
06.29a ~ 06.31d
06.27 ~ 06.31 [P2]
23.53a ~ 23.56d
00.09 ~ 00.11
Bescot Stadium
06/34
06/34
23/50
00/07
Pleck Jn
06/36
?
23/48
?
Walsall
06.41a ~ 06.43d
06.39 ~ 06.43
23.42a ~ 23.45d
00.02 ~ 00.04
Ryecroft Jn
06/47
?
23/39
00/00
Bloxwich
06/51
?
23/34
23/55
Cannock
06.58a ~ 07.01d
06.57 ~ 07.01
23.24a ~ 23.27d
23.46 ~ 23.48
Hednesford
07.04a ~ 07.06d
07.08 ~ 07.25
23.18a ~ 23.21d
23.40 ~ 23.42
Rugeley Town
07.13a ~ 07.15d
07.32 ~ 07.33
23.09a ~ 23.12d
23.28 ~ 23.30
Rugeley TV
07/18
07/37
23/06
23/25
Colwich
07/24
07/43
23/00
?
Stafford
07/33
07/50 [P3]
22/53
23/14
Norton Bridge
07/41
07/56
22/48
23/08
Madeley
07/50
08/05
22/387
?
Basford Hall Jn
07/56
08/10
22/34
?
Crewe
08.01 ~ 08.04
08.14 ~ 08.17
22.25 ~ 22.27
22.39 ~ 22.42 [P12]
Crewe Coal Yard
08/07
?
22/21
?
Winsford
08/12
08/26
22/15
?
Hartford Jn
08/16
08/29
22/11
?
Acton Bridge
08.20 ~ 08.23
08/33
22/09
22/22
Weaver Jn
08/27
?
22/07
?
Acton Grange Jn
08/30
?
22/03
?
Warrington Bank Quay
08/32
08/36
22/01
22/14
Dallam Jn
08/33
?
22/00
?
Winwick Jn
08/35
08/41
21/58
?
Springs Branch Jn
08/41
?
21/53
?
Wigan South Jn
08/43
08/46
21/52
22/05
Wigan North Western
08/43
08/46
21/52
22/05
Euxton Jn
08/53
08/53
21/40
?
Farrington Curve Jn
09/02
?
?
?
Preston
09/10
09.14 ~ 09.15
21/34
21/48
Garstang & Catteral
09/23
?
21/23
?
Lancaster
?
?
21/14
21/30
Morecambe South Jn
?
?
21/12
?
Carnforth Loop
DIV
09L44 ~ 10L07
Carnforth North Jn
09/37
10/07
21/08
21/26
Oxenholme Lake District
09/50
10/20
20/56
21/17
Tebay
10/06
10/33
20/46
?
Penrith North Lakes
10.29 ~ 10.34
10/48
20/28
20/49
Plumpton
?
?
20.11 ~ 20.21 [UGL]
?
Carlisle
10.50 ~ 10.52
11.05 ~ 11.16
19.56 ~ 19.57
20/26
Gretna Jn
11/01
?
19/45
?
Quintinshill
?
?
19.23 ~ 19.42 [PL]
?
Lockerbie
11.19 ~ 11.32
11/39
19/06
20/01
Beattock
11/45
11/46
18/56
19/53
Beattock Summit
11/58
?
18/48
19.14 ~ 19.34 [Loop]
Abington
12/05
?
18/38
?
Carstairs South Jn
12/19
12/18
18/25
18/58
Carstairs
DIV
18/57
Carstairs [north of station]
DIV
18.50 ~ 18.55
Carstairs
DIV
18/48
Carstairs North Jn
DIV
18/47
Carstairs East Jn
12/21
12/20
18/21
18/46
Auchengray
12/27
?
18/12
?
Torphin
12/33
?
18/07
?
Midcalder Jn
12/39
?
18/02
?
Slateford Jn
12/48
12/47
17/53
17/56
Craiglockhart Jn
17/48
?
Niddrie West Jn
17/38
?
Portobello Jn
17/31
17/40
Craigentinny Jn
17/30
?
Abbeyhill Jn
17/29
?
Haymarket
12/50
12/51
Edinburgh Waverley
12.54a
12.54
17.26d
17.29