15th August 2012
Torbay Express
The Dreaming Spires Express
Locos Used
66001 & steam

: 71000 '

Duke of Gloucester'

Stock Used (1)
(17041+) 17015+3149+3123+1691+3069+3119+3120
Route :
1Z92 : Poole to Oxford
1Z93 : Oxford to Poole
| | |
| --- | --- |
| Loco | Route |
| 71000 | Poole - Bournemouth - Brockenhurst - Redbridge - Southampton Central - St Denys - Eastleigh (2) |
| 66001 | Eastleigh - Winchester - Worting Jn - Basingstoke - Bramley - Reading West - Oxford Road Jn - Reading West Jn - Didcot Parkway - Oxford |
| 66001 | Oxford - Didcot North Jn - Foxhall Jn - Swindon - Chippenham - Melksham - Bradford Jn - Trowbridge - Westbury - Warminster - Salisbury - Romsey - Chandlers Ford - Eastleigh - (reverse of outward route) - Poole |
Notes :
(1) 17041 was only in the consist when 71000 was hauling the train.
(2) 71000 failed at Eastleigh on the outward leg with valve gear problems and was replaced by 66001.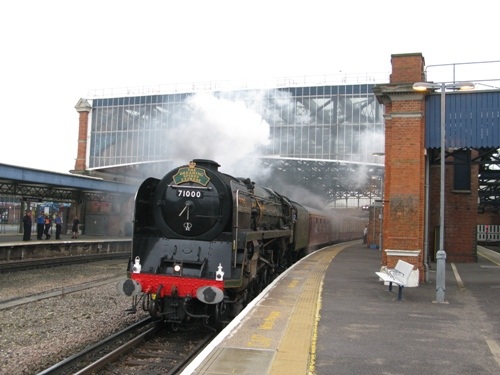 71000 arrives at Bournemouth with the outward leg (photo: Nick Bartlett)
Source : David Lodwick (on the tour throughout), Nick Bartlett, Mark Herriott and Chris Bracey.



Timings (Booked & Actual)
(from Nick Bartlett and Mark Herriott)
| | | |
| --- | --- | --- |
| Location | Booked | Actual |
| Poole | 08.05d [P1] | 08.06 |
| Branksome | 08/12 | 08/12 |
| Bournemouth | 08.17a ~ 08.20d [P2] | 08.16 ~ 08.19 [P2] |
| Brockenhurst | 08.45a ~ 08.47d [P2] | 08.45 ~ 08.48 |
| Redbridge | 09/01 | 09/02 |
| Southampton Central | 09.06a ~ 09.08d [P1] | 09.08 ~ 09.12 |
| Northam Jn | 09/11 [US] | ? |
| St Denys | 09/22 [P1] | 09/16 |
| Eastleigh | 09w27a ~ 09w43d [P1] | 09.24 ~ 09.51 |
| Shawford | 09/48 | ? |
| Winchester | 09/52 [P1] | 10/58 |
| Wallers Ash | 09.59a ~ 10.09d [UPL] | ? |
| Worting Jn | 10/19 [US] | 11/14 |
| Basingstoke | 10.22a ~ 10.24d [P4] | 11.18 ~ 11.18 |
| Bramley | 10/31 | 11/23 |
| Southcote Jn | 10/42 | 11/32 |
| Oxford Road Jn | 10/45 | 11/35 |
| Reading West Jn | 10/50 [DR] | 11/36 |
| Didcot East Jn | 11/14 [DR] | 11/52 |
| Didcot Parkway | 11/15 [P3] | 11/54 |
| Didcot North Jn | 11/17 | 11/56 |
| Kennington Jn | 11/27 | 12/02 |
| Oxford U&DL | 11.30a ~ 11.45d | ? |
| Oxford | 11.46a ~ 17.22d [P1] | 12.08 ~ 17.25 |
| Kennington Jn | 17/25 | 17/29 |
| Didcot North Jn | 17/35 | 17/36 |
| Foxhall Jn | 17/37 | ? |
| Wantage Road | 17/43 | 17/46 |
| Challow | 17.48d ~ 18.09d [DR] | ? ~ 18.08 |
| Uffington | 18/14 | 18/12 |
| Swindon | 18/25 [P4] | 18/22 |
| Wootton Bassett Jn | 18/31 | 18/28 |
| Chippenham | 18/39 [P1] | 18/39 |
| Thingley East Jn | 18/40 | 18/41 |
| Thingley Jn | 18/41 | 18/42 |
| Bradford Jn | 18/57 | 18/56 |
| Westbury | 19/07 [P1] | 19/09 |
| Warminster | 19/17 | 19/21 |
| Upton Lovell | 19/24 | 19/27 |
| Wylye LC | 19/31 | 19/31 |
| Wishford | 19/36 | 19/35 |
| Wilton Jn | 19/41 | 19/40 |
| Salisbury | 19w45a ~ 20w05d [P4] | 19.45 ~ 20.00 |
| Tunnel Jn | 20/08 | 20/03 |
| Dean | 20/19 | 20/16 |
| Romsey | 20/28 | 20/27 |
| Eastleigh East Jn | 20.47a ~ 20.51d | ? |
| Eastleigh | 20/53 [DF] | 20/45 |
| St Denys | 20/58 [P2] | 20/54 |
| Northam Jn | 21/00 | ? |
| Southampton Central | 21.03a ~ 21.06d [P4] | 20.58 ~ 21.00 |
| Redbridge | 21/11 | 21/04 |
| Brockenhurst | 21.25a ~ 21.27d [P3] | 21.16 ~ 21.19 |
| Bournemouth | 21.48a ~ 21.51d [P3] | 21.52 ~ 21.55 |
| Branksome | 21/57 | 22/00 |
| Poole | 22.05a [P2] | 22.04 |


Associated E.C.S. Workings
5Z92 : (71000) : Eastleigh T&RSMD to Poole
5Z93 : (66001) : Poole to Eastleigh T&RSMD
| | | |
| --- | --- | --- |
| Location | Booked (out) | Booked (rtn) |
| Eastleigh T&RSMD | 05.00d | 01.20a |
| Eastleigh South Jn | - | 01/13 |
| Eastleigh | 05/04 | 01/11 |
| Eastleigh Yard | 05.07a ~ 05.30d | 00.46a ~ 01.09d |
| Eastleigh | 05/33 | 00/44 |
| St Denys | 05/43 | 00/34 |
| Northam Jn | 05/53 | 00/32 |
| Southampton Central | 05/56 | 00/29 |
| Redbridge | 06/03 | 00/25 |
| Brockenhurst | 06/23 | 00/06 |
| Bournemouth Central | 06/50 | 23/38 |
| Branksome | 06/56 | 23/26 |
| Poole | 07/03 | 23/18 |
| Poole Sidings | 07.05a ~ 08.00d | 22.11a ~ 23.16d |
| Poole | 08.02a | 22.10d |