7th July 2012
Spitfire Railtours
The Prisoner
| | |
| --- | --- |
| Locos Used | 37676, 37685, 97302 & 97304 |
| Stock Used | 99371+3058+99311+5478+5487+99328+99722+99723 |
Route :
1Z26 : Leeds to Aberystwyth
1Z36 : Aberystwyth to Leeds
| | |
| --- | --- |
| Loco(s) | Route |
| 37676 + 37685 | Leeds - Whitehall Jn - Dewsbury - Heaton Lodge Jn - Huddersfield - Stalybridge - Manchester Victoria - Eccles - Earlestown - Winwick Jn - (via WCML) - Crewe - Wem - Abbey Foregate Jn - Shrewsbury |
| 97302 + 97304 | Shrewsbury - English Bridge Jn - Sutton Bridge Jn - Newtown - Machynlleth - Dovey Junction - Aberystwyth |
| 97302 + 97304 | Aberystwyth - (reverse of outward route) - Sutton Bridge Jn (2) |
| 37676 + 37685 | Sutton Bridge Jn - English Bridge Jn - Abbey Foregate Jn - Wellington - Bushbury Jn - Oxley Jn - Stafford (3) |
| 37685 (3) | Stafford - Norton Bridge - (2) Crewe - (reverse of outward route) - Leeds |
Notes :
(1) David Ross comments: the delay at Welshpool on the return leg was due to the WCRC crew having to travel by taxi from Crewe due to a derailment at Shrewsbury, then upon arrival finding that London Midland had blocked the 37's in with a class 170 DMU.
(3) Booked route between Shrewsbury & Crewe was the reverse of outward but was revised due to the same derailment that caused the earlier delay.
(3) 37676 shut-down at Stafford with lack of coolant. 37685 provided power on it's own from there to Leeds, pushing 37676.
Source : David Ross (joined/left the train at Warrington Bank Quay)



Photo Review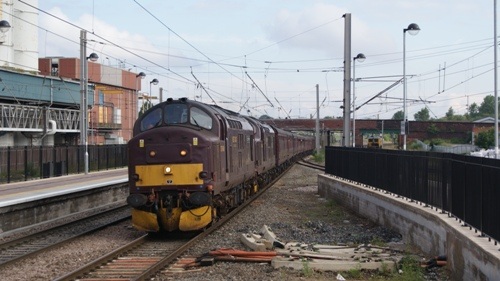 37676 & 37685 arrive into Warrington Bank Quay (photo: David Ross)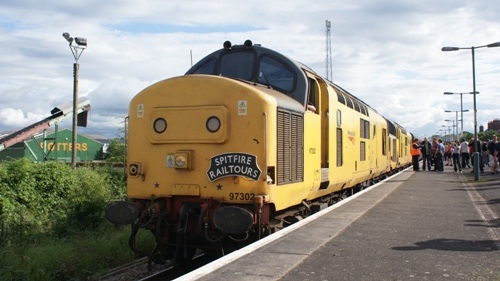 97302 & 97304 pause at Welshpool on the return leg (photo: David Ross)


Timings (Booked & Actual)
(from David Ross)
Location
Booked
Actual
Booked
Actual
Leeds
06.32d
06.32
23.09a
23.53
Whitehall Jn
06/33
06/33
23/03
23/51
Dewsbury
06.45a ~ 06.48d
06.45 ~ 06.48
22.44a ~ 22.48d
23.31 ~ 23.35
Heaton Lodge Jn
06/53
06/52
22/39
23/27
Huddersfield
06.59a ~ 07.02d
06.56 ~ 07.02
22.30a ~ 22.34d
23.16 ~ 23.22
Marsden
07/12
07/10
22/24
23/07
Diggle Jn
07/18
07/14
22/20
23/02
Greenfield
07/20
07/16
22/18
22/59
Stalybridge
07.26a ~ 07.29d
07.22 ~ 07.28
22.08a ~ 22.12d
22.48 ~ 22.50
Manchester Victoria
07.44a ~ 07.49d
07.42 ~ 07.48
21.29a ~ 21.44d
22.30 ~ 22.32
Eccles
08/04
08/01
21/08
22/21
Earlestown
08/20
08/18
20/49
22/07
Winwick Jn
08/22
08/21
20/45
22/03
Warrington Bank Quay
08.28a ~ 08.31d
08.26 ~ 08.30
20.38a ~ 20.40d
21.55 ~ 21.58
Acton Grange Jn
08/34
08/33
20/36
21/52
Weaver Jn
08/39
08/37
20/34
21/48
Crewe Coal Yard SB
09/02
08/53
20/16
21/34
Crewe
09.04a ~ 09.15d
09.01 ~ 09.14
19.59a ~ 20.14d
21.29 ~ 21.32
Gresty Lane Jn
09/17
09/16
?
DIV
Nantwich
?
?
19/47½
DIV
Wrenbury
?
?
19/43
DIV
Prees
?
?
19/34½
DIV
Wem
09/39
09/41
19/31½
DIV
Madeley
DIV
21/15
Stafford
DIV
20/59
Bushbury Jn
DIV
20/46
Madeley Jn
DIV
20/21
Wellington
DIV
20/12
Shrewsbury
0L53 ~ 10L22
09.52 ~ 10.22
19L00 ~ 19L21
DIV
Sutton Bridge Jn
10/28
10/25
18.36 ~ 18.55
19L40 ~ 19L55
Welshpool
10/57
10/48
17.53 ~ 18.08
17.36 ~ 19.09
Newtown
11/19
11/12
17/34
17/20
Caersws
11/31
11/21
17/22
?
Talerddig
11/45
11/32
17/10
17/02
Machynlleth
12/05
11.53 ~ 12.01
16.41 ~ 16.46
16.35 ~ 16.43
Dovey Junction
12/12
12/10
16/34
16/28
Aberystwyth
12.53a
12.46
15.50d
15.51