5th May 2012
Railway Touring Company
The Royal Duchy
| | |
| --- | --- |
| Locos Used | 47500 & steam: 34067 'Tangmere' & 70013 'Oliver Cromwell' |
| Stock Used (1) | 9104+99318+1860+99348+99350+99121+99127+99712+99125+99122 |
Route :
1Z27 : London Paddington to Penzance
1Z28 : Penzance to London Paddington
| | |
| --- | --- |
| Loco(s) | Route |
| 47500 | London Paddington - Slough - Maidenhead - Reading - Didcot Parkway - Swindon - Wootton Bassett Jn - Chippenham - Thingley Jn - Bradford Jn - Westbury - Fairwood Jn - Clink Road Jn - (via Frome avoiding line) - Blatchbridge Jn - Castle Cary - Cogload Jn - Taunton - Exeter St Davids - Newton Abbot - Totnes - Plymouth - Penzance |
| 34067 + 70013 | Penzance - (reverse of outward route) - Cogload Jn - Bridgwater - Weston-super-Mare - Bristol Temple Meads |
| 47500 | Bristol Temple Meads - North Somerset Jn - Bath Spa - Thingley Jn - (reverse of outward route) - London Paddington |
Notes :
(1) Plus steam loco support coach when steam locos were hauling the train.
(2) Tour was originally advertised to be steam hauled from Penzance to Westbury, but this was changed to Penzance to Bristol Temple Meads.
(3) 70013 'Oliver Cromwell' replaced unavailable 34046 'Braunton'.
(4) Route confirmation required - above is from booked timings.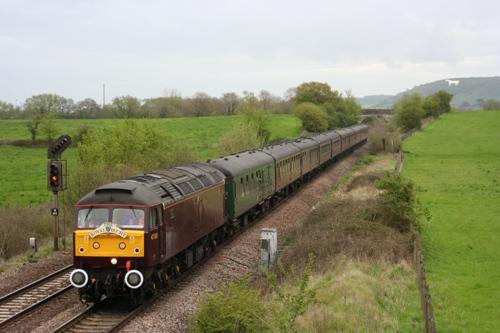 47500 approaching Fairwood Jn,Westbury, at 07:39 (photo: Guy Vincent)
Sources : Guy Vincent & Jonathan Horswell



Timings (Booked Only)
(from Nick Bartlett)
| | | |
| --- | --- | --- |
| Location | Booked (out) {actual} | Booked (rtn) |
| Paddington | 05.58d [P2] {P9} | 22.10a [P2] |
| Ladbroke Grove | 06/01 | 22/06 |
| Acton West | 06/05 | 22/03 |
| Southall | 06/09 | 22/00 |
| Airport Jn | 06/11 | 21/59 |
| Slough | 06.17a ~ 06.19d [P2] | 21.48a ~ 21.51d [P3] |
| Maidenhead | 06/24 [P1] | 21/43 [P2] |
| Twyford | 06/30 [P1] | 21/38 [P2] |
| Reading | 06.37a ~ 06.39d [P7] [DM] | 21.29a ~ 21.32d [P8] [UM] |
| Reading West Jn | 06/42 | 21/27 |
| Didcot Parkway | 06/57 [P1] | 21/14 [P2] |
| Wantage Road | 07/04 [DM] | 21/06 |
| Challow | 07/07 | 21/03 |
| Uffington | 07/09 | 21/01 |
| Swindon | 07/18 [P4] | 20.45a ~ 20.50d |
| Wootton Bassett Jn | 07/22 | 20/39 |
| Chippenham | 07/30 [P1] | 20/31 [P2] |
| Thingley Jn | 07/31 | 20/30 |
| Bradford Jn | 07/41 | - |
| Hawkeridge Jn | 07/48 | - |
| Westbury | 07.49a ~ 07.52d [P1] | - |
| Fairwood Jn | 07/56 | - |
| Clink Road Jn | 08/00 | - |
| Blatchbridge Jn | 08/02 | - |
| East Somerset Jn | 08/05 | - |
| Castle Cary | 08/13 | - |
| Somerton | 08/20 | - |
| Athelney LC | 08/26 | - |
| Bathampton Jn | - | 20/16 |
| Bath Spa | - | 20/11 [P2] |
| North Somerset Jn | - | 20/01 |
| Bristol Temple Meads | - | 19L13a ~ 19L57d [P7] |
| Parson Street | - | 19/10 |
| Worle Jn | - | 18/49 |
| Uphill Jn | - | 18/45 |
| Bridgwater | - | 18/29 |
| Cogload Jn | 08/29 | 18/22 |
| Taunton | 08/34 [P3] | 18/16 [P4] |
| Norton Fitzwarren Jn | 08/36 | 18/14 |
| Whiteball | 08/44 | 18/04 |
| Tiverton Parkway | 08/46 [P1] | 18/00 [P2] |
| Tiverton Loop | 08/48 | 17/57 |
| Cowley Bridge Jn | 08/59 | 17/39 |
| Exeter St Davids | 09.01a ~ 09.03d [P4] | 16w56a ~ 17w36d [P6] |
| Dawlish Warren | 09/14 | 16/38 |
| Dawlish | 09/16 | 16/34 |
| Teignmouth | 09/19 | 16/30 |
| Newton Abbot | 09/24 [P2] | 16/24 |
| Newton Abbot West Jn | 09/25 | 16/23 |
| Dainton | 09/29 | 16/19 |
| Totnes | 09/36 | 16/11 |
| Aish Crossover | 09/47 | 16/02 |
| Ivybridge | 09/54 | 15/57 |
| Hemerdon | 10/02 | 15/50 |
| Lipson Jn | 10/07 | 15/41 |
| Plymouth | 10.10a ~ 10.20d [P4] | 14w40a ~ 15w36d [P8] |
| St Budeaux Ferry Rd | 10/26 | 14/35 |
| Saltash | 10/30 | 14/31 |
| St Germans | 10/36 | 14/24 |
| Liskeard | 10/50 | 14/15 |
| St Pinnock | 10/56 | 14/08 |
| Largin | 10/57 | 14/07 |
| Lostwithiel | 11/05 [P2] | 13/55 [P1] |
| Par | 11/11 | 13/47 |
| Burngullow | 11/17 | 13/37 |
| Probus | 11/24 | 13/27 |
| Truro | 11/31 [P2] | 13/19 [P3] |
| Penwithers Jn | 11/32 | ? |
| Camborne | 11/47 | 13/04 |
| St Erth | 11/56 | 12/54 |
| Long Rock | 12/01 | 12/49 |
| Penzance | 12.05a | 12.45d [P1] |


Associated E.C.S. Workings
5Z?? : (47500? with 47245? on rear) : Southall Depot to Southall Yard
5Z?? : (47245 with 47500 on rear) : Southall Yard to London Paddington
| | |
| --- | --- |
| Location | Booked |
| Southall Depot | ??.??d |
| Paddington | ??.??a |