19th April 2012
Steam Dreams
Cathedrals Express
| | |
| --- | --- |
| Locos Used | steam: 4464 'Bittern' |
| Stock Used | 35185+3150+3148+1730+3115+3096+3125+13227+1859+4856+4831+4832+17013 |
Route :
1Z36 : Banbury to Swanage
1Z37 : Swanage to Banbury
| | |
| --- | --- |
| Loco Used | Route |
| 4464 | Banbury - Oxford - Didcot Parkway - Reading West Jn - Southcote Jn - Basingstoke - Andover - Laverstock North Jn - Laverstock South Jn - Romsey - Redbridge - Southampton UGL (3) - Redbridge - Brockenhurst - Bournemouth - Poole - Wareham - Motala GF - Swanage |
| 4464 | Swanage - Motala GF - Wareham - Poole - Bournemouth - Brockenhurst - Redbridge - Southampton Central - Eastleigh - Winchester - Basingstoke - Southcote Jn - Reading West Jn - Didcot Parkway - Oxford - Banbury |
Notes:
(1) Tour was worked by 60019 vice failed 6201 Princess Elizabeth.
(2) The outward leg was altered at short notice to run via Andover, it was originally booked via Eastleigh, where 6201 was to have been turned via the depot loop.
(3) 60019 hauled the train tender first from Southampton UGL to Swanage.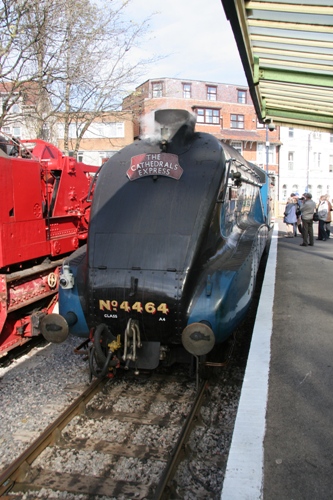 4464 on arrival at Swanage (photo: Brian King)
Source : Andy Moody, Brian King and Nick Bartlett



Timings (Booked & Actual)
(from Nick Bartlett)
Location
Booked
Actual
Booked
Actual
Banbury
08.38d
08.45
22.30a
23.22
Aynho Jn
08/45
08/52
22/16
23/14
Heyford
08/54
08/57
22/09
23/09
Tackley
08.57a ~ 09.02d
?
22.03a ~ 22.06d
?
Wolvercot Jn
09/08
09/09
21/57
22/52
Oxford
09/11
09/14
21/49
22/47
Oxford U&DPL
09w13a ~ 09w53d
?
21w24a ~ 21w47d
?
Kennington Jn
09/55
09/53
21/20
22/18
Radley
09.58a ~ 10.00d
09.57 ~ 10.01
21.15a ~ 21.17d
22.09 ~ 22.14
Didcot North Jn
10/05
10/07
21/10
22/00
Didcot Parkway
10.17a ~ 10.20d
10.09 ~ 1020
21/05 [P3]
?
Didcot East Jn
10/22
10/21
21/04
21/57
Cholsey
10/26
10/26
21/00
21/52
Goring & Streatley
10/30
10/29
20/57
21/49
Pangbourne
10.35a ~ 10.41d
10.33 ~ 10.37
20.51a ~ 20.54d
21.39 ~ 21.44
Reading West Jn
10/49
10/45
20/47
21/27
Oxford Road Jn
10/58
?
20/39
21/22
Reading West
10.59a ~ 11.01d
???? ~ 11.13
20.35a ~ 20.38d
21.18 ~ ????
Southcote Jn
11/02
11/15
20/33
21/15
Bramley
11/15
11/23
20/18
21/04
Basingstoke
11.22a ~ 11.24d
11.31 ~ 11.34
20.07a ~ 20.10d [P4]
20.50 ~ 20.56
Worting Jn
11/28
11/39
19/58 [US]
20/46
Winchester
?
[DIV]
19/39 [P1]
20/29
Shawford
?
[DIV]
19/33
?
Eastleigh
?
[DIV]
19/28 [UF]
20/20
St Denys
?
[DIV]
19/23 [P1]
20/14
Northam Jn
?
[DIV]
19/21 [UF]
?
Southampton Central
?
[DIV]
19w02a ~ 19w18d [P1]
20.07 ~ 20.10
Overton
11w33a ~ 11w43d
?
Andover
11/53
12/04
Laverstock North Jn
12/08
12/19
Laverstock South Jn
12/10
12/21
Dean
12/20
12/29
Romsey
12/28
12/38
Redbridge
12/35
12/47
Southampton UGL
12.40a ~ 13.00d
?
Redbridge
13/05
13/18
18/58
19/47
Brockenhurst
13w20a ~ 13w28d [P4]
13.33 ~ 13.52 [P4]
18/48 [P2]
19/37
Bournemouth
13/48
14/16
18/29 [P2]
19/10 [P2]
Branksome
13/55
14/21
18/24 [P1]
19/05
Poole
14/02
14/26
18/17 [P1]
18/59
Wareham
14.15a ~ 14.17d
14.45 ~ 14.48
18.03a ~ 18.05d [P1]
18.48 ~ 18.48
Worgret Jn
14/19
?
17/58
?
Motala GF
14t32a ~ 14t34d
?
17t43a ~ 17t45d
?
Swanage
15.00a
16.10
17.15d
17.58