31st March 2012
Hastings Diesels Limited
Thames Tidal
| | |
| --- | --- |
| DEMU Used | 1001 (formed: 60116 'Mountfield'+60529+70262+69337+60501+60118 'Tunbridge Wells') |
Route :
1Z84 : Hastings to Shoeburyness
1Z85 : Shoeburyness to Hastings
| | |
| --- | --- |
| DEMU | Route |
| as listed | Hastings - Battle - Etchingham - Tunbridge Wells - Tonbridge - Sevenoaks - Orpington - Bromley South - Bellingham - Denmark Hill - Factory Jn - Clapham Junction - Barnes - Kew East Jn - Acton Canal Wharf Jn - Dudding Hill Jn - Cricklewood Curve Jn - Carlton Road Jn - Junction Road Jn - Upper Holloway - South Tottenham - Woodgrange Park - Barking |
| as listed | Barking - Forest Gate Jn - Stratford - Bow Jn - Gas Factory Jn - Fenchurch Street |
| as listed | Fenchurch Street - Gas Factory Jn - West Ham - Barking - Dagenham Dock - Rainham - Grays - Tilbury Town - Pitsea - Southend Central - Shoeburyness |
| as listed | Shoeburyness - Pitsea - Laindon - Upminster - Barking - (reverse of outward route) - Hastings |
Notes :
(1) Mel Holley comments: the last visit by a Hastings DEMU to Shoeburyness was by 1005 with an LCGB Railtour on 8 November 1969 and Fenchurch Street was last visited by a Hastings DEMU (1007) on 12 September 1970 on a Rail Tours Syndicate railtour.
(2) Mel Holley adds: the train ran to time outward. On the return it left around 10 late, and then we were delayed in the Pitsea area because the line was closed at police request - the police helicopter had been deployed in the search for an armed suspect. We were 30 minutes down at one point, but thanks to some clear running and some scheduled recovery time we were back to 23 minutes down at Clapham Junction, 12 down at Bromley South, and on time thereafter.
(3) John Clifford comments: The original advertised route between South Tottenham & Gas Factory Jn was to have been: South Tottenham - Lea Bridge - Stratford - Bow Jn - Gas Factory Jn. This was changed due to a pathing problem in the Stratford area.
Sources : Mel Holley (on the train throughout) & John Clifford (joined the outward leg
at Bromley South, returned to Clapham Junction)



Photo Review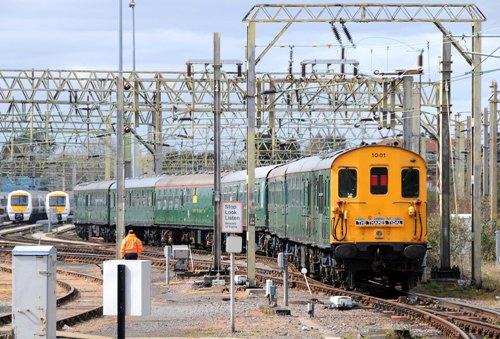 1001 entering the c2c Shoeburyness Carriage Sidings for servicing before
the return trip to Hastings (photo: Mel Holley)


Timings (Booked & Actual)
(from Mel Holley & John Clifford)
| | | | | | |
| --- | --- | --- | --- | --- | --- |
| Location | Booked | Actual | | Booked | Actual |
| Hastings | 07.30d [P3] | ? | | 21.27a [P4] | ? |
| St Leonards Warrior Square | 07.32a ~ 07.35d [P1] | ? | | 21.22a ~ 21.24d [P2] | ? |
| Bopeep Jn SB | 07/37 | ? | | 21/19 | ? |
| Battle | 07.44a ~ 07.47d [P1] | ? | | 21.10a ~ 21.12d [P2] | ? |
| Mountfield Tunnel | 07/51 | ? | | 21/05½ | ? |
| Robertsbridge | 07/54 | ? | | 21/03 [P2] | ? |
| Etchingham | 07.58a ~ 08.01d [P1] | ? | | 20.57a ~ 20.59d [P2] | ? |
| Wadhurst | 08/12 [P1] | ? | | 20/48 [P2] | ? |
| Strawberry Hill Tunnel | 08/17 | ? | | 20/43 | ? |
| Tunbridge Wells Central | 08.20a ~ 08.33d [P1] | ? | | 20.38a ~ 20.41d [P2] | ? |
| Wells Tunnel Jn | 08/35 | ? | | 20/36 | ? |
| Somerhill Tunnel | 08/42 | ? | | 20/31 | ? |
| Tonbridge | 08.44a ~ 08.46d [P2] | ? | | 20.26a ~ 20.29d [P2] | ? |
| Sevenoaks | 08/55 [P1] | ? | | 20/17 [P3] | ? |
| Orpington | 09/05 [P2] [UF] | ? | | 20/07 [P3] | ? |
| Petts Wood Jn | 09/07 [UFV] | ? | | 20/05 [DF] | ? |
| Bickley Jn | 09/09 [UF] | ? | | 19/52 [DFV] | ? |
| Bromley South | 09.15a ~ 09.17d [P1] [UF] | 09.13 ~ 09.15½ [P1] [UF] | | 19.47a ~ 19.49d [P2] [DF] | ? |
| Shortlands Jn | 09/21½ | 09/18 | | 19/44 [DF] | ? |
| Bellingham | 09/26 [P1] | 09/21 [P1] | | 19/39 [P2] | ? |
| Nunhead | 09/31 [P1] | 09/26 [P1] | | 19/33 [P2] | ? |
| Crofton Road Jn | 09/33 [AL] | 09/28 [AL] | | 19/28 | ? |
| Denmark Hill | 09/34 [P1] [AL] | 09/30 [P1] [AL] | | 19/27 [P2] [AL] | ? |
| Voltaire Road Jn | 09/38 [AL] | 09/35 [AL] | | 19/23 [AL] | ? |
| Factory Jn | 09/39 | 09/35½ | | 19/19 [AL] | ? |
| Longhedge Jn | 09/41 | 09/37 | | 19/15 | ? |
| Clapham Junction | 09.49a ~ 09.52d [P6] [DS] | 09.51½ ~ 09.53 [P6] [DS] | | 19.08a ~ 19.10d [P3] | 19.31 ~ 19.32½ [P3] |
| Barnes | 10/00 [P4] | 09/59 [P4] | | 19/00 [P1] [US] | 19/22 [P1] [US] |
| New Kew Jn | 10/05 | 10/06 | | 18/54 | 19/14½ |
| Kew East Jn | 10/13 | 10/08½ | | 18/52 | 19/13 |
| South Acton Jn | 10/21 | 10/10½ | | 18/50 | 19/11 |
| Acton Wells Jn | 10/26 | 10/17½ | | 18/46 | 19/05 |
| Acton Canal Wharf | 10/28 | 10/20 | | 18/42 | 19/04 |
| Dudding Hill Jn | 10/36 | 10/29 | | 18/27 | 18/55 |
| Cricklewood Curve Jn | 10/39 [UHL] | 10.32 ~ 10.32½ [UHL] | | 18/22 | 18/51½ |
| West Hampstead North Jn | 10/47 [UF] | 10.38 ~ 10.47 [UF] | | ? | ? |
| West Hampstead Thameslink | 10/48 [UF] | 10/49 [P3] [UF] | | 18/18 [DHL] | 18/47 [DHL] |
| Carlton Road Jn | 10/51 | 10/54 | | 18/15 [DF] | 18/42 [DF] |
| Junction Road Jn | 10/56 | 10/57½ | | 18/08 | 18/38½ |
| Upper Holloway | 10/58 [P2] | 10/59 [P2] | | 18/07 [P1] | 18/36½ [P1] |
| Harringay Park Jn | 11/03 | 11/03 | | 18/04 | 18/34 |
| South Tottenham | 11/09 [P2] | 11/08 [P2] | | 18/00 [P1] | 18/30 [P1] |
| Leyton Midland Road | ? | ? | | 17/52 [P1] | 18/20 [P1] |
| Woodgrange Park | 11/23 [P1] | 11/26 [P2] | | 17/46 [P1] | 18/11 [P1] |
| Woodgrange Park Sig.1920 | - | - | | 17/45 | 18/09 |
| Barking Station Jn | 11/25 | 11/28 | | 17/44 | 18/07 |
| Barking | 11.27a ~ 11.41d [P7] | 11.30 ~ 11.41 [P7] | | 17/43 [P8] | 18.04 ~ 18.05 [P8] |
| Barking Station Jn | 11/43 | 11/43 | | - | - |
| Woodgrange Park | 11/45 | 11/46 | | - | - |
| Forest Gate Jn | 11/47 [EL] | 11.48 ~ 11.49 [EL] | | - | - |
| Stratford | 11/51 [EL] | 11/54½ [P5] [EL] | | - | - |
| Bow Jn | 11/54 | 11/58 | | - | - |
| Gas Factory Jn | 12/00 | 12/00½ | | - | - |
| Christian Street Jn | 12/04 [US] | 12/06 [UF] | | - | - |
| London Fenchurch Street | 12.08a ~ 12.20d [P2] | 12.10 ~ 12.21 [P2] | | - | - |
| Christian Street Jn | 12/24 [DS] | 12/24 [DS] | | - | - |
| Gas Factory Jn | 12/30 | 12/29 | | - | - |
| West Ham HL | 12/32 | 12/32 [P8] | | - | - |
| Barking | 12/39 [P7] | 12/38 [P7] | | - | - |
| Dagenham Dock | 12/44 [P2] | 12/42 [P2] | | - | - |
| Rainham | 12/48 [P2] | 12/45 [P2] | | - | - |
| Purfleet | 12/54 [P2] | 12/49 [P2] | | - | - |
| West Thurrock Jn | 13/00 | 12.55 ~ 12.59 | | - | - |
| Grays | 13/01 [P2] | 13/02 [P2] | | - | - |
| Tilbury Town | 13/04 [P2] | 13/04 [P2] | | - | - |
| Thames Haven Jn | 13/14 | 13/14 | | - | - |
| Stanford-le-Hope | 13/15 [P2] | 13/15 [P2] | | - | - |
| Upney Jn | - | - | | 17/42 | 18/02 |
| Upminster | - | - | | 17/33 [P1] | 17/53 [P1] |
| Laindon | - | - | | 17/23½ [P1] | 17/46 [P1] |
| Pitsea | 13/22 [P3] | 13/24 [P3] | | 17/19 [P2] | 17/41 [P2] |
| Benfleet | ? | ? | | ? | 17.23 ~ 17.37 |
| Leigh-on-Sea | 13/31 [P3] | 13/33½ [P3] | | 17/12 [P1] | 17/17½ [P1] |
| Southend Central | 13.39a ~ 13.46d [P2] | 13.41½ ~ 13.46 [P2] | | 17.03a ~ 17.08d [P3] | 17.10 ~ 17.13 [P3] |
| Shoeburyness Depot LE Jn | 13/51 | 13/52 | | 16/58 | 17/04 |
| Shoeburyness | 13.55a [P1] | 13.55 [P1] | | 16.55d [P1] | 17.02 [P1] |


Associated E.C.S. Workings
5Z83 : (1001) : St Leonards T&RSMD to Hastings
5Z86 : (1001) : Hastings to St Leonards T&RSMD
| | | |
| --- | --- | --- |
| Location | Booked (out) | Booked (rtn) |
| St Leonards T&RSMD | 07.05d | 21.55a |
| Bopeep Jn | 07/09 | 21/50 |
| Hastings | 07.15a [P3] | 21.45d [P4] |
5Z84 : (1001) : Shoeburyness to Shoeburyness Depot
5Z85 : (1001) : Shoeburyness Depot to Shoeburyness
| | | |
| --- | --- | --- |
| Location | Booked (out) | Booked (rtn) |
| Shoeburyness | 14.10d [P1] | 16.40a [P1] |
| Shoeburyness Depot | 14.15a | 16.35d |