24th March 2012
P.F.T.
Adieu aux locomotives serie 26
| | |
| --- | --- |
| Locos Used | SNCB: 2627 & 2633 |
| Stock Used | 42367+49911+41022+42306 |
Route:
E18026 : Bruxelles Midi to Antwerpen Oost
E18027 : Antwerpen Oost to Zandvliet Yard
E18028 : Zandvliet Yard to Rhodesie Yard
E18029 : Rhodesie Yard to Denderleeuw
E18030 : Denderleeuw to Bruxelles Nord
| | |
| --- | --- |
| Loco(s) | Route |
| 2633 (1) | Bruxelles Midi - Bruxelles Nord - Schaarbeek - Mechelen Brabant - Vilvoord - Mechelen - Y Liersesteenweg - Y Drabstraat - Antwerpen Berchem - Antwerpen Oost - Antwerpen Noorderdokken - Y Holland - Luchtbal Blok 8 - Y Driehoekstraat - Y Schijn - Antwerpen Noord Bundel C1 - Antwerpen Haven - Y Berliwal - Y Walenhoek - Y Stabroek - Y Berendrecht - Zandvliet Yard |
| 2627 (2) | Zandvliet Yard - Y Berendrecht - Y Stabroek - Y Walenhoek - Antwerpen Noord Blok L9 - Bundel B3 Noord - Y Ekersedijk - Y Noorderlaan - Y Leopold - Rhodesie Yard (3) |
| 2627 (2) | Rhodesie Yard - Y Leopold - Y Noorderlaan - Y Ekersedijk - Bundel B1 Noord - Bundel B2 Noord - Antwerpen Noord Peron Blok 9 (4) |
| 2627 (2) | Antwerpen Nord Peron Blok 9 - Antwerpen Noorderdokken - Antwerpen Oost - Antwerpen Berchem - Sint Niklaas - Lokeren - Zele - Dendermonde - Schellebelle |
| 2633 (1) | Schellebelle - Aalst - Denderleeuw |
| 2627 + 2633 | Denderleeuw - Okegem - Geraardsbergen - Enghien - Halle - Bruxelles Midi - Bruxelles Nord |
Notes:
(1) 2627 on rear.
(2) 2633 on rear.
(3) A double run round was done at Rhodesie Yard, with the locos swopping ends.
(4) Walked from Peron Blok 9 to Antwerpen Noord for depot visit.
(5) Route confirmation required - above is from booked timings. The official times and routes issued to train crew differed from those issued to the passengers.
Source : Nick Bartlett, Martin Diamond and Alan 'Stickers' Hawkins (all on the tour throughout).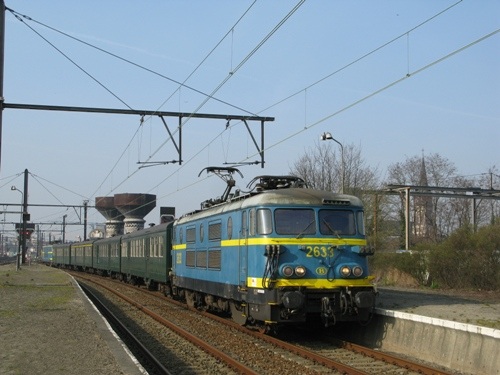 2633 (with 2627 on rear) at Antwerpen Ost (photo: Nick Bartlett)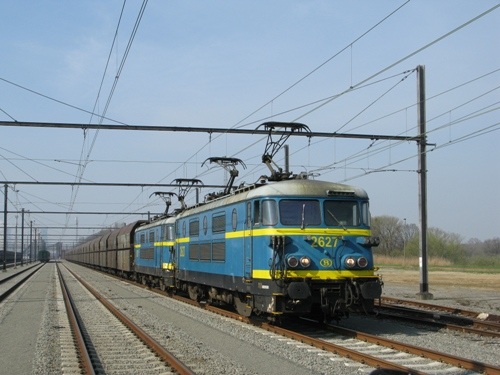 2627 & 2633 pose on a freight in Zandvliet Yard (photo: Nick Bartlett)


Timings (PFT Booked and Actual)
(Nick Bartlett)
| | | |
| --- | --- | --- |
| Location | Booked | Actual |
| Bruxelles Midi | 08.20d | 08.24 [P8] |
| Bruxelles Nord | 08.30d | ? |
| Schaarbeek | 08/34 [28] | ? |
| Vilvoorde | 08/53 | ? |
| Mechelen | 08.59a ~ 09.14d | 08.57 ~ 09.14 [P3] |
| Antwerpen Berchem | 09/40 | ? |
| Antwerpen Oost | 09.44a ~ 10.03d | 09.45 ~ 10.06 [P1] |
| Zandvliet Yard | 11.02a ~ 11.30d | 10.38 ~ 11.42 [Track 10] |
| Rhodesie Yard | 12.29a ~ 13.00d | 12.12 ~ ? [Track 25] |
| Peron Blok 9 | 14.00a ~ 14.40d | ? ~ 14.40 |
| Sint Niklaas | 15.27a ~ 15.37d | 15/25 |
| Zele | 15.54a ~ 16.20d | 15.47 ~ 16.03 |
| Dendermonde | 16.28a ~ 16.38d | 16.12 ~ 16.47 |
| Schellebelle | 16.59a ~ 17.20d | 17.15 ~ 17.20 |
| Denderleeuw | 17.39a ~ 18.02d | 17.39 ~ 18.20 |
| Geraardsbergen | 18.52a ~ 18.53d | 19.07 ~ 19.09 |
| Enghien | 19.10a ~ 19.11d | 19.25 ~ 19.27 |
| Bruxelles Midi | 19.40a ~ 19.41d | 19.59 ~ 20.07 [P5] |
| Bruxelles Nord | 19.50a | 20.16 [P1] |