11th November 2011
Railway Touring Company
The Kentish Belle Armistice Day
| | |
| --- | --- |
| Loco Used | steam: 34067 'Tangmere' |
| Stock Used | 35518+4905+1860+99127+3093+99125+99712+99121+99128+9392 |
Route :
1Z84 : London Waterloo to Deal
1Z85 : Deal to London Waterloo Bromley South
| | |
| --- | --- |
| Loco | Route |
| 34067 | London Waterloo (1) - Lindford Street Jn - Voltaire Road Jn - Brixton - Denmark Hill - Nunhead - Bellingham - Shortlands Jn - Bromley South - Bickley Jn - Petts Wood Jn - Orpington - Sevenoaks - Tonbridge - Paddock Wood - Ashford International - Canterbury West - Minster - Sandwich - Deal - Buckland Jn - Dover Priory - Folkestone Central - Ashford International - Paddock Wood - Tonbridge - Sevenoaks (4) - Orpington - St Mary Cray Jn - (4) Bickley Jn - Bromley South (5) |
Notes :
(1) Assisted along the platform at London Waterloo by 47760 at the rear.
(2) Nick Blyth comments: Originally booked to run in and out of Victoria and taking the North Kent line via Herne Bay to Margate, the tour route was changed to Waterloo - Orpington - Headcorn - Sturry - Deal - Ashord - Tonbridge - Kensington Olympia. The water stop at Headcorn made us about 12 minutes late, causing a 9 minute stop at Minster to become a 3 minute stop that lead to one punter being left behind, lucky for him that this was after the four course lunch! On leaving Minster 'Tangmere' suffered some wheel slip, this was an omen of things to come as when she passed Walmer she got into real trouble. We got stuck on the incline approaching Martin Mill ('due to excessive leaves on the line'), and the driver had to reverse to have another go at it. I looked out the window to see if we still had our ECS loco (47760) on the back, but to my surprise I saw that the class 47 had been detached at Waterloo. This proved to be a costly error as 'Tangmere' got stuck on this incline for around 90 minutes with 'poor railhead adhesion', the 47 would have been able to bank us up that hill. We were told that sand had to be placed on the rails by hand before we finally made it to Martin Mill, and then onto Dover Priory, where an unplanned water stop was made ('Tangmere' had used up quite a bit getting up that incline!). Already 90 minutes down, this water stop at Dover lasted from 15.43 to 18.06. We were told that the fire brigade had switched off the water, and we had to wait for it to be switched back on! Tornado stormed through with another charter while we were taking water. Leaving Dover almost 4 hours down, we then ground to a halt yet again approaching our set down stop at Bromley South, (I think this was just after St. Mary Cray) We were held at a signal for around an hour and customers were advised to detrain at Bromley South, before being instructed to do so as the tour was being terminated there (as there was a chance 'Tangmere' may have run out of coal before Kensington Olympia).
(3) John Clifford adds another perspective to the day: The tour started off well enough although there was some slipping by the engine and we ran just a little late to arrive at Deal just under 10 mins behind time. We left there just 2 mins late but in the poor weather the engine made heavy work of the climb through Walmer (in part the gradient is steeper than Shap) coming to a stand near MP 93 3/4. Sanding of the rails allowed us to get about a quarter of a mile further but we came to a stand again. Further sanding did allow us to move but then there was the problem of water so we ran into platform 2 at Dover Priory where an attempt was made to fill the tender from the platform hoses. These had only a low pressure so the filling was going very slowly. Our occupation of platform 2 blocked the entry into platform 3 so for the period of our stay Dover Priory was operating at a one platform station. Eventually the fire brigade arrived & filled the tender. We set off 3¾ hours late. Water was again taken at Headcorn and the rest of the trip seemed to be going OK. At Sevenoaks we went straight up the main line instead of going via Bat & Ball, presumably to save time. However we came to a stand at Chelsfield with loss of air. This was rectified & we set off again only to stop at Bickley Jn. According to the instructions for the running of the train we were prohibited from using the Up Fast Line from Bickley Jn to Shortlands Jn. At this stage we had passed the point of no return. We were on the Up Fast Loop & there is no connection to get on to the Up Slow Line. After nearly an hour we were allowed to proceed slowly (on the Up Fast). The train arrived 293mins late at Bromley South. The engine was running low on coal so the train terminated there. Passengers were allowed to travel to Victoria. We went on 465030. I was expecting to get home by 20.00 & got there at 23.20; I was not happy!
(4) Booked route was: Sevenoaks - Otford - Eynsford - Swanley - St Mary Cray Jn - Bickley Jn.
(5) Booked route from Bromley South should have been: Bromley South - (reverse of outward route) - Voltaire Road Jn - Factory Jn - Longhedge Jn - Latchmere Jn - Kensington Olympia.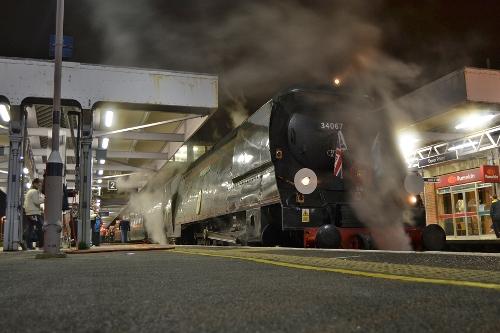 34067 'Tangmere' during the long delay at Dover Priory (photo: Nick Blyth)
Sources : Nick Blyth & John Clifford



Timings (Booked & Actual)
(from Nick Blyth & John Clifford)
| | | |
| --- | --- | --- |
| Location | Booked | Actual |
| Waterloo | 11.03d [P19] [RVL] | 11.04 [P19 [RVL] |
| Nine Elms Jn | 11/07 | 11/11 |
| Lindford Street Jn | 11/08 | 11/12½ |
| Voltaire Road Jn | 11/09 | 11/13½ |
| Brixton | 11/10½ | 11/17 |
| Cambria Jn | 11/13 | 11/18 |
| Denmark Hill | 11/14 [P4] | 11/19 [P4] |
| Crofton Road Jn | 11/15 [DCL] | 11/20 |
| Nunhead | 11/17 [P2] | 11/22 [P2] |
| Bellingham | 11/21½ [P2] | 11/28 [P2] |
| Shortlands Jn | 11/24 [DC] [FL] | 11/31 [FL] |
| Bromley South | 11.26a ~ 11.30d [P2] [FL] | 11.33 ~ 11.35 [P2] [FL] |
| Bickley Jn | 11/35 [DFV] | 11/42 [DFV] |
| Petts Wood Jn | 11/39 [FL] | 11/44½ [FL] |
| Orpington | 11/45 [P3] | 11/48 [P3] |
| Sevenoaks | 11/59 [P3] | 12/06 [P3] |
| Tonbridge | 12/10 | 12/14½ [FL] |
| Paddock Wood | 12/16 | 12/20½ [ML] |
| Headcorn | 12w27 ~ 12w39 | 12.32 ~ 12.50 [P2] |
| Ashford International | 12/52 [P6] | 13/06 [FL] |
| Wye | 13/02 [P2] | 13/12½ [P2] |
| Canterbury West | 13/11 [P2] | 13.25 ~ 13.28 [P2] |
| Minster | 13*24 ~ 13*33 [P2] | 13/45½ [P1] |
| Minster South Jn | 13/36 | 13/47 |
| Sandwich | 13/44 | 13/53½ [P1] |
| Deal | 13.50 ~ 14.00 | 13.59½ ~ 14.02 [P1] |
| near MP 93¾ | ? | 14.17 ~ 14.47 |
| near MP 94 | ? | 15.03 ~ 15.22½ |
| Buckland Jn | 14/16 | 15/39 |
| Dover Priory | 14/19 [P2] | 15w43 ~ 18w03 [P2] |
| Folkestone Central | 14/32 [P1] | 18/18 [P1] |
| Saltwood Jn | 14/35 | 18/22½ |
| Ashford International | 14/44 | 18.36½ ~ 18.39 [FL] |
| Headcorn | 14w56 ~ 15w13 [P1] | 18.56 ~ 19.14 [P1] |
| Paddock Wood | 15.24 ~ 15.35 [UM] | 19/27 [UM] |
| Tonbridge | 15/42 | 19/35½ [FL] |
| Sevenoaks | 15/53 [P3] | 19/47½ [P1] |
| Otford Jn | 15/57 | DIV |
| Swanley | 16/14½ [P3] [SL] | DIV |
| St Mary Cray Jn | 16/19 [SL] | DIV |
| Chelsfield | DIV | 19.53 ~ 20.02 [P1] |
| Orpington | DIV | 20/08 [P2] [FL] |
| Petts Wood Jn | DIV | 20/10 [UFV] |
| Bickley Jn | 16/20 [SL] | 20.12 ~ 21.10 [FL] |
| Bromley South | 16.24a ~ 16.27d [P3] [SL] | 21.17 |
| Shortlands Jn | 16/30 | CANX |
| Bellingham | 16/35 | CANX |
| Nunhead | 16/45 [P1] | CANX |
| Crofton Road Jn | 16/49 [AL] | CANX |
| Denmark Hill | 16/51 [P1] [AL] | CANX |
| Voltaire Road Jn | 16/56 [AL] | CANX |
| Factory Jn | 16/57 | CANX |
| Longhedge Jn | 17/01 | CANX |
| Latchmere Jn | 17/07 | CANX |
| Kensington Olympia | 17.15a [P2] | CANX |


Associated E.C.S. & Light Engine Workings
5Z84 : (34067 with 47760 on rear) : Southall Depot to Southall
5Z84 : (47760 with 34067 on rear) : Southall to London Waterloo
0Z84 : (47760 light engine) : London Waterloo to Southall
0Z84 : (47760 light engine) : Southall to Southall Depot
5Z85 : (34067) : (Bromley South) Kensington Olympia to Southall
5Z85 : (34067, propelling) : Southall to Southall Depot
Location
5Z84
0Z84
5Z85
Location
Booked (out)
Actual
Booked
Booked
Actual
Southall Depot
09.40d
?
12.20a
20.35a
?
Southall
09.49 ~ 09.57 [GL]
?
12.06 ~ 12.10
20.14 ~ 20.25
?
Southall East Jn
09/58 [GL]
?
12/05 [GL]
20/13 [GL]
?
Hanwell Bridge Loop
09.59 ~ 10.05 [RL]
?
?
20.06 ~ 20.11 [UGL]
?
Hanwell
?
?
?
20/02 [RL]
?
West Ealing
10/08 [RL]
?
?
?
?
Acton West
10/13 [GL]
?
11/57 [RL]
20/00 [RL]
?
Acton Main Line
10/16 [P4]
?
11/55 [P3] [RVL]
19/58 [RL]
?
Acton Wells Jn
10/20
?
11/53
19/56
?
Willesden SWS
10/23 [REV]
?
11/51 [REV]
17.28 ~ 19.53
?
Mitre Bridge Jn
10/27
?
11/40
17/26
?
North Pole Jn
10/28
?
11/39
17/25
?
Kensington Olympia
10.31 ~ 10.36 [P3]
?
11/32 [DM]
17.20d [P2]
?
Latchmere Jn
10/42 [URV]
?
11/23
DIV
?
West London Jn
10/44 [RVL]
?
?
Nine Elms Jn
10/47 [RVL]
?
11/15
Waterloo
10.53a [P19]
10.54 [P19]
11.08d [P19]
Penge East
DIV
?
Bromley South
DIV
21.25d