15th October 2011
Spitfire Railtours
The R'n'B 3 & The R'n'B 3.14
| | |
| --- | --- |
| Locos Used | 37685 'Loch Arkaig' & 37706 |
| Stock Used | 5236+5249+4994+1861+99722+4940 |
Route :
1Z37 : London Paddington to Portsmouth Harbour
1Z38 : Portsmouth Harbour to Ealing Broadway
| | |
| --- | --- |
| Loco(s) | Route |
| 37685 (1) | London Paddington - Acton Main Line - Ealing Broadway - Southall - Slough - Maidenhead - Twyford - Reading (4) - Oxford Road Jn - Southcote Jn - Bramley - Basingstoke -Worting Jn - Winchester - Eastleigh -St. Denys - Northam Reception Number 1 - Northam Jn - Southampton Central - Southampton Down Loop - Southampton Maritime Departure Road - Redbridge - Brockenhurst - Bournemouth - Poole - Hamworthy - Hamworthy Quay N/R Limit |
| 37706 (2) | Hamworthy Quay - Hamworthy - Poole - Bournemouth - Redbridge - Southampton Up Goods Loop - Southampton Central - Northam Jn - Bevois Park Reception Number 1 - St Denys - Eastleigh - Winchester - Winchester Baltic Siding |
| 37685 (1) | Winchester Baltic Siding - Winchester - Eastleigh - Eastleigh Works |
| 37706 (2) | Eastleigh Works - Eastleigh |
| 37685 (1) | Eastleigh - South Jn - Eastleigh Depot - Eastleigh |
| 37706 (2) | Eastleigh - South Jn - Botley - Fareham - Cosham Jn - Portcreek Jn - Fratton (5) - Portsmouth Harbour |
| 37685 (1) | Portsmouth Harbour - Fratton - Portcreek Jn - Havant Jn - Haslemere - Guildford - Aldershot South Jn - Aldershot |
| 37706 (2) | Aldershot - Aldershot North Jn - Ash Vale Jn - Ascot - Staines - Staines Up Loop - Feltham Jn - Hounslow - Brentford - Barnes - Clapham Junction - London Waterloo |
| 37685 (1) | London Waterloo - Clapham Junction - Wimbledon - Surbiton - Weybridge - Virginia Water - Staines - Staines Up Loop - Feltham Jn - Twickenham - Richmond - Barnes - Clapham Junction - Kensington Olympia - Mitre Bridge Jn - Down Willesden No7 - Wembley Central - Watford Junction - St. Albans Abbey |
| 37706 (2) | St. Albans Abbey - Watford Junction - Harrow & Wealdstone - Wembley Central - Willesden No7 - Acton Canal Wharf - Acton Wells Jn - Acton Mainline - Ealing Broadway |
Notes :
(1) 37706 on rear.
(2) 37685 on rear.
(3) Run as two tours; the main tour running London Paddington to London Waterloo and the section of 1Z38 from London Waterloo to Ealing Broadway via St Albans Abbey was marketed as 'The R'n'B 3.14' & run as an add-on.
(4) Train was delayed at Reading due to signalling problems at Basingstoke, (cable theft).
(5) At Fratton, the train was booked to travel along the 'No.1 Reception Road' & the 'Back Road'. Even though permission had been granted with instructions appearing in the 'Goods Line Authority', the move was refused by the Depot Manager.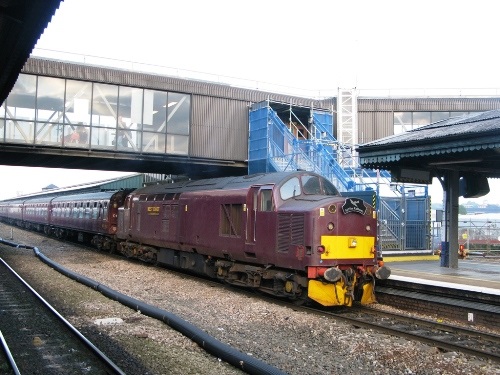 37706 is seen on the rear of the R'n'B 3 at Reading (photo: Nick Bartlett)
Sources : Alan Sheppard & John Clifford



Timings (Booked & Actual)
(from Alan Sheppard & LASERman)
M.C
Location
Booked
Actual
0.00
London Paddington
07.09d [P9]
07.09 [P9]
1.68
Ladbroke Grove
07/12 [RL]
07/14
4.75
Acton West
07/16 [RL]
07/18
9.01
Southall
07/22 [RL]
07/24 [P3]
11.09
Airport Jn
07/28 [RL]
07/27½
18.31
Slough
07.36a ~ 07.39d [P4]
07.37 ~ 07.38 [P4]
24.14
Maidenhead
07/46 [P3]
07/45½ [P3]
30.76
Twyford
07/55 [RL]
07/52½ [P3]
35.73
Reading
08.07a ~ 08.15d [P9]
08.07 ~ 08.48½ [P9]
37.57
Southcote Jn
08/19
08/52½
46.36
Bramley (Hants)
08/28 [P2]
09/00½
?
Sig.BE541
?
09.07 ~ 09.10 [DR-UR @ mp50½]
51.26
Basingstoke
08.33a ~ 08.35d [P1]
09.17½ ~ 09.19½ [P4][US-DS-DF]
53.66
Worting Jn
08/47 [DS]
09/24 [DF-DS]
70.04
Winchester
09/00 [P2]
09/38 [P2]
73.15
Shawford Jn
09/05 [SL]
09/41 [SL]
77.00
Eastleigh
09.16a ~ 09.18d [P3]
09.48 ~ 09.49½ [P3]
80.55
St Denys
09/23 [P2]
09.56 ~ 09.57 [P2]
?
Northam Traincare
09.26 ~ 09.28 [No.1 Recp]
10/02 [No.1 Recp]
81.60
Northam Jn
09/29
10/03
82.64
Southampton Central
09/31 [P4]
10/05½ [P4]
?
Southampton Down Loop
09.33 ~ 09.55 [RCL]
10/07
?
Down Loop Extension
?
10/09
?
Millbrook
[Up DB / Dep Rd]
10/10
85.35
Redbridge
09/59 [Arr/Dep]
10.17 ~ 10.19
96.31
Brockenhurst
10/11 [P3]
10/31½ [P3]
111.47
Bournemouth
10/33 [P3]
10.41 [P3/P4]
114.16
Branksome
10/38 [P2]
10/51½ [P2]
117.27
Poole
10/44 [P2]
11/04 [P2]
119.42
Hamworthy
10.48 ~ 10.50
11.09½ ~ 11.14½
121.50
0.00
Hamworthy TC
(1.81 dec. miles by GPS)
10.58 ~ 11.03
11.24 ~ 11.34
[alongside platform @ 117.52]
2.08
Hamworthy
11.11 ~ 11.13
11/44
4.23
Poole
11/19 [P1]
11/58 [P1]
7.34
Branksome
11/25 [P1]
12/06
10.03
Bournemouth
11/30 [P2]
12/16
25.19
Brockenhurst
11/49 [P2]
12/48
36.15
Redbridge
12/02 [P1] [FL]
13/02½
?
Millbrook Sig.E752
?
[UF] 13.06½ ~ 13.18½
38.30
Southampton Up Goods Loop
12.06 ~ 12.07
13/20 [UGL]
38.66
Southampton Central
12/09 [P1]
13/22½
39.70
Northam Jn
12/11 [SL]
13/25 [US]
?
Mount Pleasant LC
?
13/27½ [No.1 Recp]
?
Bevois Park Sidings
12.15 ~ 12.23 [No.1 Recp]
13/28½ [No.1 Recp]
40.75
St Denys
12/26 [P1]
13/30 [P1]
44.50
Eastleigh
12/32 [FL]
13/35 [FL]
48.35
Shawford
12/35 [P1]
13/39 [P1]
51.46
Winchester
12/39 [P1]
13/43½ [P1]
52.05
0.00
Baltic Siding
12.40 ~ 12.58
13.45½ ~ 13.54
[8 EMU car stop marker]
0.39
Winchester
13/00 [P2]
13/55½ [P2]
3.50
Shawford Jn
13/04 [SL]
13/59½ [SL]
7.35
Eastleigh
13/10 [P2]
14.05 ~ 14.08 [P2]
7.75
0.00
Eastleigh Works - Alstom
13.14 ~ 13.20
14.13 ~ 14.17 [No.23 Road]
0.40
0.00
Eastleigh
13.26 ~ 13.31 [P2]
14.32 ~ 14.35 [P3]
0.49
Eastleigh South Jn
13/33
14/38 [Through Road]
?
'DEMU' GF
?
14.40 ~ 14.41½
1.09
Eastleigh RSMD
13.38 ~ 13.50
14/46 [No.5 Stabling Sdg]
?
Depot Exit Road No.1
?
14.48½ ~ 14.50½
1.60
0.00
Eastleigh
13.55 ~ 14.03 [P2]
14.53 ~ 14.58 [P2]
0.49
Eastleigh South Jn
14/05
15/00
5.37
Botley
14/15 [P2]
15/07 [P2]
10.59
Fareham North Jn
14/28
15/14½
10.66
Fareham
14/32 [P3]
15/15 [P3]
16.51
Cosham
14/40 [P2]
15/22½
17.10
Cosham Jn
14/41
15/24½
17.46
Portcreek Jn
14/44
15/26
20.08
Fratton East Jn
14/47 [BKR]
15/30 [DM]
?
Fratton
14.52 ~ 15.18 [Staff Halt]
[No.1 Recp / Back Rd]
15/30½ [P3]
27.13
Portsmouth & Southsea
15/21 [P2]
15/31½ [P2]
21.79
0.00
Portsmouth Harbour
15.26a ~ 15.40d [P3]
15.36 ~ 15.43 [P4]
0.66
Portsmouth & Southsea
15/46 [P1]
15/46½ [P1]
1.52
Fratton
15/48 [P1]
15/49 [P1]
1.71
Fratton East Jn
15/49
15/49½
4.33
Portcreek Jn
15/53
15/52½
4.78
Farlington Jn
15/54
15/53½
7.75
Havant
15/59 [P1]
15/58
19.39
Petersfield
16/12 [P1]
16/13 [P1]
31.31
Haslemere
16/25 [P2]
16/25½ [P3]
40.68
Farncombe
16/35 [P1]
16/.35½ [P1]
42.68
Shalford Jn
16/37 [Up]
16/39
43.79
Guildford
16/39 [P8]
16/40 [P8]
50.06
Ash
16/48 [P2]
16/50½
50.79
Aldershot South Jn
16/50
16/52½
51.31
Aldershot North Jn
16/55
16/54½
?
Sig.AS2
?
16.59½ ~ 17.01½
52.72
0.00
Aldershot
17.04 ~ 17.13 [P3]
17.03½ ~ 17.13 [P3]
1.41
Aldershot North Jn
17/17½
17/16
2.50
Ash Vale
17/22 [P1]
17/22 [P1]
5.59
Frimley
17/26 [UF]
17/23
?
Sig.F334
?
17.39½ ~ 17.44½
14.28
Ascot
17/47 [P1]
17.46½ [P1]
20.12
Virginia Water
17/57 [P1]
17/56½ [P1]
24.25
Staines
18/10 [P1]
18/10½
?
Staines Up Goods Loop
18.12 ~ 18.16
18/13
28.39
Feltham
18/24 [P1]
18/20 [P1]
29.72
Feltham Jn
18/27 [UH]
18/23½
30.73
Hounslow
18/35 [P1]
18/34 [P1]
33.58
Brentford
18/42 [P1]
18/42½ [P1]
37.23
Barnes
18/52 [P1][SL]
18/52½ [P1]
40.36
Clapham Junction
19/01 [P3][WSL]
19/01 [P3] [UpWS]
41.13
West London Jn
19/03 [WL]
19/03½
42.32
Nine Elms Jn
19/05 [WL]
19/05
?
Vauxhall
?
19/06½ [P2]
?
West Crossings
?
[UW-UMR]
44.30
0.00
London Waterloo
19.10 ~ 19.18 [P15]
19.13½ ~ 19.19½ [P13]
?
Vauxhall
?
19/22 [P6]
3.74
Clapham Junction
19/25 [P9][FL]
19/26 [P9]
7.19
Wimbledon
19/31 [P7][FL]
19/29½ [P7]
9.62
New Malden
19/33½ [P3]
19/32½
12.03
Surbiton
19/36 [FL]
19/34½ [DF]
13.16
Hampton Court Jn
19/37 [FL]
19/35½ [DF]
19.12
Weybridge
19/45
19/42 [DF]
19.74
Addlestone Jn
19/48 [UC]
19/45½
24.65
Virginia Water
20/04 [P3]
20.01 ~ 20.02 [P3]
29.73
Staines
20.14½ ~ 20.19½ [P1]
20.11 ~ 20.11½
?
Staines Up Goods Loop
20*21 ~ 21*12
20.15 ~ 21.10
34.07
Feltham
21/21 [P1]
21/18½ [P1]
35.40
Feltham Jn
21/23
21/22
36.32
Whitton Jn
21/26
21/23
37.26
Twickenham Jn
21/29 [FL]
21/27
37.53
Twickenham
21/32 [P4][FL]
21/27½ [P4]
38.09
St Margarets
21/33 [P2]
21/32 [P2]
39.18
Richmond
21/36 [P2]
21/36½ [P2]
41.68
Barnes
21/46 [P1][SL]
21/44½ [P1]
45.01
Clapham Junction
21/54 [P3]
21/53½ [P3]
45.35
Latchmere Jn
21/56
21/56 [Dn Latchmere]
48.18
Kensington Olympia
22.01 ~ 22.03 [P2]
22.02 ~ 22.03 [P2]
50.12
North Pole Jn
22/06
22/06½
50.43
Mitre Bridge Jn
22/07
22/08
50.72
Willesden West London Jn
22/09 [DR]
22/10 [DWR]
51.46
Willesden No.7
22/11 [DR]
22/11½ [DWR]
52.42
Wembley Yard South Jn
22/12 [DR]
22/14 [DWR]
52.54
Sudbury Jn
22/13 [DR]
22/15 [DS]
53.44
Wembley Central
22/16 [SL]
22/17 [P5]
56.65
Harrow & Wealdstone
22/19 [SL]
22/21 [P5][DS]
?
Watford Yard GF
?
22.31½ ~ 22.33
62.69
Watford Junction
22.25a ~ 22.27d [P11]
22.36½ ~ 22.38 [P11]
63.49
Watford North
22.30a ~ 22.32d
22.40½ ~ 22.42
69.19
0.00
St Albans Abbey
22.51a ~ 22.56d
22.53 ~ 22.58
6.30
Watford Junction
23.17a ~ 23.19d [P11][SL]
23.13½ ~ 23.17½ [P11]
12.34
Harrow & Wealdstone
23/26 [SL]
23/27 [P6][US]
15.55
Wembley Central
23/30 [SL]
23/31 [P6][US]
16.45
Sudbury Jn
23/32 [UR]
23/33
16.57
Wembley Yard South Jn
23/33 [UR]
23/33½ [UR]
17.53
Willesden No.7
23/35
23/37
18.00
Acton Canal Wharf Jn
23/37
23/39½
18.59
Acton Wells Jn
23/39
23/41
?
Sig.SN177
?
23.42 ~ 23.53½
19.31
Acton Main Line
23/50 [RL]
23/55 [P3][DR]
20.13
Acton West
23/52 [RL]
23/56½
20.69
Ealing Broadway
23.55a [P3]
23.58½ [P3][DR]


Associated E.C.S. Workings
5Z37 : (37685 with 37706 on rear) : Southall Depot to Southall
5Z37 : (37706 with 37685 on rear) : Southall to London Paddington
5Z38 : (37706 with 37685 on rear) : Ealing Broadway to Southall
5Z38 : (37685 with 37706 on rear) : Southall to Southall Depot
| | | |
| --- | --- | --- |
| Location | Booked (out) | Booked (rtn) |
| Southall Depot | 06.15d | 00.25a |
| Southall | 06.25 ~ 06.34 | 00.05 ~ 00.15 |
| Southall East Jn | 06/35 | 00/04 |
| West Ealing | 06/38 | 00/01 |
| Ealing Broadway | - | 23.59d |
| Acton West | 06/43 | - |
| Ladbroke Grove | 06/46 | - |
| Paddington | 06.50a | - |