30th June 2011
Steam Dreams
The Cathedrals Express
Locos Used

37516 & steam: 34067 'Tangmere' & 48151

Stock Used
[1]: 35518+5200+5171+1860+13440+9104+3093+99125+1961+5237+5236+5249
[2]: 80217+99035+5249+5236+5237+1961+99125+3093+9104+13440+1860+5171+5200
Route :
1Z96 : London Victoria to Swanage
1Z97 : Swanage to Salisbury
1Z98 : Salisbury to London Victoria
| | | |
| --- | --- | --- |
| Loco(s) | Stock | Route |
| 34067 (1) | [1] | London Victoria - Stewarts Lane Jn - Longhedge Jn - Clapham Junction - Barnes - Brentford - Hounslow - Feltham Jn - Feltham - Staines - Virginia Water - Addlestone Jn - Byfleet & New Haw - Woking - Farnborough (Main) - Basingstoke - Worting Jn - Winchester - Eastleigh - Northam Jn - Southampton Central - Redbridge - Brockenhurst - Bournemouth Central - Poole - Wareham - Worgret Jn - Corfe Castle - Swanage |
| 48151 | [2] | Swanage - (reverse of outward route) - Eastleigh - Romsey - Dean - Salisbury |
| 34067 | [1] | Salisbury - Andover - Worting Jn - (reverse of outward route) - London Victoria |
Notes :
(1) Banked by 37516 from Victoria to Grosvenor Bridge Jn.
(2) John Clifford comments: The return journey was delayed by 48151 making an extra stop in Southampton Up Goods Loop for water. 34067 had also been delayed on its working from Swanage to Salisbury and when we arrived at Salisbury its servicing had not been completed. Added to this there was a brake problem which delayed the departure from Salisbury by nearly half an hour. However some good running & a slack schedule saw us into Victoria just 7mins late.
(3) Nick Bartlett comments: was the first time an 8F had hauled a train on the Swanage Branch. The class was too heavy for the branch line in BR days.
Sources : John Clifford (on the train throughout) & Nick Bartlett (on train from Swanage to Salisbury)



Photo Review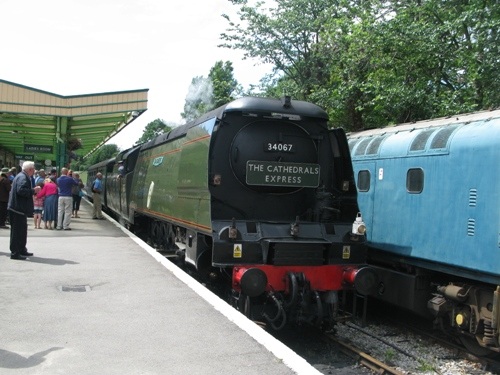 34067 'Tangmere' shunts after arrival at Swanage (photo: Nick Bartlett)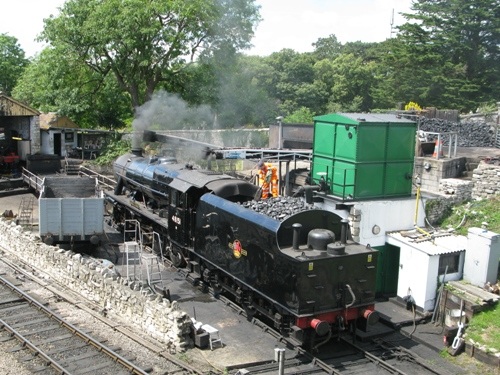 48151 being prepared at Swanage for the return leg (photo: Nick Bartlett)


Timings (Booked & Actual)
(from John Clifford & Nick Bartlett)
Location
Booked
Actual
Booked
Actual
Victoria
08.45d [P2] [FL]
08/45
22.45a [P2]
22.52 [P2]
Grosvenor Bridge Jn
08/49
08/48
22/42 [SL]
22/48 [SL]
Stewarts Lane Jn
08/53 [RVL]
08/50 [RVL]
22/37
22/46
Longhedge Jn
08/57
08/52
22/35 [RVL]
22/44 [RVL]
Clapham Junction
09/01 [P5] [FL]
09/04 [P5] [FL]
22/31 [P3]
22/39 [P3]
Barnes
09/08 [P3]
09/10 [P3]
22/23 [P1] [SL]
21/29 [P1] [SL]
Brentford
09/15 [P2]
09/18 [P2]
22/12
22/22
Hounslow
09/21 [P2]
09/24 [P2]
22/06
22/18
Feltham Jn
09/23
09/26
22/02
22/15
Feltham
09/25 [P2]
09/29 [P2]
22/00
22/12
Staines
09.32a ~ 09.34d [P2]
09.35 ~ 09.36 [P2]
21.49a ~ 21.52d
22.04 ~ 22.06
Virginia Water
09/44 [P4]
09/45 [P4]
21/38 [P3]
21/55 [P3]
Addlestone Jn
09/52
09/54
21/25
21/45
Byfleet & New Haw
09/55 [SL]
09/55 [SL]
21/22
21/43
Woking
10.03a ~ 10.06d [P5]
10.03 ~ 10.06 [P5] [SL]
21.13a ~ 21.16d [P2] [SL]
21.33 ~ 21.36 [P2] [FL]
Woking Jn
10/07 [SL]
10/08 [SL]
21/12
21/32
Pirbright Jn
10/13 [SL]
10/14 [SL]
?
?
Farnborough (Main)
10/17 [P2] [SL]
10/19 [P2] [SL]
21/04
21/23
Fleet
10/21 [SL]
10/23 [SL]
?
?
Winchfield
10w26 ~ 10w41
10.38 ~ 10.38
?
?
Basingstoke
10.52 ~ 10.55 [P2] [SL]
10.53 ~ 10.54 [P2] [SL]
20.46 ~ 20.48 [P3] [FL]
21/08 [P3] [FL]
Worting Jn
11/00
11/00
20/42 [FL]
21/04 [FL]
Winchester
11/16 [P2]
11/15 [P2]
Shawford Jn
11/19 [SL]
11/18 [SL]
Andover
20/22 [P1]
20/48 [P1]
Tunnel Jn
20/02
20/30
Salisbury
19L08a ~ 19L59d [P4]
19.27 ~ 20.26 [P4]
Tunnel Jn
19/05
19/23
Dean
18/55
19/11
Romsey
18/47 [P2]
19/01 [P2]
Eastleigh East Jn
18/36
18/46
Eastleigh
11/33 [P2]
11/33 [P2]
18/35 [P1]
18/43 [P1]
St Denys
11/40 [FL]
11/43 [FL]
18/26
18/34
Northam Jn
11/43
11/45
18/22 [FL]
18/31 [FL]
Southampton Central
11/46 [P3] [SL]
11/48 [P3] [SL]
18/19 [P1]
18/28 [P1]
Southampton UGL
?
18w14 ~ 18w25
Redbridge
12/03
11/58
18/07 [SL]
18/06 [FL]
Brocknhurst
12/20 [P3]
12/11 [P3]
17/54 [P2]
17/54 [P2]
Bournemouth Central
12.46 ~ 12.51
12.37 ~ 12.37 [P3]
17/31 [P2]
17/32 [P2]
Branksome
12/56 [P2]
12/44 [P2]
17/23 [P1]
17/26 [P1]
Poole
13/03 [P2]
12/48 [P2]
17/16 [P1]
17/19 [P1]
Hamworthy Jn
13/07
12/52
17/11
17/15
Wareham
13.14 ~ 1.16 [P2]
12.59 ~ 13.01 [P2]
17.01 ~ 17.03 [P1]
17.04 ~ 17.06 [P1]
Worgret Jn
13/20
13/06
16/56
17/01
Motala GF
13.33 ~ 13.35
13.19 ~ 13.26
16.43 ~ 16.45
16.37 ~ 16.45
Norden
13/45
13/40
16/25
16.30 ~ 16.31
Corfe Castle
13.49 ~ 13.51
13.45 ~ 13.50
16.17 ~ 16.20
16.25 ~ 16.27
Harmans Cross
14/00
14/09
16/15
16/19 [P1]
Swanage
14.05a
14.19 [P2]
16.05d [P2]
16.06 [P2]


Associated E.C.S. & Light Engine Movements
30/06 : 5Z96 : (34067 with 37516 on rear) : Southall FSS to Southall
30/06 : 5Z96 : (37516 with 34067 on rear) : Southall to London Victoria
30/06 : 5Z98 : (37516 with 34067 on rear) : London Victoria to Hayes GL
30/06 : 5Z98 : (34067 with 37516 on rear) : Hayes GL to Southall FSS
Location
Booked
Actual
Booked (rtn)
Southall FSS
06.20d [GL]
?
00.45a
Southall
00.30 ~ 00.34
Southall West Jn
00/28
Hayes
00.16 ~ 00.26 [GL]
Southall West Jn
00/14 [GL]
Southall
06.31 ~ 06.45
?
00/10 [P3]
Southall East Jn
06/46 [RL]
?
-
West Ealing
06/49
?
00/06
Acton West
09/53 [GL]
?
00/02 [RL]
Acton Main Line
06/59
?
23/58 [GL]
Acton Wells Jn
07/02
?
23/53
Willesden SWS
07.04 ~ 07.35 [REV]
?
23/48
Mitre Bridge Jn
07/39
?
23/44 [REV]
North Pole Jn
07/40
?
?
Kensington Olympia
07.45 ~ 07.48 [P3]
?
23.35 ~ 23.37 [DML]
Latchmere Jn
07/55
?
23/27
Longhedge Jn
07/57 [RVL]
?
23/16
Stewarts Lane Jn
07/58
?
23/15 [RVL]
Grosvenor Bridge Jn
08/01 [SL]
?
23/13
Victoria
08.04a [P2]
08.07 [P2]
23.10d [P2] [FL]
29/06 : 5Z95 : (48151+80217 & possibly 99035) : Southall FSS to Salisbury
29/06 : 5Z95 : (48151+80217 & possibly 99035) : Salisbury to Swanage
30/06 : 5Z97 : (34067+35518) : Swanage to Salisbury Sig. S240
30/06 : 5Z97 : (34067+35518) : Salisbury Sig. S240 to Salisbury
| | | |
| --- | --- | --- |
| Location | Booked (5Z95) | Booked (5Z97) |
| Southall FSS | 12.20d [GL] | - |
| Southall | 12/36 | - |
| Southall West Jn | 12/37 [RL] | - |
| Airport Jn | 12/40 | - |
| Slough | 12/51 | - |
| Maidenhead | 12/59 | - |
| Twyford | 13/07 | - |
| Reading | 13/15 | - |
| Oxford Road Jn | 13/21 | - |
| Southcote Jn | 13/24 | - |
| Bramley | 13/36 | - |
| Basingstoke | 13/52 [P2] | - |
| Worting Jn | 13/56 | - |
| Andover | 14/13 [P2] | - |
| Tunnel Jn | 14/30 | - |
| Salisbury | - | 18.05a [HS] |
| Salisbury Sig. S240 | - | 17.59 ~ 18.03 |
| Salisbury | 14.33 ~ 15.50 [P6] | 17/57 [P3] |
| Tunnel Jn | 15/53 | 17/54 |
| Dean | 16/03 | 17/43 |
| Romsey | 16/12 [P1] | 17/33 [P2] |
| Romsey Sig. E882 | 16.14 ~ 16.20 | - |
| Eastleigh East Jn | 16/34 | 17/22 |
| Eastleigh | 16/35 [DF] | 17/20 [P1] |
| St Denys | 16/39 [FL] | 17/13 |
| Northam Jn | 16/40 | 17/11 [FL] |
| Southampton Central | 16.43 ~ 16.45 [P3] [SL] | 17/08 [P1] |
| Redbridge | 16/49 | 17/01 [FL] |
| Brockenhurst | 17/02 [P3] | 16/47 [P2] |
| Bournemouth Central | 17/19 [P3] | 16/28 [P2] |
| Branksome | 17/23 [P2] | 16/23 [P1] |
| Poole | 17/28 [P2] | 16/16 [P1] |
| Hamworthy Jn | ? | 16/11 [P1] |
| Wareham | 17/37 [P2] | 16.01 ~ 16.03 [P1] |
| Worgret Jn | 17.39 ~ 17.41 | 15/56 |
| Motala GF | 17/44 | 15.43 ~ 15.45 |
| Swanage | 18.15a | 15.15d |
30/06 : 5Z98 : (48151+80217+99035) : Salisbury to Yeovil Junction
| | |
| --- | --- |
| Location | Booked |
| Salisbury | 20.10d [HS] |
| Wilton Jn | 20/17 |
| Wilton | 20/19 |
| Tisbury Loop | 20/32 |
| Gillingham | 20.44 ~ 20.52 [P1] |
| Templecombe | 20/59 [ML] |
| Sherborne | 21/09 [P2] |
| Yeovil Junction | 21.20a [DS] |
30/06 : 0Z96 : (37516 light-engine - banking from Victoria to Grosvenor Bridge Jn) : London Victoria to Southall
30/06 : 0Z96 : (37516 light-engine) : Southall to Southall FSS
30/06 : 0Z98 : (37516 light-engine) : Southall FSS to Southall
30/06 : 0Z98 : (37516 light-engine) : Southall to London Victoria
| | | | | |
| --- | --- | --- | --- | --- |
| Location | Booked | Actual | | Booked (rtn) |
| Victoria | 08.45d | 08.45 | | 22.49a |
| Grosvenor Bridge Jn | 08.49 ~ 08.51 | 08.48 ~ ??.?? | | 22/46 |
| Stewarts Lane Jn | 08/56 | ? | | 22/44 |
| Longhedge Jn | 09/02 | ? | | 22/39 |
| Latchmere Jn | 09/11 | ? | | 22/28 |
| Kensington Olympia | 09/20 | ? | | 22/22 |
| North Pole Jn | 09/26 | ? | | ? |
| Mitre Bridge Jn | 09/27 | ? | | 22/12 |
| Willesden SWS | 09.31 ~ 11.16 | ? | | 22/07 |
| Acton Wells Jn | 11/18 | ? | | 22/04 |
| Acton Main Line | 11/29 | ? | | 21/56 |
| West Ealing | ? | ? | | 21/50 |
| Southall East Jn | 11/35 | ? | | 21/44 |
| Southall | 11.36 ~ 11.41 | ? | | 21.35 ~ 21.43 |
| Southall FSS | 11.50a | ? | | 21.25d |