14th May 2011
East Midlands Trains
The Mid-Norfolk Marauder
HST Used
43082

'

Railway Children - The Voice For Street Children Worldwide' +41156+41041+40746+42132+42131+42331+42133+44046+43075 (set NL6)
Route :
1Z43 : London St Pancras to Dereham
1Z44 : Dereham to London St Pancras
| | |
| --- | --- |
| Traction | Route |
| 43082 t/t 43075 | London St Pancras - (via MML) - Syston South Jn - Melton Mowbray - Oakham - Stamford - Peterborough - Whittlesea - March - Ely West Jn - Ely North Jn - Ely |
| 43075 t/t 43082 | Ely - Ely North Jn - Thetford - Wymondham |
| 43082 t/t 43075 | Wymondham - Thuxton - Dereham |
| 43075 t/t 43082 | Dereham - Thuxton - Wymondham - Norwich |
| 43082 t/t 43075 | Norwich - Wymondham - Thetford - Ely North Jn - Ely West Jn - (reverse of outward route) - London St Pancras |
Notes :
(1) This tour was run to raise money for the Railway Children charity. The train was provided by East Midlands trains. It was crewed by East Midlands Train staff and tour bookings were processed by UK Railtours all of whom donated their time and assets free of charge, with all profits going to the charity. The headboard was to be auctioned on E-Bay (bids from 21/05/2011 for 7 days). The tour was expected to raise well in excess of £20k for the Railway Children.
(2) Hauling the complete HST set.
(3) Also available for passengers to use by leaving the train at Thuxton was:
37219 'Shirley Ann Smith' + D8069 (dragging 86101 'Sir William A Stanier FRS' & stock: ????+1218+5255+5265+17089) from Thuxton to Dereham, leaving the HST at Thuxton while on its way to Wymondham.
73210 'Selhurst' + 73109 (dragging stock: 17089+5265+5255+1218+???? & '86101 Sir William A Stanier FRS') from Dereham to Thuxton, joining the HST on its return to Dereham.
The unidentified coach listed as ????, a mark 2, carried no identification on either side.
(4) During the tour layover at Dereham (booked 13.23 - 15.35) the HST made one round trip to Wymondham Abbey as a service train, part of the M.N.R. "Drags 'n' Rescues" gala event. 43075 led 43082 to Wymondham Abbey (50019 was booked to be on the rear as a positioning move) then the set was hauled back to Dereham by 50019 'Ramillies', recreating a Western Region rescue of the British Rail era. Tour passengers were able to make this additional round trip on payment of a £5 supplement.
Sources : Robert Frise & Howard Parker (joined/left the train at Leicester)



Photo Review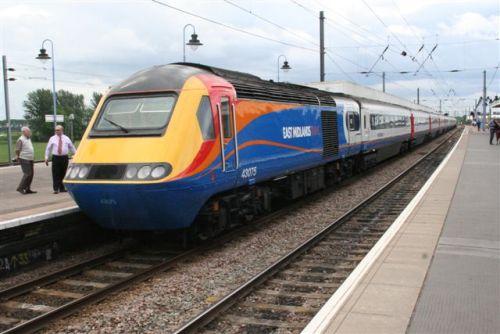 43075 (above) & 43082 seen during the reversal at Ely (photos: Robert Frise)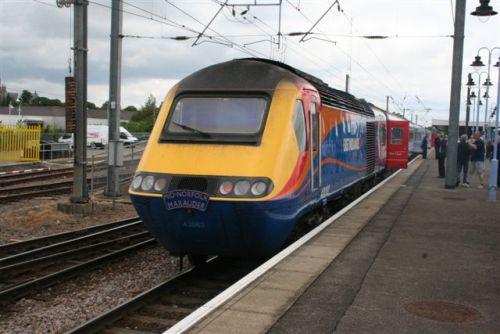 Timings (Booked & Actual)
(from Robert Frise & Howard Parker)
Location
Booked
Actual
Booked
Actual
St Pancras
07.42d
?
21.45a
?
Camley Street Jn
07/43
?
21/43
?
Dock Jn South
07/43
?
21/42
?
Dock Jn North
07/44
?
21/40
?
Kentish Town
07/45
?
21/39
?
Carlton Road Jn
07/45
?
21/38
?
West Hampstead Thameslink
07/47
?
21/31
?
Hendon
07/50
?
21/28
?
Radlett Jn
07/54
?
21/24
?
St Albans
07/59
?
21/21
?
Harpenden Jn
08/04
?
21/18
?
Luton Airport Parkway
08.07a ~ 08.09d
?
21.10a ~ 21.12d
?
Luton
08/11
?
21/08
?
Leagrave Jn
08/13
?
21/05
?
Flitwick
08/17
?
21/00
?
Bedford South Jn
08/22
?
20/55
?
Bedford
08/23
?
20/51
?
Bedford North Jn
08/24
?
20/51
?
Sharnbrook Jn
08/35
?
20/46
?
Wellingborough
08/42
?
20/40
?
Kettering
08.47a ~ 08.49d
?
20.29a ~ 20.31d
?
Market Harborough
08/58
?
20/20
?
Wigston North Jn
09/11
?
20/10
?
Leicester
09.20a ~ 09.22d
??.?? ~ 09.22 [P2]
20.03a ~ 20.06d
20.04 ~ ??.?? [P3]
Syston South Jn
09/29
09/29
19/58
19/49 [U&DS]
Syston East Jn
09/32
?
19/58
?
Frisby
09/40
?
19/51
?
Melton Mowbray
09/44
09/38
19/47
19/39
Whissendine
09/52
?
19/40
?
Langham Jn
09/55
?
19/35
?
Oakham
09/56
09/19
19/32
19/27
Manton Jn
10/00
09/52
19/24
19/24
Ketton SB
10/06
?
19/15
?
Stamford
10/11
10/06
?
19/15
Helpston Jn
10/17
10/11
19/06
?
Peterborough
10/25
10/25 [P4]
19/00
18/57 [P5]
Peterborough East Jn
10/27
?
18/55
?
Whittlesea
10/33
?
18/51
?
March West Jn
10/42
?
18/43
?
March
10/43
10/43
18/42
18/40
Ely West Jn
?
?
?
18.17 ~ 18.23
Ely North Jn
10/58
10/56
Ely
11.01a ~ 11.34d
10.59 ~ 11.34
Ely North Jn
11/38
11/37
18.03 ~ 18.25
18/14
Brandon
11/55
?
17/43
?
Thetford
12/03
12/04
17/36
17/48
Attleborough
12/22
12/19
17/24
17/20
Wymondham
12.28 ~ 12.38
12.27 ~ 12.33
Dereham
13.23a ~ 15.25d
13.40 ~ 15.40
Wymondham
16/35
16.33 ~ 16.34
17/18
17/15
Trowse Jn
16/45
16/44
17/08
?
Trowse Swing Bridge
16/49
?
17/07
?
Thorpe Jn
16/49
?
17/03
?
Norwich
16.50a
16.47 [P1]
17.02d
17/02
M.N.R. Gala Timings
Location
Booked
Booked
Booked
Booked
Traction
?
?
HST
?
Dereham
11.15d
12.30d
13.30d
14.30d
Yaxham
?
?
?
?
Thuxton
11.33a ~ 11.38d
12.48a ~ 12.53d
13.48a ~ 13.53d
14.48a ~ 14.53d
Kimberley Park
?
?
?
?
Wymondham Abbey
11.55a
13.10a
14.10a
15.10a
Location
Booked
Booked
Booked
Booked
Traction
?
50019 + HST
?
?
Wymondham Abbey
13.30d
14.30d
15.30d
16.30d
Kimberley Park
?
?
?
?
Thuxton
13.49a ~ 13.53d
14.49a ~ 14.53d
15.49a ~ 15.53d
16.49a ~ 16.53d
Yaxham
?
?
?
?
Dereham
14.11a
15.11a
16.11a
17.11a