26th March 2011
Spitfire Railtours
The Holy Oakes & The Holy Oakes Mini Tour
| | |
| --- | --- |
| Locos Used | 37676 'Loch Rannoch', 37685 & 57601 |
| Stock Used (4) | 5035+99722+99327+99328+4960+1861+5229+3148+99679+99352+99347+99723 |
Route :
1Z41 : Weston-super-Mare to Holyhead
1Z43 : Holyhead to Weston-super-Mare
| | |
| --- | --- |
| Loco(s) | Route |
| 37685 + 37676 (1) | Weston-super-Mare - Bristol Temple Meads - Stapleton Road - Filton Jn - Bristol Parkway - Westerleigh Jn - Yate - Standish Jn - Barnwood Jn - Cheltenham Spa - Abbotswood Jn - Worcester Shrub Hill - Droitwich Spa - Kidderminster - Stourbridge Junction - ??? - Bescot Stadium - ??? - Tame Bridge Parkway - ??? - Crewe - Stockport - Manchester Piccadilly |
| 57601 (2) | Manchester Piccadilly - ??? - Chester - Rhyl - Llandundo Junction - Bangor - Holyhead |
| 37685 + 37676 (1) | Holyhead - (reverse of outward route) - Chester - ??? - ?Manchester Piccadilly? - ??? - ?Stockport? - (reverse of outward route) - Weston-super-Mare |
Notes :
(1) 57601 on rear.
(2) 37685+37676 on rear.
(3) Route confirmation required - booked outward route was: Crewe - Stockport - Denton - Ashton Moss North Jn - Baguley Fold Jn - Miles Platting - Manchester Victoria - Eccles - Earlestown - Winwick Jn - Warrington Bank Quay - Acton Grange Jn - Frodsham Jn - Helsby - Mickle Trafford Jn - Chester however photographic evidence exits of the train reversing at Manchester Piccadilly. The legs between Manchester and Holyhead were also ticket separately as 'The Holy Oakes Mini-Tour'.
(4) Stock Used listing comes from sighting of the ECS at Bristol Temple Meads at 10:45am on 27th March hauled by 37685+37670. Assumed to be the same but confirmation is required.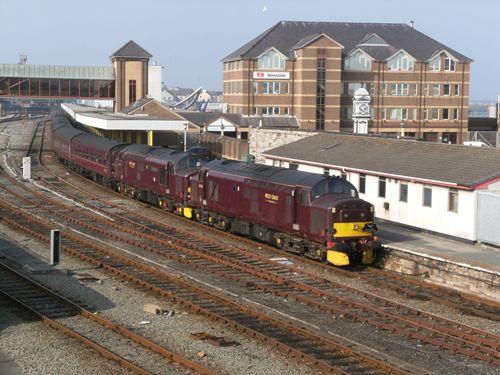 37685 & 37676 wait to leave Holyhead on the return leg (photo: David Hunter)
Sources : Nick Bartlett, David Hunter & Guy Vincent



Timings (Booked & Actual)
(from various including David Hunter)
| | | | | | |
| --- | --- | --- | --- | --- | --- |
| Location | Booked | Actual | | Booked | Actual |
| Weston-super-Mare | 06.42d | ? | | 23.31a | ? |
| Bristol Temple Meads | ??.??a ~ 07.09d | ? | | 23.04a ~ ??.??d | ? |
| Bristol Parkway | ??.??a ~ 07.20d | ? | | 22.50a ~ ??.??d | ? |
| Cam & Dursley | ??.??a ~ 07.41d | ? | | 22.27a ~ ??.??d | ? |
| Cheltenham Spa | ??.??a ~ 08.04d | ? | | 22.05a ~ ??.??d | ? |
| Worcester Shrub Hill | ??.??a ~ 08.29d | ? | | 21.30a ~ ??.??d | ? |
| Droitwich Spa | ??.??a ~ 08.39d | ? | | 21.17a ~ ??.??d | ? |
| Tame Bridge Parkway | ??.??a ~ 09.43d | ? | | 20.14a ~ ??.??d | ? |
| Manchester Victoria | ??.??a ~ 12.05d | ? | | 18.19a ~ ??.??d | ? |
| Chester | 13.12a ~ 13.16d | ??.?? ~ 13.16 [P4] | | 17.26a ~ 17.29d | 17.28 ~ ??.?? [P4] |
| Chester South Jn | 13/17 | 13/17 [DF] | | 17/24 | 17/27 |
| Saltney Jn | 13/19 | 13/20 | | 17/22 | 17/25 |
| Rockliffe Hall | 13/27 | ? | | 17/14 | 17/18½ |
| Holywell Jn | 13/34 | 13/32 | | 17/07 | 17/11½ |
| Rhyl | 13/46 | 13/43½ [DM] | | 16/54 | 16/53½ [UM] |
| Colwyn Bay | 13/56 | 13/55 | | 16/44 | 16/42½ |
| Llandudno Junction | 14/01 | 13/59 [P4] | | 16/39 | 16/36 [P3] |
| Penmaenmawr | 14/07½ | 14/05 | | 16/32 | 16/25 |
| Conwy | ? | ? | | 16/36½ | 16/30 |
| Bangor | 14/17½ | 14/14½ [DM] | | 16/22 | 16/17½ [UM] |
| Menai Bridge | 14/20½ | 14/18½ | | 16/18 | 16/12½ |
| Llanfairpwll | 14/23 | 14/21 | | 16/15 | 16/11½ |
| Gaerwen | 14/27 | ? | | 16/11 | ? |
| Valley | 14/42 | 14/38 | | 15/56 | 15/55 |
| Holyhead | 14.50a | 14.45 [P1] | | 15.50d | 15.50 [P1] |