4th & 6th March 2011
Spitfire Railtours
(Positioning Tours)
| | |
| --- | --- |
| Locos Used | 55022 'Royal Scots Grey' & 57601 |
| Stock Used | 4994+4905+99318+5035+1861+3150+3148+99677+3136+99679+99121+99122 |
Route :
1Z25 : Preston to London Euston
1Z28 : London Euston to Preston
| | | |
| --- | --- | --- |
| Date | Loco(s) | Route |
| 04/03 | 55022 (2) | Preston - (via WCML, Trent Valley & Weedon) - London Euston |
| 06/03 | 55022 (2) | London Euston - (via WCML, Northampton & Trent Valley) - Crewe - Sandbach - Wilmslow - Cheadle Hulme - Stockport - Denton - Ashton Moss North Jn - Baguley Fold Jn - Miles Platting Jn - Manchester Victoria - Salford Crescent - Bolton - Chorley - Euxton Jn - Preston |
Notes :
(1) These were positioning tours to get the locos and stock to/from London for 5th March's 'The Royal Scots Grey' tour. The return leg was originally advertised as departing from London Paddington but this was revised due to engineering works in the Didcot area.
(2) 57601 on rear (providing ETS only).
(3) Return route, loco and headcode confirmation are required.
Sources : David Hunter (on the outward leg throughout), Nick Bartlett & Scott Borthwick



Photo Review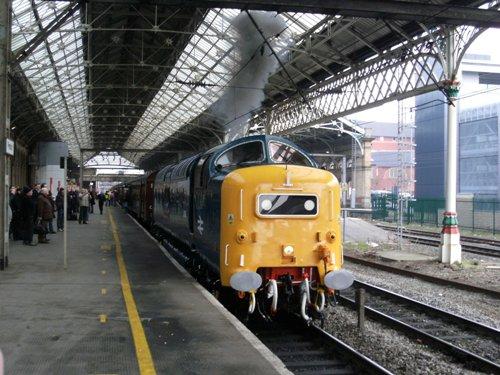 55022 starting an engine at Preston on March 4th (photo: David Hunter)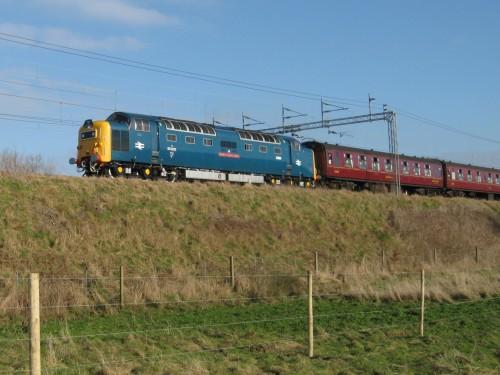 55022 at Caldecote north of Nuneaton on March 6th (photo: Ian Strange)


Timings (Booked & Actual)
(from David Hunter, Nick Bartlett, Paul Beardsley & Scott Borthwick)
Location

Booked
Actual
Booked
[Advertised] (rtn)
Preston
09.05d
09.05 [P4] [UF]
18.23a
Euxton Jn
09/12
09/12
18/18
Chorley
18/12
Lostock Jn
18/04
Bolton
18/00
Salford Central
17/50
Salford Crescent
17/47
Deal Street Jn
17/46
Manchester Victoria
17.33a ~ 17.45d
Miles Platting Jn
17/30
Philips Park West Jn
17/26
Baguley Fold Jn
17/23
Ashton Moss North Jn
17/19
Denton Jn
17/13
Denton Station Jn
17/11
Ash Bridge Jn
17/07
Heaton Norris Jn
17/06
Stockport
17/04
Edgeley No.1
17/02
Adswood Road
16/50
Cheadle Hulme
16/49
Wilmslow
16/40
Alderley Edge
16/38
Sandbach
16/28
Crewe Sydney Bridge
16/23
Balshaw Lane
09/14
?
-
Wigan North Western
09/20½
?
-
Wigan South Jn
09/21
?
-
Springs Branch Jn
09/21½
?
-
Winwick Jn
09/27
09/26
-
Dallam Jn
09/29
09/28
-
Warrington Bank Quay
09/30
09/28½
-
Acton Grange Jn
09/33½
09/29½
-
Weaver Jn
09/40
09/33½
-
Acton Bridge
09/42
?
-
Hartford Jn
09/44
09/37
-
Winsford
09/48
09/39 [UF]
-
Crewe Coay Yard SB
10/00
?
-
Crewe
10.01a ~ 10.04d
09.53 ~ 10.05 [P12] [UF]
16.17a ~ 16.21d
Basford Hall Jn
10/09
10/11 [UF]
15/57
Madeley
10/13
?
15/50
Norton Bridge
10/23½
10/25½ [UF]
15/41
Stafford
10/30
10/31½ [UF]
15/37
Stafford No.4
?
?
15/36
Trent Valley Jn
?
?
15/35
Milford & Brocton
?
?
15/31
Colwich
10/38
10/38 [US]
15/29
Rugeley North Jn
10/41
10/40½
15/25
Lichfield North Jn
10/47
10/45½
15/19
Amington Jn
10/53
10/51½
15/14
Nuneaton
11/07
11/06
14.59a ~ 15.03d
Attleborough Jn
?
?
14/55
Brinklow
?
?
14/49
Trent Valley Jn
11/21
?
14/41
Rugby
11.24a ~ 11.28d
11.22 ~ 11.37 [P5] [UF]
14/40
Hilmorton Jn
11/31
11/39 [UM]
14/38
Long Buckby
14/30
Northampton
14/19
Weedon
11/40
?
-
Hanslope Jn
11/51
11/58 [US]
14/06
Milton Keynes Central
11/58
12/03½ [US]
14/00
Bletchley
12/01
12/06 [US]
13/54
Ledburn Jn
12/10
12/14 [US]
13/47
Tring
12/19
12/18 [US]
13/37
Bourne End
12/26
? [US]
13/32
Watford Junction
12/36
12/30½ [US]
13/24
Harrow & Wealdstone
12/42
12/36 [US]
13/19
Wembley Central
12/48
12/38 [US]
13/15
Willesden WL Jn
12/50
12/40 [US]
13/12
Camden Jn
12/53
?
13/09
Camden South Jn
12/54
12/47
13/09
Euston
12.57a
12.50 [P1]
13.06d