13th November 2010
UK Railtours
The Coatbridge and Bathgate Phoenix
| | |
| --- | --- |
| Locos Used | 66175, 66183 & 90020 'Collingwood' |
| Stock Used | 5322+5341+5292+4927+5009+1813+3066+3097+1691+3120+3149+35469 |
Route :
1Z41 : Kings Cross to Shields Depot
1Z42 : Shields Depot to Kings Cross
| | |
| --- | --- |
| Loco(s) | Route |
| 90020 | London Kings Cross - (via ECML) - Edinburgh Waverley |
| 66175 (1) | Edinburgh Waverley - Haymarket - Newbridge Jn - Bathgate - Airdrie - Coatbridge Sunnyside - Bellgrove - Abbeyhill Jn - Shields Jn - Shields Depot [No.1 Line] |
| 66183 (2) | Shields Depot [No.1 Line] - Shields Jn - Terminus Jn - Larkfield Jn - Rutherglen East Jn - Carmyle - Whifflet South Jn - Mossend North jn - Mossend East Jn - Shotts - Midcalder Jn -Slateford - Craiglockhart Jn - Niddrie West Jn - Niddrie South Jn - Millerhill Yard |
| 90020 | Millerhill Yard - Monktonhall Jn - (via ECML) - London Kings Cross |
Notes :
(1) 66183 on rear.
(2) 66175 on rear.
(3) Train was delayed at Edinburgh Waverley waiting for 66175 which was late arriving due to a points failure at Haymarket and track circuit failure elsewhere.
Source : Matthew Cole (on the train throughout)



Tour Review
(from David Clark)
When UK Railtours put this on their website, this tour caused some initial excitement at being one of the first "Railtours" to Bathgate and over the newly reopened route through to Airdrie (not counting the various driver training / test trains over the route). However, with Saturday the 13th November also featuring an A4 pacific from London to York, 47580 from Leicester to Edinburgh (a friend from Cross Country was on this one) and a Branch Line Society trip around the Thameside freight branches (which is where most of my friends were!) and finally, a tour from Crewe to Edinburgh with 67 traction - competition for railtours on this particular Saturday was fierce. The tour was also to feature some "rare" track in both Glasgow and Edinburgh areas and was booked to start from London Kings Cross with pick ups at Potters Bar, Stevenage, Peterborough and York.
When the timings came out, the reversal was to take place at Shields Road EMU Depot (No1 Road). Crikey. After two trips last Saturday to Bathgate (A Spitfire tour with 2x37 getting the honours for being the first and a Pathfinder tour with 55022 being the second) this was going to be the third "railtour" along the route.
Come Friday, I made my way to Scunny trying to avoid the various catastrophes around the UK network on that day. There were signalling issues at Cheltenham Spa, Freight train failures at Cwmbran, Railhead issues on the Cambrian Network and a Track Circuit Failure at Reading. So all in all, if you were a traveller, it was mostly a tail of woe!
Saturday saw my dad and I depart for York. The drive was nice; relaxing and traffic levels were light. Well it was a 7am departure time! This was after a lovely bowl of porridge and a cup of tea. What a way to start the day! Anyway, on the Selby bypass we saw 66727 shunting various wagons around after arriving from Felixstowe. After avoiding Selby (No, not Ian Loveday), we were on to "former ECML territory" where the sound of Napier and her engines used to be heard before the days of current ECML between Temple Hirst Jn and York. The drive through the centre of York was effortless. The car was parked (for £2.50 – A bargain) and we walked up to the station and waited for 47580 on a Rail Blue charter to Edinburgh.
Ever since I was a kid, I've always loved York. The city and its environs hold many happy memories for me. It's such a lovely city. And for me, it's probably the nicest city in the UK (and the other city we're going to, Edinburgh is my 2nd favourite UK city). On the platform it was cold, but bright. We stood waiting for the 47 for a while; however, when at 0915 there was no sign of it, we decided to move up towards our platform meeting a few friends in the process. However, when whilst stood opposite platform 8 (Harrogate platform), an announcement was made to keep clear of Platform 11 due to a train approaching that was not scheduled to call at York. In fairness 47580 and the stock looked superb reminding people of the days when 47s were used on services in / out of York for Trans Pennine, Cross Country and some ECML services.
Soon after the departure of 47580 off Platform 11, 90020 arrived on Platform 5 with the UK Railtours charter which arrived slightly ahead of time. Departure time was prompt at 0930 and we set off for Edinburgh expecting to be cautioned due to following the duff. Our coach was 2nd from the front. We were booked SL from Skelton Jn, but we were kept on the FL until Tollerton from where we were put on to the slow lines to allow the 0703 Birmingham New St to Edinburgh service to pass us. At Thirsk North Jn we were put back on the Fasts. Two GBRF Coal trains were spotted on the Up Slows. North of Newcastle we continued northwards, but between Belford and Berwick we had caught up with the 47. At various points, we slowed down due to signals at caution. However, due to some recovery time in the schedule allowing us to follow the 47, the time lost was negligible. We crossed the delightful Royal Border Bridge and entered Berwick-Upon-Tweed. At this point, I would like to say the weather was superb! The only downer being the sun was too bright (if it can be such a thing). But this was not your typical November Saturday!
We continued across the border in to Scotland and continued through Grantshouse, Oxwellmains (where an unidentified FL 66 was sitting), and Dunbar before being put in to Drem Down Passenger Loop arriving at 1207. Here we waited for passage of the 0800 London Kings Cross to Edinburgh service (And I also suspect Platform clearance at Waverley). We set off again at 1221 but were regulated at a number of signals heading in to Waverley finally arriving Edinburgh at 1251 on Platform 11. The 47 and stock had just vacated Platform 11 and gone to Craigentinny via Haymarket and the Edinburgh suburban line.
Sat in the East End bay was 90026 / 66175 / 66183. Yes, the two 66s for our tour.
It transpires after checking SBJ that 66175 has worked a few tours including a BLS tour to the East Midlands area but 66183 I don't think on checking SBJ has not worked any tours at all? So here we were in the glorious city of Edinburgh – home of Rebus, Holyrood, Edinburgh Castle, Jenners, The Royal Mile, Princess Street, Cockburn Street, the Edinburgh trams and the Royal Yacht Britannia amongst many other things!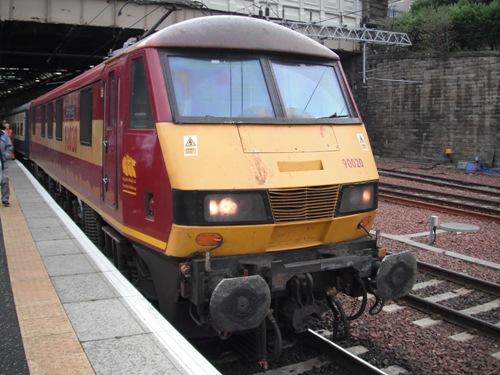 90020 on arrival into Edinburgh Waverley (photo: Matthew Cole)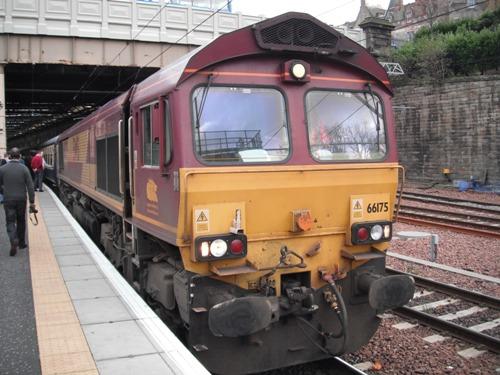 The class 66's at Edinburgh Waverley (photo: Matthew Cole)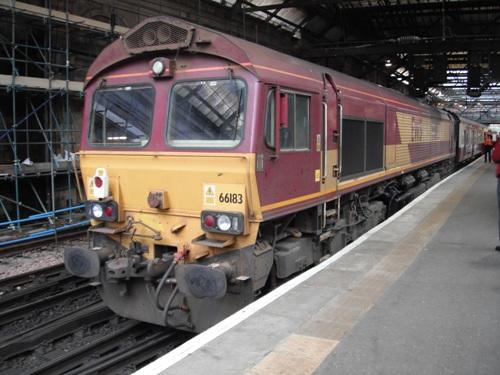 Anyway, it transpires that on this particular day, Edinburgh Waverley had two tracks blocked at the West End due to OHL work. On top of this, there had been some infrastructure failures at both Haymarket and Winchburgh Jn. Therefore, not only was there reduced capacity between Edinburgh and Haymarket for passenger services, but also shunting the locos on and off the railtour. This might have also explained why Waverley was quite quiet for a rugby game! Scot Rail was taking the opportunity to terminate services at Haymarket. Last year a few friends and I ventured to Edinburgh for a rugby game and Edinburgh Waverley was heaving with rugby fans, shoppers and tourists alike. We were allocated 25 minutes to get the 90 off, and two 66s on. In the end, this wasn't enough time. But the external issues mentioned above, obviously didn't help matters either. You know when I said the weather was superb, well that changed on arrival in to Edinburgh Waverley! For 10 minutes or so it rained and it was colder than we anticipated!
After talking to various people I know from Cross Country and Network Rail who were in Edinburgh, we set off at 1352 right behind the 1348 to Bathgate. As a result our progress was no more than a crawl between Edinburgh and Haymarket allowing us to view Edinburgh Castle which was featured in one of the Rebus books ("The Naming of the Dead" – Ian Rankin). Haymarket itself was full of units (probably those unable to fit in to Waverley).
Soon after Haymarket the home of "Royal Scots Grey", "Fife and Forfar Yeomary", "Queens Own Highlander", "The Kings Own Scottish Borderer", "The Black Watch", "Gordon Highlander", "Royal Highland Fusiliers", and ""Argyll and Sutherland Highlanders" (you can here Zontar himself calling them out by name!) Amongst other such famous machines was passed. Of course, previously, first generation DMUs and a wide variety of other diesel locos could be found here. Going back even further (to my dads' youthful generation of spotting), A4s and such enigmatic machines were to be found here! One of which was heading to York on a charter! Today it contained a variety of 158s and 170s.
From the train we spotted that the traffic in to Edinburgh from the Livingston direction was chaotic. There were quite long queues – But of course, they could have been heading to the airport too or going to see Hearts or Hibs. Anyway, we carried on towards Newbridge Jn, Uphall and passed Bathgate at 14/27. The station was impressive, and the EMU depot even more so. A 334 was also seen on the depot. Where was the old car depot? I remember back in my EWS days bidding to Network Rail for paths for trains between Washwood Heath and Bathgate via the ECML (6X38), and Bathgate and Washwood Heath (6M85) also via the East Coast Main Line. It looks like the old alignment (From Carmondean Jn) for the freight line had now been taken over by the new double track alignment of the Edinburgh to Bathgate route. We were not on new territory for a lot of people (well those that don't remember it shutting in BR Days!).
The old Bathgate station was seen with station names still in place. By the time we got to Drumgelloch (Buses replaced trains between Drumgelloch and Airdrie) we had to fight our way through the busy suburban railway and so found ourselves following the 1442 Airdrie to Helensburgh Central service. At Glasgow High St Jn we were on to my 2nd new bit of track today. This route was to take us to Glasgow Shields Jn. We passed through a variety of interesting areas including Celtic's Parkhead ground and the St Enoch Shopping Centre (Didn't there used to be an old station there?). At Shields Jn we came parallel with Shields Road Depot EMU and arrived on to Road No 1 in the EMU depot. We arrived at 1521 (43 late). On the depot there were a variety of EMUs. Gone are the days of the old Blue Trains.
Departure from Shields Road EMU (Road No1) was made at 1530 with 66183 leading (175 DOR). And on departure we saw two freights. 66062 on a Hunterston to Longannet coal train (complete with French Markings and RIV Number series!) and 67011 on 6R59 Mossend to Dalry Roche. From Shields Jn our route was to Larkfield Jn, Rutherglen Jn (passing Polmadie with 380101, 380103, 380110 and 380111 amongst others not visible) and took the route towards Langloan Jn and in to Whifflet South Jn. Mossend Yard was passed with a variety of locos (08802 / 92005 / 92017 / 92009 amongst those seen). Not only that, there were a fair number of 325 units too and a DRS 66. From Mossend North Jn we took the route over to Mossend East Jn and towards Shotts. As we progressed towards Midcalder Jn the light was gradually disappearing – not only that we were following a slow moving passenger service. At Slateford Jn we took the Edinburgh suburban route and after a stagger we arrived Millerhill Yard at 1714 on Sdg F6 (according to quail).
After the loco's being detached and a 90 being attached (we weren't aware until later which one it was) we set off at 1732. Once we had cleared Monktonhall Jn the driver opened up the throttle. The speeds on the ECML were impressive. We assumed the 1450 Aberdeen to Kings Cross service was in front, so a clear run was expected. The further south we were, our lateness was also reduced. But again, with some recovery time in the schedule (due to being booked to follow the Edinburgh to North Berwick service) this was not required and so our deficit was reduced (as easy as that! – Bet the chancellor wished he could reduce the deficit as easy as we did!)
We continued over the English border through to Berwick, Belford, Alnmouth and Morpeth. By now we should have overtaken 47580 on the Edinburgh to Leicester charter. However, due to us being late, it had been sent on its way early through to Newcastle and York. Newcastle was passed at 19/02 (4 late) and the CIS was showing the 1906 to London as being 5 late (this being the 1450 Aberdeen to Kings Cross). Passengers look bemused when they saw us pass through the station. So, we were in front of the HST! We knew this wouldn't last.
At Darlington we had caught up with the 47 (which in itself was following a Newcastle to Manchester Airport service) and was cautioned. Just before Northallerton some kids and their parents were celebrating firework night a week late. Hmmm. Never mind. We passed through Northallerton at 19/45 and at Longlands Jn we were routed on to the slow lines through to Skelton Bridge Jn. (which we were booked to do anyway). At Tollerton the HST finally passed us. At Skelton Bridge Jn we rejoined the main line, and for the rest of the run in to York we were cautioned at most of the signals due to following the TPE 185, 47580 on the Charter and the ECML HST!
We rolled in to Platform 5 at 2022 some 14 late which in fairness wasn't too bad considering we left Edinburgh over 40 late earlier in the day towards Shields Road EMU Depot. Sat on platform 9 was 47580. My dad and I went to the front of the train and noted that the loco was indeed 90020 as thought. Once the 2023 XC service to Birmingham had departed, both charters were given their respective roads towards Doncaster (90020) and Church Fenton (47580). They departed at the same time with the roar of the 90 and the brush sounding quite awesome on their way down to Colton Jn. Now I like 90s, but I also like 47s. Which one's going to win? There's only one way to find out !!!!
After they disappeared, we made our way to the car. But before that, a DB 66 came storming through Platform 5 on a Scunthorpe Entrance C to Lackenby steel slab train. York was pretty busy as we made our way back from York to Scunny, and unfortunately for my dad – I was to drive! Back in Scunthorpe it was time to watch the memorial service for the fallen heroes who've made our country safe and our freedom intact. Sunday saw me head back to South Wales allowing me to reflect on a delightful weekend (including being routed on to the Slows from Hatfield and Stainforth to Kirk Sandall!).
Finally (you'll be pleased to know),
Thank you and well done to all the people and companies who made this charter happen. It was a success from the beginning to the end. Not only that, the tour raffle nearly made £1,000. Well done to all!
David Clark (2010)



Timings (Booked & Actual)
(from Matthew Cole)
M.C
Location
Booked
Actual
Booked
Actual
M.C
0.00
Kings Cross
06.30d
06.30 [P2] [FL]
22.49a
22.54 [P1]
882.23
2.41
Finsbury Park
06/34
06/35 [P3] [FL]
?
22/49 [P2] [FL]
879.62
4.78
Alexandra Palace
06/38
06/37½ [FL]
22/42
22/47½ [FL]
877.25
12.57
Potters Bar
06.44a ~ 06.46d
06.43 ~ 06.46½ [P3] [FL]
22.33a ~ 22.36d
22.39½ ~ 22.41
869.46
20.25
Welwyn Garden City
06/54
06/52½ [FL]
22/23
22/33 [FL]
861.78
?
Digswell Jn
?
06/53½
?
22/32 [FL]
?
23.73
Woolmer Green Jn
06/56
06/55 [SL]
22/21
22/31
858.30
27.45
Stevenage
07.00a ~ 07.06d
06.58½ ~ 07.05½ [P4] [SL]
22.14a ~ 22.17d
22.25 ~ 22.26½ [P2] [FL]
854.58
31.74
Hitchin
07/10
07.11½ ~ 07.13½ [SL] [FL]
22/11
22/19½ [FL]
850.29
44.10
Sandy
07/20
07/22½ [FL]
22/03
22/12½ [FL]
838.13
58.70
Huntingdon
07/29
07/31½ [FL]
21/54
22/04 [FL]
823.33
-
Connington South Jn
?
21/59
?
69.26
Holme LC
07/34
07/36
76.29
Peterborough
07.40a ~ 07.42d
07.43½ ~ 07.46½ [P4] [SL]
21.39a ~ 21.42d
21.48 ~ 21.51½ [P1] [FL]
805.74
84.64
Tallington Jn
07/59
07/58½ [SL]
21/29
21/41 [FL]
797.39
99.61
Stoke Jn
08/15
08/14
21/19
21/30½ [FL]
782.42
105.38
Grantham
08/21
08/22 [P2]
21/13
21/29 [P1] [FL]
776.65
115.27
Claypole
08/28
08/29
21/01
21/23 [FL]
766.76
120.08
Newark Northgate
08/33
08/31½ [P1]
20/58
21/20 [P2]
762.15
138.49
Retford
08/48
08/45½ [FL]
20/47
21/09
743.54
152.00
Loversall Carr Jn
08/57
08/56½ [FL]
20/39
21/01½
730.23
155.77
Doncaster
09/01
09/01 [FL]
20/34
20/57 [FL]
726.26
160.16
Shaftholme Jn
09/05
09/05
20/29
?
722.07
169.16
Temple Hirst Jn
09/11
09/10½
20/23
20/43
713.07
174.75
Hambleton North Jn
09/14
09/14
20/20
?
707.28
182.79
Colton Jn
09/20
09/18½ [DM]
20/15
20/34
699.24
188.40
York
09.26a ~ 09.30d
09.23½ ~ 09.30½ [P5/6]
20.08a ~ 20.10d
20.22 ~ 20.28½ [P5]
693.63
190.11
Skelton Jn
09/32
09/35½ [FL]
20/06
20/19
692.12
198.00
Tollerton
09/44
09/40½ [FL] [SL]
20/01
20/03 [SL]
684.23
210.56
Thirsk
09/55
09/52 [SL] [FL]
19/47
19/52 [SL]
671.47
218.36
Northallerton
10/00
09/59½
19/40
19/45 [SL]
663.67
232.50
Darlington
10/08
10/08½ [DM]
19/26
19/34 [UM]
649.53
244.57
Ferryhill South Jn
10/17
10/16½ [FL]
19/18
19/20½
637.46
247.33
Tursdale Jn
10/19
10/19
19/16
19/18½ [FL]
634.70
254.53
Durham
10/23
10/25 [FL]
19/11
19/13 [FL]
627.50
268.02
King Edward Bridge South Jn
10/38
10/37 [DM]
19/00
19/04
614.21
268.56
Newcastle
10/40
10/40 [P2] [DM]
18/58
19/02 [P4] [FL]
613.47
270.50
Heaton South Jn
10/43
10/42½ [DM]
18/54
18/59½ [UM]
611.53
285.26
Morpeth
10/52
10/53 [FL]
18/41
18/50
596.77
303.45
Alnmouth
11/06
11/05
18/29
18/41
578.58
319.13
Belford
11/19
11/18 [DM]
18/15
18/27
563.10
335.56
Berwick-upon-Tweed
11/32
11/37
18/05
18/17½ [P1]
546.47
345.78
Reston
11/35
?
17/58
18/12
536.25
351.78
Grantshouse
11/48
?
17/52
18/06
530.25
364.07
Dunbar
12/03
11/50½
17/43
17/58
518.16
375.32
Drem
12*12 ~ 12*24
12.05½ ~ 12.21 [DPL]
17/36
17/51
506.71
383.27
Prestonpans
12/29
12/27
17/26
17/46
498.76
386.77
Monktonhall Jn
12/35
12/30
17/20
17/41
495.26
389.53
Portobello Jn
12/39
12/34
393.12
Edinburgh Waverley
12L45a
12.51 [P11]
| | | | |
| --- | --- | --- | --- |
| M.C | Location | Booked | Actual |
| 393.12 | Edinburgh Waverley | 13L11d [P11] [Dn Sth] | 13.53 |
| 394.31 | Haymarket | 13/15 | 13/59 [P4] [Dn Sth] |
| 395.40 | Haymarket West Jn | 13/16 | 14/02½ |
| 401.54 | Newbridge Jn | 13/21 | 14/12 |
| 412.50 | Bathgate | 13/34 | 14/27 |
| 425.29 | Drumgelloch | 13855 | 14/44 |
| 426.37 | Airdrie | 14/01 | 14/48 |
| 428.32 | Sunnyside Jn | 14/05 | 14/53 |
| 436.43 | High Street Jn | 14/25 | 15/08 |
| 439.00 | Shields Jn | 14/35 | 15/17 [Chord Line] |
| 439.33 | Shields Depot | 14.39 ~ 14.54 [No'1 Line] | 15.19½ ~ 15.30 [No.1 Line] [Chord Line] |
| 439.66 | Shields Jn | 15/00 | 15/32 |
| 440.19 | Terminus Jn | 15/01 | 15/34½ |
| 441.00 | Larkfield Jn | 15/03 | 15/38 [SL] |
| 443.49 | Rutherglen East Jn | 15/09 | 15/43½ |
| 450.07 | Langloan Jn | 15/17 | 15/54 |
| 541.05 | Whifflet South Jn | 15/25 | 15/56 |
| 453.29 | Mossend North Jn | 15/30 | 16/02½ |
| 453.64 | Mossend East Jn | 15/31 | 16/03½ |
| 454.61 | Holytown Jn | 15/33 | 16/05 |
| 461.56 | Shotts | 15/40 | 16/13 |
| 464.37 | Benhar Jn | 15/43 | 16/16 |
| 476.38 | Midcalder Jn | 15/56 | 16/32 |
| 485.67 | Slateford Jn | 16/07 | 16/47 |
| 486.35 | Craiglockhart Jn | 16/09 | 16/49 |
| 491.48 | Niddrie West Jn | 16/23 | 17/00 |
| 492.23 | Niddrie South Jn | 16/28 | 17/12 |
| 493.19 | Millerhill Yard Jn | 16L43 ~ 17L13 | 17.14 ~ 17.33 [SDG F6] |
Timings continue in first table.



Back to "The Railtour Files"