8th September 2010
Railway Touring Company
The Dorset Coast Express
| | |
| --- | --- |
| Locos Used | 37706 & steam: 44932 & 60019 'Bittern' |
| Stock Used | (4) (99035+) 5171+3093+99316+3136+99121+99125+99348+1861+5216 (+17013) (4) |
Route :
1Z96 : London Victoria to Weymouth
1Z97 : Weymouth to London Waterloo
| | |
| --- | --- |
| Loco(s) | Route |
| 44932 (2) | London Victoria - (2) Stewarts Lane Jn - Longhedge Jn - Clapham Junction - Barnes - Brentford - Hounslow - Feltham - Staines - Virginia Water - Addlestone Jn - Byfleet & New Haw - Woking - Farnborough (Main) - Basingstoke - Worting Jn - Winchester - Eastleigh - Northam Jn - Southampton Central - Redbridge - Brockenhurst - Bournemouth - Poole - Wareham - Dorchester South - Weymouth |
| 60019 (3) | Weymouth - (reverse of outward route) - Byfleet & New Haw - Surbiton - Wimbledon - Clapham Junction - Queenstown Road (Battersea) - London Waterloo |
Notes :
(1) 44932 substituted for booked 30777 'Sir Lamiel' which was on loan to the North Norfolk Railway.
(2) 37706 provided banking assistance from Victoria station to Grosvenor Bridge. Train then stopped at Stewarts Lane Jn to check dragging brakes on rear coaches.
(3) 44932 on rear from Weymouth to Wareham.
(4) POB 99035 only in formation when 44932 was on the train and 17013 only in formation when 60019 was on the train.
Sources : Nick Bartlett (on the train throughout) & Neil Kearns



Photo Review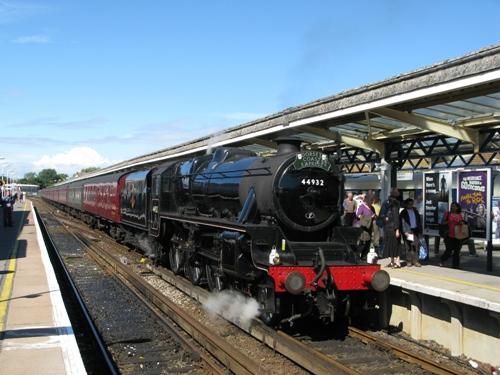 44932 on arrival at Weymouth...what nice weather! (photo: Nick Bartlett)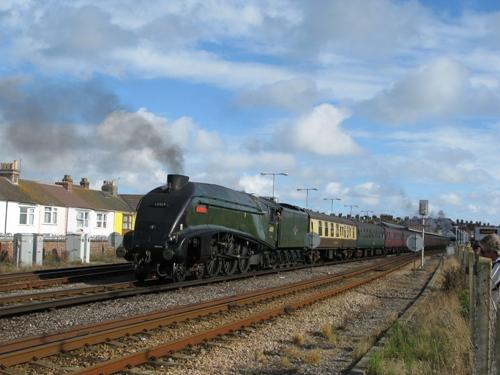 60019 waiting to leave Weymouth on the return leg (photo: Nick Bartlett)


Timings (Booked & Actual)
(from Neil Kearns & Nick Bartlett)
Location
Booked
Actual
Booked
Actual
Victoria
08.45d [P2] [FL]
08.45 [P2] [FL]
Grosvenor Bridge Jn
08/48
08/48
Stewarts Lane Jn
08/51 [RVL]
08/51 [RVL]
Longhedge Jn
08/56
09/13
Waterloo
20.50a [P16]
20.57 [P17]
Nine Elms Jn
20/44 [RVL]
20/51 [RVL]
Queenstown Road (Battersea)
20/42 [P2] [RVL]
20/49 [P2] [RVL]
Clapham Junction
09/01 [P5] [FL]
09/17 [P5] [FL]
20/39 [P8] [MFL]
20/45 [P8]
Barnes
09/08 [P3]
09/24
Chiswick
09.11a ~ 09.13d
09.28 ~ 09.29
Brentford
09/16 [P2]
09/33 [P2]
Hounslow
09/22 [P2]
09/37 [P2]
Feltham Jn
09/24
09/40
Feltham
09/26 [P2]
09/42 [P2]
Staines
09.32a ~ 09.34d [P2]
09.50 ~ 09.53 [P2]
Virginia Water
09/45 [P4]
10/02 [P4]
Addlestone Jn
09/53
10/11
Wimbledon
20/33 [P6] [FL]
20/41 [P6] [FL]
New Malden
20/30 [P2] [FL]
20/38 [P2] [FL]
Surbiton
20/28 [P2] [FL]
20/34 [P1] [SL]
Hampton Court Jn
20/27 [FL]
20/33 [SL]
Weybridge
20/22 [P2] [FL]
20/27 [P2] [FL]
Byfleet & New Haw
09/56 [SL]
10/15 [SL]
20/19 [SL]
20/25 [SL]
Woking
10.03a ~ 10.06d [P5] [SL]
10.23 ~ 10.26 [P5] [SL]
20.11a ~ 20.14d [P1] [SL]
20.16 ~ 20.19 [P1] [SL]
Woking Jn
10/07 [SL]
10/28 [SL]
20/10 [SL]
20/15 [SL]
Brookwood
10/12 [P2] [SL]
10/34 [P2] [SL]
19w56 ~ 20w06 [P1] [SL]
20.00 ~ 20.10 [P1] [SL]
Pirbright Jn
10/15 [SL]
10/37 [SL]
19/54 [SL]
19/56 [SL]
Farnborough (Main)
10/19 [P2] [SL]
10/41 [P2] [SL]
19/49 [P1] [SL]
19/52 [P1] [SL]
Fleet
10/22 [P2] [SL]
10/44 [P2] [SL]
19/44 [P1] [SL]
19/47 [P1] [SL]
Winchfield
10w26 ~ 10w37 [SL]
10.48 ~ 10.56 [SL]
?
?
Basingstoke
10.47a ~ 10.49d [P1] [SL]
11.09 ~ 11.09 [P1] [SL]
19.28a ~ 19.30d [P4] [SL]
19.27 ~ 19.29 [P4] [SL]
Worting Jn
10/55
11.15 ~ 11.22
19/19 [SL]
19/21 [SL]
Winchester
11/12 [P2]
11/38 [P2]
19/02 [P1]
19/03 [P1]
Shawford Jn / Shawford
11/16 [FL]
11/41 [FL]
18/57 [P1]
18/57 [P1]
Allbrook
?
?
18/49 [SL]
18/49 [SL]
Eastleigh
11/23
11/44 [FL]
18w36 ~ 18w47 [FL]
18.36 ~ 18.46 [P1] [SL]
St Denys
11/33 [P2] [SL]
11/49 [P2] [SL]
18/27 [P1]
18/28 [P1]
Northam Jn
11.37 ~ 11.50
11.51 ~ 11.56
18/24
18/27
Southampton Central
11/54 [P4] [FL]
12/03 [P4] [FL]
18c18 ~ 18c21
18/24 [FL]
Millbrook
?
?
18/07 [P1]
18/23 [FL]
Redbridge
11/58 [P2]
12/07 [P2]
18/05 [P1] [SL]
18/21 [P1]
Brockenhurst
12/09 [P3]
12/20 [P3]
17/53 [P2]
18/08 [P2]
Bournemouth
12.27a ~ 12.29d [P4]
12.39 ~ 12.41 [P3]
17.33a ~ 17.35d [P2]
17.47 ~ 17.49 [P2]
Branksome
12/35 [P2]
12/46 [P2]
17/29 [P1]
17/36 [P1]
Poole
12/44 [P2]
12/52 [P2]
17/23 [P1]
17/31 [P1]
Hamworthy
12/51 [P2]
12/56 [P2]
?
?
Wareham
12w57 ~ 13w09 [P2]
13.02 ~ 13.13 [P2]
17L09 ~ 17L15 [P1]
17.12 ~ 17.19 [P1]
Wool
13/16 [P2]
13/20 [P2]
17/02 [P1]
17/06 [P1]
Moreton
13/22 [P2]
13/26 [P2]
16/57 [P1]
17/02 [P1]
Dorchester South
13/28 [P1]
13/33 [P2]
16.49a ~ 16.50d [P1]
16.54 ~ 16.55 [P1]
Dorchester Jn
13/29
13/34
16/48
16.48 ~ 16.51
Weymouth
13.38a [P2]
13.45 [P2]
16.35d [P2]
16.35 [P2]