21st August 2010
UK Railtours
The Ness Monster
| | |
| --- | --- |
| Locos Used | 66710 & 73204 'Janice' |
| Stock Used | 17015+3097+3149+3120+3069+1813+5341+4902+5322+5276 |
Route :
1Z40 : London Bridge to Sheerness-on-Sea
1Z41 : Sheerness-on-Sea to Dungeness
1Z42 : Dungeness to London Marylebone
1Z43 : London Marylebone to Woking
| | |
| --- | --- |
| Loco(s) | Route |
| 73204 (1) | London Bridge – Peckham Rye – Denmark Hill – Nine Elms Jn – London Waterloo |
| 66710 (2) | London Waterloo – Latchmere No 1 Jn – Kensington Olympia |
| 73204 (1) | Kensington Olympia – Longhedge Jn – Factory Jn – Denmark Hill – Shortlands Jn – Bickley Jn – St Mary Cray Jn – Swanley – Gillingham – Western Jn – Sheerness-on-Sea |
| 66710 (2) | Sheerness-on-Sea – Sittingbourne – Margate – Ramsgate – Sandwich – Dover Priory – Folkestone Central – Ashford International |
| 73204 (1) | Ashford International – Appledore – Dungeness |
| 66710 (2) | Dungeness – Appledore – Ashford International – Tonbridge – Sevenoaks – Petts Wood Jn – Bickley Jn – Shortlands Jn – New Beckenham – Lewisham – Denmark Hill – Factory Jn – Longhedge Jn – Clapham Junction (W) – Barnes – New Kew Jn – Kew East Jn – Acton Canal Wharf – Neasden Jn – Signal ME536 |
| 73204 (1) | Signal ME536 – London Marylebone |
| 66710 (2) | (3) London Marylebone - Signal ME536 (6) |
| 73204 (1) | Signal ME536 (6) - Neasden South Jn - Acton Wells Jn - Kew East Jn - Brentford - Hounslow - Feltham - Staines - Virginia Water - Byfleet & New Haw - Woking (3) |
Notes :
(1) 66710 on rear.
(2) 73204 on rear.
(3) There was an option of going on the move to get the stock back to Eastleigh, which was run as a passenger train as far as Woking.
(4) John Clifford adds: There is little that I can add to the report which you have except to say that when the tour was first advertised the initial route from London Bridge was: London Bridge - New Cross - Ladywell Loop - Hayes (R) - Lewisham - Nunhead - Linford Street - Waterloo then as we finally did. Hayes was omitted due to time constraints. The timings that I have show a stop in Faversham Down reception but we ran through platform 4 at Faversham direct onto the Ramsgate line.
Sources : Julian D Whitby & John Clifford



Tour Review
(by Julian D Whitby)
Well the day started a bit badly for me, as I went to South Bermondsey to video the ECS from Eastleigh passing through. I didn't get the 0803 from London Bridge, opting for the 0811 instead. What a bad idea, as the ECS passed me just outside London Bridge! Straight back to London Bridge on the next EMU then!
As I arrived back at London Bridge, the sight of 73204 at the country end of the stock was most welcome, as it was my last 73/2 to get for all-time sight. 66710 was at the other end at the blocks of platform 13. Of course, it was now time for some photos before getting on board in coach H, for a right time departure.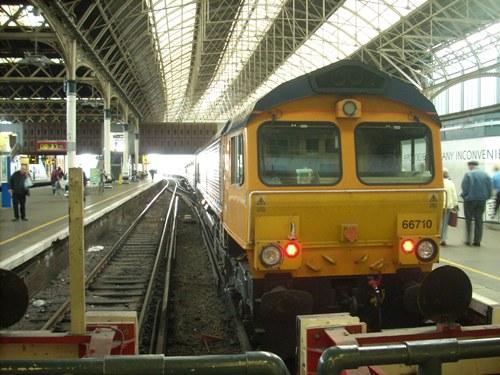 66710 at the 'stops' of London Bridge (photo: Julian Whitby)
The journey to London Waterloo was fairly uneventful, with the entire time spent following the route in the Quail and colouring in the track I needed as we went along. Shortly before we left, we noticed the BTP's presence and their escorting someone away from the train. Off to Kensington Olympia right time and I finally got to hear the sounds of one of our locos for the day, 66710.
Following the route in the Quail and colouring in new track was the order of pretty much the entire day. Stupendously rare track, these days, in the form of the curve at Latchmere, and one of the highlights of the day personally. At Kensington, we were treated to the sight of 35028 'Clan Line' on a test run, with a DBS 66 on the rear for insurance. It was certainly nice to see Clan Line back in action, following its problems earlier in the year. Off we went slightly early and with 73204 leading to Sheerness, leaving us poor souls at the back with no loco to listen to for another couple of hours.
More rare track in the form of some bits around Factory Junction, with my pen being wielded again! For most of the day, I was also noting down actual timings in the booklet, for my own reference and with the intention of writing this review. The journey to Sheerness was a bit dull and uninteresting for me, and we finally arrived there around 12 noon. The break was most welcome, especially with the prospect of not having another leg stretch break for the rest of the tour! The short time here seemed so much shorter than it actually was. Although I found Sheerness-on-Sea so exciting, I'm booking my 2011 summer holiday there (please note, sarcasm should be detected in that statement)!
Off we went, headed for Ashford International via Ramsgate and Dover. On the way there, we were informed there was actually a booked 13 minute stop at Dover Priory, and not 3 minutes as was printed in the booklet. This was welcomed by most of us, especially as it had already been about 2 hours since we had left Sheerness at this point! 13 minutes felt more like 13 seconds, and we were all rushed back on.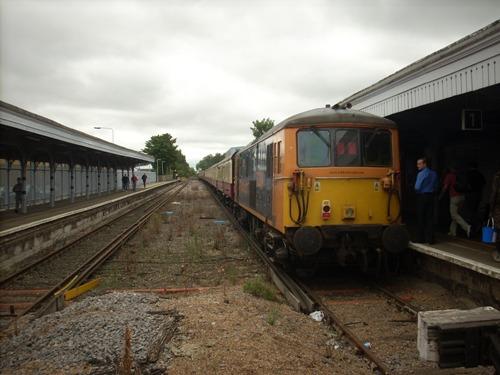 73204 at the stops, Sheerness-on-Sea (photo: Julian Whitby)
On we go then to Ashford.
There was more uneventful running, at least as far as the outskirts of Ashford. We got looped here, reason unknown. Somehow we were already a few minutes late, then an announcement was made to say that we would be looped until further notice, as the local p-way guys were not aware of our arrival with a 66, which was apparently not allowed on the Dungeness branch. This being despite UK Railtours had been there on multiple occasions with 66s!
After what felt like an eternity, during which time we were graced with the passing of two Eurostar sets, the p-way guys permitted the signaller to send us into Ashford International and eventually Dungeness. By now we're rather late, after a moderately swift reversal we left 27 minutes down. The problem now was that 73204 was leading to Dungeness, on diesel power. With only 600hp available on diesel, I was surprised that we managed to attain a moderate speed.
Now, the Dungeness branch is not known for fast running, and sure enough our run was to be no different. The amount of open crossings was, in my opinion, maddening. The constant slowing down to 5mph for the crossings was starting to grate on my nerves. When the realisation dawned that we had to do it all again in the opposite direction, I started dossing! At least on the way back we had 66710 leading, and indeed did all the way to Neasden Junction, so we had some much more serious power at the front to get us moving. It didn't make the journey up the branch any more exciting mind!
Back onto the mainline at Appledore, where plenty of local people seemed to have congregated to watch our train go by. I suppose when your line has a staple diet of 171s, anything loco hauled must be a welcome change! After Ashford, speed was felt again, after what felt to me like weeks of slow running! A South Eastern service was held in the loop at Headcorn for us to pass and recover time. For me, that seemed like the least Network Rail could do, after their guys made us late in the first place! A charging run all the way to Sevenoaks was had, and some time was indeed recovered.
Multiple occasions of us being slowed by local trains occurred now on the rather twisted route to Neasden Junction. The crew change at Barnes allowed also for those passengers who wished to alight to get into Central London for trains home. I considered this option, however the required track in the Kew area was too tempting! Still around 17 minutes late at this point, I was seriously doubting whether I could make it from Marylebone to Paddington for my train home.
Fortunately, some slack timings appeared to be in play in the Kew area, and we eventually reached Neasden Junction only 6 minutes late. Sadly, this did not mean we'd get even remotely close to our booked path, being held for seemingly an eternity waiting for Chiltern services to clear our way. Eventually we headed to Marylebone with 73204 leading.
This was a major problem, as it turned out, again thanks to only 600hp available on diesel mode! We coped OK in Kent, however the 1 in 90 gradient we had to climb on a fairly heavy load plus dead 66 meant we were going very slowly. Obviously this lost us even more time, but we eventually arrived at London Marylebone at 2014 or so, 21 minutes late.
Sadly, there was no time for me to get any photos or video as I would have liked, as I needed to rush to Paddington as fast as I possibly could. Fate was against me, with long queues to get down the stairs due to an escalator not being in action. I made it to Paddington just in time to hear my HST leaving! Thankfully, it wasn't the last one of the day, but a wasted photo opportunity at Marylebone put a bit of a damper on the day.
Overall, however, for track bashing purposes this tour fulfilled my requirements 100%. Getting my last 73/2 for sight was very welcome, indeed it was my first ED for haulage on the mainline. The 66 was also required for haulage and my first GBRf one, so bonus. The unnecessary delays did make for a needless stress for all concerned, although I am grateful the delays were not more significant. My first UKRailtours tour, although I've not yet decided if I'll do another one yet.
Rating for the tour, overall, 7/10
Julian D Whitby



Timings (Booked & Actual)
(from Julian D Whitby & John Clifford)
| | | |
| --- | --- | --- |
| Location | Booked (out) | Booked (rtn) |
| London Bridge | 08.58d | 08.58 |
| South Bermondsey Jn | 09/01 | 09/02 |
| Peckham Rye | 09/04 | 09/06 |
| Crofton Road Jn | 09/05 | 09.07 ~ 09.09 |
| Denmark Hill | 09/06 | 09/11 |
| Voltaire Road Jn | 09/09 | 09/16 |
| Linford Street Jn | 09/10 | 09/17 |
| Nine Elms Jn | 09/15 | 09/18 |
| London Waterloo | 09.24a ~ 09.30 | 09.24 ~ 09.30 |
| Nine Elms Jn | 09/36 | 09/36 |
| Queenstown Road | 09/37 | 09/37 |
| West London Jn | 09/39 | 09/39 |
| Latchmere No.1 Jn | 09/51 | 09.40 ~ 09.41 |
| Kensington Olympia | 09.59a ~ 10.09d | 09.53 ~ 10.08 |
| Latchmere No.1 Jn | 10/15 | 10/14 |
| Longhedge Jn | 10/17 | 10/17 |
| Factory Jn | 10/19 | 10.18 ~ 10.19 |
| Voltaire Road Jn | 10/20 | 10/22 |
| Denmark Hill | 10/24 | 10/27 |
| Crofton Road Jn | 10/25 | 10/28 |
| Nunhead | 10/30 | 10/31 |
| Shortlands Jn | 10/43 | 10/42 |
| Bickley Jn | 10/46 | 10/46 |
| St Mary Cray Jn | 10/47 | 10/47 |
| Swanley | 10/52 | 10/51 |
| Fawkham Jn | 10/58 | 10/56 |
| Sole Street | 11/03 | 11/02 |
| Rochester Bridge Jn | 11/11 | 11/11 |
| Gillingham | 11/20 | 11/20 |
| Western Jn | 11/31 | 11/33 |
| Middle Jn | 11/32 | 11/34 |
| Swale | 11x37 ~ 11x42 | 11.40 ~ 11.42 |
| Queensborough | 11/45 | 11/49 |
| Sheerness-on-Sea | 11x50a ~ 12x16d | 11.55 ~ 12.16 |
| Queensborough | 12.21 ~ 12.24 | 12/23 |
| Swale | 12/29 | 12/29 |
| Kemsley | 12/32 | 12/31 |
| Middle Jn | 12/34 | 12/34 |
| Eastern Jn | 12/35 | 12/35 |
| Sittingbourne | 12/37 | 12/37 |
| Faversham | 12/45 | 12/48 |
| Faversham Down Reception | 12.47 ~ 12.49 | DIV |
| Herne Bay | 13/02 | 13/02 |
| Margate | 13/20 | 13/20 |
| Ramsgate | 13/31 | 13/31 |
| Minster East Jn | 13/36 | 13/36 |
| Sandwich | 13/43 | 13/48 |
| Deal | 13/49 | 13/53 |
| Buckland Jn | 14/01 | 14/06 |
| Dover Priory | 14.06 ~ 14.19 | 14.10 ~ 14.19 |
| Folkestone Central | 14/30 | 14/32 |
| Saltwood Jn | 14/32 | 14/35 |
| Ashford International | 14.42 ~ 14.52 | 15.13 ~ 15.17 |
| Appledore | 15t16 ~ 15t17 | 15.38 ~ 15.39 |
| Lydd Town | 15*45 ~ 15*52 | 16.13 ~ 16.17 |
| Dungeness | 16.00 ~ 16.06 | 16.22 ~ 16.26 |
| Lydd Town | 16*14 ~ 16*22 | 16.34 ~ 16.36 |
| Appledore | 16t52 ~ 16t53 | 17/17 |
| Ashford International | 17/05 | 17/34 |
| Headcorn | 17/19 | 17/45 |
| Paddock Wood | 17/35 | 17/54 |
| Tonbridge | 17/43 | 18/00 |
| Sevenoaks | 17/54 | 18/11 |
| Orpington | 18/04 | 18/21 |
| Petts Wood Jn | 18/06 | 18/23 |
| Bickley Jn | 18/08 | 18/25 |
| Shortlands Jn | 18/11 | 18/28 |
| Beckenham Jn | 18/13 | 18/30 |
| New Beckenham | 18/16 | 18/35 |
| Ladywell | 18/25 | 18/42 |
| Lewisham | 18/27 | 18/45 |
| Nunhead | 18/30 | 18/50 |
| Crofton Road Jn | 18/33 | 18/54 |
| Denmark Hill | 18/34 | 18/55 |
| Voltaire Road Jn | 18/37 | 19/01 |
| Factory Jn | 18/38 | 19/02 |
| Longhedge Jn | 18/46 | 19/05 |
| Clapham Junction (W) | 18/49 | 19/08 |
| Barnes | 18c58a ~ 19c00d | 19.16 ~ 19.17 |
| New Kew Jn | 19/14 | 19/24 |
| Kew East Jn | 19/17 | 19/25 |
| South Acton Jn | 19/20 | 19/29 |
| Acton Wells Jn | 19/25 | 19/36 |
| Acton Canal Wharf | 19/27 | 19/38 |
| Neasden Jn | 19/38 | 19/44 |
| Signal ME536 | 19.40 | 19.55 ~ 20.01 |
| Marylebone | 19.53a ~ 20.15d | 20.14 ~ 20.23 |
| Signal ME536 | 20.26 ~ 20.30 | 20.35 ~ 20.36 |
| Neasden Jn | 20/33 | 20/40 |
| Acton Canal Wharf | 20/38 | 20/47 |
| Acton Wells Jn | 20/40 | 20/50 |
| South Acton Jn | 20/57 | 20/56 |
| Kew East Jn | 21/00 | 20/59 |
| Brentford Central | 21/03 | 21/03 |
| Hounslow | 21/10 | 21/08 |
| Feltham Jn | 21/20 | 21.12 ~ 21.15 |
| Feltham | 21.21a ~ 21.24d | 21.21 ~ 21.23 |
| Staines | 21/30 | ? |
| Virginia Water | 21/41 | ? |
| Addlestone Jn | 21/52 | ? |
| Byfleet & New Haw | 22/10 | ? |
| Woking | 22.16a | ? |