26th & 28th June 2010
Steam Dreams
The Cornish Riviera
| | |
| --- | --- |
| Locos Used | at least D1015 'Western Champion' & steam: 5029 'Nunney Castle' & 6024 'King Edward I' |
| Stock Used | 5171+5200+1840+13440+9104+99121+99127+1961+5237+5236+5249 (2) |
Route :
1Z27 : Paddington to Exeter St Davids
1Z28 : Exeter St Davids to Par
1Z30 : Par to Penzance
1Z31 : Penzance to Bristol Temple Meads
1Z32 : Bristol Temple Meads to Paddington
| | | |
| --- | --- | --- |
| Date | Loco(s) | Route |
| 26/06 | 6024 | London Paddington - Southall - Slough - Maidenhead - Reading - Southcote Jn - Bedwyn - Heywood Road Jn - Westbury - Fairwood Road Jn - Clink Road Jn - Frome - Blatchbridge Jn - Castle Cary - Cogload Jn - Taunton |
| 26/06 | D1015 + 6024 | Taunton - Exeter St Davids |
| 26/06 | 6024 + 5029 | Exeter St Davids - Newton Abbot - Totnes - Plymouth - Liskeard - Par |
| 26/06 | D1015 | Par - Truro - St Erth - Penzance |
| 28/06 | 5029 + 6024 | Penzance - (reverse of outward route) - Cogload Jn - Bridgwater - Uphill Jn - Worle Jn - Bristol Temple Meads - North Somerset Jn - Bath Spa - Chippenham - Swindon - Didcot Parkway - Reading - (reverse of outward route) - London Paddington |
Notes :
(1) A fire (hot axlebox?) on the generator car at Colthorp near Theale caused significant delays on the outward leg. 6024 was also 'suffering from steaming problems' on the outward leg, resulting in unplanned assistance being provided from Taunton to Exeter by D1015.
(2) Support coaches 35333+35461 also used - on 28/06 they were immediately behind the locos (i.e. 35461+35333+5249+...)
(3) Route & loco confirmation required - above is as booked.
Sources : Mike Hunt, Neil Kearns & Mike Burnitt



Photo Review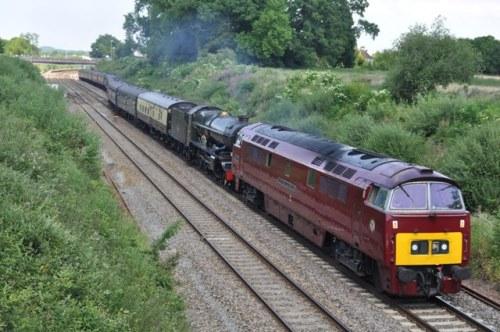 Photographed from a minor road overbridge, D1015 pilots 6024 away from
Willand, en-route to Exeter (photo: Paul Brankin)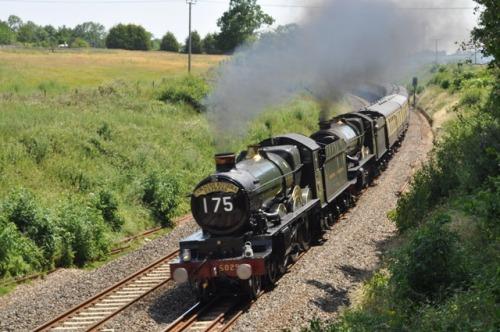 Photographed from another minor road overbridge about ¼ of a mile south
at Cullompton, 5029 and 6024 pass Paul Brankin on the return leg.


Timings (Booked & Actual)
(from Mike Hunt & Neil Kearns)
Location
Booked
Actual
Booked
Actual
Paddington
09.07d
09.06
20.22a
20.53
Ladbroke Grove
09/10
09/12
20/18
20/48
Acton West
09/15
09/17
20/15
20/43
Ealing Broadway
09/18
09/17
?
?
Southall
09/22
09/22
20/12
20/35
Airport Jn
09/28
09/27
20/10
20/32
Slough
09/36
09/35
20/04
20/26
Maidenhead
09/46
09/41
19/58
20/19
Twyford
09/54
09/47
19/49
20/08
Twyford West Jn
09/55
09/49
?
?
Reading
10.01a ~ 10.02d
10.05 ~ 10.10
19/42
20/03
Reading West Jn
19/41
20/01
Didcot East Jn
19/25
19/46
Didcot Parkway
19/21
19/45
Foxhall Jn
19/20
19/28
Wantage Road
18.51 ~ 19.13
19.00 ~ 19.22
Challow
18/46
18/55
Uffington
18/43
18/53
Swindon
18/32
18/44
Wootton Bassett Jn
18/25
18/39
Chippenham
18/11
18/28
Thingley East Jn
18/07
18/27
Bathampton Jn
17/57
18/18
Bath Spa
17/54
18/14
North Somerset Jn
17/41
18/01
Bristol East Jn
17/40
18/00
Bristol Temple Meads
15.25a ~ 17.38d
15.27 ~ 17.58
Bristol West Jn
15/23
15/25
Parson Street
15/21
15/23
Nailsea
15/14
15/13
Yattom
15/08
15/07
Worle Jn
15/06
15/02
Uphill Jn
15/03
15/00
Bridgwater
14/49
14/45
Southcote Jn
10/05
10/16
Newbury
10.25 ~ 10.51
11.01 ~ 11.24
Bedwyn
11/07
11/42
Woodborough
11/20
12/01
Lavington
11/30
12/10
Heywood Road Jn
11/36
12/18
Westbury
11/38
12/20
Fairwood Jn
11/40
12/24
Clink Road Jn
11/44
12/30
Frome
11.47 ~ 12.01
12.33 ~ 12.49
Blatchbridge Jn
12/04
12/52
East Somerset Jn
12/09
12/57
Castle Cary
12/18
13/05
Somerton GF
12/29
13/13
Athelney Crossing
12/38
13/22
Cogload Jn
12/41
13/24
14/42
14/38
Taunton East Jn
12/46
13/29
?
?
Taunton
12/49
13/58
14/37
14/34
Norton Fitzwarren
12/58
14/01
14/35
14/33
Whiteball
13/07
?
14/26
?
Tiverton Parkway
13/10
14/16
14/22
14/21
Tiverton Loop
13.13 ~ 13.23
14/19
14/20
14/20
Cowley Bridge Jn
13/39
14/33
14/05
14/07
Exeter St Davids
13L41a ~ 15L53d
14.36 ~ 16.33
13.17a ~ 14.02d
13.19 ~ 14.04
Dawlish Warren
16/06
16/44
13/05
13/03
Dawlish
16/09
16/46
13/03
12/59
Teignmouth
16/13
16/49
13/00
12/56
Newton Abbot
16/23
16/53
12/54
12/51
Newton Abbot West Jn
16/23
16/53
12/53
?
Dainton Tunnel
16/30
16/59
12/49
12/48
Totnes
16/36
17/06
12/40
12/42
Aish Emergency Crossover
16/50
17/17
12/31
12/36
Ivybridge
16/55
17/21
12/26
12/31
Hemerdon
16/59
17/26
12/19
12/19
Laira Jn
17/05
17/32
12/12
?
Lipson Jn
17/06
17/31
12/11
12/13
Plymouth
17.10a ~ 18.00d
17.34 ~ 18.14
11.18a ~ 12.07d
11.14 ~ 12.07
St Budeaux Jn
18/14
18/19
11/13
?
Saltash
18/17
18/23
11/09
11/06
St Germans
18/25
18/32
11/00
11/00
Liskeard
18/38
18/51
10/51
10/52
St Pinnock Viaduct East
18/44
18/57
10/44
?
Largin
18/45
18/58
10/43
?
Lostwithiel
18/54
19/10
10/31
10/36
Par
19L05a ~ 19L25d
19.24 ~ 19.44
10/23
10/28
St Austell
?
?
10.01 ~ 10.17
?
Burngullow Jn
19/31
19/50
09/59
?
Probus
19/38
19/57
09/49
?
Truro
19/44
20/07
09/41
09/49
Penwithers Jn
19/45
20/08
?
?
Baldhu
19/49
20/12
?
?
Camborne
20/00
20/22
09/23
09/31
St Erth
20/08
20/31
09/12
09/15
Long Rock
20/13
20/33
09/06
?
Penzance
20.17a
20.40a
09.02d
09.02