12th June 2010
Spitfire Railtours
The Capital Deltic
| | |
| --- | --- |
| Locos Used | 55022 'Royal Scots Grey' & 57601 'Sheila' |
| Stock Used | 3150+3148+99679+99677+99352+99350+3143+1861+99327+99318+5032+5478 |
Route :
1Z55 : Preston to Oxford
1Z56 : Oxford to Preston
| | |
| --- | --- |
| Loco(s) | Route |
| 55022 (1) | Preston - Euxton Jn - Chorley - Lostock Jn - Bolton - Salford Crescent - Ordsall Lane Jn - Deal Street Jn - Manchester Victoria - Miles Platting Jn - Ashton Moss North Jn - Stalybridge - Huddersfield - Mirfield - Thornhill LNW Jn - Horbury Jn - Wakefield Kirkgate - Oakenshaw Jn - Hare Park Jn - South Kirkby Jn - Adwick - Doncaster - (via ECML) - London Kings Cross |
| 57601 (2) | London Kings Cross - Finsbury Park - Hornsey Down Reversing Siding |
| 55022 (1) | Hornsey Down Reversing Siding - Haringay Park Jn - Gospel Oak - Willesden Junction HL - Acton Wells Jn - Acton Main Line - Slough - Twyford - Reading - Didcot East Jn - (via Didcot avoiding line) - Didcot North Jn - Oxford |
| 55022 (1) | Oxford - (reverse of outward route) - Hornsey Down Reversing Siding |
| 57601 (2) | Hornsey Down Reversing Siding - (via Haringay Flyover & Finsbury Park Up Slow Avoiding Line) - London Kings Cross |
| 55022 (1) | London Kings Cross - (via ECML) - Doncaster (3) - Adwick - Hare Park Jn - Wakefield Westgate - Leeds |
| 57601 (2) | Leeds - Morley - Dewsbury - (3) Thornhill LNW Jn - (reverse of outward route) - Lostock Jn - Crow Nest Jn - Wigan North Western - Euxton Jn - Preston |
Notes :
(1) 57601 on rear.
(2) 55022 on rear.
(3) Train was diverted due to a power-failure/signalling problems in the Wakefield area. Booked route was; Doncaster - Shaftholme Jn - Knottingley West Jn - Pontefract Monkhill - Featherstone - Crofton West Jn - Calder Bridge Jn - Wakefield Kirkgate - Thornhill LNW Jn.
Source : Nick Blyth (joined/left the train at Kings Cross), Gordon Lacy, Andy Hoskins, Dave Scarlett & Simon Robinson



Tour Review
(by David Clark)
This tour was advertised as a Preston to London tour with an optional add-on to Cambridge (later changed to Oxford) routed via Manchester Victoria, Huddersfield, Wakefield Kirkgate, and Doncaster and down the ECML to London Kings Cross. From Kings Cross it was going to have an extra mini tour from Kings Cross to Oxford (Cambridge was discarded I believe due to engineering work – Although I may be incorrect in that statement). From a Northerner's perspective (even one now living in South Wales – but very much a proud northerner – you ask my colleagues!!) it was a must.
But why?
- A Deltic in to London Kings Cross and back for £50 (struggle to get a very cheap London ticket for much less than that!!).
- Some Quality East Coast Mother Napier 3000hp thrash!
- And some rare track thrown in too!
A few celebrities have fallen for mother Napier and her delightful engines. Just ask Chris Barrie (of Britain's Greatest Machines – Series 1 - 1950s) and Zontar (of Baby Deltic fame). They have also appeared on a few TV programmes too (Yes Minister for one as I saw the other day – purely by chance too! – and I believe they were heard in "What-ever Happened to the Likely lads" too).
On Friday I made my way "Up North" anticipating a top day ahead the next day. And no, not the football.Come Saturday morning my dad and I did 185151 on the 0600 service to Doncaster arriving 0640. The next train would have got us in to Doncaster at 0730 which I didn't want to risk. Also out of Scunthorpe was a Black 5 on a charter to Chester. But a bit more of that later.
On arrival at Donny we had a lovely cup of tea, and made our way out to platform 1 (where the tour was booked) to get the photo which is associated with Deltics at Doncaster. That of the Deltic waiting for departure from platform 1 to London Kings Cross. However, with the 180 of Grand Central being in P1, we were put in to P3. Shame!
The Deltic was heard as it arrived on Platform 3. Our seats were found and the tour departed at 0801 and carried on down the Slow Lines to Loversall Carr Jn where we were held to allow the 0635 Newcastle to Kings Cross and the 0655 Skipton to London Kings Cross to pass us (one a 91 and the other a HST). Now we were 9 late and accelerated for our onward journey to London. 60074 / 66727 / 66724 were seen in the Doncaster area. We also passed my former workplace – the CSDC!
By Retford we were 3 late, and we carried on going even though we were booked to sit there for 7 minutes. The train which was due to pass us at Retford passed us at Loversall Carr Jn. The speed increased as we passed Retford, Newark North Gate and Grantham (95mph tops of course). At Peterborough 66721 / 66712 / 66711 / 66070 / 66058 / 66053 were seen.
After Stoke Tunnel we kept on the FL, and we passed Peterborough 2 late and carried on down to Huntingdon where we were put on to the USL but came back on to the fast's just after Sandy. During this time the 0700 Newcastle to Kings Cross passed and also the 0912 Peterborough to Kings Cross Class 365 unit! Can you imagine in Deltic service days a 312 unit passing the Deltic in the suburbs of North London? (OK not between Peterborough and Hitchin though!). At Digswell Jn we were put on to the slows and passed through Welwyn Garden City 1 late but by Potters Bar we were 3 late due to following something. Due to being on the SL we were passed by East Coast's 0733 ex Bradford and 0744 ex Harrogate to London Kings Cross and FCC's 0928 ex Cambridge to Kings Cross and the 0856 Kings Lynn to London Kings Cross. Alexandra Palace was passed at 10/29 and at Wood Green South Jn we were put on to the UFL and kept on the FL arriving Kings Cross at 1039. I had hoped for P0. But I was later to find P0 is electric trains only. Platforms 2 and 3 were not occupied by trains, but by a possession.
Quite a few people went out to enjoy the delights of London, whilst some of the Southern contingent boarded for the trip to Oxford. Most of the Southern contingents I know were probably on the Branch Line Society tour with a "Snail (class 40)" to Weaste and the East Lancs Railway. But I'm sure they'd be happy to talk about that one! We departed Kings Cross at 1052 with 57601 at the helm. Well, after Belle Isle we stopped at K309 signal due to the door handle of one of the door handles being in the up right position. After a few minutes, we set off and carried on the FL, and at Holloway South Jn took the SL, and then at Finsbury Park took SL No 2. We stopped to reverse just after Hornsey at MP4.14 (Because there was a bridge right near us with MP4.14! on the wall) on the Down Slow No 2. We set off again with 55022 at the helm for our leg to Oxford and kept on the Down Slow No 2 and joined the Gospel Oak to Barking route at Harringay Park Jn at 11/22. At Gospel Oak we were held for a 378 going towards Stratford. On the T&H and the North London line the new station signs were spotted and between Gospel Oak and Acton Wells Jn a few 378s were spotted. Acton Wells Jn was approached one late but we were held on the bank for a path on to the GWML. Acton Main Line was passed at 11/56 and took the Relief Lines through to Twyford where we went on to the main lines. 66623 was seen at West Drayton. Reading was passed at 12/46 and we carried on to the Main Lines through to Didcot East Jn where we took the route up to Oxford. We were obviously following something as our progress was staggered. However, we did see quite a fair few planes which I presume were part of the Queens Birthday flypast. Quality.
The University City of Oxford Platform 1 was arrived at 1320. It was a major scrum for photos, and we managed to find somewhere no-one else went. After the Deltic had departed for the Up Carriage Sidings we ventured in to the city centre. The weather was hot, and there were lots of people in the city centre. My dad and I ended up going for a cold drink and something to eat in BHS before taking a nice little stroll and getting back to the station.
Just after the 1516 departure to Bournemouth had disappeared, 55022 rolled in to the platform with quite a scramble for photos. Our coach was going to be the 3rd from the front for the entire return with Deltic Haulage. We departed Oxford on platform 1 again at 1524 and as the speed increased so did the thrash and the smoke. Well, where would a Deltic be without thrash and smoke?
From Didcot to Twyford we were booked on the ML, but we were kept on the RL at Didcot East Jn to Acton Main Line Jn. The Speed again was impressive (though never going above 95mph). HSTs and 165s / 166s passed us on the Mains. Fair to say that through most of the stations on both the Eastern Region and Western Region we passed through; numerous people were out in force!
Some photographers I am afraid to say did not do themselves any credit. One guy near Biggleswade was sat down with his legs very very close to the slow Lines. It's no wonder some photographers get bad reputations with Railtours. I have seen it myself also at Scunthorpe when 70013 Oliver Cromwell came in, people were clamouring beyond the station platform limits for photos. Although D9000 also used to come through Oxford regularly on the Virgin Trains Summer Saturday return service from Kent to Birmingham.
66170 / 66125 / 66112 / 66069 were at Acton ML stabling Point. I remember in the not too distant past seeing 56s, 58s, 59s and 60s at the same location. Such is progress!
At Acton Wells Jn we went towards Willesden Jn HL, Kensal Green Jn and again at Gospel Oak we took the T&H towards Harringay Park Jn and came back on to the ECML on the Down Slow No2 and came to a halt at the same place that we had done in the morning (MP 4.14). Officially we were due in to the Hornsey EMU Reversing Sidings, but on the day we didn't. We set off again with 57601 in the lead at 1704 and took the Harringay viaduct – which is quite rare. Normally sole the use of Empty Stock moves in to Kings Cross. Well I enjoyed it! At Harringay we carried on the Up Goods through Finsbury Park and came to a halt at the signal allowing us on to the East Coast Main Line. After a while it transpired that there had been a problem in Kings Cross. 180101 had failed in Kings Cross, so with two platforms out of use, we were struggling for a platform. So, with that in mind we stood outside Kings Cross for a while whilst the service trains all went in to and out of Kings Cross. We finally set off from the signal at 1749 and arrived in to Platform 1 in Kings Cross at 1756. So, with the people clamouring for photos, and people trying to get on / off the tour, we were wondering:
1. What time would we depart Kings Cross
2. How good a path will we get on the East Coast Main Line
3. What time will we get to Donny for our connections to Scunny!!
The whistles were blown, and doors were shut, and we departed London Kings Cross at 1806.
Sing to me my beauties!!!!!!
Gasworks and Copenhagen tunnels came and went, the parts from the exhaust ended up in the vestibules, windows and doors (or anything left open!!) as the speed increased. The white fumes associated with Deltics were seen as we ascended out of Kings Cross "Up North" on proper Deltic routes. Kings Cross panel kept us on the Fast Lines until just before Stevenage where we were put on the slow lines. Here we had the 1810 Kings Cross to Peterborough and the 1815 Kings Cross to Kings Lynn overtake us. Wow nice 365s. They kept us on the Slows until Sandy North Jn where we were put back on to the FL. But at St Neots we were put back on the slows until Connington North Jn. Someone was playing trains!!
On this section we were passed by the East Coast services 1830 departure to Bradford Forster Square, 1835 to Newcastle (Both 91s). At Peterborough we were routed off the Down Fast and in to Platform 5 and up on to the Slows until Stoke Tunnel. Quite a few 66s were seen in Peterborough Yard (DBS / GBRF). We were passed by the 1840 Kings Cross to Hull HST service between Peterborough and Tallington. Stoke Summit was passed with no problems what-so-ever. From Stoke Tunnel we continued through Grantham, Newark Northgate, Retford and Loversall Carr Jn was passed at 20/28 with the speed again getting very near to the 95mph max during certain sections. At Loversall Carr Jn, the 1900 ex Kings Cross to Newcastle was right up our backsides and so by Decoy North Jn something that we had discussed with in our party nearly came to fruition. We thought the tour would end up running parallel with the 1900 ex Kings Cross to Newcastle. Him in to 4 (off the Fast Lines), and us in to 8 (coming off the Slow Lines). At Decoy North Jn we were put on to the Down West Slow No 2 and this allowed the 1900 to Newcastle and the 1903 to Sunderland to pass us whilst the EMT Doncaster to Lincoln service was on the Down West Slow No 1. A few more locos (56 / 66 / 90 / 92) to be viewed and my old workplace of the CSDC! We were held to allow my connecting train to Cleethorpes to go and passed through Doncaster Bridge Jn and arrived Doncaster at 2044 (46 late). The trip from Cleethorpes to Chester which I mentioned earlier was routed from Hexthorpe Jn to Bentley Jn via the Avoiding line. On the day though, this arrived in to Platform 8 at Doncaster. So On platform 4 we had 55022 and on Platform 8 we had 47270. Both in BR Blue - Beautiful. We stood at heard both the 47 and Deltic depart within 5 minutes of each other before saying our farewell to colleagues old and new and finding our train back to Scunny. Lots of smoke and thrash from both!! It was the 2107 back from Donny to Scunny with 144006. Quality Traction. Well that was that. Back to Scunny for a cup of tea, and a nice ride on Sunday back to South Wales on a HST.
I'll say a well done to all the people who made this tour happen – for which there are probably too many to mention, so will just say well done to all! Also, well done to Spitfire Railtours for clamping down on anti-social behaviour which could easily have caused some problems. So well done to them too!
David Clark 2010



Photo Review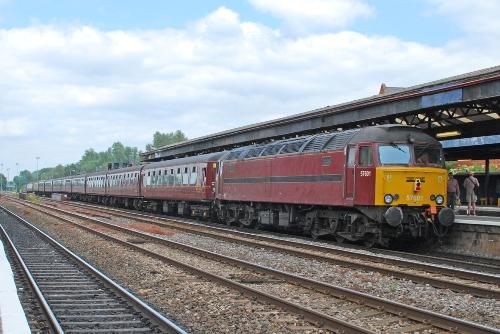 57601 bringing up the rear at Oxford (photo: Nick Blyth)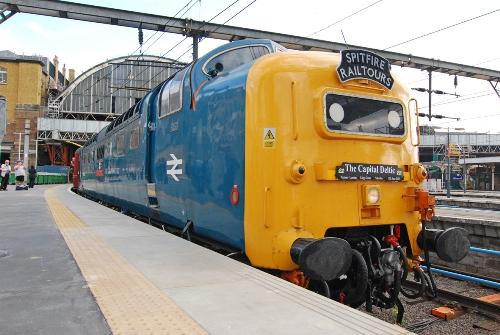 55022 waits to leave Kings Cross for Preston (photo: Nick Blyth)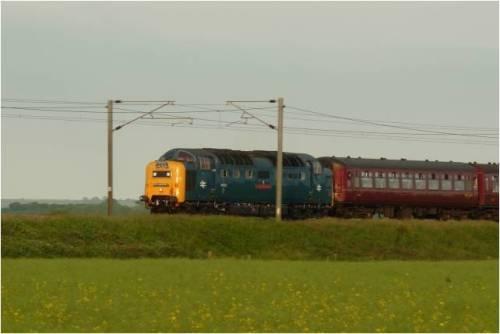 ...and was caught in the evening light north of Claypole (photo: Gordon Lacy)


Timings (Booked & Actual)
(from Simon Robinson & Andy Hoskins)
Location
Booked
Actual
Booked
Actual
Preston
05.00d
05.00
23.01a
00.03½
Euxton Jn
05/07
05/07½
22/55
23/56½
Balshaw Lane Jn
22/53
23/54½
Wigan North Western
22/45
23/44
Wigan Station Jn
22/44
23/43
Crow Nest Jn
22/38
23/38
Chorley
08/11
05/11
Blackrod
05/16
05/16
Lostock Jn
05/19
05/19
22/33
23/33
Bolton
05.23a ~ 05.26d
05.23½ ~ 05.26½
22.27a ~ 22.29d
23.25 ~ 23.26½
Salford Crescent
05/36
05/36½
22/15
23/08½
Ordsall Lane Jn
05/38
05/38½
?
?
Deal Street Jn
05/41
05/41½
22/14
23/04½
Manchester Victoria
05.48a ~ 05.52d
05.44 ~ 05.52
22.10a ~ 22.12d
23.01 ~ 23.02½
Miles Platting Jn
05/56
05/56½
22/07
22/55
Philips Park West Jn
05/57
05/57
22/06
22/54½
Baguley Fold Jn
05/58
05/58
22/05
22/53½
Ashton Moss North Jn
06/04
06/01
22/01
22/50
Stalybridge
06.12a ~ 06.14d
06.13 ~ 06.14½
21.54a ~ 21.56d
22.42½ ~ 22.44½
Greenfield
06/22
06/22½
21/47
22/35½
Diggle Jn
06/25
06/25
21/45
22/34
Marsden
06/33
06/29
21.30 ~ 21.38
22/29
Huddersfield
06.41a ~ 06.43d
06.37 ~ 06.43
21.19a ~ 21.21d
22.14 ~ 22.16½
Heaton Lodge East Jn / Jn
06/54
06/52½
21/13
22/09
Mirfield East Jn
06/56
06/56½
21/10
22/07
Thornhill LNW Jn
06/57
06/58
21/10
DIV
Horbury Jn
07/13
07/04½
21/02
DIV
Wakefield Kirkgate
07.20a ~ 07.22d
07.30 ~ 07.31
20.57a ~ 20.59d
DIV
Calder Bridge Jn
07/24
07/33½
20/54
DIV
Crofton West Jn
07/28
07/37
20/52
DIV
Crofton East Jn
20/46
DIV
Pontefract Monkhill
20/30
DIV
Knottingley West Jn
20/26
DIV
Knottingley South Jn
20/24
DIV
Shaftholme Jn
20/08
DIV
Dewsbury
DIV
22/05½
Morley
DIV
22/00½
Leeds
DIV
21.38 ~ 21.52
Wakefield Westgate
DIV
21.19½ ~ 21.22
Hare Park Jn
07/34
07/41
DIV
?
South Kirkby Jn
07/41
07/48
DIV
?
Adwick Jn
07/44
07/51
DIV
?
Adwick
07/45
07/52
DIV
20/58
Doncaster
07.50a ~ 07.57d
07.59 ~ 08.02
19.58a ~ 20.01d
20.45½ ~ 20.52½
Loversall Carr Jn
08/02
08/13½
19/53
20/28½
Retford
08.14 ~ 08.21
08/25
19/44
20/18
Newark Flat Crossing
08/35
08/39
19/31
20/05½
Newark Northgate
08/36
08/40½
19/30
20/05
Claypole
08/41
08/45½
19/27
20/02
Grantham
08/49
08/53½
19/20
19/56
Stoke Tunnel
08/54
08/58½
19/16
19/52
Tallington
09/05
09/08½
19/04
19/40
Peterborough
09/12
09/15
18/58
19/28
Holme LC
18/52
19/17
Connington South Jn
09/19
09/22
Huntingdon
09/25
09/30
18/44
19/06
Sandy
09/39
09/44
18/34
18/51
Hitchin
09/50
09/55
18/24
18/41
Stevenage
09/53
09/58½
18/18
18/37
Woolmer Green Jn
09/57
10/01
18/14
18/32½
Digswell Jn
10/00
10/03½
18/11
18/31
Welwyn Garden City
10/03
10/04½
18/10
18/30
Potters Bar
10/12
10/16
18/02
18/25
Alexandra Palace
10/22
10/30
17/55
18/16½
Finsbury Park
10/24
10/34
17/52
18/12½
Belle Isle
10/28
10/36½
17/50
18/09½
Kings Cross
10.30a ~ 10.45d
10.39½ ~ 10.53
17.23a ~ 17.48d
17.57 ~ 18.07
Belle Isle
10/47
10.57 ~ 11.03
17/20
17/53½
Holloway South Jn
10/49
11/05½
17/16
17/51½
Finsbury Park
10/52
11/07½
17/14
17/11
Ferme Park
11.01 ~ 11.09
11.11½ ~ 11.16½
Harringay
11/13
11/20
17/12
17/08½
Hornsey
16.59 ~ 17.08
17.02 ~ 17.04½
Harringay Park Jn
11/15
11/22
16/56
16/58
Upper Holloway
11/18
11/25½
16/53
16/54
Junction Road Jn
11/20
11/27
16/51
16/52½
Gospel Oak
11/24
11/30½
16/49
16/50½
Kensal Green Jn
11/40
11/42½
16/40
16/39
Willesden Junction HL
11/43
11/43½
16/36
16.36 ~ 16.37½
Acton Wells Jn
11/46
11/46
16/30
16/33
Acton Main Line
11/55
11/56½
16/27
16/29
Acton West
11/58
11/59
16/25
16/26½
Southall
12/04
12/04½
16/18
16/20
Airport Jn
12/08
12/08
16/13
16/15½
Slough
12/18
12/18½
16/04
16/06½
Slough West Jn
16/03
16/06
Maidenhead
12/28
12/31
15/58
16/00½
Twyford
12/38
12/39
18/54
15/54
Reading
12/46
12/45½
15/49
15/49
Reading West Jn
12/47
12/46½
15/48
15/47½
Didcot East Jn
13/01
12/59
15/36
15/36½
Didcot North Jn
13/02
13/02½
15/35
15/35½
Kennington Jn
13/11
13/14½
15/26
15/29½
Hinksey North
13/14
13/17½
Oxford
13.18a
13.21
15.22d
15.24½