8th May 2010
Mid-Cheshire Rail Users Association
The Great Western Express
| | |
| --- | --- |
| Locos Used | 67010 & 67021 |
| Stock used | 12 coach Riviera Trains set |
Route :
1Z59 : Manchester Piccadilly to Bristol Temple Meads
1Z60 : Bristol Temple Meads to Manchester Piccadilly
| | |
| --- | --- |
| Loco(s) | Route |
| 67010 (1) | Manchester Piccadilly - Slade Lane Jn - Stockport - Northenden Jn - Altrincham - Knutsford - Northwich - Mouldsworth - Chester |
| 67021 (2) | Chester - Crewe - (via WCML, Trent Valley) - Nuneaton - Bedworth - Coventry - Kenilworth - Leamington Spa - Banbury - Aynho Jn - Oxford - Didcot North Jn - Foxhall Jn - Swindon - Wootton Bassett Jn - Chippenham - Bath Spa - North Somerset Jn - Bristol Temple Meads |
| 67010 (1) | Bristol Temple Meads - (reverse of outward route) - Chester |
| 67021 (2) | Chester - (reverse of outward route) - Manchester Piccadilly |
Notes :
(1) 67021 on rear.
(2) 67010 on rear.
(3) There was an option to visit the East Somerset Railway.
(4) It is reported that 67010 was a last-minute substitute for 67025 which had been failed.
Sources : various including Richard Hughes (joined/left the train at Knutsford)



Photo Review

67021 at Chester in the morning (photo: John Cowlishaw)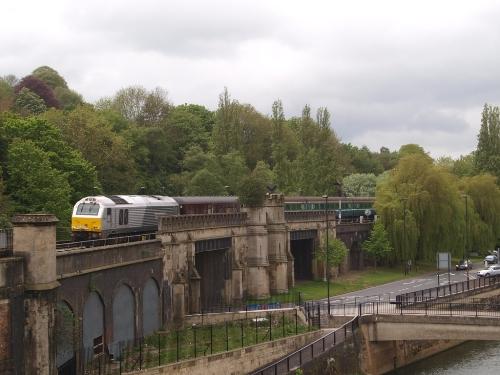 67010 enters Bath with the return leg (photo: John Cowlishaw)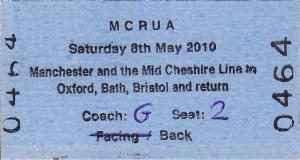 From Bob Mitchell's ticket collection.


Timings (Booked & Actual)
(from various including Richard Hughes & Scott Spencer)
| | | | | | |
| --- | --- | --- | --- | --- | --- |
| Location | Booked | Actual | | Booked | Actual |
| Manchester Piccadilly | 06.22d [P8] [FL] | ? | | 23.05a [P8] | 22.49 |
| Ardwick Jn | 06/24 | ? | | 23/02 | ? |
| Slade Lane Jn | 06/26 [SL] | ? | | 23/00 [FL] | ? |
| Heaton Norris Jn | 06/29 | ? | | 22/46 | ? |
| Stockport | 06.31a ~ 06.34d [P1] [FL] | ? | | 22.40a ~ 22.44d [P3] [SL] | ? |
| Edgeley No.2 | 06/36 | ? | | 22/38 [FL] | ? |
| Cheadle Village Jn | 06/38 | ? | | 22/33 | ? |
| Sharston Jn | 06/40 | ? | | 22/31 | ? |
| Northenden Jn | 06/45 | ? | | 22/30 | ? |
| Deansgate Jn | 06/51 | ? | | 22/24 | ? |
| Navigation Road | 06/52 | ? | | 22/23 | ? |
| Altrincham | 06.56a ~ 06.59d | ? | | 22.19a ~ 22.21d | ? |
| Hale | 07.03a ~ 07.07d | ? | | 22.11a ~ 22.13d | ? |
| Mobberley | 07.13a ~ 07.17d | ? | | 22.02a ~ 22.04d | ? |
| Knutsford | 07.22a ~ 07.25d | ??.?? ~ 07.25 | | 21.55a ~ 21.57d | 21.59 ~ ??.?? |
| Plumley | 07.30a ~ 07.34d | 07.30 ~ 07.33 | | 21.48a ~ 21.50d | 21.52 ~ 21.53 |
| Plumley West SB | 07/36 | ? | | 21/47 | ? |
| Northwich | 07.43a ~ 07.46d | 07.39 ~ 07.46 | | 21.41a ~ 21.43d | 21.44 ~ 21.46 |
| Greenbank | 07.51a ~ 07.55d | 07.52 ~ 07.55 | | 21.34a ~ 21.36d | 21.37 ~ 21.39 |
| Cuddington | 08.02a ~ 08.06d | 08.00 ~ 08.06 | | 21.27a ~ 21.29d | 21.31 ~ 21.33 |
| Mouldsworth | 08.15a ~ 08.19d | 08.17 ~ 08.19 | | 21.16a ~ 21.18d | 21.19 ~ 21.21 |
| Mickle Trafford | 08/26 | ? | | 21/09 | 21/13 |
| Chester | 08.32a ~ 09.02d [P3] | 08.31 ~ 09.02 | | 20.53a ~ 21.03d [P4] | 20.54 ~ 21.07 |
| Beeston Castle SB | 09/16 | 09/16 | | 20/43 | 20/44 |
| Crewe | 09.27a ~ 09.31d [P12] [SL] | 09.32 ~ 09.36 | | 20.28a ~ 20.31d [P11] | 20.29 ~ 20.32 |
| Basford Hall Jn | 09/37 | ? | | 20/25 | 20/24 |
| Madeley | 09/42 | 09/47 | | 20/20 | 20/20 |
| Norton Bridge | 09/53 | 09/56 | | 20/12 | 20/12 |
| Stafford | 09/59 [P4] | 10/03 | | 20/07 [DFL] | 20/07 |
| Trent Valley Jn | 10/00 | 10/05 | | ? | ? |
| Whitehouse Jn | 10/04 [FL] | ? | | ? | ? |
| Colwich | 10/08 | 10/11 | | 19/58 | 20/00 |
| Rugeley North Jn | 10/11 | 10/14 | | 19/54 | 19/58 |
| Lichfield TV North Jn | 10/16½ | ? | | 19/48½ | 19/51 |
| Amington Jn | 10/22 | ? | | 19/43 [FL] | 19/39 |
| Ashby Jn | 10/30 [DSL] | ? | | ? | ? |
| Nuneaton | 10/32 [P2] | 10/39 | | 19/21 [P2] [SL] | 19/22 |
| Chilvers Coton Jn | 10/34 | ? | | 19/19 [UB] | ? |
| Hawkesbury Lane | 10/40 | 10/47 | | 19/03 | 19/03 |
| Three Spires Jn | 10/42½ | ? | | 19/00 | 19/00 |
| Coundon Road LC | 10/46 | 10/52 | | 18/57 | 18/57 |
| Coventry | 10/53 [P2] | 10/56 | | 18/53 [P3] | 18/54 |
| Gibbet Hill Jn | 10/58 | ? | | 18/44 | ? |
| Kenilworth | 11/00 | 11/04 | | 18/42 | ? |
| Milverton Jn | 11/05½ | ? | | 18/36 | 18/36 |
| Leamington Spa | 11/08 [UM] | 11/10 | | 18/32 [DM] | 18/30 |
| Fenny Compton | 11/19 | 11/21 | | 18/20 | 18/20 |
| Banbury | 11/26 | 11/28 | | 18/13 | 18/14 |
| Aynho Jn | 11/31 | 11/33 | | 18/09 | 18/10 |
| Heyford | 11/37 [P1] | 11/37 | | 18/05 [P2] | 18/06 |
| Wolvercot Jn | 11/46 | 11/44 | | 17/58 | 17/59 |
| Oxford | 11.51a ~ 11.53d [P1] | 11.49 ~ 11.54 | | 17.52a ~ 17.54d [P2] | 17.52 ~ 17.55 |
| Kennington Jn | 11/57 | 11/58 | | 17/48 | 17/56 |
| Didcot North Jn | 12/04 | 12/05 | | 17/41 | 17/39 |
| Foxhall Jn | 12/06 [ML] | 12/08 | | 17/39 | 17/37 |
| Wantage Road | 12/15 | 12/15 | | 17/33 | 17/30 |
| Challow | 12/17½ | 12/17 | | 17/30 [ML] | 17/28 |
| Uffington | 12/19 | 12/19 | | 17/28 | 17/26 |
| Swindon | 12/27 [P4] | 12/26 | | 17/19 [UML] | 17/19 |
| Wootton Bassett Jn | 12/32½ | ? | | 17/09 | ? |
| Chippenham | 12/40 | 12/37 | | 17/01 | 17/07 |
| Thingley East Jn | 12/41 | ? | | 17/00 | 17/05 |
| Thingley Jn | 12/42 | 12/39 | | ? | ? |
| Bathampton Jn | 12/50 | 12/46 | | 16/53 | 16/57 |
| Bath Spa | 12.53a ~ 12.55d [P1] | 12.49 ~ 12.54 | | 16.47a ~ 16.49d [P2] | 16.49 ~ 16.53 |
| North Somerset Jn | 13/06 | 13/05 | | 16/37 | 16/37 |
| Bristol East Jn | 13/07 [DM] | 13/06 | | 16/36 | 16/36 |
| Bristol Temple Meads | 13.09a [P8] | 13.08 | | 16.34d [P8] [UM] | 16.34 |