27th March 2010
Railway Touring Company
The Palatine
| | |
| --- | --- |
| Locos Used | 47787 'Windsor Castle', 47826 & steam: 60019 'Bittern' |
| Stock Used | 17013+5032+1860+3148+3143+3150+99122+99679+99352+99350+99680 |
Route :
1Z69 : London Euston to Manchester Piccadilly
1Z71 : Manchester Piccadilly to London Euston
Loco(s)
Route
60019 (1)
London Euston -

(via WCML, Northampton, Trent Valley) - Crewe - Sandbach - Wilmslow - Stockport - Manchester Piccadilly

47826 (2)

Manchester Piccadilly - Stockport - Macclesfield - Kidsgrove - Stoke-on-Trent - Stone - Colwich -

(reverse of outward route) - London Euston
Notes :
(1) 47826 on rear.
(2) 47787 on rear.
Sources : Paul Braybrook, Gordon Jakes, Dan Adkins & Solomon Riley



Tour Review
(by Gordon Jakes)
This was my first journey behind Bittern and it was a great success. The facility of the second tender and the consequent lack of water stops made the day much more enjoyable. This is not to say that the train made the sort of progress that Bittern was capable of but given the pathing constraints and the need to avoid any delay to Virgin services etc progress was very good.
The footplate crew were adept at keeping the train moving. In a number of instances the train was brought down to a very slow speed well in advance of red signals such that a complete stop might be avoided. The problem locations were:
1. Approaching Ledburn Jn - a class 350 was pathed from US to UF in front of our train. Bittern's speed was reduced approaching Cheddington (much to the delight of lineside photographers) but a complete stop was avoided thus avoiding unnecessary delay.
2. The train was held in Rugby station for nearly four minutes and then allowed forward on the new Down Slow line towards Brinklow where the DS and DF merge. Progress northwards was leisurely as we were passed by two late running Virgin services on the Down Fast line. However as soon as the second Virgin train cleared Bittern was given the road and accelerated from a rolling start.
3. Bittern was signaled to the DS at Attleborough Jn and unrestricted progress was maintained until the approach to Colwich Jn. At this point Bittern was running a couple of minutes early and more slow speed running was necessary in order to permit a Pendolino to overtake us on the DF and then run in front of us on the two-track section from Colwich Jn. towards Stafford. A complete stop was only just avoided but again Bittern was able to accelerate from a rolling start.
4. From Colwich to Stafford Bittern was routed on the DF but progress was limited by a planned operational stop at Stafford. Bittern must have been the first steam loco to access platform 3 at Stafford for many years.
5. From Stafford to Crewe Bittern was routed on the DS and despite modest speeds Bittern was over five minutes early by the time Basford Hall was reached. A prolonged stop to await booked times through Crewe was inevitable but Bittern still managed to leave Crewe a minute early.
6. Excellent progress was maintained to Wilmslow which was passed nearly ten minutes early. Obviously this degree of early running could not be supported on the approach to Stockport and Manchester. More slow running ensued but Bittern was not brought to a stand until the buffers at Manchester Piccadilly were reached. The arrival at Manchester was 2˝ minutes early and was greeted by large crowds.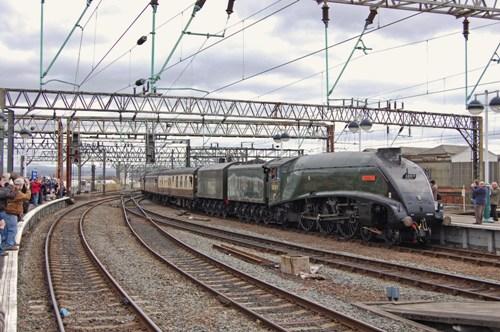 60019 arriving at Manchester Piccadilly (photo: Paul Braybrook)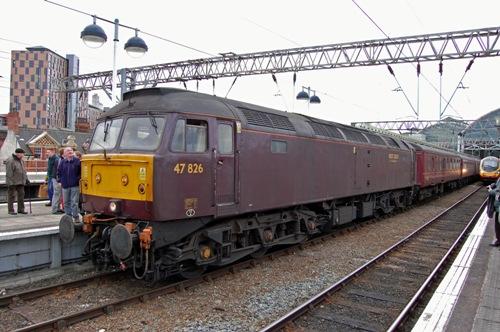 ...and 47826, also at Manchester Piccadilly (photo: Paul Braybrook)
Having mastered the time consuming problem of taking on water, this day makes one dream of taking the operation of steam services on Network Rail a further step forward by decreasing journey times. Despite the lack of water stops Bittern was still reduced to an overall journey time of 5 hours 40 minutes for a total mileage of 191 miles. (33.7mph). This is not a criticism because I understand all the problems of pathing steam services - it is purely an aspiration brought about by the improving quality and performance of a small number of classic steam locos – lead by 60163 but closely followed by Bittern, Oliver Cromwell and Clan Line.
For personal reasons I did not travel with the Palatine back to London – but sat on a hard seat in a speedy but cramped Voyager back home to Stafford
Gordon Jakes



Timings (Booked & Actual)
(from Paul Braybrook & Solomon Riley)
M.C
Location
Booked
Actual
Booked (rtn)
M.C
0.00
London Euston
08.06d [P16] [DS]
08.06˝ [P16] [DS]
20.52a
185.67
1.13
Camden Jn South
08/10
08/12
20/49
184.54
1.54
Camden Jn
08/11
08/13
20/48˝
184.13
5.26
Willesden WL Jn
08/16
08/18
20/45
180.41
8.12
Wembley Central
08/20
08/21
20/40
177.55
11.33
Harrow & Wealdstone
08/25
08/24˝
20/38
174.34
17.37
Watford Junction
08.33a ~ 08.35d [P8]
08.32 ~ 08.36 [P8]
20.30a ~ 20.32d [P7]
168.30
25.43
Bourne End Jn
08/46
08/47
20/22
160.24
31.53
Tring
08/54
08/53˝ [P3]
20/17˝
154.14
37.38
Ledburn Jn
09/02
[Slow] 09/02
20/09˝
148.29
46.57
Bletchley
09/11 [P3]
09/12 [P3]
20/03
139.10
49.68
Milton Keynes Central
09.18a ~ 09.28d [P3]
09.17˝ ~ 09.28 [P3]
19.52a ~ 19.56d [P4]
135.79
56.50
Hanslope Jn
09/39
09/38
19/46
129.17
65.71
Northampton
09.59a ~ 10.20d [P3]
10.01 ~ 10.21 [P3]
19.24a ~ 19.34d
119.76
75.40
Long Buckby
10/34
10/37
19/09
110.27
83.63
Hilmorton Jn
10/45
10/45
19/00
102.04
84.71
Rugby
10/47 [P2]
10.48˝ ~ 10.52 [P2]
18/58
100.76
85.49
Trent Valley Jn
10/49
10/54
18/56
100.18
90.23
Brinklow
10/58 [DF]
11/04 [DF]
18/51
95.44
98.00
Attleborough Jn
11/07 [DS]
11/11˝ [DS]
18/46
87.67
99.41
Nuneaton
11/10
11/13 [P2]
18/44
86.26
118.50
Lichfield TV
11/31
11/29˝
18/27˝
67.17
126.70
Rugeley North Jn
11/38
11/37
18/21˝
59.16
129.41
Colwich
11/43 [DF]
11/43 [DF]
18/18˝
56.26
135.74
Stafford
11.51a ~ 11.56d [P3] [DS]
11.52˝ ~ 11.55
141.19
Norton Bridge
12/05˝
12/03˝
151.72
Madeley Jn
12/18
12/14
158.54
Basford Hall Jn
12/26
[slow] 12/21
160.34
Crewe
12.35a ~ 12.39d [P5]
12.35˝ ~ 12.38 [P5]
161.27
Sydney Bridge Jn
12/45
12/40
165.01
Sandbach
12/51
12/46
177.52
Alderley Edge
13/11
13/01˝
179.22
Wilmslow
13/13 [P3]
13/03˝ [P3]
-
Stone Jn
18/08˝
44.48
-
Stoke Jn
18/01
38.04
-
Stoke-on-Trent
18/00
37.46
-
Kidsgrove
17/52
31.28
-
Congleton
17/47˝
25.60
-
Macclesfield
17.31a ~ 17.38d
17.73
183.02
Cheadle Hulme
13/18
13/12
17/20
8.19
183.77
Adswood Road
13/19 [DF]
13/15˝ [DF]
17/18
7.24
184.67
Edgeley No.1
13/20˝
13/18
17/13
6.34
185.32
Stockport
13/21 [P3]
13/20 [P3]
17/11˝ [P0]
5.69
186.07
Heaton Norris Jn
13/23˝
13/21˝
17/06˝
5.14
188.79
Slade Lane Jn
13/20
13/25
17/03
2.24
190.39
Ardwick Jn
13/32
13/29
17/00˝
0.58
191.21
Manchester Piccadilly
13.25a [P8]
13.32˝ [P8]
16.58d [P7]
0.00