6th March 2010
Vintage Trains
The Doric Olympian
| | |
| --- | --- |
| Locos Used | 47773 & steam: 6201 'Princes Elizabeth' |
| Stock Used | 35470+99349+99361+99353+3125+13227+5198+5177+5157+5191+9101+35465 (1) |
Route :
1Z70 : Birmingham New Street to Kensington Olympia
1Z73 : London Euston to Birmingham New Street
| | |
| --- | --- |
| Loco(s) | Route |
| 47773 | Birmingham New Street - Proof House Jn - Aston - Perry Barr North Jn - Bescot Stadium - Portobello Jn - Wolverhampton - Stafford - Norton Bridge - Madeley - Crewe |
| 6201 (2) | Crewe - (via WCML, Trent Valley & Northampton) - Wembley Central - Sudbury Jn - Willesden No.7 - Willesden WL Jn - Mitre Bridge Jn - Kensington Olympia |
| 6201 (2) | London Euston - (via WCML, Trent Valley & Northampton) - Crewe |
| 47773 | Crewe - (reverse of outward route) - Wolverhampton - Dudley Port - Galton Jn - Soho South Jn - Birmingham New Street |
Notes :
(1) 35465 only in consist when 6201 was on the train.
(2) 47773 on rear.
Source : Dan Adkins



Tour Review
(by Gordon Jakes)
The day was of mixed results. The main issue, that of the performance of 6201, was never in doubt – a steady performance was produced on a day when progress was only made in fits and starts between signal checks. The only unconstrained section was after the water stop at Tamworth on the return journey. Unfortunately this section was carried out after dark and precise timings were not possible. However the 46¼ miles from a standing start at Tamworth to Basford Hall Junction were undertaken in just 44 minutes – an indication of what could have been achieved especially considering the fully loaded 12-coach train plus the dead weight of a class 47 at the rear.
The catering for the premier class coaches was a different matter – the list of issues was lengthy and the complaints were rife!
1. The cooked breakfast was not served until almost midday.
2. The breakfast plates were cold by the time the food was served and the food was only luke-warm (except the baked beans).
3. No reason was given for the delay in serving – there was a gap of over 90 minutes between the cereal and cooked courses.
4. A young lady came round to take the drinks order for the evening meal. She also advised that drinks could be ordered for consumption before arrival at Olympia. These were ordered but did not arrive!
5. On other trains, the drinks ordered to accompany the evening meal were available on-table for the passengers taking their seats on the return journey. On this train drinks were still being served one hour after departure from Euston. Only two people were involved in serving the drinks (including the Chef) and they seemed incapable of carrying more than one order at a time – whatever happened to trays?
6. The evening meal was worse in terms of serving times – the main course was not served until nearly two hours after the soup. However the food quality was better than at breakfast and was served hot on hot plates. The desert pie was poor and poorly presented as a mush. Coffee was not served in time to drink same before arrival at Crewe
7. The lighting in the coach was very limited with no main lights.
8. The train PA was not working and the only advice given regarding progress was in respect of the points failure at Bletchley in the outward journey. Other significant delays went unreported.
9. The door at the end of the coach was not sprung correctly and was left open by the stewardesses. This ensured that the temperature in the coach was cool at best and subject to blasts of cold air.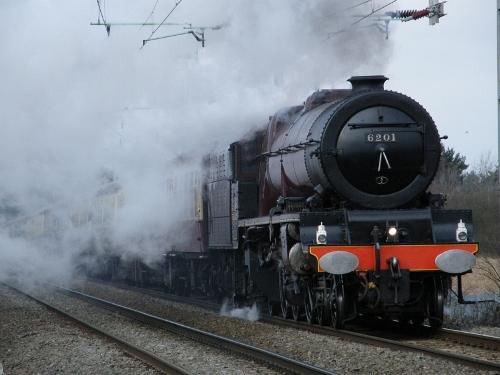 6201 working hard on the approach to Northampton (photo: Dan Adkins)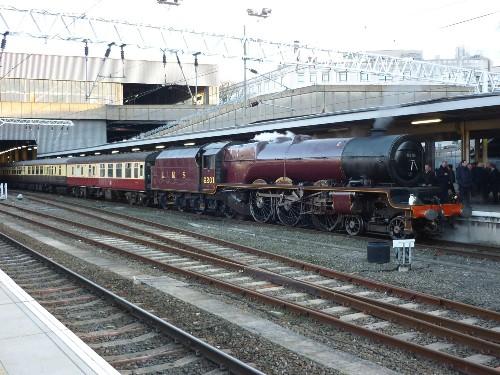 6201 'Princess Elizabeth' & 47773 at Euston (photos: Gordon Jakes)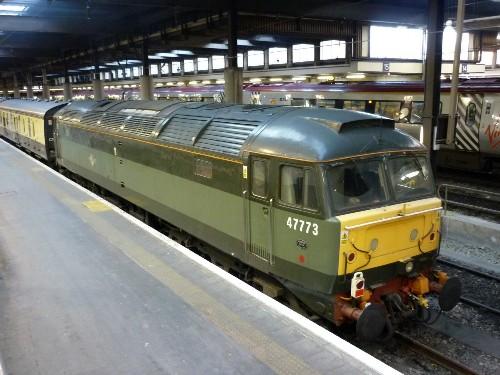 Timings (Booked & Actual)
(from Dan Adkins & Gordon Jakes)
M.C
Location
Booked
Actual
Booked
Actual
M.C
0.00
Birmingham New Street
06.45d [P3]
?
23.32a [P3]
?
28.20
-
Soho South Jn
23/27½
?
?
-
Galton Jn
23/26
?
24.36
-
Dudley Port
23/21½
?
?
?
Proof House Jn
06/47½
?
?
Aston
06/53
?
?
Perry Barr North Jn
0/57½
?
9.35
Bescot Stadium
07/08
?
?
Darlaston Jn
07/10
?
?
Portobello Jn
07/17
?
15.42
Wolverhampton
07.26a ~ 07.28d [P2]
?
23.13a ~ 23.15d [P3]
?
15.25
?
Wolverhampton North Jn
07/29½
?
23/11
?
?
?
Bushbury Jn
07/31
07/31
23/06½
?
?
?
Trent Valley Jn
07/43½
?
?
?
?
30.67
0.00
Stafford
07.45a ~ 07.47d [P6]
07.43 ~ 07.47
22.54a ~ 22.56d [P4]
?
0.00
24.40
5.25
Norton Bridge
07/53
?
22/49
?
19.15
15.78
Madeley
08/02
?
22/38
?
8.42
22.60
Basford Hall Jn
08/10
08/08
22/33
?
1.60
24.40
0.00
Crewe
08L14a ~ 08L45d [P12]
08.14 ~ 08.45½
21L56a ~ 22L27d [P11]
21.54 ~ ??.?? [P11]
0.00
160.34
1.60
Basford Hall Jn
08/52 [US]
08/52½ [US]
21/50
21/45 [DF]
158.54
8.42
Madeley
08/58
09/02
21/42
?
151.72
19.15
Norton Bridge
09/09
09/12
21/31
?
141.19
24.40
Stafford
09/15 [P4]
09/16
21/24 [P5]
21/25
135.74
24.79
Trent Valley Jn
09/16
09/19
21/23
?
135.35
27.36
Whitehouse Jn
09/30 [UM]
09/33½ [UM]
?
?
132.78
28.52
Milford & Brocton
?
09/35
21/19
? [DF]
129.62
30.73
Colwich
09/34 [UF]
09/37½ [UF]
21/16 [DM]
? [DM]
129.41
33.44
Rugeley North Jn
09/38
?
21/11
?
126.70
41.24
Lichfield TV North Jn
09/46
09/46
21/03
?
119.10
?
Tamworth LL
?
?
20.39 ~ 20.54
?
?
?
Amington Jn
09/55
?
20/36
?
?
55.60
Atherstone
10w03 ~ 10w18
10.05 ~ 10.18
?
20/39
104.54
60.73
Nuneaton
10/28 [P5]
10/26
20/24 [P2]
20/34
99.41
62.34
Attleborough Jn
?
?
20/21
? [DS]
98.00
70.11
Brinklow
?
10/36
20/13
? [DM]
90.23
74.65
Trent Valley Jn
10/48
10/41
19/57
19/45½ [DS]
85.49
75.43
Rugby
10/51 [P6]
[Up Northampton]
10.45 ~ 10.55
[Up Northampton]
19/55 [P6]
19/43½ [P6]
84.71
76.51
Hillmorton Jn
10/53
10/58½
19/53
? [US Bi-Di]
83.63
84.74
Long Buckby
11/05
11/08
19/43
?
75.40
94.43
Northampton
11/17 [UF]
11/21½
19/30 [P2]
19/22
65.71
103.64
Hanslope Jn
11/29
11/31½ [US]
19/17
?
[Down Northampton]
56.50
110.46
Milton Keynes Central
11/36 [P2]
11/40
19/09 [P3]
19/06
49.68
?
Denbigh Hall South Jn
11/39
?
19/03
18.22 ~ 19.01
?
(113.22)
Bletchley UGL / DGL
11w43 ~ 12w28 [UGL]
11.46 ~ 12.48
18w16 ~ 19w00 [DGL]
18.22 ~ 19.01
(47.10)
113.57
Bletchley
12/30 [P4]
12/49½
18/12 [P3]
18.17½ ~ 18.18
46.57
122.76
Ledburn Jn
12/41
13/02
17/59
18/05
37.38
128.61
Tring
12/48
13/10
17/52
17/52
31.53
134.71
Bourne End Jn
12/54
13/15½
17/45
17/45
25.43
142.77
Watford Junction
13/02 [P9]
13/22½
17/36 [P8]
17/34
17.37
149.01
Harrow & Wealdstone
13/08
13/29
17/29
17/26
11.33
152.22
Wembley Central
13/13
13/32½
17/24
?
8.12
153.19
Sudbury Jn
13/16
[Up Willesden Relief]
13/34½
[Up Willesden Relief]
153.45
Wembley Yard South Jn
13/17
13/35
154.27
Willesden No.7
13/20
13/37½
155.11
Willesden WL Jn
13/23
[Up West London]
13/39
[Up West London]
17/20
17/19
5.26
155.44
Mitre Bridge Jn
13/25
13/40½
155.74
North Pole Jn
13/26
13/41
157.67
Kensington Olympia
13.30a [P3]
13.45
-
Camden Jn
17/17
17/14
1.54
-
Camden South Jn
17/14 [DS]
17/13 [DS]
1.13
-
Euston
17.09d [P14] [Line C]
17.09 [P16] [Line C]
0.00