24th February 2010
Railway Touring Company
The Sussex Belle
| | |
| --- | --- |
| Locos Used | 37676 'Loch Rannoch' & steam: 70013 'Oliver Cromwell' |
| Stock Used | 14099+4960+99311+99128+99371+99317 (3) +99316+3093+9392 |
Route : 1Z82 throughout
| | |
| --- | --- |
| Loco(s) | Route |
| 70013 (2) | London Victoria - Brixton - Nunhead - Catford - Shortlands Jn - Bromley South - Bickley Jn - Swanley - Otford Jn - Maidstone East - Ashford International - Rye - Wadhurst - Tunbridge Wells - Tonbridge - Hastings - Sevenoaks - Orpington - Bickley Jn - (reverse of outward route) - London Victoria |
Notes :
(1) Train originally booked for haulage by 34067 'Tangmere'. Return route after Sevenoaks was originally advertised as via Otford & Swanley to Bromley South.
(2) Banked by 37676 for about half a mile out of Victoria station to Grosvenor Bridge.
(3) Reported by John Clifford as 99127 - confirmation required.
Sources : Paul Braybrook, David Morgan & John Clifford



Photo Review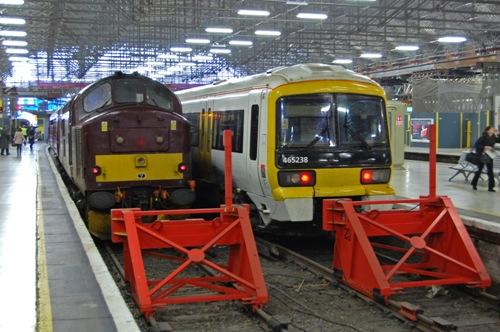 37676 at Victoria, having brought the stock in (photo: Paul Braybrook)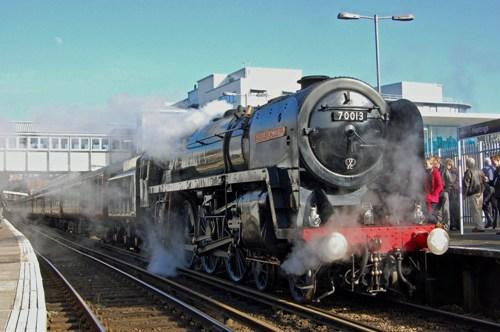 70013 'Oliver Cromwell' being watered at Hastings (photo: Paul Braybrook)


Timings (Booked & Actual)
(from Paul Braybrook & John Clifford)
| | | |
| --- | --- | --- |
| Location | Booked | Actual |
| Victoria | 10.44d | 10.45 |
| Battersea Pier Jn | 10/48 | 10/47 |
| Voltaire Road Jn | 10/50 | 10/49 |
| Brixton | 10/52 | 10/53 |
| Cambria Jn | 10/54 | 10/55 |
| Denmark Hill | 10/55 | 10/56 |
| Crofton Road Jn | 10/57 | 10/58 |
| Nunhead | 11/02 | 11/03 |
| Bellingham | 11/08 | 11/09 |
| Shortlands Jn | 11/14 | 11/16 |
| Bromley South | 11.17a ~ 11.19d | 11.18 ~ 11.19 |
| Bickley Jn | 11/21 | 11/24 |
| St Mary Cray Jn | 11/22 | 11/26 |
| Swanley | 11/29 | 11/33 |
| Otford Jn | 11/41 | 11/45 |
| Maidstone East | 11/56 | 12/04 |
| Lenham DL | 12w10 ~ 12w25 | 12.21 ~ 12.30 |
| Lenham | 12/26 | 12/31 |
| Charing | 12/34 | 12/36 |
| Ashford International | 12/41 | 12/44 |
| Appledore | 13/06 | 13/07 |
| Rye | 13/17 | 13.18 ~ 13.19 |
| Ore | 13/37 | 13/37 |
| Hastings | 13w41 ~ 13w55 | 13.39 ~ 13.57 |
| Bopeep Jn | 14/00 | 14/03 |
| Mountfield Tunnel | 14/16 | 14/22 |
| Robertsbridge | 14/19 | 14/24 |
| Wadhurst | 14/40 | 14/38 |
| Stawberry Hill Tunnel | 14/19 | 14/44 |
| Tunbridge Wells | 14/54 | 14/47 |
| Wells Tunnel Jn | 14/57 | 14/48 |
| Somerhill Tunnel | 15/04 | 14/54 |
| Tonbridge | 15/13 | 14/59 |
| Sevenoaks | 15/24 | 15.11 ~ 15.24 |
| Orpington | 15/34 | 15/35 |
| Petts Wood Jn | 15/36 | 15/37 |
| Bickley Jn | 15/38 | 15/39 |
| Bromley South | 15.41a ~ 15.44d | 15.45 ~ 15.46 |
| Shortlands Jn | 15/57 | 15/48 |
| Bellingham | 15/50 | 15/50 |
| Nunhead | 15/54 | 15/55 |
| Crofton Road Jn | 15/57 | 15/57 |
| Denmark Hill | 15/58 | 15/58 |
| Cambria Jn | 15/59 | 15/59 |
| Brixton | 16/04 | 16/04 |
| Voltaire Road Jn | 16/06 | 16/06 |
| Battersea Pier Jn | 16/09 | 16/08 |
| Victoria | 16.13a | 16.12 |