19th & 20th February 2010
Statesman Rail
Winter West Highlander
| | |
| --- | --- |
| Locos Used | 47786 'Roy Castle OBE' & 47804 |
| Stock Used | 17080+3231+3188+1659+3314+3345+3344+3340+1250+6054 |
Route :
1Z53 : Birmingham International to Fort William
1Z54 : Fort William to Birmingham International
| | | |
| --- | --- | --- |
| Date | Loco(s) | Route |
| 19/02 | 47804 (1) | Birmingham International – Stechford – Proof House Jn – Birmingham New Street – Wolverhampton – Stafford – Stone – Stoke-on-Trent – Macclesfield – Stockport – Denton Jn – Philips Park West Jn – Manchester Victoria – Salford Crescent – Bolton – Horwich Parkway – Preston – (via WCML) – Motherwell – Mossend – Whifflet South Jn – Blairhill – Glasgow Queen Street (LL) – Partick – Yoker – Dalmuir – Dumbarton – Craigendoran Jn – Arrochar & Tarbet – Crainlarich – Rannoch – Fort William |
| 20/02 | 47786 (2) | Fort William – Rannoch – Crainlarich – Arrochar & Tarbet – Craigendoran Jn – Dumbarton – Dalmuir – Westerton – Summerston – Cowlairs – Springburn – Gartcosh – Coatbridge Central – Mossend – Motherwell – Carstairs – Lockerbie – Carlisle – Petteril Bridge Jn – (via S&C) – Settle Jn – Hellifield – Clitheroe – Daisyfield Jn – Blackburn – Bamber Bridge – Preston |
| 20/02 | 47804 (1) | Preston – Euxton Jn – Horwich Parkway – Bolton – Salford Crescent – Salford Central – Manchester Victoria – Ashton Moss North Jn – Denton Jn – Heaton Norris Jn – Stockport – Macclesfield – Stoke-on-Trent – Stone – Stafford – Wolverhampton – Birmingham New Street – Proof House Jn – Stechford – Birmingham International |
Notes :
(1) 47786 on rear.
(2) 47804 on rear.
Source : Gordon Jakes



Tour Review
(by Gordon Jakes)
The tour was originally planned to call at Thame Bridge Parkway but the final routing was non stop through Birmingham New Street. This was probably made possible by the 05.25 departure from Birmingham International (an hour earlier than originally planned). Similarly the proposed pick-up at Manchester Piccadilly was changed to Manchester Victoria and the train was routed via Denton Junction and Ashton Moss North Junction.
The route northwards from Manchester was as planned excepting that the route through Glasgow took the unusual route through Glasgow Queen Street (Low Level) and Yoker. There was a stop south of Shieldmuir for 15¼ mins due to the compressor failing on 47804. Brakes were powered from 47786 thereafter.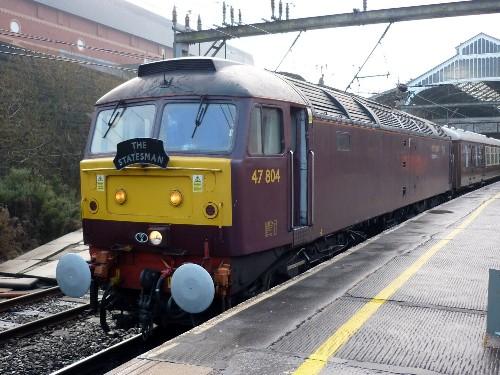 47804 during a pause at Preston on the outward leg (photo: Gordon Jakes)
A delay occurred south of Motherwell when the brake compressor on 47804 failed and the brakes thereafter had to be powered from 47786 at the rear. Although we were only 20 minutes late at Motherwell and no further delay was encountered through Glasgow, unfortunately we lost our planned path on the single line north of Craigendoran Junction. Time was lost awaiting the clearance of the 10.10 service from Mallaig (we were held in the West Highland loop at Craigendoran Junction) and also at Helensburgh Upper (reason not given).
On leaving Helensburgh Upper our train was over 45 minutes late and we were warned of the potential problem of having to complete our journey from Spean Bridge to Fort William by bus/coach. In the event and by virtue of some excellent running this delay was clawed back to 14 minutes by Corrour. Some further time was lost at Tulloch due to the closure of the loop to facilitate platform works and as a consequence arrival at Fort William was 18 minutes late (buses not required). Under the circumstances this was an excellent result.
On the return leg, the train departed Fort William on time and the northbound sleeper train hauled by 67007 was passed at the first token exchange point of Spean Bridge. We were then advised that due to industrial action by Scotrail staff there were no further trains to be passed on the single line as far as Craigendoran Junction. Hence we had the line to ourselves and could proceed without interference. The planned stop at Rannoch was achieved and we were able to proceed at a sedate pace across Rannoch Moor enabling a good view of the many deer in the vicinity.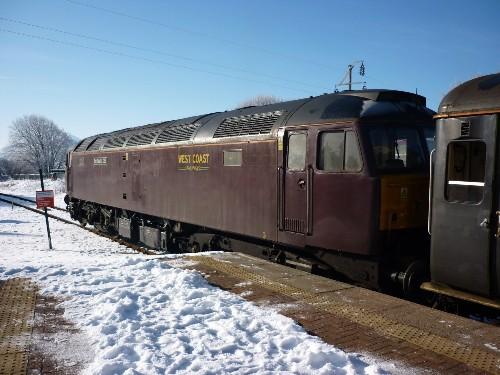 47787 in the sunshine and snow at Rannoch (photo: Gordon Jakes)
The overnight temperature in Fort William (-10ºC) had managed to freeze the water for the hot water boiler in the Kitchen Car. Coffee and tea were thus unfortunately off the menu and an extended stop was necessary at Ardlui to sort out the water system which had by then begun to unfreeze. Arrival at Craigendoran Junction was some eight minutes behind schedule but a clear run through the suburbs of Glasgow meant that arrival at Motherwell was right time.
The route through Glasgow took the conventional sleeper route from Craigendoran Junction as far as Gartcosh Junction whence we turned south to Gartsherrie South Junction, Coatbridge Central and Motherwell. Progress down the WCML to Carlisle was marked only by stops in Carstairs Down Platform and in Abington Up Passenger Loop to facilitate the passage of a Pendolino and a Super Voyager respectively. Arrival at Carlisle was early by some 7 minutes which extended the planned leg-stretch break.
The tour had originally planned to continue southwards down the WCML to Preston but due to engineering work blocking this route we were booked to divert via the Settle and Carlisle route. Traveling over this route was an added benefit but unfortunately by the time Ribblehead was reached dusk had fallen and the remainder of the journey home was concluded in the dark.
Two signal stops approaching Daisyfield Junction and further delay at Farrington Curve Junction and into Preston meant that arrival at Preston was some 15 minutes behind booked time. A smart reversal at Preston and good running en route halved the delay by arrival at Manchester Victoria. The train was on time by arrival at Stockport and despite being looped at Macclesfield to pass a Cross Country Voyager and a signal stop approaching Stone Junction, arrival at Stafford was achieved within two minutes of booked time.
Gordon Jakes



Timings (Booked & Actual)
(from Gordon Jakes)
M.C
Location
Booked
Actual
Booked
Actual
M.C
0.00
Birmingham International
05.25d
?
23.16a
?
126.77
8.18
Birmingham New Street
05/36
?
23/03
?
118.59
21.08
Wolverhampton
05.54a ~ 05.57d
?
22.34a ~ 22.45d [P3]
?
105.69
36.33
Stafford
06.13½a ~ 06.15d
??.?? ~ 06.25
22.15a ~ 22.18d
22.17 ~ ??.??
90.44
41.58
Norton Bridge
06/22
06/35
22/08
22/07½
85.19
45.40
Stone
06/29
06/41
22/03
22/02
81.37
52.49
Stoke-on-Trent
06.39½a ~ 06.42d
06.50½ ~ 06.52
21.50a ~ 21.53d
21.49 ~ 21.50
74.28
59.02
Kidsgrove
06/50½
06/59½
21/43
21/42
67.75
64.50
Congleton
06/55½
07/04
21/38½
21/38
62.27
72.37
Macclesfield
07.03a ~ 07.06d [P1]
07.11½ ~ 07.13½ [P1]
21.22a ~ 21.29d [P3] [U&DPL]
21.24 ~ 21.28 [P3] [U&DPL]
54.40
82.11
Cheadle Hulme
07/18
07/23
21/07
21/06
44.66
83.06
Adswood Road Jn
07/19½
?
?
?
?
83.76
Edgeley Jn No.1
07/21
?
?
?
?
84.41
Stockport
07.22½ ~ 07.25d
07.27 ~ 07.28½
21.00a ~ 21.03d [P1]
20.59½ ~ 21.01 [P1]
42.36
85.16
Heaton Norris Jn
07/28
07/31
20/58 [SL]
20/57½ [SL]
41.61
?
Ash Bridge Jn
?
?
20/55
?
41.00
89.26
Denton Jn
07/37
07/40
20/49
20/50
37.51
91.40
Ashton Moss North Jn SB
07/43
07/45½
20/43
20/45
35.37
95.32
Philips Park West Jn
07/50
07/51
20/37½
20/39½
31.45
97.11
Manchester Victoria
08.07a ~ 08.15d [P6]
07.07 ~ 08.15 [P3]
20.25a ~ ??.??d [P3]
20.33 ~ 20.35½ [P3]
29.66
97.70
Salford Central
08/18
08/17
20/22½ [Up Bolton]
20/31 [Up Bolton]
29.07
98.70
Salford Crescent
08/25½ [P2]
08/26½ [P2]
20/19½
20/29
28.07
107.61
Bolton
08.37a ~ 08.39d [P4]
08.38 ~ 08.41 [P4]
20.00a ~ 20.04d [P3]
20.15½ ~ 20.17 [P3]
19.16
110.50
Lostock Jn
08/43½
?
?
?
?
114.15
Blackrod
08/47½
?
?
?
?
119.31
Chorley
08/52
08/54
19/52
20/03½
7.46
122.42
Euxton Jn
09/00
08/57½
19/48
20/00
4.35
127.77
Preston
09.07a ~ 09.28d
09.06 ~ 09.28
19.29a ~ 19.41d [P3]
19.44 ~ 19.52½ [P3]
0.00
113.27
-
Farington Curve Jn
19/25
19.36 ~ 19.52½
111.58
-
Lostock Hall Jn
19/22
?
110.16
-
Blackburn
19/12½
19/22½
101.16
-
Daisyfield Jn
19/11
19/21
100.49
-
Langho
19/02½
19/07
96.07
-
Clitheroe
18/53
?
90.32
-
Horrocksford Jn
18/48½
?
89.78
-
Hellifield
18/29
18/31
76.64
-
Settle Jn
18/24
18/25
73.40
-
Ribblehead Station (up)
18/11
18/11½
60.64
-
Blea Moor SB
18/08
18/09
59.45
-
Garsdale
17/59
17/59
51.31
-
Ais Gill Summit
17/56
?
48.27
-
Kirkby Stephen
17/47
17/47
41.37
-
Crosby Garrett
17/43
?
38.23
-
Ormside
17/37½
17/36
33.20
-
Appleby
17/35
17/34
30.62
-
Kirkby Thore SB
17/28
17/29
26.02
-
Culgaith Crossing SB
17/25
17/26
23.29
-
Lazonby & Kirkoswald
17/17
17/18
15.34
-
Low House Crossing SB
17/09
17/10½
8.29
-
Howe & Co Sidings SB
17/05½
17/05½
5.07
-
Petteril Bridge Jn
16/59
16/59
0.72
148.75
Lancaster
09/46½
09/47½
150.67
Morecambe South Jn
09/48
09/49
155.03
Carnforth South Jn
09/51
09/52
168.06
Oxenholme
10/02
10/02
(175.16)
Grayrigg DPL
10*09 ~ 10*16
10/10
181.29
Tebay North
10/23
10/15½
200.15
Penrith
10/40
10/32½
218.04
0.00
Carlisle
10.55a ~ 10.58d
10.48 ~ 11.02
16.27a ~ 16.55d [P3]
16.20 ~ 16.55 [P3]
0.00
125.61
8.57
Gretna Jn
11/07½
11/13
16/16
16/11
117.04
(10.13)
Quintinshill DPL
11*11½ ~ 11*22
11.17 ~ 11.28
?
?
?
25.66
Lockerbie
11/38
11/45
16/03½
15/59
99.75
40.11
Beattock North // South
11/49
11/54½
15/53½
15/50
86.22
49.64
Beattock Summit
12/06
12/09
15/46
15/43
75.77
(57.70)
Abington DPL
12*15 ~ 12*25
12/16
15*25 ~ 15*35
15.26½ ~ 15.32
(67.71)
73.13
Carstairs South Jn
12/39
12/27½
15/13
15/09½
52.47
73.49
Carstairs
12/39½ [DM]
12.29 ~ 12.40½ [Loop]
15.02 ~ 15.11 [P2]
15.06½ ~ 15.08 [P2]
52.12
76.12
Lanark Jn
12/41½
12/46
14/59
15/01
49.49
84.14
Law Jn
12/48
12/53
14/50
14/52
41.47
87.59
Shieldmuir
?
13/13
?
?
?
89.38
Motherwell
12c55 ~ 12c57 [P2]
13.20 ~ 13.21 [P2]
14c41 ~ 14c43
14.41 ~ 14.44
36.23
91.08
Mossend South Jn
13/01
13/25
14/38
?
34.44
91.45
Mossend North Jn
13/02
13/25
?
?
?
93.70
Whifflet South Jn
13/08
13/29
14/34
14/34
31.71
-
Coatbridge Central
14/30
14/32
30.74
-
Gartsherrie South Jn
14/28
14/30
29.73
-
Gartcosh Jn
14/25
14/26
28.50
-
Springburn
14/14½
14/16
21.77
-
Cowlairs West Jn
14/12½
14/13
21.34
-
Cowlairs North Jn
14/11
?
21.16
-
Westerton
14/02
14/06½
13.24
95.12
Sunnyside Jn
13/12
13/34
100.36
Shettleston
13/19
13/40
102.78
Bellgrove
13/24½
13/43½
104.13
Glasgow Queen Street LL
13/27
13/46
105.72
Finnieston East Jn
13/30½
13/50½
107.55
Hyndland East Jn
13/36
13/56½
108.74
Scotstounhill
13/38½
13/58
109.32
Garscadden
13/39
13/58½
111.17
Clydebank
13/43
14/00
112.36
Dalmuir
13/46 [P3]
14/03 [P3]
13/55 [P2]
14/01½ [P2]
13.24
118.77
Dumbarton Central
13/53 [P2]
14/13 [P2]
13/47½
13/54
6.68
119.27
Dalreoch
13/54
14/14
13/46½
13/53
6.41
125.65
0.00
Craigendoran Jn
14/03
14.27 ~ 14.44 [WH Loop]
13/38
13/46
0.00
99.38
2.09
Helensburgh Upper
14t08 ~ 14t11
14.49 ~ 14.57
13t31 ~ 13t33
13.39½ ~ 13.41
97.29
8.77
Garelochhead
14t23 ~ 14t27
15.09½ ~ 15.13½
13t10 ~ 13t19
13.26½ ~ 13.28
90.41
15.20
Glen Douglas
14/44
15/27
12/59
13/13
84.16
19.46
Arrochar & Tarbet
14t53 ~ 15t03
15.36 ~ 15.38
12t43 ~ 12t45
12.59 ~ 13.04
79.72
27.44
Ardlui
15/17
15/52½
12/28
12.31½ ~ 12.44
71.74
36.24
Crianlarich
15t41 ~ 15t44
16.10½ ~ 16.14½
12t08 ~ 12t10
12.10 ~ 12.11½
63.14
41.26
Upper Tyndrum
15t57 ~ 16t00
16.26 ~ 16.29
11t54 ~ 11t56
11.55 ~ 11.58
58.12
48.69
Bridge of Orchy
16t16 ~ 16t19
16.42½ ~ 16.43
11t33 ~ 11t35
11.38 ~ 11.39
50.49
64.37
Rannoch
16t49 ~ 16t52
17/09
10t32 ~ 11t10
10.38 ~ 11.06½
35.01
71.55
Corrour
17/09
17/23
10/20
10/24
27.63
81.06
Tulloch
17t28 ~ 17t31
17.41 ~ 17.46
09t57 ~ 09t59
10.01½ ~ 10.03½
17.58
?
Roy Bridge
?
?
?
09/50
12.02
90.57
Spean Bridge
17t46 ~ 17t52
18.02 ~ 18.04
09t33 ~ 09t39
09.33 ~ 09.43½
8.61
98.69
Fort William Jn
18/06
18/24
09/18
09/20
0.49
99.38
Fort William
18.09a
18.27
09.15d
19.16
0.00