19th February 2010
UK Railtours
Locomotion & Weardale Railway Excursion
| | |
| --- | --- |
| Locos Used | 67002 & 67029 |
| Stock Used | 17015+3066+3068+1691+3097+3119+1863+5040+4902+4927+5350+5341 |
Route :
1Z67 : Kings Cross to Shildon
1Z68 : Shildon to Stanhope
1Z69 : Stanhope to Kings Cross
| | |
| --- | --- |
| Loco(s) | Route |
| 67029 (1) | London Kings Cross - (via ECML) - Darlington - North Road - Shildon (3) - Bishop Auckland - Stanhope (4) |
| 67002 (2) | Stanhope - (reverse of outward route) - London Kings Cross |
Notes :
(1) 67002 on rear.
(2) 67029 on rear.
(3) For a break of almost 2 hours to visit 'Locomotion', during which time ex-NS 663 (a Class 08 look alike) gave cab rides in the Yard.
(4) leading loco stopped at the Eastgate end of the run-round loop.
Source : Stuart Smith (joined/left the train at Stevenage)



Tour Review
(by Stuart Smith)
A railtour on a Friday? A railtour to Stanhope? Surely there must be a printing error - or at least that's what I thought when I first read about this tour in the UK Railtours brochure! Not at all, this was going to be the first through train across the full length of the Weardale route since 1994. Yes please, bring it on.
The tour was to be a fairly straight forward run from Kings Cross, along the ECML and turning left at Darlington on to the Bishop Auckland branch. And so to the day itself - Our party of 19 (including wee Logan) boarded behind 67029 for the outward journey and fairly swiftly we made our way North. The speed of the 67 enabled us to keep out of the way of most of the regular East Coast operated service trains, and so only a few stops or the use of loops etc, for 'pathing' were actually required.
The only notable sightings were FGBRf 66705, 725 and 727 at Peterborough, 180114 in full Grand Central colours at York and 60096 on an oil train at Northallerton.
After a brief crew change at Darlington we veered left and made the short trip to Shildon. Here we were given just under 2 hours for the visit to "Locomotion". Several of our party had never been here before (including me) so were expecting to score a few things for sight! All duly produced after a few laps of the 7 road museum building, which is a far cry from the excellent NRM, but worth a visit nonetheless! Outside in the yard were 03090 and ex-NS 663 (a Class 08 look alike), which were game fully employed in a spot of shunting with a ballast wagon. A few of us looked longingly over the fence wondering if a scratch was possible?
Yes it was! Our resident 'Business Manager and Designated Spokesperson' uttered the right words to the right person and a few cab rides were offered along one of the sidings. Duly scratched was Siding no.2. This being the 2nd from the main NR running line and the track adjacent to their normal 'shuttle' line. (A very big thanks to the Locomotion staff concerned for agreeing to this, and hopefully the donations handed over will help in some way). Now only if we could have had the 03 too!!!
So after this, it was back to the station and to re-board the 12 coach train through the 4 coaches that were platformed. Needless to say, we departed late!!!
We continued a little way further to Bishop Auckland and then instead of forking right into the platform road, we continued straight ahead and onto the Weardale route. Excellent. From the timings provided we predicted a stagger along this line... and it certainly lived up to this. Judging by the amount of locals along the trackside, there couldn't have been much else going on in the North-East today, or perhaps it's just that the folk up there are easily pleased. Men, women, children, dogs and a whole host of other creatures lined virtually the whole of the 15mile route.... many waving flags and shouting their appreciation towards the train!!! At Wolsingham we passed the operational base for the line, and noted two Sentinel shunters, 'Grid' 56022 and some Mk1 coaches. It was assumed that any other rolling stock they may have was hidden away in the depot buildings. Finally, a little later than planned, we reached Stanhope and entered Platform 1. (The leading 67 reached the far end of the run-round loop that exists here). A short break was allocated with a variety of trade and sales stands being open and manned by the Weardale Railway Staff. On platform 2 was a model railway layout, and most importantly, a real ale bar located in their buffet coach. This was conveniently coupled to 73139 and some sort of loco that probably goes "poop-poop" a lot.
"Wierd Ale" at 4.4% (no pun intended apparently) was the brew on offer... And very good it was indeed.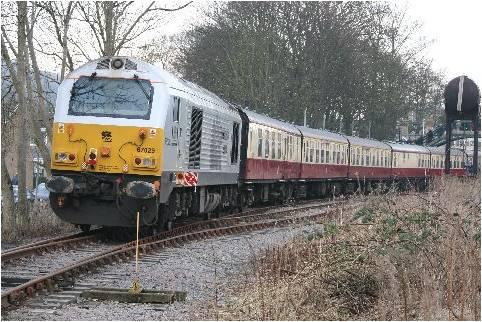 Two shots of the tour, featuring 67029 & 67002 (photos: Mark Hodgson)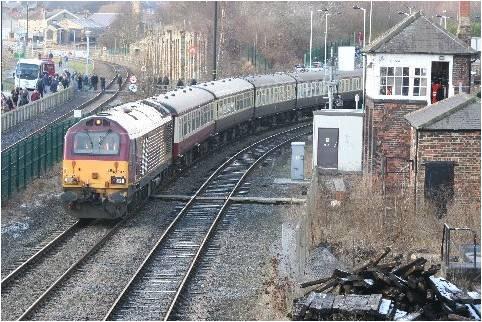 So that was it. Having missed several of the Eastgate/Stanhope Farewell tours back in the mid-90's, I had finally made it. The general opinions of the local staff and volunteers is that the route through to Eastgate will happen in a relatively short time, but providing a service to Bishop Auckland is the main objective for the next year at least. Back on board, 67002 was now in charge, and we made our way slowly back to Bishop Auckland, then on past Shildon again, and back into Darlington. From here it was a straight run up the ECML, running on or just ahead of time all the way to Biggleswade. Here we came up along side a Grand Central Class 180 "Adelante" which had also stopped. Fairly quickly, the PA crackled into life and we were informed of a possible suicide on the tracks ahead!!!! The ensuing delay fortunately only cost us 30mins, and before too long we were at the set-down points and concluding an excellent day out.
A great tour and great company as always. And hopefully 'wee' Logan slept all the way home after being such a good boy.
Stuart Smith



...and this review from David Clark;
This tour was first advertised last year and it was during the Harwich Hook that a group booking was formulated by one of our party and even though it was a Friday, the numbers were quite big. But why the large number of people wanting to do this tour? This was going to be the first through train from Bishop Auckland to Stanhope I believe since 1994 and even though quite a number had done the line during preserved status, quite a few wanted the connection. Unfortunately, my dad was enjoying a Swiss Railway Holiday otherwise he would have joined us. In fact he was travelling up on the 1046 from Meringen to Luzern, 1240 Luzern to Basel SBB, and 1420 Basel to Koln Hbf (according to his itinerary).
Due to this I stayed in Crewe with Kevin and his family after travelling North on ATW's Loco Hauled train with 57315. 0530 Friday morning saw us depart Crewe in a BMW500 series (provided by a top guy who used to work with Deltic engines………………..) down to Peterborough arriving with plenty of time to spare for a cuppa tea.
The train arrived and we found our coach, our group and our seats and set forth "Up North" via the Slow Lines to Stoke Tunnel Jn. 67029 was leading and 67002 was on the rear.
Peterborough saw a number of GB 66s on view. Whilst on the slow lines we were passed by a number of services: 0800 Kings Cross to Edinburgh, 0803 Kings Cross to Sunderland and the 0810 Kings Cross to Leeds. We continued up to Retford where were put in the Down platform to allow the 0830 Kings Cross to Newcastle to pass.
Loversall Carr Jn was passed at 10/14 and more locos were seen at Doncaster whilst a crew change took place on platform 4. Why no public stop there? I'm sure a number of our party amongst others would have obliged! And would reduce greenhouse emissions in cars heading to Peterborough!!!! After all, a public stop was made at Stafford a few weeks back………….
We continued on to York where a brief stop was made. But in the end we were sat there until 1102 Due to following TPE 0906 Manchester Airport to Newcastle. We departed on the fasts until Tollerton where we were routed on the Slow Lines due to just after Thirsk where we came back on the Fasts due to being overtaken by the 0900 Kings Cross to Glasgow service. Quite a few people were happy with this move, but by pure co-incidence a few years back I had these crossovers purely by accident when there was a track defect and the Voyager I was on traversed these crossovers.
Between Thirsk and Northallerton we passed a couple of freight trains, one a FLHH coal train, and the other a DBS Oil train with a Class 60 (Indeed a very rare breed and soon to become extinct?). Northallerton was passed at 11/32 5 late. Now where have I heard that name before Northallerton? Hmmm. A stop was made at Darlington P4 1145 / 1147 and we took the Up and Down Bishop Auckland to Shildon arriving at 1205.
It was my first ever visit to Locomotion. There were only very small glimpses of what used to be at Shildon with the large wagon works along with the cavalcade which happened in 1975 (for which my dad remembers very well). But the signal box looked good, and the locomotion museum was OK. But a large stand stood in front of the DELTIC blocking people's photos!
We were due away from Shildon at 1348 but due to issues over the timings the stock didn't arrive until the 142 had left Shildon en route to Darlington. We departed at 1402 with 67029 continuing to lead and after Bishop Auckland the local population must have been out in force! As quite a few of the people were out waving flags! Last time I went to Bishop Auckland was on a PF tour with a Class 56 / Class 66 top'n'tail.
The local area was quite scenic, what would have made it truly lovely would have been a nice scattering of snow! Everywhere we went through to Stanhope, every crossing, every station was full of people viewing our train. In fact at Shildon there were people from the local radio station doing interviews. I suspect beat's reporting on the fortunes of Darlington, Middlesbrough and Sunderland FC!! I won't mention the other club in the North East (Yes, Hartlepool) due to not wanting to offend anyone. The train arrived Stanhope at 1523. But the station couldn't cope with the large number of people that was there, not only from the tour but the people from the local area too! The footbridge was creaking under the weight of all the people trying to wander over. We had just over half an hour to see what there was to see (Not a lot in fairness!). We departed Stanhope at 1555 and headed home with 1Z68 Stanhope to Kings Cross with 67002 now providing the traction.
People were still viewing us as we passed through the countryside. At Bishop Auckland we were sat next to Sandringham Nursing Home. Isn't Sandringham the queen's other residence? Hmmm. I thought that was in Norfolk, not Bishop Auckland! In fact a couple of staff whilst on fag breaks witnessed our train. The light was now deteriorating as we had a stop at Darlington (1733 / 1734) and departed 13 late. After Northallerton we were on the FL through to York (2 late P5), Doncaster departing 4 late at 1847 (P1).
At Ranskill we were due to be looped. However, the 1600 Edinburgh to Kings Cross was running late and we carried on going! After Stoke Tunnel we were routed on to the Slow Lines where the 1600 Edinburgh to Kings Cross overtook us. We arrived Peterborough at 2012 6 early. We bode farewell to our group and set off for Crewe arriving there at 2245. Just a little bit later than the tour actually managed to get to London Kings Cross due to an incident en route.
The next day I made my way back to South Wales by mean's of some LM 350s, a lovely breakfast and some good company!
Well, what can I say, a well done to Network Rail, UK Railtours, DBS, the Weardale Railway and all the people who made this tour happen. In fairness, the train rang to time for most of the day, covered what was advertised and everyone had an enjoyable day.
An additional well done to our group for also making the tour very enjoyable. And thanks to Mr Kipling for providing cakes! There was 18 of us in total (Lee, Les, Trevor, Carol, Kevin, Jenny, PRAR, Stuart, Dan, Ellie, Bob, Allen, Jon, Kevin (2), Ken, Jim, Paul and myself (plus a very well behaved child – Well done Logan)!
David Clark (2010)



Timings (Booked & Actual)
(from Stuart Smith & Robert Frise)
M.C
Location
Booked
Actual
Booked
Actual
0.00
Kings Cross
07.07d
??.?? [P1]
21.58a
??.??
2.41
Finsbury Park
07/14
?
21/52
?
4.78
Alexandra Palace
07/18
?
21/49
?
12.57
Potters Bar
07.28a ~ 07.30d
?
21.36a ~ 21.38d
?
20.25
Welwyn Garden City
07/41
?
21/24
?
23.73
Woolmer Green Jn
07/45
?
21/18
?
27.45
Stevenage
07.49a ~ 07.51d
??.?? ~ ??.?? [P4]
21.12a ~ 21.14d
??.?? ~ ??.?? [P1]
31.74
Hitchin
07/56
?
21/06
?
44.10
Sandy
08/10
?
20/55
?
58.70
Huntingdon
08/25
?
20/38
?[US]
69.26
Holme
08/34
?
20/30
?
?
Fletton Jn
?
?
?
? [UF]
76.29
Peterborough
08.41a ~ 08.43d
??.?/ ~ ??.?? [P5] [DS/Down Stamford]
20.18a ~ 20.20d
??.?? ~ ??.?? [P1] [US]
?
Helpston Jn
?
? [DS]
84.64
Tallington
09/10
?
20/06
?
99.61
Stoke Jn
09/24
?
19/53
? [US]
105.38
Grantham
09/29
?
19/47
?
115.27
Claypole
09/36
?
19/39
?
120.08
Newark Northgate
09/39
?
19/34
?
138.49
Retford
09*50 ~ 10*02
? [P2]
19/20
?
14.00
Ranskill
10/07
?
18*00 ~ 18*11
?
152.00
Loversall Carr Jn
10/14
?
18/49
?
155.77
Doncaster
10c19 ~ 10c21
? [P4]
18c41 ~ 18c43
? [US] [P1] [UF]
160.16
Shaftholme Jn
10/26
?
18/36
?
169.16
Temple Hirst Jn
10/33
?
18/29
?
174.75
Hambleton North Jn
10/38
?
18/25
?
182.79
Colton Jn
10/51
? [DM]
18/19
?
188.40
York
10/57
? [P10]
18/12
? [P5]
190.11
Skelton Jn
11/01
?
18/08
?
198.00
Tollerton
11/08
? [DF - DS]
17/59
?
210.56
Thirsk
11/21
? [DS - DF]
17/50
?
218.36
Northallerton
11/27
?
17/34
?
232.50
Darlington
11c40 ~ 11c41
? [P4]
17c20 ~ 17c21
? [P1]
233.73
North Road
11/44
?
17/16
?
238.32
Heighington
11/52
?
17/09
?
241.52
Shildon
11.58a ~ 13.48d
?
17/03
?
244.51
Bishop Auckland
13t55 ~ 14t00
?
16t55 ~ 16t58
?
255.34
Wolsingham
14/50
?
16/05
?
260.56
Stanhope
15.15a
? [P1]
15.40d
?