7th December 2008
Skipton-East Lancashire Rail Action Partnership / Boundary Mill Stores
Christmas Shoppers' Special Train
Route:
1Z01 : Skipton to Colne
1Z02 : Colne to Skipton
| | |
| --- | --- |
| DMU | Route |
| as listed | Skipton - Keighley - Bingley - Shipley - Armley Jn - Leeds West Jn - Leeds |
| as listed | Leeds - Leeds West Jn - Holbeck East Jn - New Pudsey - Bradford Interchange |
| as listed | Bradford Interchange - Halifax - Dryclough Jn - Milner Royd Jn - Hebden Bridge - Hall Royd Jn - Copy Pit - Gannow Jn - Rose Grove - Blackburn |
| as listed | Blackburn - Rose Grove - Gannow Jn - Nelson - Colne |
| as listed | Colne - (reverse of outward route) - Rose Grove |
| as listed | Rose Grove - (reverse of outward route) - Bradford Interchange |
| as listed | Bradford Interchange - (reverse of outward route) - Leeds |
| as listed | Leeds - (reverse of outward route) - Skipton |
Notes :
(1) Comments from SELRAP's Flyer : "The third of SELRAP's 'Missing Link' special trains to draw attention to the gap in rail services between Skipton, the Dales and the Aire Valley towns with Pendle, East Lancashire and Blackpool. This will be the first service to originate in Skipton and end in Colne for 38 years, but with the 11½ mile direct line being closed, this will be a 150 mile round trip featuring six reversals in direction."
(2) On the outward trip, the train had to continue beyond Rose Grove, to Blackburn, in order to reverse as there was a service train on the Colne Branch.
Source : Alan Sheppard (joined & left the train at Leeds)



Photo Review
(all photos from Alan Sheppard)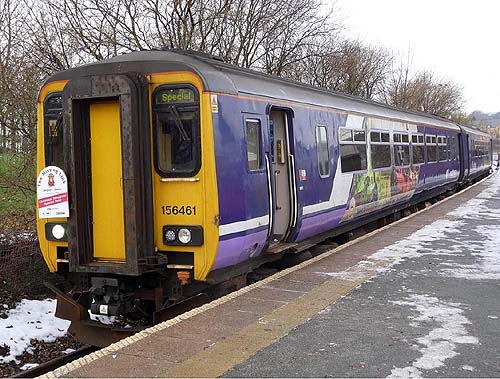 156461 at Colne.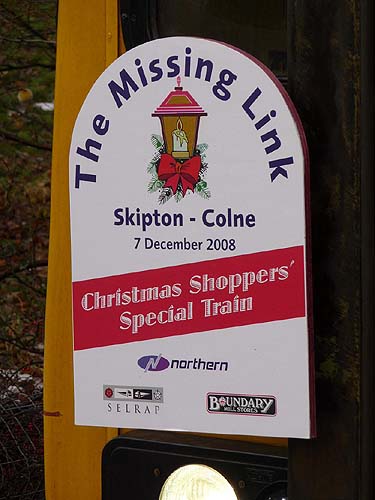 The tour headboard.


Timings (Booked & Actual)
(from Alan Sheppard)
Location
Booked
Actual
Booked
Actual
Skipton
09.30d [P2]
? [P1]
18.52 [P3]
?
Keighley
09.40a ~ 09.41d [P1]
?
18.40a ~ 18.41d [P2]
?
Bingley
09.46a ~ 09.47d [P1]
?
18.34a ~ 18.35d [P2]
?
Shipley
09.51a ~ 09.52d [P1]
?
18.28a ~ 18.29d [P2]
?
Leeds
10.06a ~ 10.13d [P9B]
10.06 ~ 10.13½ [P5C]
18.07a ~ 18.15d [P8A]
18.08 ~ 18.15 [P6C]
Leeds West Jn
?
10/14½
?
18/06½
Holbeck East Jn
?
?
?
18/04
Bramley
? [P1]
10/20
? [P2]
18/00
New Pudsey
? [P1]
10/22
? [P2]
17/58½
Mill Lane Jn
?
10/28
?
17/52
Bradford Interchange
10.32a ~ 10.34d [P1]
10.29½ ~ 10.33½ [P4]
17.49a ~ 17.51d [P1]
17.48 ~ 17.51 [P4]
Mill Lane Jn
?
10/35
?
17/46½
Halifax
10.46a ~ 10.47d [P1]
10.44½ ~ 10.46
17.36a ~ 17.37d [P2]
17.35½ ~ 17.36½
Dryclough Jn
?
10/48
?
17/33½
Milner Royd Jn
?
10/50½
?
17/30½
Sowerby Bridge
?
10/51½
?
17/29½
Mytholmroyd
? [P1]
10/55
? [P2]
17/25½
Hebden Bridge
10.59a ~ 11.00d [P1]
10.57 ~ 10.59
17.24a ~ 17.25d [P2]
17.22½ ~ 17.23½
Hall Royd Jn
?
11/04½
?
17/17½
Copy Pit
?
11/12
?
17/08½
Burnley Manchester Road
? [P1]
11/18
? [P2]
17/02
Gannow Jn
?
11/20½
?
16/59½
Rose Grove
?
11/21
??.?? ~ ??.??
16.53 ~ 16.57½
Hapton
?
11/23
Huncoat
?
11/24½
Accrington
?
11/27
Church & Oswaldtwistle
?
11/29
Rishton
?
11/30½
Daisyfield Jn
?
11/33
Blackburn
?
11.35½ ~ 11.39½ [P1]
Daisyfield Jn
?
11/41
Rishton
?
11/44
Church & Oswaldtwistle
?
11/45½
Accrington
?
11/47
Huncoat
?
11/50½
Hapton
?
11/52
Rose Grove
?
11/53½
Gannow Jn
?
11/54½
?
16/50
Burnley Barracks
?
11/55½
?
16/49
Burnley Central
?
11/57
?
16/47½
Brierfield
?
12/01
?
16/44
Nelson
?
12/03
?
16/42
Colne
12.07a
12.08
16.36d
16.36