7th December 2008
Steam Dreams
The Cathedrals Express
| | |
| --- | --- |
| Loco Used | steam: 34067 'Tangmere' |
| Stock Used | 35518+5236+5237+1961+5249+99371+9392+13440+5222+1840+5200 |
Route:
1Z43 : London Kings Cross to Ely
1Z44 : Ely to London Kings Cross
| | |
| --- | --- |
| Loco | Route |
| 34067 | London Kings Cross - (via ECML) - Hitchin - Letchworth - Royston - Shepreth Branch Jn - Cambridge - Coldham Lane Jn - Ely Dock Jn - Ely |
| 34067 | Ely - (reverse of outward route) - London Kings Cross |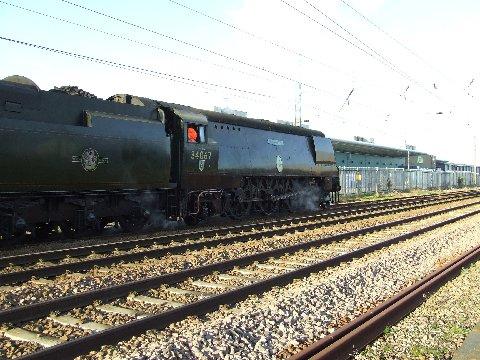 34067 pauses to take water in Coldham Lane DGL (photo: Stewart Levett)
Source : John Clifford



Brief Review
(by John Clifford)
This tour didn't get off to a good start. Before leaving home I had seen on Teletext that the North London line service had been suspended because of a track problem at Willesden Junction. Since the loco & stock are berthed at Southall they had to come via Willesden Junction to get to Kings Cross. On arrival at Kings Cross I found out that the problem had been caused by a freight train running through points. However, our train was moving & would get to Kings Cross for the tour. The stock arrived at 1151 & we got away at 1200.
There was some good running & at Digswell we passed the 1206 Kings Cross - Cambridge (all stations from Welwyn Garden City) so the operating was in our favour. There was some slow running between Stevenage & Hitchin as there was engineering work which had shut the fast lines there. More good running ensued along the 'branch' & we got to Ely 31 late.
The train was due away again at 1815 but the diners had been asked to get back by 1745 so service could start. The ECS had gone to March for servicing & to turn the engine. The station announcer kept us informed on the progress of the ECS. He then told us that it would arrive in a few minutes. What should appear but a class 158! This was followed by a further announcement saying 'I hope you spotted my deliberate mistake!' Our stock did arrive at about 1755 but we were then informed that we would not be moving yet as there had been a fatality at Stevenage. It transpired that it was not a fatality but a track worker had been seriously injured and all trains had been stopped while the emergency services treated him before removal to hospital.
We left 89mins late & proceeded slowly as everything was in some disarray by this time. We were held for 12mins ouside Royston before we could get into the station for water. Other trains passed us via the reversible down line. After leaving Royston there was some swift running as far as Letchworth but then we had 3 signal stops between there & Hitchin. Slow running the followed past the engineering work & there was a further stop before getting into Stevenage. The rest of the run was fine with an eventual arrival at Kings Cross 171mins. late.
John Clifford



Timings (Booked & Actual)
(from John Clifford)
Location
Booked
Actual
Booked
Actual
Kings Cross
11.25d
12.00
20.20a
23.11
Belle Isle
11/27
12/02
21/18
23/08
Holloway South Jn
21/14
23.02 ~ 23.03
Finsbury Park
11/30
12/06
20/11
23/00
Wood Green
11/35
12/10
20/07
22/57
Potters Bar
11.44a ~ 11.48d
12.20 ~ 12.22
19.55a ~ 19.59d
22.45 ~ 22.47
Welwyn Garden City
11/56
12/31
19/41
22/32
Digswell Jn
11/57
12/32
19/38
22/31
Woolmer Green Jn
12/00
12/34
19/36
22/26
Stevenage
12.04a ~ 12.06d
12.41 ~ 12.44
19.26a ~ 19.28d
22.16 ~ 22.18
Hitchin
12/13
12/53
19/21
21/54
Letchworth
12/17
12/57
19/17
21/30
Royston
12/35
13/07
18w54 ~ 19w06
20.57 ~ 21.15
Shepreth Branch Jn
12/46
13/18
18/42
20/20
Cambridge
12/51
13/24
18/26
20/15
Coldham Lane Jn
12w53 ~ 13w23
13.28 ~ 13.50
18/34
20/08
Ely Dock Jn
13/36
14/07
18/17
19/47
Ely
13.38a
14.09
18.15
19.44