6th December 2008
Ian Walsh
The Mark 3 Farewell Railtour
| | |
| --- | --- |
| Locos Used | IE 142 & 144 |
| Stock Used | 6104+6311 |
Route:
| | |
| --- | --- |
| Locos | Route |
| 142 + 144 | Limerick - Killonan Jn - Oola - Keane's Points - Tipperary - Carrick-on-Suir - Waterford - Ballycullane - Wellington Bridge |
| 144 + 142 | Wellington Bridge - Ballycullane - Waterford - Thomastown - Lavistown Loop - Athy - Cheryville Jn - Kildare |
| 142 + 144 | Kildare - Cherryville Jn - Portarligton - Portlaoise - Ballybrophy (1) - Thurles - Limerick Junction |
| 144 + 142 | Limerick Junction - Keane's Points - Oola - Killonan Jn - Limerick |
Notes:
(1) Was advertised to run back to Limerick via Nenagh but was unable on the day due to over running engineering work.
Source : Pete Callaghan



Tour Review
(from Pete Callaghan)
Although loco 075 had worked the ECS from Dublin for the tour the previous evening and had been allocated to work the tour, it was a surprise to find small GM pair 142 & 144 were actually at the head of the train. Many of the tour participants were dismayed at having the small GMs as the tour had been advertised to be an 071, the fact that 075 and 077 were both on shed at Limerick caused further frustration to them. Various reasons for not getting an 071 circulated throughout the day, 075 was a failure, 077 was required later on for another job etc etc etc. Either way many people were not happy at the last minute change of motive power.
The tour set off on time and headed towards Waterford, taking the flat crossing at the east end of Limerick Junction station (where 079 was visible as stand by loco in the distance). A small delay occurred at Tipperary while we waited to cross a railcar on a service train before proceeding towards Waterford. A sign of the times at Waterford was a long line of Mark 3 stock stored in the yard, deemed surplus to requirements since new railcars have taken over on many long distance services. Also visible at Waterford was loco 082 which had been quoted as possibly working the railtour to Wellington Bridge and back, but this didn't happen. After a photo stop the train carried on to Wellington Bridge stopping at the small halts of both Campile and Ballycullane for photo's on route.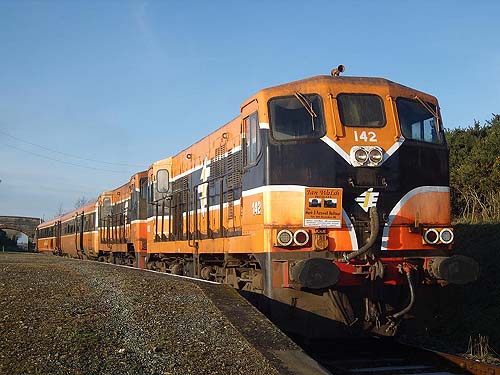 Photo opportunity at Ballycullane with 142 leading (photo: Pete Callaghan)
Upon arrival at Wellington Bridge the locos ran round prior to leading the train back towards Waterford. Also of interest at Wellington Bridge was that the staff present allowed those who wished to look around the small signal cabin.
With a slightly early arrival at Waterford there was time for more pictures before the train set off, this time taking the route towards Dublin.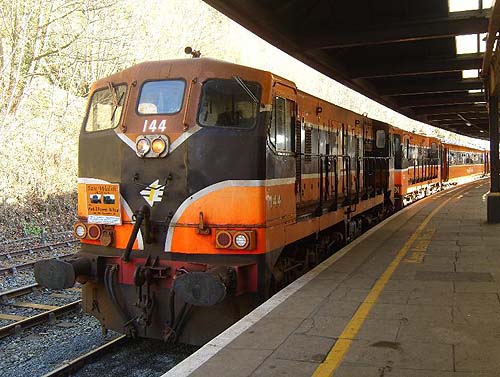 Waterford - 144 leading 142 (photo: Pete Callaghan)
A delay occurred as we waited for a freight in front to clear, a further delay then occurred at Lavistown (Killkenny avoiding line) while we waited for a passenger train from Dublin to cross. After a photo stop at Muine Bhaeg we carried on heading north, the photo / crossing stop at Carlow was cancelled as we had already passed the train we were booked to cross here, at Lavistown. Arrival at Kildare was about 50 minutes late - upon arrival there was time to take more photo's as the locos ran round prior to heading along the main Dublin to Cork line as far as Limerick Junction. Whilst passing through Ballybrophy it was apparent why we couldn't go via Nenagh as per the original adverts, as the only bit of track in the station that was in place was the down loop which we took, all other track including the connection to the Nenagh branch was in the process of being re-laid. Due to late running the photo stop that should have taken place at Templemore was cancelled. On arrival at Limerick Junction the apparently failed 075 had taken over from 079 on stand by duty. Once the tour locos had undertaken the final run round of the day the short run into Limerick completed the railtour, arrival in Limerick was about 30 minutes late. 079 backed onto the other end to take the ECS to Dublin.
Pete Callaghan



Timings (Booked Only)
(from Pete Callaghan)
| | |
| --- | --- |
| Location | Booked |
| Limerick | 07.25d |
| Killonan Jn | 07/31 |
| Dromkeen | 07/38 |
| Tipperary | 07*57 ~ 08*07 |
| Cahir | 08/29 |
| Clonmel | 08/47 |
| Carrick-on-Suir | 09/09 |
| Waterford | 09p34a ~ 09p55d |
| Campile | 10p20a ~ 10p30d |
| Ballycullane | 10p39a ~ 10p54d |
| Wellington Bridge | 11.02a ~ 11.20d |
| Ballycullane | 11/33 |
| Campile | 11/41 |
| Waterford | 12.07 ~ 12.09 |
| Ballyhale | 12/27 |
| Thomastown | 12/31 |
| Lavistown South Jn | 12/40 |
| Lavistown North Jn | 12/42 |
| Muine Bheag | 12p54a ~ 13p04d |
| Carlow | 13p15 ~ 13p25 |
| Athy | 13/36 |
| Cherryville Jn | 13/49 |
| Kildare | 13.53 ~ 14.14 |
| Cherryville Jn | 14/17 |
| Portarlington | 14/31 |
| Portlaoise | 14/43 |
| Laoise Down Loop | 14*47 ~ 14*57 |
| Ballybrophy | 15/13 |
| Lisduf | 15/18 |
| Templemore | 15p25 ~ 15p35 |
| Thurles | 15/43 |
| Limerick Junction | 16.02a ~ 16.24d |
| Dromkeen | 16/37 |
| Killonan Jn | 16/44 |
| Limerick | 16.51a |