30th November 2008
Past Time Rail
The Buxton Spa Express
| | |
| --- | --- |
| Locos Used | 57601 & steam: 45407 |
| Stock Used | 35517+4905+4973+99318+1861+99348+3148+99304 |
Route:
| | |
| --- | --- |
| Loco(s) | Route |
| 45407 (1) | Manchester Victoria - Miles Platting - Ashton Moss North Jn - Denton Jn - Stockport - Hazel grove - Furness Vale - Buxton |
| 57601 (2) | Buxton - Buxton Up Reversing Siding |
| 45407 (1) | Buxton Up Reversing Siding - Topley Pike - Great Rocks Jn - Peak Forest - Chinley South Jn - New Mills - Romiley - Guide Bridge - Ashburys - Miles Platting - Manchester Victoria |
Notes:
(1) 57601 on rear.
(2) 45407 on rear.
Source : Gordon Jakes (on the train throughout)



Tour Review
(from Gordon Jakes)
The headboard carried by 45407 was "The Cotton Mill Express". This obviously relates to the regular steam service operated by Past – Time Rail and routed around the north of Manchester. The train referred to in this report is very definitely the Buxton Spa Express!
The original plan did not include 57601 within the hauled train – indeed the timings at Buxton allowed for 45407 to haul the return train out of Buxton tender first and to run round the train in Buxton Up Reversing Siding before departing to Great Rocks. In the event, I for one was grateful for the revised arrangements because not only did it simplify the train workings at Buxton but more importantly on the coldest day of the year the presence of 57601 provided electric train heating to my end of the train (at least!). The train set which arrived at Victoria in the morning was white with frost and the heat was slow to make its way through the train. It was one of those days when the windows were continually covered with condensation despite the efforts of the many window cleaners.
45407 was in good form as usual and real credit must go to all those who made a success of the trip in trying conditions. The cold temperature coupled with the appearance of the sun made for some excellent photographic opportunities. For those like myself who travelled on the train both Manchester Victoria and Buxton did at least allow us some opportunity to take home some uncluttered shots of 45407 surrounded by steam.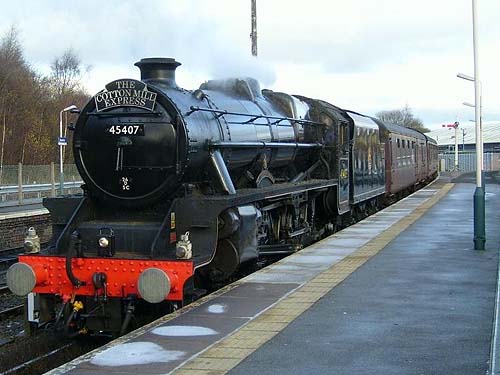 45407 at an uncluttered Buxton (photo: Gordon Jakes)
Not a lot else to report but thanks also must go to Network Rail who allowed the train to run forward even though arrival at Chinley South Junction was over 20 minutes early!
Gordon Jakes



Timings (Booked & Actual)
(from Gordon Jakes)
M.C

Location
Booked
Actual

0.00

Manchester Victoria
10.56d [P3] [SL]
10.56

1.36

Miles Platting
11/02
11/02

1.70

Philips Park West Jn
11/04
11/03

2.39

Baguley Fold Jn
11/06
11/04

5.52

Ashton Moss North Jn
11/11
11/09½

7.65

Denton Jn
11/18
11/15

8.36

Denton Station Jn
11/20
11/17½

11.14

Ash Bridge Jn
11/25
11/24

11.75

Heaton Norris Jn
11/26[US]
11/25½

12.50

Stockport
11/28 [P1]
11.27 ~ 11.28

13.15

Edgeley Jn No.1
11/30
11/30

15.36

Hazel Grove
11/37 [P1]
11/35

21.55

(West of) Furness Vale
?
11.54½ ~ 12.00½

21.77

Furness Vale
11/54
12/02

27.02

Chapel-en-le-Frith
12/08
12/15

32.05

Buxton SB
?
12/30

32.25
0.00

Buxton
12w25a ~ 14w45d [P2]
12.31 ~ 14.45½

0.20

Buxton SB
14*50 ~ 14*51
14/47

0.40
0.00

Buxton Up Reversing Siding
14.53 ~ 15.08
14.50 ~ 14.53½

0.20

Buxton SB
15*10 ~ 15*11
14.55 ~ 14.57½

3.18

Topley Pike GF
15/24
15/05½

6.02

Great Rocks Jn
15*36 ~ 15*37
15/17

6.57

Peak Forest South SB
15/47
15/21½

10.55

Chinley South Jn
16/00
15.37 ~ 15/44

11.39

Chinley North Jn
16/04
15/46

15.17

New Mills South Jn
16/09
15/52

16.15

New Mills Central
16/14
15/54

20.23

Marple Wharf Jn
16/21
16/00¼

21.27

Romiley
16/23
16/02¼

22.46

Woodley
16/26
16/04½

25.22

Hyde Jn
16/34
16/12½

26.42

Guide Bridge
16/37
16/15

28.64

Gorton
16/41
16/19

29.76

Ashburys
16/45
16.23½ ~ 16.26

31.64

Philips Park South Jn
16/55
16/32

32.01

Philips Park West Jn
16/56
16/33½

32.35

Miles Platting
16/58
16/34

33.71

Manchester Victoria
17.03a [P3]
16.42½