27th August 2008
West Coast Railways
The Cambrian
| | |
| --- | --- |
| Loco Used | steam: 76079 |
| Stock Used | 35508+5491+5478+6528+99680+5569+5453+5487 |
Route:
| | |
| --- | --- |
| Loco | Route |
| 76079 | Machynlleth - Dovey Junction - Barmouth - Porthmadog - Pwllheli |
| 76079 | Pwllheli - (reverse of outward route) - Machynlleth |
Notes :
(1) Though referred to as the Cambrian Coast Express in the review below, other contributors have commented that the train was actually called simply 'The Cambrian' and this is further confirmed referring to other Internet sources.
Sources : Gordon Jakes (on the train throughout) & Chris Magner



Tour Review
(by Gordon Jakes)
Not wishing to drive to Machynlleth we left Stafford just after 6.00am in order to catch the 07/04 Arriva service from Telford which arrived at Machynlleth just after 09/00. This left plenty of time for a bacon sandwich and some photography of 76079 and its train before departure. Unfortunately the weather at the coast was decidedly damp and this remained with us all day except for the short time in Pwllheli.
The Cambrian Coast Express was popular with both enthusiasts and holiday makers. Indeed the train appeared to be full for most of the route in both directions.
The steam service was delayed on the return journey at Barmouth by the late running of the 12.33pm Arriva service from Birmingham New Street which was given priority. Credit is due to Arriva and West Coast who worked well together in ensuring that passengers for Aberystwyth and those returning up the Coast did not miss their connections as a result of our late arrival at Machynlleth – passengers off the steam special were advised to change at Dovey Junction where the Aberystwyth train was held.
76079 performed in exemplary fashion but was perhaps in need of a clean! The train crew were masters of their machine and as a result timekeeping was not a problem - until factors outside their control took over.
From comments overheard and announcements made on the train it would appear very likely that the Cambrian Coast Express will run again next year. The main problem is the lack of suitable locomotives – 76079 is ideal in respect of wheel loading, coal capacity and water capacity but is the only loco in its class or similar passed for main line running.
Gordon Jakes



Photo Review
(all photos: Gordon Jakes)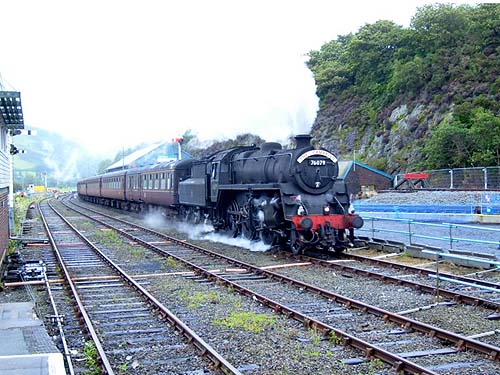 76079 at Machynlleth (outward, on the stock) & Porthmadog (return).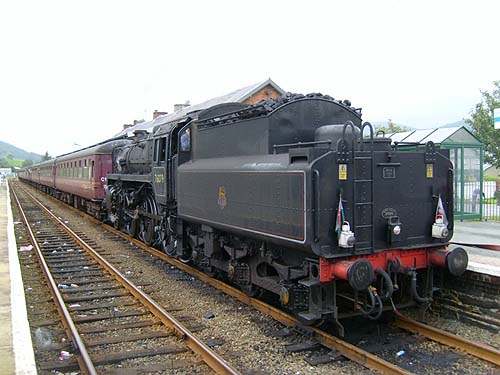 Timings (Booked & Actual)
(from Gordon Jakes)
| | | | | | | |
| --- | --- | --- | --- | --- | --- | --- |
| M.C | Location | Booked | Actual | | Booked | Actual |
| 0.00 | Machynlleth | 10.05d | 10.05 | | 17.00a | 17.24 |
| 3.75 | Dovey Junction | ??.??a ~ 10.10d | 10.12 ~ 10.14 | | 16.53a ~ ??.??d | 17.14 ~ 17.15½ |
| 8.77 | Penhelig | ? | 10/23½ | | ? | 17/03 |
| 9.71 | Aberdovey | ? | 10/27 | | ? | 17/00½ |
| 13.45 | Tywyn | ??.??a ~ 10.33d | 10.33 ~ 10.36 | | 16.22a ~ ??.??d | 16.50 ~ 16.53½ |
| 15.78 | Tonfanau | ? | 10/40½ | | ? | 16/44½ |
| 20.08 | Llwyngwril | ? | 10/46 | | ? | 16/37½ |
| 22.61 | Fairbourne | ? | 10/52½ | | ? | 16/31 |
| 23.69 | Morfa Mawddach | ? | 10/54½ | | ? | 16/28 |
| 25.39 | Barmouth | ??.??a ~ 11.02d | 11.02 ~ 11.06 | | 15.50a ~ ??.??d | 15.43 ~ 16.20½ |
| 27.02 | Llanaber | ? | ? | | ? | 15/39½ |
| 29.26 | Talybont | ? | 11/12½ | | ? | 15/36½ |
| 30.39 | Dyffryn Ardudwy | ? | 11/14 | | ? | 15/34½ |
| 32.59 | Llanbedr | ? | 11/17 | | ? | 15/31½ |
| 33.35 | Pensarn | ? | 11/19 | | ? | 15/30 |
| 34.06 | Llandanwg | ? | 11/20½ | | ? | ? |
| 36.02 | Harlech | ??.??a ~ 11.32d | 11.24½ ~ 11.27 | | 15.23a ~ ??.??d | 15.21 ~ 15.23½ |
| 38.44 | Tygwyn | ? | 11/31½ | | ? | 15/17 |
| 39.31 | Talsarnau | ? | 11/33 | | ? | 15/15½ |
| 40.52 | Llandecwyn | ? | ? | | ? | 15/14 |
| 41.36 | Penrhyndeudraeth | ? | 11/37½ | | ? | 15/11 |
| 42.47 | Minffordd | ??.??a ~ 11.42d | 11.41 ~ 11.42 | | 15.00a ~ ??.??d | 15.06½ ~ 15.07½ |
| 44.66 | Porthmadog | 11.49a ~ 12.19d | 11.50 ~ 12.18 | | 14w45a ~ 14w55d | 14.38 ~ 14.59½ |
| 49.63 | Criccieth | ? | 12/27½ | | ? | 14/29 |
| 54.19 | Penychain | ? | 12/32½ | | ? | 14/23 |
| 57.59 | Pwllheli | 12.40a | 12.38 | | 14.15d | 14.15 |