24th August 2008
S.R.P.S. Railtours
Routes & Branches
| | |
| --- | --- |
| Locos Used | 40145 'East Lancashire Railway' & 55022 'Royal Scots Grey' |
| Stock Used | ???? |
Route:
1Z40 : Bo'ness to Ayr
1Z55 : Ayr to Bo'ness
| | |
| --- | --- |
| Loco(s) | Route |
| 40145 (1) | Bo'ness - Kinneil Halt - Birkhill - Manuel Loop |
| 55022 (2) | Manuel Loop - Bo'ness Jn - Linlithgow - Linlithgow UPL |
| 40145 (1) | Linlithgow UPL - Linlithgow - Polmont Jn - Falkirk High - Greenhill Upper Jn - Lenzie - Cowlairs East Jn - Cowlairs West Jn - Cowlairs South Jn - Glasgow Queen Street |
| 55022 (2) | Glasgow Queen Street - Cowlairs South Jn - Cowlairs West Jn - Cowlairs North Jn - Maryhill - Westerton - Dalmuir - Dumbarton Central - Craigendoran Jn - Helensburgh Central |
| 40145 (1) | Helensburgh Central - Craigendoran Jn - Dumbarton Central - Dalmuir - Clydebank - Garscadden - Hyndland - Finnieston Jn - Glasgow Queen Street Low Level - Bellgrove - Shettleston - Sunnyside Jn - Airdrie - Drumgelloch |
| 55022 (2) | Drumgelloch - (reverse of outward route) - Bellgrove - High Street Jn - via 'Down City Union' - Shields Jn - Corkerhill - Paisley Canal |
| 40145 (1) | Paisley Canal - Corkerhill - Shields Jn |
| 55022 (2) | Shields Jn - Cardonald - Paisley Gilmour Street - Lochwinnoch - Kilwinning Jn - Byrehill Jn - Barassie Jn - Prestwick Town - Ayr |
| 40145 (1) | Ayr - (reverse of outward route) - Byrehill Jn - Dubbs Jn - Saltcoats - Ardrossan Harbour |
| 55022 (2) | Ardrossan Harbour - Saltcoats - Dubbs Jn - Kilwinning Jn - Lochwinnoch - Elderslie U/DPL - Paisley Gilmour Street - Cardonald - Shields Jn - Terminus Jn - Muirhouse Central Jn - Pollokshaws East - Cathcart West Jn - Cathcart East Jn - Newton - Hamilton Central - Haughhead Jn - Larkhall |
| 40145 (1) | Larkhall Jn - (reverse of outward route) - Newton - Rutherglen East Jn - Larkfield Jn - Terminus Jn - Shields Jn |
| 55022 (2) | Shields Jn - via 'Up City Union' - High Street Jn - Bellgrove - Bellgrove Jn - Springburn - Cowlairs West Jn - Cowlairs North Jn - Maryhill Park Jn - Anniesland |
| 40145 (1) | Anniesland - (reverse of outward route) - Springburn |
| 55022 (2) | Springburn - Cowlairs South Jn - Glasgow Queen Street |
| 40145 (1) | Glasgow Queen Street - Cowlairs South Jn - Cowlairs West Jn - Cowlairs East Jn - Cadder UPL - Lenzie - Greenhill Upper Jn - Greenhill Lower Jn - Carmuirs West Jn - Carmuirs East Jn - Falkirk Grahamston - Polmont Jn - Bo'ness Jn |
| 55022 (2) | Bo'ness Jn - Manuel Loop |
| 40145 (1) | Manuel Loop - (reverse of outward route) - Bo'ness |
Notes :
(1) 55022 on rear.
(2) 40145 on rear.
(3) Route confirmation required, above is 'Booked Route'.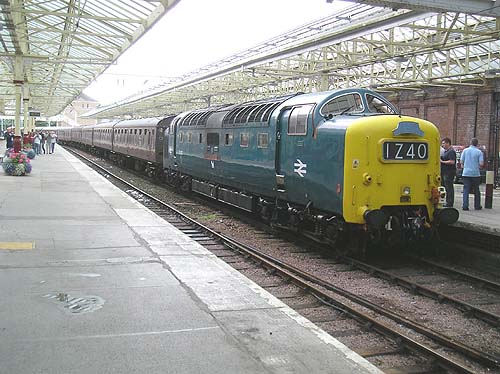 55022 pauses at at Helensburgh Central (photo: Mark Chatterton)
Source : Mark Chatterton



Tour Review
(from Mark Chatterton)
Running the Branch line Britain website and not having covered that many lines in Scotland meant that this trip was a must for me. In fact I made a long weekend of it flying up to Prestwick on the Friday and returning south on the ECML on the Monday. In between I was able to visit the branches of Largs, North Berwick and Bathgate, as well as do a round tour of the Highlands going from Glasgow to Aberdeen, then onto Inverness and then back down to Edinburgh all for £27.50!
The Routes & Branches tour started off from the SRPS headquarters at Bo'ness on the Sunday morning at 7 o'clock with Deltic, 55022 'Royal Scots Grey' leading and 40145 'East Lancashire Railway' following. Then when the train reached the main line the two swapped over, a practice that would occur quite regularly throughout the day. I got on the train at Polmont and then we picked up the remainder of the passengers at Glasgow Queen Street where we had a fifteen-minute break. The first part of the trip took us out along the start of the West Highland Line to Helensburgh Central. We then came back to Glasgow via Yoker and back into Queen Street, though this time passing through the Low Level station. We continued eastwards towards Airdrie, where we were held up for about ten minutes before reaching Drumgelloch station, which was only reopened in 1989 after passenger services had been stopped in 1956. This is one branch whose days are limited, as work has started to continue the line eastwards to Bathgate station and so provide another route between Glasgow and Edinburgh, which was last used in 1982. We all had to stay on the train here whilst the driver changed ends, which was just as well as the locals weren't too friendly, someone throwing a stone at the train as we departed. Then it was back into Glasgow as far as Belgrove where we took a freight only line, which took us to Shields Junction and then onto the branch for Paisley Canal. We stopped here for a photo shoot and there were some surprised expressions from locals waiting for the local service to Glasgow Central, as hordes of railway enthusiasts all piled off the train onto the single platform station! Then it was back to Shields Junction and another reversal to take the other line to Paisley and onto Ayr.
The Deltic was finally allowed to let rip on this stretch and managed to get us to Ayr about half an hour ahead of time. We then had an hour's break in Ayr to explore or go for a drink, before going back up the line as far as Kilwinning and cutting west to Ardrossan. There was some doubt whether we would actually make it to the Harbour station, but we did get there in the end, though no one was allowed to get off. The Deltic took us once more back into Glasgow and to Shields Junction where we took another freight line to Pollokshields West and onto the Cathcart Circle line, before going east to Newton and Hamilton and then onto Larkhill station. This is another new station, only opening as recently as 2005 and still looking brand new. Once again there was time for a quick photo opportunity, before we headed back to Shields Junction - this time via Cambuslang. After another change round, we went back over the Clyde on the freight line we had crossed earlier in the day and at Belgrove went left up to Springburn, where we went on another freight line and westwards to Anniesland via the recently built line from Maryhill. With another photo shoot out of the way it was back to Springburn for another quick stop and then back into Queen Street for the end of the tour. Well not quite, as on the way back to Polmont we went via Falkirk Grahamston as opposed to Falkirk High on the way out, so yet more new track was covered.
In all I spent over twelve hours traversing the lines in and around Glasgow, covering nearly three hundred miles, yet the time didn't drag at all. I must congratulate the folks at the SRPS Railtours for organising such a great tour, which was helped by the friendly and helpful stewards, who kept us provided with plenty of hot food throughout the day. Hopefully they will organise another tour next year covering the other branches missed off this year's tour, such as Balloch, Milngavie, Neilston and East Kilbride.
© Mark Chatterton 2008



Timings (Booked Only)
(from Mark Chatterton)
| | |
| --- | --- |
| Location | Booked |
| Bo'ness | 07.00d |
| Birkhill G.F. | 07*17 ~ 07*25 |
| Manuel Loop | 07.35 ~ 07.55 |
| Bo'ness Jn G.F. | 08*02 ~ 08*12 |
| Linlithgow | 08/17 |
| Linlithgow Up Loop | 08.19 ~ 08.31 |
| Linlithgow | 08/32 |
| Polmont | 08.36a ~ 08.38d |
| Polmont Jn | 08/41 |
| Falkirk High | 08/43 |
| Greenhill Upper Jn | 08/47 |
| Croy | 08/52 |
| Lenzie | 08/56 |
| Bishopbriggs | 08/59 |
| Cowlairs West Jn | 09/05 |
| Cowlairs South Jn | 09/06 |
| Glasgow Queen Street | 09.10a ~ 09.25d [P7] |
| Cowlairs South Jn | 09/29 |
| Cowlairs West Jn | 09/30 |
| Cowlairs North Jn | 09/32 |
| Westerton | 09/45 |
| Dalmuir | 09/55 [P1] |
| Dumbarton Central | 10/05 [P2] |
| Dalreoch | 10/08 |
| Craigendoran Jn | 10/16 |
| Helensburgh Central | 10.21a ~ 10.46d |
| Craigendoran Jn | 10/51 |
| Dalreoch | 11/00 |
| Dumbarton Central | 11/01 |
| Dalmuir | 11/10 [P4] |
| Clydebank | 11/12 |
| Garscadden | 11/16 |
| Scotstounhill | 11/18 |
| Hyndland East Jn | 11/20 |
| Finnieston West Jn | 11/22 |
| Glasgow Queen St Low Level | 11/26 |
| Bellgrove | 11/29 |
| Shettleston | 11/34 |
| Coatbridge Sunnyside | 11/56 |
| Airdrie | 12/00 |
| Drumgelloch | 12.03 ~ 12.08 |
| Airdrie | 12/10 |
| Coatbridge Sunnyside | 12/15 |
| Shettleston | 12/22 |
| Bellgrove | 12/27 |
| High Street Jn | 12/28 |
| Shields Jn | 12/38 |
| Corkerhill Depot Jn | 12/41 |
| Paisley Canal | 12p52a ~ 13p10d |
| Corkerhill Depot Jn | 13/22 |
| Shields Jn | 13.28 ~ 13.50 |
| Arkleston Jn | 13/56 |
| Paisley Gilmour Street | 13/58 |
| Dalry | 14/17 |
| Irvine | 14/27 |
| Barassie Jn | 14/31 |
| Prestwick Town | 14/36 |
| Ayr | 14.43a ~ 15.04d [P4] |
| Prestwick Town | 15/10 |
| Barassie Jn | 15/16 |
| Irvine | 15/20 |
| Byrehill Jn | 15/23 |
| Dubbs Jn | 15/25 |
| Saltcoats | 15/30 |
| Ardrossan South Beach | 15/32 |
| Ardrossan Town | 15/35 |
| Ardrossan Harbour | 15.38 ~ 15.57 |
| Ardrossan Town | 16/00 |
| Ardrossan South Beach | 16/03 |
| Saltcoats | 16/05 |
| Kilwinning | 16/10 |
| Dalry | 16/14 |
| Lochwinnoch | 16/21 |
| Elderslie | 16*29 ~ 16*37 |
| Paisley Gilmour Street | 16/42 |
| Arkleston Jn | 16/44 |
| Shields Jn | 16/49 |
| Terminus Jn | 16/54 |
| Muirhouse Central Jn | 16/56 |
| Cathcart West Jn | 17/03 |
| Newton | 17/14 [P2] |
| Hamilton Central | 17/34 |
| Haughhead Jn | 17/36 |
| Allanton Loop | 17/39 |
| Larkhall | 17p42a ~ 17p51d |
| Allanton Loop | 17/55 |
| Haughhead Jn | 17/58 |
| Hamilton Central | 18/00 |
| Newton | 18/23 [P1] |
| Rutherglen East Jn | 18/27 |
| Larkfield Jn | 18/30 |
| Terminus Jn | 18/32 |
| Shields Jn | 18.35 ~ 18.46 |
| High Street Jn | 18/58 |
| Bellgrove | 18/59 |
| Springburn | 19/03 |
| Cowlairs West Jn | 19/05 |
| Cowlairs North Jn | 19/07 |
| Maryhill Park Jn | 19/13 |
| Anniesland (Bay P.3} | 19p16a ~ 19p32d |
| Maryhill Park Jn | 19/35 |
| Cowlairs North Jn | 19/41 |
| Cowlairs West Jn | 19/42 |
| Springburn | 19.45 ~ 19.55 [P2] |
| Cowlairs South Jn | 19/59 |
| Glasgow Queen Street | 20.03a ~ 20.18d [P7] |
| Cowlairs South Jn | 20/22 |
| Cadder UPL | 20*29 ~ 20*39 |
| Croy | 20/46 |
| Greenhill Upper Jn | 20/50 |
| Greenhill Lower Jn | 20/51 |
| Carmuirs West Jn | 20/54 |
| Carmuirs East Jn | 20/55 |
| Grangemouth Jn | 20/59 |
| Polmont Jn | 21/04 |
| Polmont | 21.05a ~ 21.07d |
| Bo'ness G.F. | 21.13 ~ 21.23 |
| Manuel Loop | 21.35 ~ 21.40 |
| Birkhill G.F. | 21*50 ~ 21*58 |
| Bo'ness | 22.15a |