13th August 2008
Steam Dreams
Sunny South Special
| | |
| --- | --- |
| Locos Used | 47245 & steam : 6233 'Duchess of Sutherland' |
| Stock Used | 99041+5171+5222+1840+5200+13440+9392+99371+5236+1961+5249 |
Route:
1Z92 : Clapham Junction to Weymouth
1Z93 : Weymouth to London Waterloo
| | |
| --- | --- |
| Loco(s) | Route |
| 6233 | Clapham Junction - Hounslow - Staines - Chertsey - Woking - Basingstoke - Winchester - Eastleigh - Southampton Central - Brockenhurst - Bournemouth - Poole - Wareham - Dorchester South - Weymouth |
| 6233 (1) | Weymouth - (reverse of outward route) - Bournemouth (2) |
| 6233 | Bournemouth - (reverse of outward route) - Woking - Surbiton - Wimbledon - Earlsfield - Clapham Junction - London Waterloo |
Notes :
(1) 47245 on rear.
(2) 47245 was booked to come off at Wareham but stayed on till Bournemouth.
(3) Carried the 'Cathedrals Express' headboard. The timing sheet showed the reporting no. for the down train as 1Z82 whereas all other information showed it as 1Z92.
(4) John Clifford comments: For those interested in cross-overs & the like the down train ran via the up line (platform 2) at Bournemouth Central while the up train ran via the new cross-over into the western extension.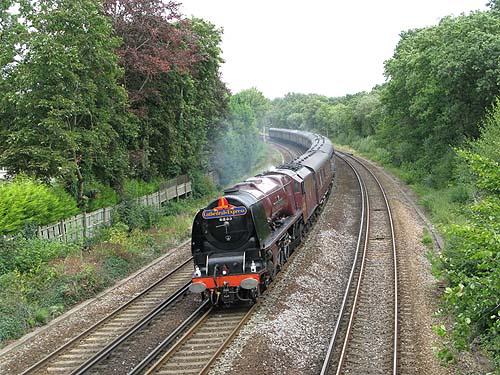 6233 passes Lymington Jn, heading for Weymouth (photo: Nick Bartlett)
Source : John Clifford (on the train throughout)



Tour Review
(from John Clifford)
This was another "Sunny South" which should have been called "Rainy South". However, unlike the trip on 9.7.08, the rain did ease off in the afternoon.
The trip did not get off to a good start. A class 92 hauled freight train had been signalled via South West Sidings at Willesden & did try to do so. Those familiar with the area will understand that such a manoeuvre would create a small problem, not least because the route is not electrified! This delayed trains on the West London line including ours which had come from Southall. We left over 40mins late but had made up 10mins by Woking. All this was to no avail as we were held by signals outside Farnborough & finally left the Winchfield water stop back to 40mins late. Some good running ensued but was interspersed with a signal stop between Southampton & Millbrook (to let a Voyager pass) & one at the country end of Bournemouth (to let a down Weymouth pass). The result was that we got to Weymouth just over an hour late.
Some good co-operation between Network Rail, West Coast Railways & the engine's support crew saw the light engine movements & the servicing at Yeovil Junction done smartly so we left just 51mins late. It could have been so much later. The class 47 should have come off at Wareham but it stayed on the back to Bournemouth to assist with the climb of Parkstone bank. There were problems with a passenger on a preceding train at Southampton Airport so we stopped before that station for a few minutes. There was another stop near Winchfield to allow a train to get ahead. We finally got to Waterloo 26mins late.
John Clifford



Timings (Booked & Actual)
(from John Clifford)
Location

Booked

Actual

Booked

Actual

London Waterloo

22.14a

22.40

Clapham Junction

08.10d

08.51½

22/04

22/30½

Barnes

08/16½

08/58½

Brentford

08/27½

09/04

Hounslow

08/34

09/07

Feltham Jn

08/39½

09/10

Feltham

08/41

09/12½

Staines

08/49

09/20

Virginia Water

08/57½

09/30

Addlestone Jn

09/08

09/40

Wimbledon

21/59

22/27

New Malden

21/56

22/24

Surbiton

21/54

22/19½

Hampton Court Jn

21/52

22/17½

Byfleet & New Haw

09/16

09/46

?

?

Woking

09.23a ~ 09.26½d

09.54 ~ 09.57

21.35½a ~ 21.38d

22.05 ~ 22.06½

Woking Jn

09/28½

09/59

21/34

22/03

Pirbright Jn

09/34

10/05

?

?

Farnborough

09/38

10/21

21/27

21/54

Fleet

09/42

10/26

?

?

Winchfield

09w47 ~ 10w02

10.31 ~ 10.42

?

?

Basingstoke

10/12

10/53

20w35 ~ 21w12

21.20 ~ 21.31

Worting Jn

10/15

10/56½

20/28

21/14½

Winchester

10/30½

11/12

20/10

20/58

Shawford Jn

10/33½

11/15

Shawford

10.36a ~ 10.39d

11.17 ~ 11.18

20/05

20/54½

Eastleigh

10/48

11/24

19.57a ~ 19.59d

20.42½ ~ 20.47½

St Denys

10/53

11/32½

19/50

20/26

Northam Jn

10/55

11/35½

19/48

20/24½

Southampton Central

10/58

11/38½

19/45

20/22½

Redbridge

11/02

11/50

19/34

20/18½

Brockenhurst

11/13

12/01½

18w56 ~ 19w20

19.48 ~ 20.03

Bournemouth

11/36

12/26

18/38

19L16½ ~ 19L20

Branksome

11/41

12/40

18/34

19/07

Poole

11/47

12/47

18/26

19/00

Wareham

11w57a ~ 12w09d

13.02 ~ 13.12

18L10½a ~ 18L15½d

19.46 ~ 19.47

Wool

12/17

13/20½

18/04

18/39

Moreton

12/22

13/26

17/59

18/35

Dorchester South

12*32 ~ 12*34

13.36 ~ 13.37

17*48 ~ 17*51

18/27

Dorchester Jn

12/37

13/38½

17/47

18/26

Weymouth

12.46a

13.49½

17.35d

18.16