21st July 2008
Past Time Rail
The Tall Ships
| | |
| --- | --- |
| Locos Used | 67003 & 67026 |
| Stock Used | 5921+5964+6720+3400+3318+3331+1680+3424+3279+21245 |
Route:
| | |
| --- | --- |
| Loco(s) | Route |
| 67026 (1) | Colchester - (via GEML) - Stratford - Lea Jn - Canonbury - Camden Road - Camden Road Jn - Primrose Hill - Willesden Junction - (via Wembley Yard) - Watford Junction - Bletchley - Hanslope Jn (3) - Weedon - (3) Rugby - Nuneaton - Stafford - Crewe - Runcorn - Liverpool Lime Street |
| 67003 (2) | Liverpool Lime Street - (reverse of outward route) - Rugby - Northampton - Hanslope Jn - (reverse of outward route) - Colchester |
Notes :
(1) 67003 on rear.
(2) 67026 on rear.
(3) Was booked via Northampton but diverted to catch-back time.
(4) Geoffrey May comments: Although notified as running top 'n' tail with 2x Cl. 67, it was actually intended that the lead loco from Colchester would be a Class 90, which was due to be picked up at Wembley Yard in the small hours of the morning on the stock's way round from Old Oak Common. However, a derailment in that yard made this traverse eventually impossible, and built in a heavy delay, such that, at Shenfield, the 2 x Cl. 67 locos and stock were seen proceeding northbound ECS towards Colchester some 15-20mins later than they had been due to pick up passengers boarding the tour. Departure from Shenfield was over 100mins late, and the train lost further time on the run to Stratford, competing for a path along with commuter services. Minutes gained by a quick run on the North London line from Stratford to Primrose Hill, were then lost again as the train diverted into Wembley Yard, (stopping over the North Circular Road viaducts) to pick up a relief driver. The original timings saw the train booked via Northampton, but a request had been made earlier, in view of the likely (and now evident) 2-hour late running, to run via Weedon. This was agreed, but involved a long wait at Hanslope Junction, awaiting clearance of passing Pendolino's on the Weedon tracks. Thereafter the train made good progress, but was still about 2 hours late on arrival at Crewe for a crew (!) change. However, Network Rail had built in about 100mins of recovery time on this train's schedules, most of it on the final stretch, and arrival at Liverpool Lime Street was, almost unbelievably, only 13mins late, meaning a very rapid consumption of Lunch by the 1st Class Dining passengers!! On the return, the train did run via Northampton, as sighted by your other correspondent, and lost only some 10mins on the much tighter scheduled timings. A sluggish run between Primrose Hill and Stratford extended this to some 15mins upon which the special was unable to make up any time, at least as far as Shenfield.
Sources : Geoffrey May (joined/left the train at Shenfield) & Dan Adkins



Photo Review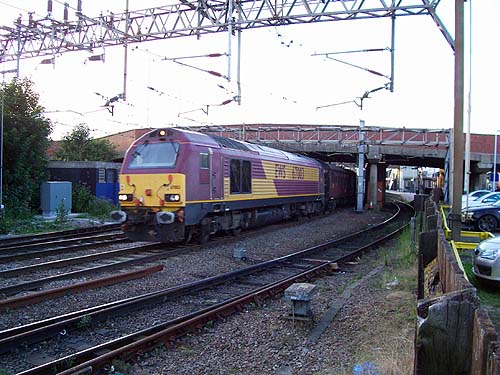 67003 (above) & 67026 in the evening at Northampton (photos: Dan Adkins)