10th May 2008
N.E.L.P.G.
The North East Explorer
| | |
| --- | --- |
| Locos Used | 47760 & steam: 62005 |
| Stock Used | ????? |
Route:
1Z50 : Newcastle to Hartlepool
1Z51 : Hartlepool to Newcastle
| | |
| --- | --- |
| Loco(s) | Route |
| 47760 | Newcastle - Durham - Darlington - Dinsdale - Eaglescliffe - Thornaby - Middlesborough |
| 62005 (1) | Middlesborough - Thornaby - Stockton - Norton South Jn - Norton West Jn - Ferryhill South Jn - Durham - Newcastle - Sunderland - Hartlepool - Billingham Jn |
| 47760 (2) | Billingham Jn - Seal Sands Jn |
| 62005 (1) | Seal Sands Jn - Billingham Jn - Stockton - Eaglescliffe |
| 47760 (2) | Eaglescliffe - Thornaby - Middlesborough - Redcar - Saltburn West Jn - Boulby |
| 62005 (1) | Boulby - Saltburn West Jn - Redcar - Middlesborough |
| 47760 | Middlesborough - Thornaby - Eaglescliffe - Dinsdale - Darlington - Durham - Newcastle |
Notes :
(1) 47760 on rear.
(2) 62005 on rear.
(3) Originally named 'The East Coast Explorer'. Max Birchenough comments: A few days before the tour, the DfT and Network Rail told NELPG that part of the planned route was off limits; steam, even with a diesel 'minder' was not being allowed over the part of the route shared with the T&W Metro. The first suggestion was to run into Newcastle, and return over the High Level Bridge and thence up the main line, but the HLB is closed to locomotive passage these days. In the end, the only thing for it was for the class47 to haul the train back from Tyne Yard via Ferryhill South, Darlington, Eaglescliff, Stockton, and Norton South and East Jns. to Hartlepool. Here the itinerary resumed according to the original plan. One result of this was that the tour was renamed the 'North East Explorer'. The other part which didn't quite go as planned was the return from Boulby. Since access to the actual mine sidings was not permitted, we had to stop while still on the gradient outside. This gave the K1 a stiff job on leaving. We were in fact going quite well until the loco hit a flange oiler, and naturally slipped. We didn't stall just then, but vital momentum was lost, and we ground to a halt, without slipping, on the curve leading up to Grinkle Tunnel. The K1 blew off rather futilely, while arrangements were made to get the 47 to help. This took a while, as it involved stopping and restarting it. Then we did get going, and the rest of the trip was to plan.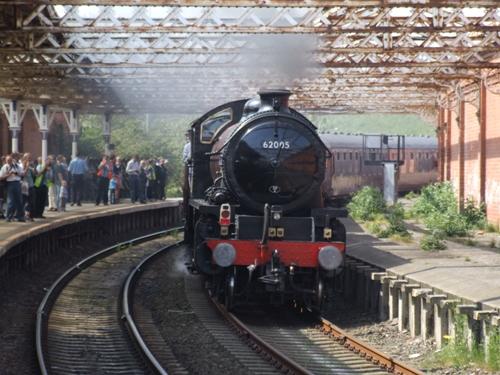 62005 is sidelined temporarily at Hartlepool to allow service trains to pass
(photo: Max Birchenough)
Sources : various including Max Birchenough



Back to "The Railtour Files"